Happy Thanksgiving to all! May this day be sweet, tasty and full of thanks, even if you, your friends and/or your relatives are far apart.
And, because we're coming out on a holiday this week, we offer lots of things to watch, listen to and read, including music, movies, videos, a fantastic storytelling hour, a few eye-candy and interesting articles, as well as our usual collection of art, local events and photographs. You might consider bookmarking NorthShore ArtScene this week so you can watch and read stuff throughout the weekend. Enjoy!
And there have been changes in the community because of new rules announced by Gov. Walz this week in an effort to slow down the community spread of Covid-19. As of Wednesday, there were 63 positive cases identified in the Cook County so far. That's up from 40 only two weeks ago. To find out about the situation in Cook County, click here and statewide, click here.
Here's what's happening in the county this week:
North House Folk School is closed over the weekend, but that doesn't mean you can't have a craft experience. The series Crafting in Place is available online with everything from how to make venison jerky to birchbark basket weaving in Russia. The series is free and open to all. Click here to see what's available. North House is closed for the weekend and re-opens Nov. 30.
The annual Christmas parade in Grand Marais is going online this year. "Oh Ole Night: The Radio Special" will be aired on WTIP Community Radio from 5-7 p.m. on Friday. Nov. 27. with two hours of specially curated holiday fun–straight from the North Shore to your living room or car.
The program with feature local musicians Gene Lafond & Amy Grillo, Lake Effect, Plucked Up String Band, Briand Morrison & Roxann Burglund, and Pushing Chain as well as songs songs by students at Great Expectations School. And Chef Judi Barsness will offer wisdom and tips for cooking for the holidays. A highlight? Listen to submitted Ole and Lena jokes and favorite holiday memories from the North Shore and the Gunflint Trail. Listen in here.
Exhibits:
The Johnson Heritage Post Gallery is closed through Dec. 19 because of the Emergency Executive Order by Gov. Tim Walz. However, David Johnson's excellent photography exhibit, "Cook County Through My Eyes, Vol II" continues online.
Johnson's exhibit can be viewed online here.
Also, the exhibit, Plein Air Grand Marais, is also still live  on the Heritage Post site and will be through the end of the year.
To see all the works created during this year's Plein Air event, click here.
In Duluth, the Tweed Museum of Art announced this week that it will be closed until Spring 2021. It will continue its current exhibits through that time so that the public can see the works, including Carl Gawboy's retrospective.
Opportunities:
The Violence Prevention Center will hold its second Art of Healing exhibit at the Johnson Heritage Post in January. The organization has put out a call for artists to participate in the event. In a statement, the organization said: "We are inviting ALL North Shore and North Woods artists to be featured, whether or not they have been affected by or subjected to domestic violence, sexual assault, or human trafficking. We recognize that art is a means to respond, heal, celebrate, express, and process all life experiences."
Click here for more information about the event as well as the submission forms or call 218-387-1262.
Community News:
Empty Bowls Cook County has raised $22,000 so far in its fundraising efforts to provide food security for Cook County residents. Donations are still being accepted in order to reach their goal of $30,000.
All of the Empty Bowls money will be given out to nonprofits who use the money to feed people in need of food in the county. Checks can be mailed to Empty Bowls, P.O. Box 294, Grand Marais, MN 55604. For more info and to donate online, click here.
Artists at Work:
Here are some great examples of artists at work– some are local, some are not, and some didn't even create their work in this century. Enjoy.
 Movie Short Stack:
North House Folk School cancelled its outdoor Short Film Festival last week due to Covid-19 concerns. The collection of films is pretty great, so we decided to share the list here so you could enjoy. Here are a few immediate links. Look for all the links at the end. Ben Byron selected most of them, which is an incredible collection of adventure films, cartoons and more. He is a program manager at North House.
"Camel Finds Water" from Trevor Gordon on Vimeo.
INS HOLZ (IN THE WOODS) from Thomas Horat on Vimeo.
Here's the complete list:
Ice Skating along the River Erik Normark
Surfer Dan Tim Kempl
Ice Call Antoine Frioux
The Redstone Pack Roos Brothers
The Snow Guardian Day's Edge Productions
Camel Finds Water Ian Durkin
My Deadly Beautiful City Victoria Fiore
The Owl and the Lemming: An Eskimo Legend Co Hoedeman
Jágrlama Marek Partyš
A Nordic Skater Paulius Neverbickas
Frozen Ceiling Perrin James
If You Build It, He Will Send It Red Bull
Ins Holz (In the Wods) Thomas Horat & Corina Schwingruber
Log Driver's Waltz John Weldon
Lotawana On Ice Mammoth
The films can also be viewed on the North House Folk School site.
Other films of interest:
Here's an award-winning very short film about marriage:
This film won an Emmy Award for best documentary short:
Here's the best  Moth Radio storytelling sequence I have ever heard. Really uplifting.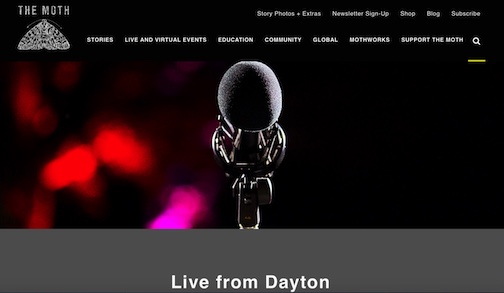 Click here to listen. The program lasts for about an hour, but can certainly be listened to in segments.
Hopefully, you can access this. It's John Kennedy's eulogy for Robert Frost on poetry, power and the artist's  role in Society.
Hopefully this link works. It's from Brainpickings.
More presidential stuff: John Souza on his documentary about photographing presidents, "The Way I See It."
Music Videos
And a "must" for Thanksgiving, according to Matthew Brown, WTIP's executive director.
Photographs: 
We found some pretty interesting photographs this week. Here's a selection:
Let's start with Peoplescapes this week:
And now, wildlife:
Landscapes, skyscapes and waterscapes:
And then three… impossible to pick which one to end with:
Happy Thanksgiving, everyone! Be safe!