Now we come to the part of the year where the sun is higher in the sky, and we get whiffs of warm air on our walks, and we think … spring!
Mmmm, probably not.
But it does look like the shank of extreme winter temperatures are pretty much over. Meanwhile, our online lives continue. And, happily, our limited in-person lives do, too.
For the latest on the Covid-19 response in the county as well as info on the restaurants and shops that are open and more, click here.
In news, North House Folk School announced this month that it will be hosting a number of small in-person courses on campus beginning in March with lots of Covid protocols in place. Read about them here.
And this is the final week of Fiber February at North House featuring a number of online classes and events.
At noon on Thursday, Feb. 25, Linda Johnson Morke will lead a webinar through North House entitled "The Wonders and Ways with Wool." Morke has been a fiber enthusiast all her life.
Morke started knitting when she was 5. Knitting led to spinning, which led to sheep and rabbits. Felting led to different sheep, trips to Norway and Mongolia and a passion for understanding why wools felt differently.  A shepherd for more than 30 years, Linda has shepherded Navajo Churro, Border Leicester, Cheviot, Hampshire, Karakul, Finnish Landrace, Icelandic, Texel, Blue Faced Leicester (BFL),Tunis and Gotland sheep. Her current flock consists of Icelandic & BFL crosses, Karakul and Gotland sheep. Her latest project was directing the felting of a Mongolian yurt in Northern Minnesota. Linda currently lives on a farm in Isanti, MN,  and enjoys sharing what she has learned through classes and lectures. The webinar is free. To register, click here.
Also on Thursday, Jim Denomie, a nationally recognized Ojibwe artist, will give an online Artist Talk and a Virtual Tour of his exhibit at the Muskegon Museum of Art at 4 p.m.
The exhibit is entitled "Jim Denomie: Challenging the Narrative." His colorful, humorous paintings directly address historical, political, and cultural issues facing Native Americans in the U.S.
The Q &A Artist Talk and virtual tour will run from 4-4:30 p.m. View it here.
The Grand Marais Art Colony recently released its online and in-person classes for 2021. Everything from a virtual Armchair Plein Air class to in-person mentorships are being offered.
Click here to see what the classes and workshops the Art Colony has scheduled for this year.
Also, this week, the Art Colony Instagram Takeover will feature abstract painter Donna Bruni.
Bruni will be posting examples of her work as well as videos on the Art Colony's Instagram page on Thursday and Friday.
On Friday, listen to The 'Tip Jar Mini-fest on WTIP Community Radio from 4-7 p.m. The The 'Tip Jar Mani-fest features virtual performances of live music by local musicians and is held on the last Friday of the month. A project of the Cook County Chamber, the 'Tip Jar Fund offers grants to local musicians who have been impacted by Covid-19 so they can share their talents worldwide through radio.
This Friday, Feb. 26, the 'Tip Jar Mini-fest features Pete Kavanaugh, Christopher David Hanson and Mysterious Ways from 4 to 7 p.m. To donate to the 'Tip Jar Fund, click here. And listen in at 90.7 FM  starting at 4 p.m. Friday.
On Monday, "NO VACANCY" a Covid-safe, sidewalk viewing, storefront exhibition by Lutsen artist Greg Mueller opens in the windows of Studio 17, the new Grand Marais Art Colony space next to Hungry Hippie Tacos.  The exhibition features new sculptural assemblages using reclaimed metals, and is made possible by an Arrowhead Regional Arts Council Working Artist Grant.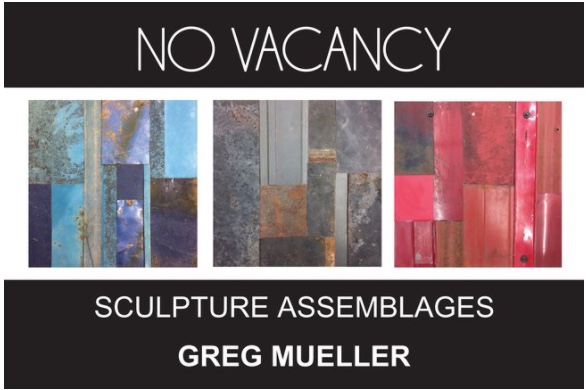 The exhibition continues through March 30. For more information about Mueller and his work, click here. 
Exhibits: 
This is the last weekend to see "A Pot Luck of Art" at the Johnson Heritage Post. The exhibit features a wide variety of art from local and regional artists including paintings, ceramics, glass, fiber art and multi-media pieces.
The Heritage Post is open to the public with Covid protocols in place from 1-4 p.m. Thursdays, 10 a.m to 4 p.m. Fridays and Saturdays, and 10 a.m. to 2 p.m. Sundays. Free. Masks required.
This is also the last weekend to see sculptor John Books' exhibition in the windows of Studio 17, the Art Colony's new building next to Hungry Hippie Tacos.The exhibit features works in bronze and wood and is entitled "A Gathering of Ghosts."
Books' work can also be found at Yellowbird Fine Art in Grand Marais and Karlyn Yellowbird Gallery in Washburn, Wis.
The Duluth Art Institute currently has several exhibits at the Depot, including "Harrison Halker Heinks: The Visual Voice of Autism." The photographic exhibit by the Minnesota artist examines reflective surfaces through his photography.
By capturing multiple planes with one image, Heinks builds an experience where viewers can simultaneously look through, at, and in front of the subject. He has created a video documenting his experiences in the world, see below.
In Thunder Bay, the Thunder Bay Art Gallery has a number of exhibits, including Dakobinaawaswaan (Baby in a Cradleboard), featuring more than 100 cradleboards representing Indigenous communities from across North America.
 In the language of Aninishaabeg peoples, "dakobinaawaswaan" describes a baby being wrapped and placed in a cradleboard, or tikinagaan. This exhibition showcases the strong legacy and beauty of traditional baby carriers —including miniatures, toy cradles and baskets— of the many Indigenous communities across Turtle Island. Through a wide range of imagery, beadwork, and specialized materials the cradleboard is honoured as a vessel of motherhood, cultural traditions, community, and resurgence.
Opportunities:
The Spirit of the Wilderness Church has put out a call for artists to participate in its upcoming exhibit at the Johnson Heritage Post, "From Darkness to Light" which opens March 5. Drop-off times are from 11 a.m.-4 p.m. Monday, March 1, and from 8 a.m. to 2 p.m. Wednesday March 3. For more information about the exhibit,  click here.  Stay tuned.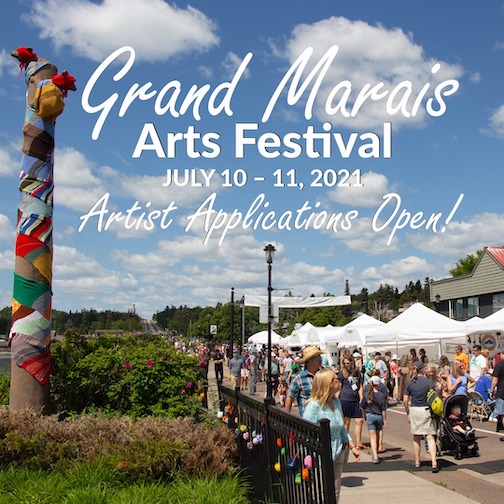 Artist applications for the 30th annual Grand Marais Arts Festival are now open! Applications will be accepted on the Art Colony's SlideRoom site through 11:59 p.m. on April 12. Artist invitations will be sent out on April 26. Click here to apply on SlideRoom .
The Art Colony states that it is"cautiously optimistic that we will be able to hold a live festival this year and will be making the appropriate accommodations for large group gatherings as outlined by the State of Minnesota and the CDC. This year's festival will be relocated to the parking lots of ISD 166, 101 W. 5th Street, due to a road construction project and to allow for additional space necessary to have this event in-person."
The Arrowhead Regional Arts Counci
l has opened a new round of grants. ARAC has a total of $40,000 to award in the 
Art Project Program
category, $35,000 to award in the 
Rural and Community Art Project Program
, and $35,000 to award in the 
Arts Learning Program
.
To find out more and apply,  click here
 or call (218)722-0952 or (800)569-8134.
And here's a creative opportunity: The Cook County Businesses and Civic Partnership, the charitable arm of the Cook County Chamber, invites businesses, groups and individuals to apply for the 2021 Great Place Project Grants. The Great Place Project's mission is to encourage creation of small, public great places around Cook County.
This year the Foundation will award up to 10 grants from $250 to $1,250. For more information and to get an application, click here.
And finally, Pat Campanaro, a business consultant with the Small Business Development Center specializing in economic development, will hold a free workshop entitled: Looking to Start a Side Hustle or Small Business? through Cook County Higher Education. In this 2-hour workshop, participants will discover how to transform their ideas into reality. The workshop will focus on the Top 9 things that will contribute to success. Bring questions. The workshop will be held from 6-8 p.m. on Thursday, March 11. To register, click here. Questions: Call 218-387-3411.
Upcoming:
Dan and Lee Ross will open an exhibit at the Groveland Gallery, "Untying Time," featuring new prints and sculpture. The exhibit opens March 13.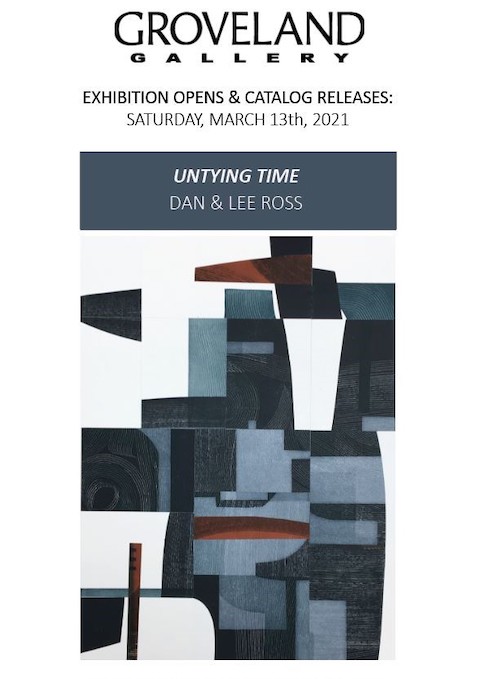 The artists write:
Our perception of time changed in 2020 when we entered the print studio in mid- December.  We were ready to get to work, ready to put new ideas on paper but then we saw a calendar on the wall opened to March 2020.  Seeing the calendar made us stop and reflect.  Time had stood still for 9 months.  What is time?  How do we measure it? Ancient cultures charted the length of shadows or positions of the stars and followed the rhythm of the seasons.  With the disruption of the events that marked our calendar we found new ways to measure time.  On our daily hikes along the trails by the Brule River and Lake Superior in northeastern Minnesota we were fascinated by how time has changed the course of the river and reshaped rocks and boulders along the lake. The trail ending where the river meets the lake and the lake meets the sky.
Untying Time continues at the Groveland Gallery through April 17.
Joy & Co. will exhibit new work by Rachel Rae Klesser, with a reception and opening on Friday, March 26 from 4-8 p.m. Rebel Girl's will cater.
 The Grand Marais Playhouse will present, "A Wrinkle in Time," by Morgon Gould, adapted from the novel by Madeleine L'Engle March 12-14.
Stay tuned for details.
Artists At Work:
 Video Potpourri
"The Peace of Wild Things" by Wendell Berry, A Poetry Film by Charlotte Ager & Katy Wang.
"Exploring a Frozen North Shore River Canyon" by Bryan Hansel. This is Part II of a five-part video series on photography made with funding from a Emergency Working Artist Project Grant provided by the Arrowhead Regional Arts Council.
Here's video about a Lakeville woman who built a colorful igloo in her front yard with colored slabs of ice.
 Click here to see the KARE 11 story:
And here's some more about Wassily Kandinsky and sound/color. First, this video about the artist and his work.
Then click here to play with the Chrome music lab.
Virtual Music:
Here are two interesting contrasts: two versions of "All About That Bass, " originally recorded by Meghan Trainer. Here's her version:
Like any good song, there are lots of covers. Here's a version, recorded by the Postmodern Jukebox on a European tour.
If you'd like to explore what different musicians do with that song, click here.
Here's Sade singing "The Sweetest Taboo."
And then, this:
And finally, this … some blues

Live Music:
Thursday, Feb. 25:
Gordon Thorne, Date Night at the Winery, North Shore Winery, 6-8 p.m. Make reservations here 
or call (218) 481-9280.
Friday, Feb. 26:
The 'Tip Jar Minifest, WTIP Community Radio, live, virtual performances on the radio. This month: Pete Kavanaugh, Christopher David Hanson and Mysterious Ways, 4-7 p.m.
Photographs:
We were lucky again this week. Here's what we found:
Peoplescapes:
Wildlife:
Landscapes, Icescapes, Skyscapes & Lakescapes:
Have a good weekend, everyone! Stay safe!