Greetings from the North Shore, where it is almost August, the heart of summer on Lake Superior and in the Northwoods. Look for balmy summer days, garden harvests and Fisherman's Picnic, which will be held this year.  Unfortunately, Rendezvous Days and the Celebration Pow-Wow in Grand Portage, which is usually held on the second weekend in August, has been cancelled, due to Covid concerns, but everyone remains hopeful for next year.And we are getting a little rain.There's lots happening this weekend, too.
F irst up is North House Folk School, which is continuing its summer instructor demonstration series. This week, leather worker Beth Dow will be working on her pieces on campus.
Dow will be demonstrating from 10 a.m. to 4 p.m. daily through Sunday on campus. Also, not to forget the sailing opportunities on the Hjordis. For more info on activities, classes and more at North House, click here.
The Grand Marais Art Colony is also continuing it series of Instagram Takeover Artists. This week, Krista Kelley Walsh, a multi-disciplinary artist, will post on the Art Colony's Instagram page on Thursday and Friday.
To see what Walsh is posting, check out the Art Colony's Instagram page here.
On Saturday, The Grand Marais Art Colony will host an artist talk with traditional Japanese woodblock printmaker Mary Brodbeck at 10 a.m. in Studio 21.
Brodbeck was originally trained in industrial design and employed as a furniture designer. In her late 30s ,she went back to college to become a printmaker and was awarded a five-month-long fellowship to learn Japanese woodblock printmaking in Tokyo from Yoshisuke Funasaka. She will share more about how she learned the traditional methods of Japanese woodblock printmaking in Japan and then used them as the bedrock for her own work. Studio 21 is located at 21 W. Hwy 61, across from Buck's Hardware. The event is open to the public as space allows. Free.
Also at 10 a.m on Friday, the Cook County Market opens in The Hub parking lot.
The Market features a wide variety of work by local artists and artisans including ceramics, fused glass, weaving, paintings, books, locally sourced balms, maple syrup and more.
On Saturday night, the Stars of the North Music Festival will be held in Harbor Park featuring a great variety of student and local musicians  and bands from 11 a.m to 10 p.m. on Saturday, July 31. The band, The Evening Stars, plays at 6 p.m.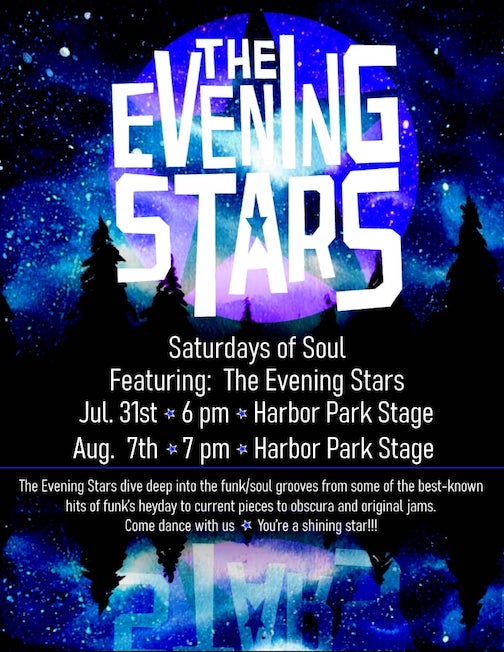 The Music Festival is a fundraiser for the Grand Marais Music Collaborative, which provides music lessons for kids.
Here's the line-up for Saturday, July 31 in Harbor Park.
11:00-11:45 Adam Kirsch
12:00-12:45 Special Guest TBA
1:00-1:45 Briand Morrison and Roxanne Berglund
2:00-3:15 The Pete K. Group
3:30-4:00 The Students of the Grand Marais Music Collaborative
4:30-5:30 Community Jam with special guests and instructors
6:00-7:30 The Evening Stars
8:00-10:00 Joe Paulick and friends.
The festival returns to the Harbor Park Stage during Fisherman's Picnic on Aug. 7.
Exhibits:
On Tuesday, Aug. 3, at 7 p.m., artists Hazel Belvo and Marcia Cushmore will give an Artist Talk at the Johnson Heritage Post about their new exhibit, which opened last Friday. Entitled "Two Artists- Two Stories: Juxtaposition During a Covid Conversation" this extraordinary show features panels of paintings by both artists using the same palettes but with completely different takes on the subject matter.
It is a stunning exhibit… not to be missed. The Heritage Post is open from 10 a.m. to 4 p.m. Wednesday through Saturdays and 1-4 p.m. Sundays. It will be open for the Artist Talk on Tuesday, Aug. 3, at 7 p.m.
The Johnson Heritage Post is also exhibiting a concurrent exhibit with works by John A. Spelman III.  Entitled 'John A Spelmann III Artist and Printmaker: From Appalachia to Minnesota's North Shore," the show features original prints, drawings, and watercolors by the artist.
Another exhibit that just opened this week is Elise Kyllo's "Fully Felted Finale," a show of the work she completed while she was in the Artisan Development Program at North House Folk School.
Kyllo's work can be seen in the Boat Barn at North House Folk School from 10 a.m. to 4 p.m. on Thursday, July 29, and Sunday through Tuesday, Aug. 1-3.
Another exhibit to see this weekend include the Art Colony's summer exhibition, "But It Was Still There," featuring work by artists Moira Bateman, Annie Hejny, Moheb Soliman, and Nick Wroblewski.
Also, Sean Connaughty's installation at Sugarloaf Cove, "The Art of Reciprocity," continues at Sugarloaf Cove.
 Upcoming:
Fisherman's Picnic is on tap to be held next weekend in Grand Marais with all the fixings, including fish burgers, competitions, live music, arts & craft shows, fireworks, a parade on Sunday and more.
For details, click here, and stay tuned for next week.
The North Shore Music Association is excited to announce the return of concerts this fall. Annie Mack will perform at the Arrowhead Center for the Arts on Sept. 4 and Joe K Walsh & Friends will perform Oct. 16 at the ACA.
 Opportunities:
The Grand Marais Art Colony has added Black Drum Firing community event with potter Coreena Affleck on Aug. 20.
People can purchase a pot from Coreena or bring their own to have fired with the triple drum firing method. This event will be subject to cancellation based on fire guidelines at the time. You can find all the details here.
The new section of the Gitchi-Gami Trail its open David Welch tried it out and made this video.
 Artists at Work:
 Bad River basketmaker April Stone, who teaches at North House Folk School, was recently featured in a video by Indian Country Today.
Tor Torkildson is working on clay sculptures to be installed on a hiking trail he is developing on his land to be called Inspiration Stations Trail. Here he is with one of his sculptures, which will be fired in a kiln and then installed at one of the stations on the trail.
Layne Kennedy led a photography class recently which included the opportunity for his students to photograph a model, Rose Arrowsmith. Here are two photos that Kennedy took during that session with Rose.
He took this portrait:
And this shot — mosquito netting and a fancy 1980s prom dress:
Online Music:
Live Music:
Thursday, July 29:
Gordon Thorne, North Shore Winery, 7 p.m.
Kenna Rose, Gunflint Tavern, 8:30 p.m.
Friday, July 30:
Bump & Friends, Harbor Park, 5 p.m.
Mysterious Ways, Birch Terrace Deck, 5:30 p.m.
Pete Kavanaugh, Cascade Lodge Restaurant & Pub, 6 p.m.
Gunflint Tavern, TBA
Saturday, July 31
Fred Anderson, Cook  County Market, in The Hub's Parking lot, 10:30 a.m.
Wunder Dogs, Birch Terrace Deck, 5 p.m.
Stars of the North, Harbor Park, Grand Marais, 6 p.m.
Joe Paulik, Harbor Park, 8 p.m.
Gunflint Tavern, TBA.
Sunday, Aug. 1 
Molly Maher, Weekend Wine Down, North Shore Winery, 3 p.m.
Southpaws, Music by the Lake, Skyport Lodge, 4 p.m.
Tuesday, Aug. 2″
Jim & Michele, Harbor Park, 4 p.m.
Wednesday, Aug. 3:
Joe Paulik, Harbor Park, 5 p.m.
Jim McGowan, Music at Lutsen Resort, 6:30 p.m.
Photographs:
Here is a selection of photographs we found this week:
Wildlife:
Flowers:
Quirky:
Landscapes, Skyscapes, Waterscapes:
A Drought Reality
Some rivers are still flowing, however.
More landscapes:
Have a great weekend, everyone!
Hope you enjoyed reading NorthShore ArtScene this week. Please consider making a donation to help support this volunteer effort. It's easy. Just click on the link below. And Thank You!