Greetings from Grand Marais, where smokey skies often greet us in the morning.
The irony of seeing limitless water on the horizon but none on the land doesn't escape us here on the North Shore. We are ever hopeful that rain will come, the firefighters will stay safe.
Meanwhile, we carry on.
This weekend is busy, and includes a two-day celebration of John Schroeder Days in Schroeder.
First up, fiber artist Cheryl Larsen is featured this week at North House Folk School in its summer craft demonstration program. She will be demonstrating textile collage and rust dyeing.
Larsen will be on-campus from 10 a.m. to 4 p.m. Thursday through Sunday.  All invited.
Also, not to forget, the schooner, The Hjordis, continues to make daily sails from the docks at the Folk School. There are lots of class offerings too. To find out more, visit www.northhouse.org or call 218-387-9762.
Also on Thursday, the Local Food Market will be held in the parking lot of the Cook County Community Center from 4:30-6 p.m. featuring local vegetables and flowers as well as other locally grown products, fresh eggs and maple syrup. The market is held weekly through the growing season.
This year, the Schroeder Area Historical Society celebrates its 25th anniversary with a two-day event in Schroeder at the Schroeder Town Hall and the Cross River Heritage Center.
On Friday, live music with Trevor McSpadden (6-7 p.m,) and the Erik Koskinen Band (7-9 p.m.) will be featured at the Schroeder Town Hall and a Food Truck will be there to serve participants.
Originally, the plan for the John Schroeder Day Celebration had included a pancake breakfast put on by the  Schroeder Fire Department. The breakfast has been cancelled due to the Greenwood Lake Wildfire response.  However, the History Walking Tour with Skip Lamb starting at the Cross River Heritage Center will still be held beginning at 1 p.m,. Then Deonn Cecik will lead a Sawmill Walking Tour at 2:30 p.m.  The Schroeder Area Historical Society will hold its 25th Anniversary Celebration at the Town Hall from 5-8 p.m. and includes a social hour with live music and a feature presentation.
"The Dragon and the Pearl" by August Mergelman will be performed on Friday, Aug. 20 at 1 p.m. in the ISD 166 courtyard between the Arrowhead Center for the Arts and the school.
The audience should bring a lawn chair or blanket to sit on. Donations accepted for the support of the scholarship program for theater education. The performance is a presentation by the youth summer theatre workshop. Open to all.
Also in Grand Marais on Friday, the Cook County Whole Foods Co-op is sponsoring a Garden Party at the Community Gardens behind the Cook County Community Center from 4:30-6 p.m.
The Co-op has supported the development of the gardens, including the children's alphabet herb garden at the site.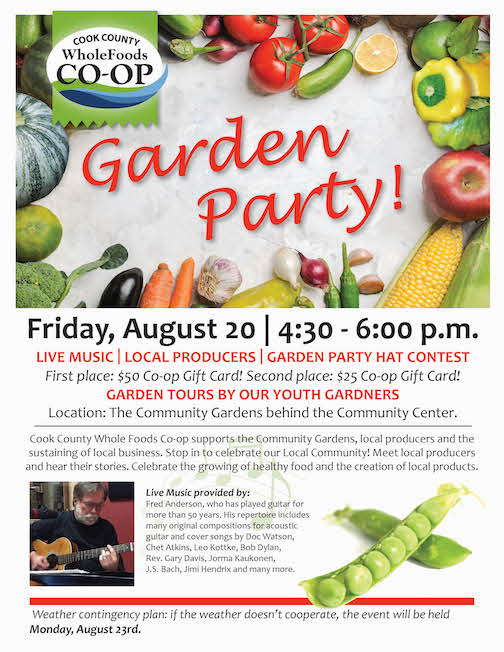 The Garden Party will feature live music, local producers, and garden tours by some of the children's garden program attendees.  A garden party hat contest is also included. All invited. Free.
Also on Friday, the Johnson Heritage Post will host an opening reception for an exhibit of paintings by Reid Thorpe entitled Reflections from the North.
Thorpe's current work explores the concept or feeling of nostalgia within fragmented landscapes using reflection – and the interplay between sky and water. The opening reception is from 5-7 p.m. Friday. The exhibit continues through Sept. 12. The Heritage Post is open from 10 a.m. to 4 p.m. Monday, and Wednesday through Saturday. It is open from 1-4 p.m. Sundays, and is closed on Tuesdays.
On Saturday, printmaker Micheal Marks will give an Artist Talk at Studio 21, the Grand Marais Art Colony's new space on the corner of 1st Ave. W. and Highway 61.
Mark's work focuses on critical habitat and changing landscapes. His prints are rooted in firsthand observation and he gathers his field research from drawing, photos, and notetaking. The Artist Talk is free. All invited.
Also on Saturday, the Cook County Market, featuring work by local artists and crafters, will be held in the parking lot of The Hub from 10 a.m. to 2 p.m.
On Sunday, the North Shore Health Care Foundation will hold Taste of the Trail BBQ Picnic Adventure to raise funds for the foundation's Justine Kerfoot Memorial Fund. The event will be held in venues along the Gunflint Trail from 1-4 p.m. Partnering restaurants include Fisherman's Daughter,Trail Center, the Poplar Haus, Gunflint Lodge.
 For tickets and more information, click here.
Exhibits:
Studio 21:
FYI
The North Shore Music Association announced this week that Annie Mack has had to cancel her concert here on Sept. 4. All online ticket sales on tix.com will be refunded.  The Walsh & Woodsmith Quartet (bluegrass) concert is still scheduled for Oct. 16. For more info, click here.
Upcoming:
 Drury Lane Books will host author Cary Grifffith with special guest Mary Logue, a fellow Minnesota writer, at 6 p.m. on Saturday, Aug. 28. Griffith's new book is "Wolf Kill," a Sam Rivers mystery. Griffith is well-known for his books, "Gunflint Burning" and "Lost in the Wild." The authors will talk about their books in an outdoor presentation. All invited;
 Artists at Work:
 Online Findings:
Take a tour of this artist-decorated neighborhood in Bangalore. It's great street art.
Photographer Małgorzata Sajur looks at the world through a mirror.
Online Music:
Live music:
Thursday, Aug. 19:
Frozen Britches, Cascade Lodge Restaurant and Pub, 6 p.m.
Gordon Thorne, North Shore Winery, 7 p.m.
Friday, Aug. 20:
Bug Dope, Birch Terrace Deck, 5 p.m.
Trevor McSpadden, Schroeder Town Hall, 6 p.m.
Erik Koskinen Band, Schroeder Town Hall 7 p.m.
Monroe Crossing, City Center Park, Silver Bay, 7 p.m., Free
Saturday, Aug. 21:
South Paws, Birch Terrace Dec, 3 p.m.
Jim Miller, Harbor Park, 4 p.m.
Roxanne Berglund,  Cascade Lodge Restaurant & Pub, 6 p.m.
Jim McGowan, Gunflint Tavern, 8:30 p.m.
Sunday, Aug. 22
Folkytonk, Harbor Park, noon
Eli Gardiner, Weekend Wine Down, North Shore Winery, 3 p.m.
Joe Paulik, Harbor Park, 4 p.m.
Wednesday, Aug.25
Jim McGowan, Lutsen Resort, 6:30 p.m.
Photographs:
 Here is a selection from the photos we found this week. Let's start with Insects:
Insects as food for others.
Animal Portraits:
Landscapes/Seascapes/Skyscapes/Nightscapes:
Have a good weekend, everyone!
nn