The weekends leading up to Christmas are always packed with fun things to do and see, and this weekend is no exception.
There's a Curry Cook-Off and Broadway Music Showcase, printmaking, a dance with the SplinterTones and the Holiday Art Underground at Betsy Bowen's Studio this weekend, and "The Nutcracker" ballet and holiday plays in Thunder Bay and Duluth.
First up is the Holiday Art Underground show at Betsy Bowen's Studio with handmade work by more than 30 artists. Felted pieces by Elise Kyllo, silver and gemstone one-of-a- kind jewelry by Ron Piercy, and books and woodcuts by Betsy Bowen are just a few of the treasures. Much more, including hand blown glass, wooden tableware, artisan soaps, pottery and tiles by several local clay workers and lots more jewelry are featured in this show, which runs through Dec. 24.
This Saturday there will be a special treat. Bowen will be making hand-printed greeting cards with a wintry theme in her studio. Come watch the printmaking process and see the exhibit at the same time. The gallery is open from 11 a.m. to 5 p.m. Thursday through Sunday.
And if you want to try your hand at printmaking yourself, the Grand Marais Art Colony will hold a Community Ink Day: Holiday Gifts with printmaker Jerry Riach from 1-4 p.m. in the print studio on Saturday. This is an all-ages printmaking event. Create your own unique mono-printed art piece for yourself or give as a holiday gift. Participants will experiment with a design and learn more about the art of printmaking. All supplies provided for a $5 material fee. No pre-registration necessary — come anytime between 1-4 p.m.  Youth under 10 must be accompanied by an adult.
For those who love Scandinavian traditions, the annual Julefest at Bethlehem Lutheran Church will be held on Saturday as well with a bake sale of homemade Scandinavian cookies at 1 p.m. and the crowning of St. Lucia and music at 2 p.m. Coffee and cookies will also be served. All invited.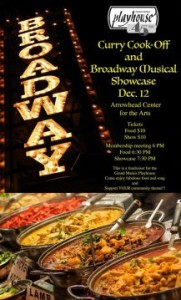 The Grand Marais Playhouse is going all out for its fundraiser this year–it will hold a Curry Cook-Off and Broadway Showcase at the Arrowhead Center for the Arts on Saturday evening. The event starts out with a membership meeting at 6 p.m. with the Curry Cook-Off at 6:30 p.m. and the Showcase at 7:30 p.m. The cost is $20 for both events, $10 for either.
Granted, Cook County isn't exactly known for its curries, but so far, Emma Bradley, Jane Gellner, Barb Heideman, Gerry Grant, Sue Hennessy and Lockport have signed up to make curry dishes, while Sandi Furlow has offered to make goulash for those who don't like curry … If you'd like to enter the cook-0ff, email playhouse@boreal.org by Friday.
The Broadway Showcase is also open to community members. So far, Mark Abrahamson, Rose Arrowsmith DeCoux, Tess Bailey, Grace Bushard, Myron Bursheim, Kay Costello, Amanda Hand, Sue Hennessy, Hilja Iverson, Michelle Miller, Hannah Nickolay, Jackson Nickolay, Maria Nickolay, Amelia Roth, Karina Roth, Janet Simonen, Aurora Schelmeske, Diane Stoddard, Irene Thompson and Kathy Williams will perform a Broadway tune. It should be quite an evening.
To top Saturday off, the SplinterTones will play at Papa Charlie's on Saturday night. Their high-energy dancing music starts at 9:30 p.m. and continues to 1 p.m. The band includes: Max Bichel, fiddle; Liz Sivertson, saxophone; Leah Thomas, accordion; John Gruber, guitar; Holly Harwig, percussion, Jeff DeShaw, bass, and Rick Brandenburg, drums.
In Duluth, the Duluth Art Institute's Holiday Sale will be held at the Lincoln Park site, 2229 W. 2nd St., on Saturday and Sunday from 9 a.m. to 5 p.m. featuring a wide variety of handmade art, including pottery.
The Wise Fool Shakespeare Company will perform a modern adaptation of "A Christmas Carol" at the Teatro Zuccone in Duluth at 7:30 p.m. Thursday-Saturday and 2 p.m. Saturday and Sunday.
Also in Duluth, the Minnesota Ballet will perform "The Nutcracker" at the DECC this weekend, with performances at 7 p.m. Friday and Saturday and 3 p.m. Sunday. The ballet company will also perform at the Thunder Bay Community Auditorium Dec. 18 & 19. For tickets and more info: For the DECC click here,   for Thunder Bay Community Auditorium click here.
In Thunder Bay, Rogue Productions brings its annual holiday play,  "A Christmas Carol," to the Fort William Historical Park at 8 p.m. (EDT) Thursday through Sunday. Tickets are $20 adults and $15 students, and are available at the park. For more information, call (807) 473-2344.
 Upcoming
 The Winter Solstice is coming up, and the Good Harbor Hill Players will once again perform the Winter Solstice Shadow Puppet Pageant at North House Folk School at 6 p.m. on Monday, Dec. 21. Suitable for all ages. The audience is advised to dress warmly because the performance is outdoors. It concludes with a bonfire where people can throw in their "gloomies." A potluck is available after the show at North House.
Plans are already being firmed up for the third annual Grand Marais Ole Opry sponsored by the North Shore Music Association. The event will be held at the Arrowhead Center for the Arts  Jan. 16 and features classic country, bluegrass and old-time music performed by local and regional musicians.  WTIP's Carl Solander hosts the show, which features the Roe Family Singers, Portage, Jim & Michelle Miller, and The Pinemartians, a new band on the Cook County music scene. Band members include Tom van Cleve, fiddle and vocals; Kate Fitzgerald, vocals; Russ Viton, guitar; and Will Moore, acoustic bass. Stay tuned for details about the show.
In other art news, if you happen to be in Minneapolis on Saturday morning, check out Layne Kennedy's wood-turned bowl sale. The very popular event is held from 10 a.m. to noon at 4209 Garfield and will feature about 60 hand-turned bowls crafted by the well-known photographer. He calls it the Annual College Bowl Sale because he started it when his children went to college — they've graduated and a new name is in the offing, he said. Meanwhile, all the bowls are usually gone at the end of two hours, so get there early.
Birchbark Books & Gifts has a wide selection of books that might interest holiday shoppers including Chel Anderson's "North Shore: A Natural History of Minnesota's Superior Coast" as well as a good selection of Betsy Bowen's books.
Anna Hess will teach "Functional Glass Painting" at the Grand Marais Art Colony this weekend. For more information, call the Art Colony at 387-2737. Hess' acrylic paintings are currently on exhibit at the Coho Cafe in Tofte and Last Chance Gallery in Lutsen.
Sivertson Gallery has copies of "Christmas Here in Northern Lands" by Chuck Haavik and Aaron Kloss. Also in gallery news, this is Trollbead weekend at the gallery, with Trollbead party on Friday night and a trunk show on Saturday.
At Last Chance Gallery, which is open on Saturday's from 10 a.m. to 5 p.m. (or by chance), sculptor Tom Christiansen is working on a secret project — a bronze bust of an individual in the Twin Cities. The sculpture is a surprise, Christiansen said.
The Wilderness Episcopal Church has put out a call to artists to participate in the annual art show at the Johnson Heritage Post March 4-21. Artists are asked to create to the theme: "Sense of Wonder: Expressing this Place." Work must be submitted by March 1.  For more information, call Bonnie Gay Hedstrom at 387-2538 or Ellen Stubbs at 663-7298.
Kelly Dupre is exhibiting artwork at the Urban Forest in Hermantown, a new outdoors apparel shop opened by Talbrey Benson recently. (Here's the link to the Duluth News-Tribune story, if you haven't seen it. ) Dupre also has work at Great Gifts of Lutsen  and Betsy Bowen's Studio and will do a show at the Coho Cafe in March.
Great Gifts has a good selection of Christmas ornaments by Al Sunde and Melissa Wickwire as well as dreamcatchers by Jayne Richards.
Here's the music schedule for this weekend.
Thursday, Dec. 10:
Gordon Thorne, Poplar River Pub, 6 p.m.
Friday, Dec. 11:
Briand Morrison, Voyageur Brewing Co., 4 p.m.
Portage Band, American Legion, 6 p.m.
Tim & Adam, Gun Flint Tavern, 8 p.m.
Saturday, Dec. 12:
J Squared and the Makers, Papa Charlie's, 3:15 p.m.
Lake Effect, Voyageur Brewing Co., 4 p.m.
Gordon Thorne, Lutsen Resort, 7 p.m.
Tim and Adam, Gun Flint Tavern, 8 p.m.
SplinterTones, Papa Charlie's, 9:30 p.m.
Tuesday, Dec. 15:
Pete Kavanaugh, Poplar River Pub, 6 p.m.
Local photographers made some great images this week. Here's a selection.
Let's start out with prints in snow… we've had some snow on and off  over the past few weeks and it always tells interesting tales of the woods.  First, here's a photo that Michael Furtman took the other day. Burt, the huge black bear that visits Furtman's porch every fall to maraud his sunflower seeds, got forced out of his den and went wandering off to find another place to spend the winter. Furtman found Burt's paw prints in the snow and took this photograph.
Tessa Larson was out walking her dog and found these paw prints. Her dog, Avery's, print is on the left. A close relative's (read "wolf) is next to it. Tessa titled the photo: "Well, that was exciting."
Here's another neat wildlife shot. Nace Hagemann said this fox was stopping by every morning recently.
Here are some other wildlife shots we found this week.
Paul Sundberg said this double-banded eagle has been coming back to Grand Marais for several years and, he wrote:  "I'm thinking it's getting well up there in years."
Here are some wonderful sunrise/sunset shots.
When we did have snow, the photographers were out in force.
And last, but not least, this luscious photograph of breaking waves below a lighthouse at Cape Disappointment, Long Beach, Wash. The photograph was taken by Meryl Collins, an outdoors photographer working on the Pacific coast. The cliff formation with a light house on top looks remarkably like Split Rock Light House on Lake Superior, doesn't it?
Have a great weekend, everyone!