Greetings from the North Shore, where an explosion on the sun reverberated in our skies this week, sparking northern lights as far south as Nebraska. Photographers from all over the world were alerted to the possibility of aurora borealis, and took some amazing photos.  Our local photographers got some great shots, too.
Spaceweather.com has lots of photographs from the U.S. and around the world of the latest dancing light displays. Click here to see.  (Look below for examples from our region.)
The warm season is wrapping up on the North Shore with maple leaves past peak and cooler air on the way.  This means that local growers are wrapping up, too, with a final hurrah at the Local Food Market this Thursday, Oct. 14, in the parking lot of the Cook County Community Center. The market is held from 4:30-6 p.m.
On Friday, the Johnson Heritage Post opens a new exhibit, "Impressions: Paintings from Daily Life," featuring works by four artists, Michele Combs, Matt Kania, Marva Harms, and Christine Tierney.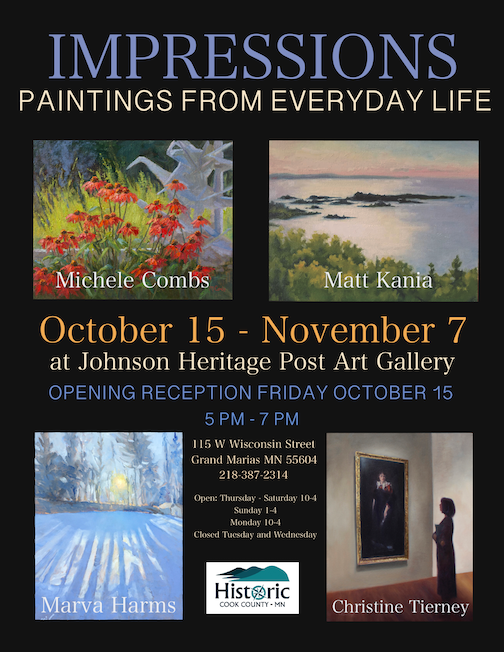 The exhibit opens on Friday, Oct. 15, with  a reception from 5-7 p.m. open to all. It continues through Nov. 7.
The Heritage Post is closed on Tuesdays and Wednesdays. It is open from 10 a.m. to 4 p.m. Thursday through Saturday and Monday, and from 1-4 p.m. Sunday.
And a new painting exhibit at Studio 21, "Weather Permitting" by Laura Ahola-Young and "Untitled" by Andy Ness will be open to the public on Friday and Saturday, from 9 a.m. to 4 p.m.
On Saturday, the 3rd annual Apple Festival will begin at 10 a.m. and run from 10 a.m. to 5 p.m. on both Saturday and Sunday. Open to all. Free.
Here's the Apple Festival schedule:
Three Orchard Tours & Pick-Your-Own Apples: 10 a.m. – 5 p.m.

Ray Block Orchard – 36 East Rosebush Lane
Stan Bautch Orchard – 1315 East Highway 61
Grand Marais Community Orchard – 551 East 5th Street

 Cider Pressing Demonstrations: 10 a.m. – 5 p.m.

Great Expectations School – 550 East 5th Street

Apple Farm Stands: 10 a.m.– 5 p.m.
The Bad Seed Food Truck: 10 a.m. – 5 p.m.: Community Center Parking Lot
Brochures & Lectures at Community Center: Noon – 5 p.m.

Bee Keeping
Tree Planting/Grafting/Care
Cooking with Apples – Recipes
Answers to Questions – Master Gardeners
The Cook County Market will be held for two more Saturdays in the parking lot of The Hub (formerly the Cook County Senior Center.)
The market is held from 10 a.m. to 2 p.m. and features work by local artists and artisans and includes everything from pottery, glasswork and chimes, woodworking, local stones, jewelry, books and more. Open to all.
Elise Kyllo is finishing a grand community felting project this weekend at North House Folk School. The project is being finished outdoors from noon to 4 p.m. Participants are welcome.
Exhibits:
 The Duluth Art Institute's Members Show continues in the galleries at the Depot in Duluth.
In Thunder Bay, the Definitely Superior Gallery, which has moved to a new space downtown at 115 Cumberland St N, is currently exhibiting the 33rd annual Member Show.
The border will be open in November!
 Upcoming:
Next weekend, Oct. 22-23 is Moose Madness Weekend in Grand Marais with lots of family activities planned.
Click here to see the schedule of events.
North House Folk School is offering a great selection of family classes and activities over Moose Madness weekend, too. Click here to learn more.
The Grand Marais Art Colony will host two evenings of Author Readings at Studio 21 for this year's North Shore Readers & Writers NonFest. On Nov.5, Kathryn Savage, James Cihlar, Moheb Soliman, and Diane Wilson will read from 5-7 p.m. On Nov.8, Scott Carpenter and Joyce Sutphen will read from their work from 5-6 p.m.
Each author will do a 30 minute reading of their work. Tickets can be purchased for each individual reading, or a full pass for each evening can be purchased for a small discount. Space will be limited, so it is recommended to register in advance. To register, click here.
Artists At Work:
Jan Attridge has published a new book on blurb.com
Bryan Hansel recently has two of his photographs used in a book cover.
He has also put out a newsletter about his trip to the Badlands and the Black Hills. Click to see.
Popular singer/songwriter Kenna Rose is moving to California, but before she left, she was featured on WTIP's The Roadhouse to talk about her move and sing a few songs.
Findings: 
Here's a great story that was recently published in The New Yorker entitled "The Singular Work of a California Photographer, Unearthed."
To read the story and see more photographs, click here.
 Laser Mapping Unearths 60,000 Ancient Maya Structures in Guatemalan Jungle
Online Music:
  Live Music:
Thursday, Oct. 14:
(Chris) Gillis & (Thomas) Stamps, Date Night at the Winery, North Shore Winery, 6 p.m.
Briand Morrison, Cascade Lodge Restaurant & Pub, 6 p.m.
Friday, Oct. 15:
 Jason Fladager Trio, live, The Roadhouse, WTIP Community Radio, 6:15 p.m.
Jason Fladager Trio, Gunflint Tavern, 8:30 p.m.
Saturday, Oct. 16:
Fred Anderson, Cook County Market, 10:30 a.m.
Jason Fladager Trio, Gunflint Tavern, 8:30 p.m.
Photographs:
We were lucky this week for finding some great photographs. Here's a selection:
Wildlife:
Not So Wild:
 The Harvest:
'Shrooms:
Northern Lights:
 Landscapes/Cloudscapes/Skyscapes/Waterscapes
Have a great weekend, everyone. Be well.