Greetings from the North Shore, where Omicron is attempting to ravage us,  like it seems to be doing everywhere else in the country right now. Be safe, please.
In honor of this challenge, we have compiled a potpourri of interesting stuff this week, indoors and out, that might take your mind off Covid-19 for a few minutes, at least. Enjoy.
First thing to notice is that, honestly, we have lots of snow this year, and it shouldn't go to waste. Conditions for skiing, skating (yes, the ice rinks are open in Grand Marais, Tofte and at some resorts on the Gunflint Trail), snowmobiling, sledding and snowshoeing are prime right now.
And this weekend,  the Norpine Fat Bike Classic Tour  offers all kinds of opportunities for people to explore the fat bike trails.  It's a non-competitive event – ride with family and friends to experience the Northwoods in winter in Cook County. Complete the tour anytime between Saturday, Jan. 15 through Friday, Jan. 28.
On Saturday evening, consider doing the Norpine Fat Bike Classic Full Moon Tour, an evening guided tour on the Norpine trails for those wanting to experience night riding (under a full moon, weather permitting). The tour begins and ends at Cascade Lodge.
And, for waterfall lovers, Caribou Highlands will hold a guided frozen waterfall tour from 1:30-3 p.m. on Saturday, Jan. 15.
Also on Saturday, The Big Lake will hold a Pop-up at the North Shore Winery from 12:30 p.m. to 5 p.m.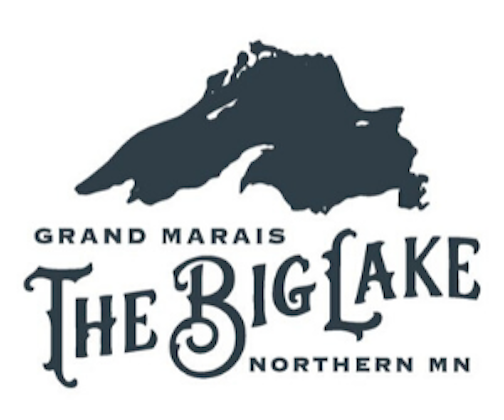 The event will featured a wide variety of wall art, ceramics, jewelry gifts, crafts and books reflecting life on the North Shore.
 Exhibits:
Dropping Anchor, a new exhibit at the Johnson Heritage Post opened last weekend.
The Heritage Post is closed on Tuesdays and Wednesdays. It is open from 10 a.m. to 4 p.m. Thursday through Saturday and Monday, and from 1-4 p.m. on Sunday. The gallery is requesting that masks be worn by guests.
Opportunities:
Photographer J Grammond will be featured in a Zoom event  through Cook County Higher Education entitled "A Road Trip Around Minnesota: Lakes and Waterfalls" on Jan 26.
The event costs $20, but scholarships are available. For more information and to registers click here.
The Grand Marais Playhouse announced this week that the One-Act Play performance dates have been postponed until late February.  The group of actors who gathered on Monday have decided to look for more shows. The One-Act(s)  will be directed by Rose Arrowsmith. It is still possible to sign-up to perform. A stage manager and lightboard operator and sound person are also needed. All participants must be vaccinated to the highest level they can be and masks are mandatory during rehearsals. The participation fee is $100. Scholarships are available. For more information, contact Sue Hennessy at sue@grandmaraisplayhouse.com
The Grand Marais Public Library is distributing Create a Comic Take and Make kits created by Duluth author and illustrator Chris Monroe. The kits are geared toward third graders on up to adults.
In the kits, participants create their own wacky characters using draw-along instructions to determine the character's looks, style, emotions, and ability to take a fall. They then insert the characters into a comic strip using the cartoon-panel pages and felt tip pen provided. For more information, contact the library at 387-1140 or visit online here.
The Grand Marais Art Colony is offering a great selection of online/virtual demonstrations this spring. The series is entitled Artistic Appetizers. To learn more, click here.
The Duluth Art Institute is seeking teaching artists to lead workshops, classes, lectures, professional development opportunities, and more.

Beyond being a catalyst for positive growth in the community, teaching can be a great professional opportunity for artists looking to branch out and share their knowledge and skills. For more information, visit duluthartinstitute.org/Teach to fill out a proposal form. Email completed forms and inquiries to espooner@duluthartinstitute.org.
 A little further afield, Hyperallergic, an online art site, puts out a monthly Opportunities Listings to provide a resource to artists and creatives looking for grants and paid gigs to further their work.
As the arts sector navigates the coronavirus pandemic, these paid opportunities for independent artists and cultural organizations are more important now than ever.
Opportunities in the list include grants, opens calls, commissions, residencies, fellowships and more. To find out more, click here.
 Artists at Work:
An Experience:
 Online Findings:
Check out this huge archive of drawings of the complex root systems of plants:
Here's an interesting illustrated story: "Fatal Victorian Fashion and the Allure of the Poison Garment.
Video: Grizzly Bears Saved My Life:
 Online Music:
Live Music:
Thursday, Jan. 13
Timmy Haus, Moguls Grille, 4 p.m
Fred Anderson, Date Night at the Winery, North Shore Winery, 6 p.m.
Friday, Jan. 14:
Gene LaFond, Mogul's Grille, 4 p.m.
Photographs:
We were lucky again this week. Here's a selection of what we found:
Wildlife:
This one probably fits in the wildlife category.
 Landscapes, Skyscapes, Icescapes & Boatscapes:
Peace to all. Stay Safe.
m