Greetings from the North Shore, where we, too, saw the groundhog's shadow on Tuesday. Six more weeks of winter would be great! Imagine. Last Frost on March 15.
What we do enjoy this time of year is the sun rising higher in the sky, which means more daylight and lots of beautiful shadows.
Tree shadows:
Moose shadows:
Meanwhile, The Hygge Festival begins this Saturday in Cook County. It's a time to settle in and truly enjoy the perks of wintertime. The Danish word, hygge (pronounced hoo-gah), refers to the ritual of embracing life's simple pleasures,  feeling relaxed, cozy and surrounded by family, friends, community and a warming fire, all encompassing the idea of the hygge.
Here on the North Shore, there are lots of activities and events planned for the next few weeks during the Hygge Festival, including a vintage snowmobile ride, the annual Fun Run snowmobile event, which is a fundraiser for the Cook County Snowmobile Club, art events and art making at Joy and Company, snowshoe explorations, live music and more. To find out more and register for events, click here.
The Johnson Heritage Post opens a new exhibit on Friday featuring paintings by Krystal Brown, 2021 Plein Air Grand Marais Grand Prize winner.
The opening reception is from 5-7 p.m. on Friday, Feb. 4. The exhibit continues through Feb. 28. The Heritage Post is open from 10 a.n, to 4 p.m. Thursday through Saturday and from 1-4 p.m. Sunday. Masks are required.
In Duluth, the Tweed Museum of Art is featuring a great selection of exhibits, including French Barbizon works from the its Permanent Collection.
The Duluth Art Institute also has a number of exhibits, including Beth Livensperger's "Don't Like Mondays."  Her large-scale collages depict women navigating the banal yet psychologically-charged space of office interiors, foregrounding female relationships across generations, from adversarial to supportive.
 Opportunities:
 Applications for the Grand Marais Arts Festival are now open. The 31st Annual Grand Marais Arts Festival will take place July 9-10 on the campus of ISD 166, where it was held last year. Artists of all mediums are invited to submit quality, original work to this juried art fair. Applications will be accepted through March 31 and artists will be notified April 18. Interested artists can learn more and apply through ZAPP. Click here to apply.
Also, class registration for May-October classes and workshops  at the Grand Marais Art Colony is now open. More than  70 classes and Entry Points with over 50 instructing artists were added to the Art Colony's 2022 lineup. Subject media include Ceramics, Painting, Mark Making & Drawing, Printmaking & Book Arts, Sculpture, Literary Arts, Mixed Media, and Studio Sessions. To find out more and register, click here.
The Grand Marais Playhouse will hold an After School Theater Design and Technology workshop for students from 11-17. The workshop costs $100, but scholarships are available.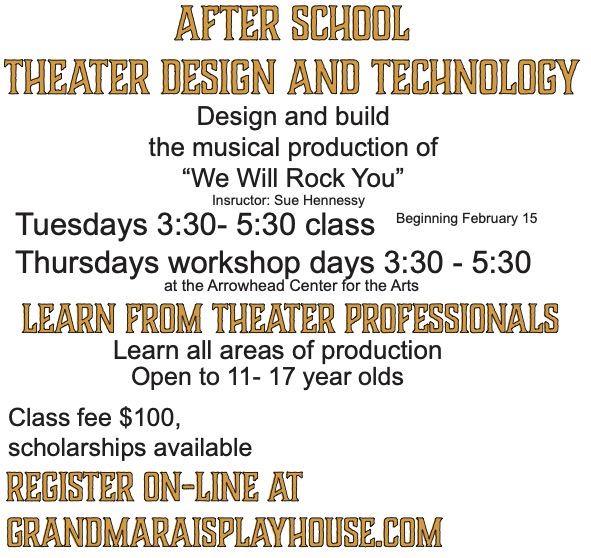 To find out more and register, click here.
Just announced: The 15th annual Radio Waves Music Festival returns to Sweetheart's Bluff in the Rec Park  this fall, with live music and more Sept. 9-11. Stay tuned for details.
FYI:
The Arrowhead Regional Arts Council (ARAC)  announced that Erik Takeshita has been selected by the board of directors to serve as its interim executive director.
Takeshita brings 30 years of experience leading community development efforts through arts and culture and has a strong track record of management in philanthropy, nonprofits and government in the Twin Cities, the Arrowhead region and nationally. To find out more, click here.
    Artists at Work:
Online Findings:
2,000-year-old glass bowl found in perfection condition. Archeologists excavating in Nijmegen, the Netherland's oldest city, found this 2,000-year-old Roman bowl. To read about it and find out more, click here.
Early Disney sound effects: Bear
Vincent  Van Gogh and Physics: A story and a video
Here's a video about Van Gogh's paintings and physics:
The Scott Fish House
Here's a video of the live presentation about the Scott Fish House located on the campus of North House Folk School that was held last week. It features an outstanding presentation about commercial fishing on the North Shore by Brian Tofte and a discussion of the historic fish house and what its future might be.
Video of the webinar.
 Online Music
Keith Secola is one of the most successful artists in Native America. His signature song, "NDN Kars," cut with his band The Halluci Nation, is still the most played song on Native American radio stations, 34 years after it first appeared.
Secola  has just put out a new album. "Portals" is the most unique album in Secola's catalogue. It's an all-instrumental recording, featuring Native flute, complimented by guitars, keyboards, bass, drum kit and percussion. It's mellow, and adds touches of dub reggae, EDM and flamenco to his usual influences. To read an interview with Secola about it, click here.
Here are songs from "Portals."
Here are some other music findings:
;
Live Music:
Thursday, Feb. 3:
Timmy Haus, Acoustic Night at Moguls Grille, 4 p.m.
Gordon Thorne, Date Night at the Winery, North Shore Winery, 6 p.m.
Friday, Feb. 4:
Boyd Bump Blomberg, Acoustic Night at Moguls Grille, 4 p.m.
Saturday, Feb. 5:
Adam Roe, Campfire music by the campfire at Bluefin Bay, 6 p.m.
Jim McGowan, Lutsen Resort Lobby, 6:30 p.m.
 Photographs:
 We found lots of great photographs this week. Here's a selection of what we found:
Wildlife: 
A not-so-wild:
People:
More Than One World:
 Landscapes, Skyscapes, Icescapes and Boats:
Have a good weekend, everyone. Stay safe!