It's a busy weekend ahead. Cook County hosts two big music events, the musical "West Side Story" opens in Silver Bay, and Thunder Bay celebrates downtown-wide art exhibits and performances with Urban Infill-Art in the Core.
First up is the 6th annual Fingerstyle Masters Weekend at Bluefin Grille on Friday and Saturday.
The event, which is a benefit for WTIP Community Radio's equipment replacement project, kicks off with a free concert at 8 p.m. Friday at Bluefin Grille, featuring Gordon Thorne and friends playing blues, swing and early Americana.
On Saturday, workshops will be held for those looking to fine-tune their musical skills starting at 10 a.m. and are open to musicians of all ages and skill levels.  Fingerstyle master Pat Donohue will offer a workshop, as will virtuoso fiddler Tom Schaefer. Both are $50 and include lunch. Thorne will teach a free youth guitar workshop from 10 a.m. to noon.  Pre-registration for the workshops is requested. Contact Thorne at 218-353-7308 or oman4@live.com.
The event caps off on Saturday night with a 7:30 p.m. concert featuring Pat Donohue, with Chris Gillis on piano and Tom Schaefer on fiddle in the upper room of the Grille. Tickets for the concert are $20 and will be available at the door, or in advance by contacting Thorne at 218-353-7308 or oman4@live.com. This is always a popular event, so get your tickets early.
This weekend is also Mountain Meltdown weekend at Papa Charlie's with lots of music throughout the weekend. Singer/songwriter Erik Koskinen performs on Friday night (9:30 p.m.) and a variety of musicians perform on all-day Saturday. (See schedule below.) Frogleg plays the evening show, starting at 9:30 p.m.
The music continues through Sunday, with local bands, Cook County's Most Wanted and the Spruce Roots among the line-up. (See music schedule, below.)
In Silver Bay, the musical, "West Side Story," a production of the  Lake Superior Community Theatre, opens at the William Kelly High School Auditorium at 7 p.m. on Thursday. Performances are at 7 p.m. Friday and Saturday and 2 p.m. Sunday. The musical will also be performed at the Two Harbors High School Auditorium April 15-17.
It was an ambitious project, said Paul Deaner, executive director of Lake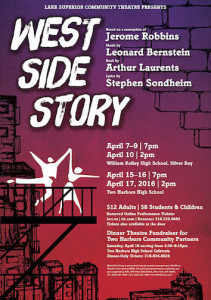 Superior Community Theatre, and features the original music by Leonard Bernstein and lyrics by Stephen Sondheim.
But not to worry– this lively and talented community theatre company has successfully tackled a number of musicals and dramas since it was first established in 2002, including "Annie," "Guys and Dolls," "Grease" and "The Music Man," as well as Arthur Miller's "Death of a Salesman."
It is a must-see for fans of Broadway musicals. Tickets are $12 adults, $8 students and can be purchased at www.tix.com or by calling Roxanne at 218-220-0682.
Thunder Bay will really be hopping on Saturday night, too,  when the Definitely Superior Art Gallery  (DefSup) presents "Urban Infill 10: Art in the Core" on Saturday with art exhibits and live performances throughout the Waterfront District as well as a gala opening reception for exhibits of contemporary art at the gallery itself.
This year, Art in the Core will feature works by more than 350 artists (regional, national and international/multidisciplinary) at 24 downtown locations, including: DefSup, commercial spaces/art galleries, artist studios and empty spaces transformed into new gallery and performance venues. Art in the Core is one of the largest presentations of visual & media arts and is unique to Thunder Bay. More than 1,500 people attended last year. The event focuses on revitalizing the downtown area by bringing in artists and musicians to exhibit and perform in the district.
The event also features seven bands, video mapping and projections, street art, Fringe Theatre and more. Tour Guides set out from DefSup to lead participants through the district, and maps can be picked up at DefSup as well. The art exhibits continue through April 12. For more info, visit www.definitelysuperior.com.
Also of note: the Lakehead University Student Juried Exhibition at the Thunder Bay Art Gallery ends this Sunday, April 10.
The exhibit features a wide variety of art in many mediums, including paintings, ceramics, sculpture and installations. Here's a great video taken while the exhibit was being set up.
In other art news, the Betsy Bowen Gallery is open Wednesdays from 11 a.m. to 5 p.m. this spring with a variety of work by local and regional artists, including new jewelry by Ron's World Rocks. Ron (Piercy) has been working with silver, and local and global gems, with a focus on rings.
Tettegouche State Park has just mounted a new exhibit. Painter Doug Ross is now exhibiting his work in the Great Room at the park. The exhibit is up through the end of May. Ross will give an artist talk at Tettegouche at 7 p.m. May 27. Stay Tuned.
 Bryan Hansel has a series of photographs hanging at the new St. Luke's Rheumatology Associates in the Northland Medical Building on First Street in Duluth. The medical group moved into a new and larger space and elected to use Hansel's photographs of familiar Duluth and North Shore sights to enhance the space.
Sandi Pillsbury-Gredzens will be exhibiting 30 paintings in an exhibit at St. Mathews Episcopal Church in St. Paul entitled "Witnessing Nature: Variations of God's Creation." The exhibit continues through July 15 with the opening reception from 11:30 a.m. to 1 p.m. on Sunday, April 10.
 Dan and Lee Ross will be exhibiting at the American Craft Council show at the Minnesota RiverCentre in St. Paul this weekend.
The Grand Marais Art Colony has an opening for a gallery store manager. The applications are due on Saturday, April 9. Also, the Art Colony will hold the last Open Studio: Creative Playtime from 9 a.m. to noon on Wednesday, April 13. All invited. Tuition is $12. Artist volunteers will be on hand to guide participants as needed, but this is a very informal opportunity to simply get creative and have fun. For more info, call 387-2737.
Also in Art Colony news, the Eric Thomas Emerging Artist Award applications are due April 23. The Art Colony and Leah Thomas are pleased to announce the second year of the Eric Thomas Emerging Artist Award, in memory of Leah's brother Eric (1956 – 2013). This annual scholarship provides full tuition and cost of materials for a young Cook County artist to attend a Grand Marais Art Colony class of their choice. Cook County high school students who are completing their sophomore or junior year, or the equivalent home school program, are eligible to apply.
Last year's recipient, Isabel Wahlers, had the opportunity to strengthen her drawing skills by taking the class "Drawing Through History" with instructor Jeff Niesen.
More information and applications are available from the Art Colony at 387-2737 or through Mary MacDonald, the art teacher at ISD166.
The Grand Marais Writer's Guild will meet at the Whole Foods Co-op from 6-7 p.m. on Monday, April 11. The prompt topic will be "Character Portraits." All writers invited. To learn more, click here.
And here's the latest news from cellist Yvonne Caruthers, who is in Washington, DC, rehearsing for the Washington Opera's production of Wagner's Ring Cycle that will be performed at the Kennedy Center April 30-May 22.
She has been in Washington rehearsing with the orchestra since March 14, and she's been blogging frequently about the experience. It's a fascinating read. She always includes photos and links to more info.
Here's a post from April 5:
She leads with this photo:
"If I saw fire running along the floor, coming towards me, I don't think I'd stay cool, calm, and collected," Caruthers writes in her blog. "But if you watch the newest video clip created by the (Washington) opera company, you'll see what's going on. Fire is almost a character in the Ring cycle, and it's handled different ways in different productions. . ."
So, click on the link, and you will be transported into the fascinating world of opera with all its fantastic sets and drama.
Caruthers took a few photos for us from her point of view: the opera pit with conductor Philippe Auguin, and a rehearsal scene.
And here's a scene from a rehearsal.
Here's the link to Caruther's blog. Check it out for frequent (and interesting) updates.
And, last but not least, Lonnie Dupre is planning a climbing expedition to Begguya, a 14,000-foot peak in Danali National Park. He and his team will leave April 22. He will be on WTIP's The Roadhouse on Friday night to talk about the expedition. The show airs from 5-7 p.m. It can also be streamed at www.wtip.org
Here's the music schedule for this weekend:
Thursday, April 7:
Boyd Blomberg, Moguls Grille, 3:30 p.m.
Boyd Blomberg, Poplar River Pub, 6 p.m.
Teague Alexy, Gun Flint Tavern, 6:30 p.m.
Friday, April 8:
Eric & Jessa Frost, Moguls Grille & Tap Room, 3:30 p.m.
Fingerstyle Masters Weekend, Gordon Thorne & Friends, Bluefine Grille, 8 p.m.
Mysterious Ways, Gun Flint Tavern, 8 p.m.
Erik Koskinen Band, Papa Charlie's, 9:30 p.m.
Saturday, April 9:
Gene LaFond & Amy Ann Grillo, Lutsen Resort, 7 p.m.
Molly Maher & Her Disbelievers, Papa Charlie's, 11:30 p.m.
Tin Can Gin, Papa Charlie's, 1 p.m.
The Galactic Cowboy Orchestra, Papa Charlie's, 2:30 p.m.
Ginstrings, Papa Charlie's, 4 p.m.
Fingerstyle Masters Weekend, Pat Donohue, Bluefin Grille, 7:30 p.m.
Mysterious Ways, Gun Flint Tavern, 8 p.m.
Frogleg, Papa Charlie's, 9:30 p.m.
Sunday, April 10:
Gordon Thorne & Friends, Papa Charlie's, 11:30 a.m.
J Squared & The Makers, Papa Charlie's, 1 p.m.
Cook County's Most Wanted, Papa Charlie's, 2:30 p.m.
Sunday Afternoon Jazz with Briand Morrison, Gun Flint Tavern, 3 p.m.
Spruce Roots, Papa Charlie's, 4 p.m.
Timmy Haus, Gun Flint Tavern, 6:30 p.m.
Tuesday, April 12:
Jon Kallberg, Poplar River Pub, 6 p.m.
Wednesday, April 13:
Open Mic Night, Gun Flint Tavern, 5 p.m.
And finally, here are a few landscapes and wildlife photos that we found this week. Enjoy!
Have a good weekend, everyone!