It's an art fest in Cook County this weekend as shops, galleries and cultural centers celebrate the beginning of the summer season with openings, exhibits, music, receptions, art classes, demonstrations and more. A brochure, Art Along the Lake, detailing all the things to do and see in the county over Memorial Day Weekend is available at most venues. Check it out!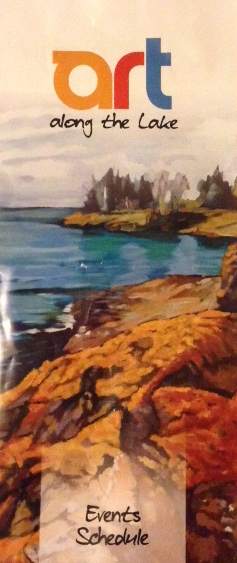 Here are a few of the things to see and do.
On Friday, the Cross River Heritage Center opens for the season with two-days of demonstrations and a new exhibit about Taconite Harbor as well as artwork by photographers Thomas Spence and David Degree and acrylic paintings by Bruce Palmer.
Demonstrations at the Cross River Heritage Center over the weekend include:
Friday, 10 a.m. to noon, Al Sunde demonstrates German-style woodcarving and Marland Hansen shows how to make knives out of leftover stuff. From 1-3 p.m., Lavonna Czaplick demonstrates Ukranian egg painting, Polly Erickson shows how to do applique quilting and Bruce Palmer demonstrates acrylic painting. Paula Sundet Wolf will demonstrate spinning from 2-4:30 p.m.
Saturday's demonstrations from 10 a.m. to noon include Orlene Fisher, crazy quilting, and Jean Bushman, Hardanger embroidery and from 1-3 p.m.  Lavonna Czaplicki, Ukrainian egg painting and Mary Jane Huggins, pine needle basketry.
And there's an art opening this weekend, too. On Friday, Betsy Bowen will host an opening reception for her exhibit,  "Sketches of Spain" at the Betsy Bowen Studio and Galleries from 6-8 p.m. featuring a wonderful selection of the ink and watercolor drawings she did when she visited Spain last March.
The reception for "Sketches of Spain" includes Spanish-style tapas and music by Briand Morrison. All invited.
The Betsy Bowen Studio and Galleries has a new artist on-site this year, too. Woodturner Jim Sannerud has set up a shop in a space upstairs.  Other artists-in-residence include jewelers Ron Piercy and Stephan Hoglund and ceramic tilemaker Melissa Wickwire. The downstairs gallery also features a variety of regional artists including potters, painters, photographers and multi-media artists. And, of course, there's a great selection of Bowen's woodcut prints.
The Cook County Farm & Craft Market, featuring artwork as well as vegetables and plants, opens for the season at 9 a.m. Saturday in the Senior Center parking lot. There are a number of new artists as well as an artisan breadbaker. The market is open from 9 a.m. to 1 p.m.
Participating galleries in Art Along the Lake have scheduled a variety of activities for Saturday. including lots of demonstrations.
Woodturner Cooper Ternes will demonstrate bowl-making in his shop at Joy and Company at 10 a.m. and 2 p.m. on Saturday.
At Sivertson Gallery, David Gilsvik will give painting demos from 11 a.m. to 2 p.m. on Saturday and Sunday. Gilsvik has a great selection of new work at the gallery, too, entitled "Meandering Birches."
And Melissa Wickwire will demonstrate tile-making in her studio upstairs in Betsy Bowen's at 11 a.m. Saturday.
There's lots going on at the Grand Marais Art Colony, as well.
Mary Bebie will give a glass demo at the Grand Marais Art Colony in the glass studio at 1 p.m. on Saturday. Free. All invited.
Then, from 2-4 p.m., it's Community Ink Day/Screenprinting at the Art Colony. Participants can screenprint their own custom T-shirt, using their choice of ink color and one of several Art Colony designs or, they can screen a decorative frame onto their shirt to be filled in with fabric pens.
The Art Colony has a great selection of T-shirt designs by Hazel Belvo, Mary Bruno, Cameron Norman and Andrea Martin.
T-shirts, tote-bags, and onesies will be available for purchase ($10 youth-sized & onesie, $20 adult-sized T-shirt or totebag) or bring your own clothing item ($10). Explore the exciting world of screenprinting in this all-ages, hands-on event.
On Sunday,  the Art Colony will host the Masterpiece Puzzle-a-thon from 9 .m. to noon.
Also this weekend, Tom Christiansen of Last Chance Gallery in Lutsen will hold a bronze sculpture pour at the gallery at 4 p.m. on Saturday and Sunday.  Experience the excitement as the molten bronze is poured into molds. All invited. Free.
Kah-Nee-Tah Gallery is hosting silver jewelry making demonstrations from 11 a.m. to 4 p.m. on Saturday and Sunday as well as lots of live music.
And on Saturday from 5-7 p.m., painter Doug Ross will teach a Painting and Wine class at Kah-Nee-Tah. The cost is $40 per person and includes all supplies needed plus wine and snacks. Reservations are required. Call 387-2585 for reservations.
Ross is currently showing his work at Tettegouche State Park, which will host a reception for him from 7-8:30 p.m. on Friday, May 27.
Kathy Rice will be the featured speaker at the first Salon of the season at Drury Lane Books.
Rice will talk about her new book, "Secrets of the Pie Place Cafe: Recipes & Stories Through the Seasons." The salon is at 5 p.m. Saturday.
Other demonstrations over the Art Along the Lake weekend include woodcut printmaking demos by Betsy Bowen from noon to 3 p.m. on Saturday and Sunday. Joy and Company will also feature lots of hands-on art activities over the weekend.
In Thunder Bay, the Definitely Superior Art Gallery continues two exhibits: The Retrograduate Show featuring Lakehead University art graduates Ericka Anderson, Gayle Buzzi, Sarah Corley, Stephanie Todd, Fay Beery, Samantha Bachynski and Sunshine Sunshine.
The gallery is also exhibiting "Creators Project 5," an international film/video screening. Both exhibits continue through June 11.
The Thunder Bay Art Gallery is gearing up for its annual Art Auction on Friday, June 3. The event is a fundraiser for the gallery, and artists from every media have donated work for the sale.
The works can be previewed at 7 p.m. June 3. For more info and tickets, click here.
Upcoming:
Maria Nickolay will hold a CD release concert at the Arrowhead Center for the Arts on Thursday, June 9 at 7 p.m.
Nickolay wrote, produced, recorded, mixed and mastered "Through the Ashes." Admission is free. Donations are welcome.
Ricardo Lemvo & Makina Loca, an 8-piece band from Los Angeles, will be at the Arrowhead Center for the Arts at 7:30 p.m. June 11 hosted by the North Shore Music Association. Note: There will be room to dance. Tickets are $20 adults, $5 youth, 18 and under.
The Duluth Art Institute will premiere a series of black & white photographs by Tim White. The exhibit, "In & Out of Context," is an offshoot of White's book of the same title.  The exhibit opens with a free reception in the DAI Galleries from 5 – 7 p.m. on June 16, and related programming throughout the summer will include an evening of poetry featuring 21 poets for 21 seconds each; an ephemeral poetry workshop; and a music performance by Gaelynn Lea. The photographs and text will be on view through Sept. 2.
In other art news, the Johnson Heritage Post's exhibit: A Collection of a Lifetime: Fine Art & a Bit of Whimsy continues through June 19. The exhibit includes works by a number of local artists.
 The Heritage Post is open from 10 a.m. to 4 p.m. Tuesday through Saturday and 1-4 p.m. Sunday.

The Voyageur Art Club will open an exhibit of members' work at Tettegouche State Park on June 3. Stay tuned for details.
The Summer Solstice Pageant by the Good Harbor Hill Players is just around the corner. It will be held at North House Folk School on Saturday, June 18 at 8 p.m., so put that date on your calendar. Lots of work has to be done to prepare this wonderful show, and workshops to build puppets, paint scenery, make costumes and more will be held in the big tent beside Betsy Bowen's Studio and Gallery over the three weeks. The first workshop is this Saturday, May 28, from 10 a.m. to noon and 2-to 4 p.m. Workshops will be held on Thursdays (6-8 p.m.)  and Saturdays until the performance. Open to all ages. All invited.
The deadline for banner designs for the downtown light posts is 5 p.m. on June 1. Artists are invited to create a seasonal (choose any season) design that represents our area. Designs can be one or two-color and will be printed on banners 24" wide and 36" high. (Submissions can be 12" x 18"). Submit designs to Betsy Bowen's Studio. The designs will be exhibited June 10, and attendees will help select the best designs. Four will be chosen, earning the artist a $500 stipend. For more information, contact Mary Beams at 218-370-8682 or email PieLight@hotmail.com.
And last, but not least, check out this intriguing wood art at Upstate MN.
Here's the music schedule for the weekend:
Thursday, May 26:
Dat Dere Jazz, Voyageur Brewing Co., 4 p.m.
Boyd Blomberg, Poplar River Pub, 6 p.m.
Joe Paulik, Gun Flint Tavern, 6:30 p.m.
Friday, May 27:
Pushing Chain, Voyageur Brewing Co., 4 p.m.
Briand Morrison, Betsy Bowen Studio & Gallery, 6 p.m.
Portage Band, Grandma Ray's, 6 p.m.
The Thirsty River, Gun Flint Tavern, 8:30 p.m.
Jim & Michele Miller, Bluefin Grille, 9 p.m.
Saturday, May 28:
Plucked Up String Band, Voyageur Brewing Co., 4 p.m.
Eric Frost, Lutsen Resort Lobby, 7 p.m.
Michael Monroe, Log Cabin Concert, rural Grand Marais, 7 p.m., 387-2919
Bug Lite, Cascade Lodge Pub, 7:30 p.m.
Earth, Wind & Todd, Grandma Ray's, 8 p.m.
The Thirsty River, Gun Flint Tavern, 8:30 p.m.
Sunday, May 29:
Jazz with Briand Morrison, Gun Flint Tavern, 3 p.m.
Monday, May 30:
Briand Morrison, Bluefin Grille, 6 p.m.
Plucked Up String Band, Gun Flint Tavern, 6:30 p.m.
Tuesday, June 1:
We found quite a variety of photos this week. Here's a selection:
First up: Proof that spring has really arrived.
Here's another spring shot: a fox kit by Paul Sundberg.
Moose are starting to get their summer coats. Tom Spence took this photo.
David Johnson caught these wood ducks hanging out.
Keith Crawley caught this great image of a Barred Owl.
Here's an evocative shot.
And here, in its peaceful stage, is Lake Superior.
And finally, a full moon photo that says Grand Marais.
Have a great weekend, everyone! Enjoy Art Along the Lake!