This is a great time of the year to stop by for a visit, and this weekend Grand Marais will really be hopping.
The weekend launches with the First Friday's Block Party, when shops and galleries in Grand Marais stay open later and hold special events and/or receptions. People are encouraged to visit downtown shops and galleries to see what's happening.
The Betsy Bowen Studio and Galleries will have open studios from 11 a.m. to 8 p.m. on Friday. Tilemaker Melissa Wickwire, who has a studio in the complex, will hold a tile-making demo at 11 a.m. All invited. Free.
Betsy Bowen's exhibit, "Sketches of Spain" continues in her gallery. Bowen took her sketchbooks with her when she visited Spain earlier this year, including a Tiny Journal. The show includes a slide show of the drawings she did in the miniature booklet, which capture the essence of street life in Spain.
The exhibit in the gallery includes new work by a number of local and regional artists, including Natalie Sobanja's exquisite ceramic jars.
Joy & Company holds demos and opportunities for family activities, as well as a chance to peruse work by local artists. Kenny Albrecht from Finland (MN) has brought in a selection of new jewelry, including rings and pendants fitted with gemstones. Potter Carol Miller has brought in new work to Joy & Co. as well.
 Sivertson Gallery is open until 7 p.m. on Friday, featuring refreshments, a drawing for a gift certificate and a chance to see new work by painter Mary Jo Van Dell.
To see a plein air painter work on a canvas, stop by Harbor Park at 5 p.m. in Friday, when Neil Sherman will set up his easel and paint what he sees. Here's an example of one of his works.
Sherman will lead a workshop, "Painting in the BWCAW" July 14-17. Workshop, which is being held in conjunction with Hungry Jack Outfitters, will feature lots of great places to paint and canoeing and camping to get there. For more info, click here or call 800-648-2922.
At 7 p.m. on Friday,  the Grand Marais Art Colony will host Scott Husby, who will give a presentation entitled ""Traveling Texts: What Bookbindings Tell Us About Early Printed Books." Free. Pre-registration is requested. Call 387-2737 or email programs@grandmaraisartcolony. org.
At 11 a.m. on Saturday, the Art Colony brings author Kathryn Savage to the Grand Marais Public Library to give a presentation entitled "Reading: Short Stories and Fiction." She will also teach a class at the Art Colony in the afternoon: "Time and Memory in Poetry and Prose." The class is from 1-3 p.m. $20. Call the Art Colony to register at 387-2737. 
Also, Cilla Walford will demo watercolor pencils at the Art Colony at 1 p.m.
Also on Saturday, Kah-Nee-Tah Gallery will host Nedra Nicholls, who will teach a class on batik.
Batik is an ancient art form in which select areas of cloth are blocked out with hot wax, and then the cloth is dyed. The cost is $60 per person and includes all supplies, snacks and refreshments. The class is from noon to 2:30 p.m. Call 218-387-2585 to reserve a spot.
Fascinated by the ancient art of pouring bronze? Last Chance Gallery in Lutsen will hold a bronze pour at 4 p.m. on Saturday. Open to the public.
The gallery will hold a pour every Saturday through the summer, if you can't make it this week.
And not to forget: the Cook County Farm & Craft Market is open from 9 a.m. to 1 p.m. in the Senior Parking lot. There are new artists exhibiting this year, and growers bring plant starts, including tomatoes.
North House Folk School is holding the Northern Landscapes Festival this weekend with lots of classes and birdwatching planned for the event. One really cool class (which is full, by the way) is called "Wool: The (Really) Full Experience–Felting, Spinning & Warp-Weighted Looms." One interesting part of the class–students will shear a sheep to get their wool, then wash it and card it and work on a variety of different projects with it.
There are public events scheduled during the festival, too, including the screening of "Painted Land: In Search of the Group of Seven" with photographers Gary and Joanie McGuffin.
The hour-long documentary, which explores the land favored by the famous Canadian painters, is free. It starts at 7:30 p.m. For more info on the Northern Landscapes Festival, click here.
A little further down the road, a new exhibit has opened at Tettegouche State Park featuring 14 artists, all members of the Voyageur Art Club. This spring show is an annual event for the Two Harbors-based club. Works include photographs as well as paintings.
A reception will be held from 7-8:30 p.m. on Thursday, June 10, at Tettegouche with an Artist's Talk at 7:30 p.m. Refreshments will be served.
This is the last weekend to see Lee and Dan Ross' show the Groveland Gallery, 25 Groveland Terrace, in Minneapolis.
"Ancient Materials—Modern Designs" closes on June 4.
In Thunder Bay, the Definitely Superior Art Gallery continues the Retrograduate Show, featuring selected artists from Lakehead University. as well as "Creators Project 5," an international film/video screening.
Both exhibits continue through June 11. Stay tuned for details of the 28th Anniversary Members Show gala opening and reception June 18.
The Art Auction, a fundraiser for the Thunder Bay Art Gallery, has been rescheduled for late September. Stay tuned for details. The gallery just opened a new show: Secondary School Art.
The exhibit continues through June 19.
In Duluth, the Northern Prints Gallery, 318 N. 14th Ave. East (across from the old Whole Foods Co-op) has opened the Leif Brush Retrospective. The artist writes: "This exhibition is the first retrospective of my early lithography work from the late 1960s-early 1970s, not previously exhibited together. Among these are images that formed the conceptual base for my later internationally-recognized Terrain Instruments sound and imaging works, recordings, and installations. Also included are other sound/images, pop art, poetic abstractions, and poster art."
The work will be on display through July 23. For more information about the artist and the gallery, click here.
Upcoming
 The Banner Design Gala will be held upstairs at the Betsy Bowen Studio and Galleries from 5-7 p.m. Friday, June 10. The public will be invited to vote on their favorite designs. Refreshments will be served.
On Saturday, June 11, the North Shore Music Association and Grand Marais Public Library will host Ricardo Lemvo, celebrated pioneer of Afro-Cuban/ Pan-African music, who will perform and teach about the history of Afro-Cuban music in a family program for all ages. He will present at 1 p.m.
Then Lemvo and Makina Loca, accompanied by their band, will perform at the Arrowhead Center for the Arts at 7:30 p.m. Tickets to the concert can be purchased at www.tix.com.
Rose Arrowsmith DeCoux will perform in the premiere performances of "Cow Calls in Dalarna," a new verse play for readers' theatre by Bart Sutter at the Peace United Church of Christ in Duluth June 17-18. On July 22-23, the same troupe will perform "Cow Calls in Dalarna" at the American Swedish Institute in Minneapolis. The premiere of the play in Duluth will also serve to launch
Sutter's's new collection of poems, published by Red Dragonfly Press, on which the play is based.
The play evokes the spirit of the summer pasture camps, where, for centuries, village women herded their cows in the forested hills above Lake Siljan in the province of Dalarna, producing dairy products to carry their communities through winter. The production, directed by Sheryl Jensen, will feature four area actresses and will be musically enhanced with folk songs, fiddle tunes, cow calls, cow horns, and cow bells.
For more info, click here. For tickets, call Claudia at 218-940-2292.
In Other Art News:
Beth Novak is the June Featured Artist at the Grand Marais Art Colony. Novak has been a jewelry designer for more than 30 years. She has a degree in Studio Art from the University of Wisconsin-Stout and has studied under J. Fred Woell, Andy Cooperman, and Alan Revere.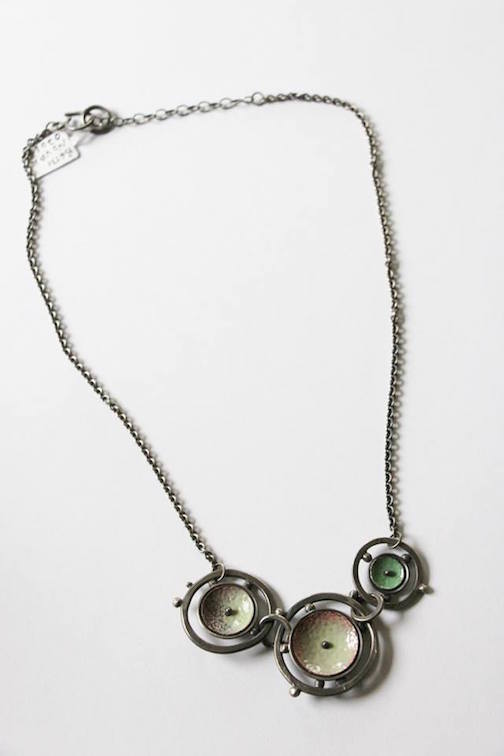 Her work can be found in galleries throughout the United States, as well as at the American Craft Council shows. View her work at www.bethnovakenamels.com and/or come see it at the Art Colony.
The Blue Moose is featuring Nancy Haarmeyer's "Nancy's Naughty Necklaces." They come in a wide variety of designs and colors.
Upstate MN has just received hand-carved porcelain spoons by Niels Ditema.
The new gallery is open from 11 a.m to 5 p.m.
Great Gifts of Lutsen has new cards by photographer Earl Orf, who is a photographer, birder and card-maker.
Cassie Burkett and Samantha Scalise were presented with Art Colony Scholarships at the Cook County Schools Awards Day presentation May 23. Leah Thomas, sister of Eric Thomas, presented the award. Molly Thomas, Eric Thomas' niece, is pictured with the award winners.
Here's the music line-up for this week:
Thursday, June 2:
Plucked Up String Band, Voyageur Brewing Co., 4 p.m.
Joe Paulik, Lutsen Resort, 6 p.m.
Friday, June 3:
Eric Frost, Voyageur Brewing Co., 4 p.m.
Evergreen Grass Band, Gun Flint Tavern, 8:30 p.m.
Pete K, Bluefin Grille, 9 p.m.
Saturday, June 4:
Billy Johnson, Voyageur Brewing Co., 4 p.m.
Plucked Up String Band, Lutsen Resort Lobby, 7 p.m.
SplinterTones, Grandma Ray's, 7 p.m.
Evergreen Grass Band, Gun Flint Tavern, 8:30 p.m.
Monday, June 6:
Joe Paulik, Bluefin Grille, 9 p.m.
Wednesday, June 8:
Timmy Haus, Moguls Grille, 5 p.m.
Gordon Thorne & Bob Bingham, Bluefin Grille, 9 p.m.
We found a wide variety of photographs this week. Here's a selection.
First up, newbies.
Here's another newbie… new antlers.
And here's a great shot by Jean Cochrane.
I'd say this next photo is a little too up-close-and-personal.
To expand the view… it's been foggy and rainy. That sometimes means rainbows:
Fog definitely softens the light. Here are two images by Alison Gimpel.
Storms have blown up, too. Here's a Christian Dalbec. He commented that the lake was so fierce it would have scared a trout.
But serenity is also part of spring. Enjoy this wonderful photo by Linda Kratt.
Have a great weekend, everyone!