It's a big weekend in Duluth, as the Tall Ships Festival gets underway Thursday and runs through Sunday, with boat parades, tours, sailing opportunities, events, art exhibits and wall-to-wall people. In all, 10 Tall Ships are expected at the festival. Oh, and the world's largest inflatable duckie will be on hand. For tickets and more info, visit www.tallshipsduluth.com.
Rick Allen and Kenspeckle Press in Duluth have even created  T-shirts for the Tall Ships event: "Not for Navigation."
YAR! Tall Ships be coming in tomorrow. Our store be open Thursday through Sunday, 11 – 4! Lake Superior "Not for Navigation" t-shirts have been replenished. We be ready!
It will be a quiet weekend in Grand Marais, as everyone settles in to enjoy the last few weeks of August. But there's plenty to do nevertheless.
First up is the Arrowhead Sketchers, who will meet for their weekly outing this Thursday. This week they will meet indoors and hold a life drawing session at Jeanne Hedstrom's home, 817 W, 1st St. in Grand Marais, from 5:30-7 p.m. Depending on the number of folks participating, there will be a charge of $5 to $10 to cover the fee of the model. Everyone is welcome. So, bring your favorite medium and reconnect with life drawing.
The Sketchers met at Hedstrom Lumber Co., last week, and came up with these sketches/drawings.
Also on Thursday, Drury Lane Books will hold a Full Moon Reading at 7:30 p.m. with local poet and performer Reed Schmidt. He will read from some of his original poems as well as a selection from his favorite poets. All welcome.
Schmidt studied literature and studio art at the University of Minnesota Morris. He has been a reader, writer, musician, and artist for most of his life—sometimes one more than the other depending on the year. Before settling in Grand Marais just over a year ago, he spent about three years teaching immersion English and kindergarten in South Korea, a brief time repairing violins in Atlanta, and a variety of other odd jobs along the way. You may have seen him recently as Jonathon Brewster in the Grand Marais Playhouse's rendition of "Arsenic and Old Lace." The reading is held outside the bookstore by the bonfire.
On Friday, the Grand Marais Art Colony will host a Pottery Potluck and Demo with Robert Briscoe and Jason Trebs from 4-6:30 p.m. at the Art Colony.
Expect lively pottery making and conversation as you watch the potters throw organic, loose, and fluid forms on the wheel.
Along with demoing a variety of techniques and methods of making functional pots, the artists will talk about their own artistic work and individual paths. The event will culminate in a potters' potluck.
There is a $15 suggested donation for this event. Pre-registration is encouraged. Please bring a dish to share if staying for the potluck. For more info, call the Art Colony at 387-2737.
Also on Friday, Pete K will talk about his music and play a few songs on WTIP's "The Roadhouse," which airs from 5-7 p. Pete will be on-air around 5:45 p.m.
On Saturday, Cilla Walford will give a watercolor demo at the Art Colony at 1 p.m. All invited.
Also on Saturday, check out the Cook County Farm & Craft Market, which is held in the Senior Center parking lot from 9 a.m. to 1 p.m.
Expect to find a wide variety of arts and crafts as well as baked goods, homemade pickles and more.
On Saturday night, a great trio, Harpeth Rising, will perform at the Arrowhead Center for the Arts courtesy of the North Shore Music Association.
Harpeth Rising is named for the Harpeth River in Middle Tennessee. They play "modern progressive bluegrass" or "chamberfolk," but these titles only touch on their unique sound. The three classically trained musicians produce original music that's intricately arranged, lyrically rooted in the singer/songwriter tradition, wrapped in three-part vocal harmonies reminiscent of both Appalachia and Medieval Europe, and evocative of the gypsy jazz of Django Reinhardt and the "dawg music" of David Grisman. To hear examples of their music, click here. Tickets are $18 adult, $15 adult/youth pair. Additional youth are free. Tickets can be purchased at the box office or online at www.tix.com..
Also, this is the last weekend for the show, "Ceramics in Cook County" which is on exhibit at the Johnson Heritage Post.
This has been a popular exhibit and is well worth a visit. The Heritage Post is open from 10 a.m. to 4 p.m. Thursday through Sunday and 1-4 p.m. Sunday, when the show closes.
Adam Swanson is exhibiting a collection of his work in the Great Hall at Tettegouche State Park.
Here's an interesting one. The Silver Creek International Ukulele Carnival is Friday through Sunday at the Silver Creek Town Hall, about 11 minutes from Two Harbors. More than 100 ukulele players are expected to attend. There will be workshops, jam sessions, open mics, concerts and more. For the complete schedule and maps, click here.
In Thunder Bay, the exhibit, "Leanna Marshall and Celeste Pedri-Spade: "The Teaching is in The Making": Re(Store)ied Memories of Anishinabeg" continues at the Thunder Bay Art Gallery through Sept. 4.
In 'The Teaching is in the Making," artists Celeste Pedri-Spade and Leanna Marshall blend together Anishinabeg photography and traditional regalia. While these practices may seem to be very different, they are related as both significant material markers of Anishinabe art, story, spirituality, and knowledge. The exhibit is about restoring and re-story-ing specific familial memories that are integral to Anishinabeg history, identity, and continued survival.
The gallery is open Tuesday through Thursday, noon to 8 p.m.(EDT) and Friday to Sunday, noon to 5 p.m. (EDT). The gallery is closed on Mondays.
In other art news:
 Betsy Bowen was recently named to the 50 Over 50 list, which honors 50 of the most inspiring and accomplished leaders across Minnesota. This is the first year that the 50 over 50 list has been complied to celebrate and recognize Minnesotans who have made significant contributions and achievements in their communities. Bowen was honored as an artist and creative who has contributed significantly to Minnesota's thriving culture.
Her accomplishments, according to the "50 over 50″ post:
"On the North Shore, 69-year-old Betsy Bowen stands out as even more iconic than her widely recognized woodcuts. That's because her creativity could fill Lake Superior, and also because of her vocal (and financial) support for the region's vast array of writers, painters, photographers, performers, and more. She enthusiastically encourages every artist she encounters to "go for it." In addition to giving birth to her own creative work, Betsy helped establish Good Harbor Hill Players and their ongoing winter and summer solstice pageants, drawing audiences of hundreds to the North House Folk School, in which she is also active. Other involvements over her decades of life in Minnesota include Cook County Whole Foods Coop, Grand Marais Art Colony, and various community projects. And, of course, the conversion of a historic local church into Betsy Bowen Gallery and Studios, with work and display spaces for a variety of local artists that draws art lovers to linger in Grand Marais."
To see the list of honorees throughout Minnesota, click here.
At Bowen's Studio and Gallery, Jeanne Knight has brought in new pottery and Ron Piercy has a wide variety of new silver jewelry with local and exotic gemstones.
Watercolorist David Hahn is currently show his work at the Coho Cafe in Tofte.
Jeff Niesen is exhibiting his work at the Angry Trout Cafe.
Also at the Angry Trout, look for the cool coloring book by Corrie Steckelberg. The drawings are charming and totally capture the experience of eating (and working) at the popular North Shore restaurant.
Copies are available at the restaurant.
Drury Lane Books has just received more copies of the new Harry Potter book, "Harry Potter and the Cursed Child."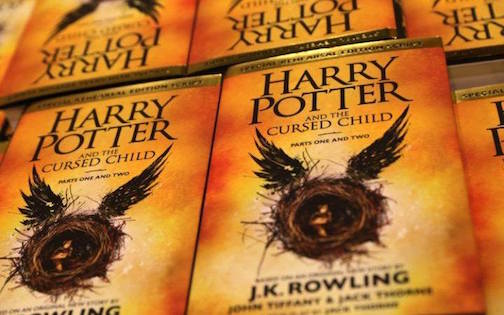 The book has been reordered a few times already.
Last Chance Gallery in Lutsen will not hold a Bronze Pour at Four this Saturday. In other gallery news, there are new hand-dyed items from Wendy Richardson, including T-shirts, bamboo socks, scarves as well as table and bed linens.
Copies of "The Woman Today" with the cover story about Rose Arrowsmith DeCoux are now available at the Arrowhead Pharmacy. The magazine is free. Check it out.
There's lots of great music this week, too. Here's the schedule.
Thursday, Aug. 18:
Eric Frost, Music by the Campfire, Lutsen Resort, 6 p.m.
Red Dirt Girl, Cascade Lodge Pub, 6 p.m.
Gordon Thorne, Gun Flint Tavrn, 8:30 p.m.
Friday, Aug. 19:
Plucked Up String Band, Voyageur Brewing, 4 p.m.
SplinterTones, Grandma Ray's, 7 p.m.
Eric Frost, Music by the Campfire, Eagle Ridge Resort, 7:30 p.m.
Pete K, Cascade Lodge Pub, 7:30 p.m.
Mysterious Ways, Gun Flint Tavern, 8:30 p.m.
Saturday, Aug. 20:
SplinterTones, Bear Tree Park, 1 p.m.
Jim & Michelle Miller, Sydney's Deck, 6 p.m.
4 Squared and the Makers, Papa Charlie's, 6 p.m.
Plucked Up String Band, Lutsen Resort Lobby, 7 p.m.
Dat Dere Jazz Quartet, Cascade Lodge Pub, 7 p.m.
Eric Frost, Music by the Campfire, Bluefin Bay, 7 p.m.
Michael Monroe, Log Cabin Concert, rural Grand Marais, 7 p.m.
Harpeth Rising, Arrowhead Center for the Arts, 7:30 p.m.
Earth, Wind & Todd, Grandma Ray's, 8 p.m.
Mysterious Ways, Gun Flint Tavern, 8:30 p.m.
Timmy Haus, Papa Charlie's, 9:30 p.m.
Sunday, Aug. 21:
Shoot from the Hipsters, Mogul's Grille, 5:30 p.m.
Red Dirt Girl, Cascade Lodge Pub, 7:30 p.m.
Brothers in Arms, Gun Flint Tavern, 8 p.m.
Here are some of the photos we found this week.
First up, Nace Hagemann caught this wolf family strolling down the road. He said he has never photographed such young wolf pups.
For those who have been following the eagles on the DNR Eagle cam, here's a photo of one of the eaglets that were hatched this spring.
And Carol Bowman took this intriguing shot of a loon the other day.
Here's an incredible and very rare shot: Space Lightning. The photo was posted on spaceweather.com this week.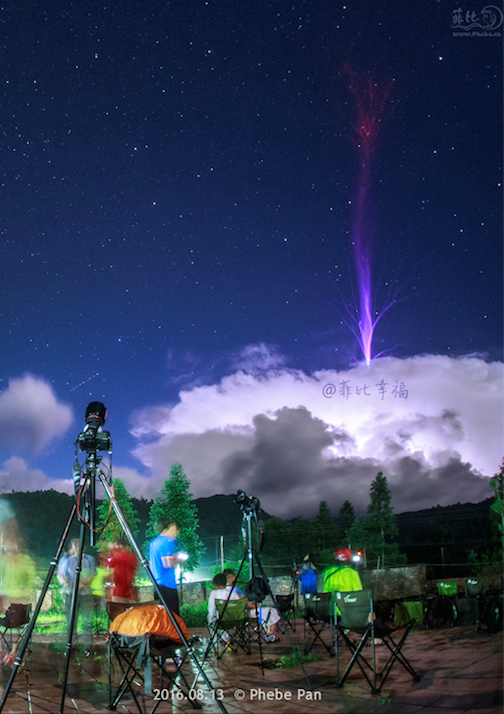 Spaceweather.com wrote:
On Aug. 13th in China, photographer Phebe Pan was photographing the night sky, hoping to catch a Perseid meteor. Instead, he witnessed a spectacular bolt of "space lightning." Working atop Shi Keng Kong, the highest mountain peak in the Guangdong province, "I was using a fisheye lens to capture as much of the sky as possible," says Pan. "Suddenly we saw a flash of blue and purple ejected from the top of a nearby thundercloud. It just looked like a tree with branches, and grew up very fast. So awesome!"
Space lightning are gigantic jets which can reach all the way up to the edge of space alongside meteors, noctilucent clouds, and some auroras, according to spaceweather.com.  "This means they are a true space weather phenomenon."
And here's a lightning bolt going in the other direction. Paul Sundberg took this beauty.
And here a few beautiful Lake Superior cloudscapes.
This photo tells many stories.
And here's what everyone wants to see coming out of their gardens this summer.
Enjoy your weekend, everyone!