This weekend is going to be so much fun. The Grand Marais Art Colony's Plein Air 2016 continues more public events and concludes with a gala opening at the Johnson Heritage Post on Friday night. And, North House Folk School's Unplugged XV gets underway on Thursday, drawing in hundreds of people to enjoy live music and northern craft.
There are all kinds of other events, too, including two readings at Drury Lane Books, Artist Talks, a Bronze Pour, a Fireside Chat … and more. Here are the details.
First up is Plein Air 2016, which has brought artists from throughout the region to paint Cook County for a week and then exhibit their work at the Johnson Heritage Post through Nov. 13.
The event, which is organized by the Grand Marais Art Colony, is a highlight of season, and this year, 80 artists have registered for the event.
Tonight, Thursday, is the spectacular Quick Paint on Artists Point from 4-5:30 p.m. Artists bring their easels and paints and set up on various parts of the beautiful tombolo on the east side of the harbor. At 4 p.m. precisely, a horn sounds and they will begin to paint. They must complete their oeuvre by 5:30 p.m., and the public is invited to watch the process. At the end, they bring their canvases to a spot along the point and lean them against the rocks so everyone can see. It's very cool. Check out this video crafted by WDSE a few years ago to get an idea of how it works. It's entitled "Plein Air Brush-Off."
The public events continue. On Friday, Dan Wiemer, the juror for the event, will give a lecture in the Founders Hall at the Art Colony at 11 a.m., which is open to the public. And then, that evening, the tour de force: the Opening Reception at the Johnson Heritage Post from 5-7 p.m. There will be more than 150 paintings there. Each of juried artists gets to display two paintings each, plus their painting from the Quick Paint and the Night Paint, if they participated. It's an evening of anticipation, celebration and fun as the winners are announced. Refreshments are served.
On Saturday, Hazel Belvo will present "The Art of Seeing" at the Heritage Post. She will lead participants through a guided tour of the exhibit and a discussion on art-viewing  from 11:30-12:30, with a $5 suggested donation. The Open Class Exhibit opens at the Art Colony at noon in the Founders Hall.
And the final event, a Fireside Chat with Dan Wiemer at Sivertson Gallery will be at 6 p.m. on Saturday.
Wiemer is a watercolor and acrylic painter and is the past president of the Minnesota Watercolor Society. The Fireside Chat is free and open to the public. All invited. Refreshments will be served.

Meanwhile, at North House Folk School, Unplugged XV, has been launched. The event features a weekend of workshops, demonstrations and lots of music with concerts on Friday and Saturday nights under the Big Top.
On Friday night, join Tom Paxton, Lisa Brokop, Pat Alger, and Gretchen Peters at 7 p.m. for music in the songwriter-round tradition.
The same format will be used on Saturday night, when Don Henry, Amy Speace, Kim Richey, and Jon Vezner perform. Purchase tickets here.
Unplugged XV also offers a wide variety of demonstrations on everything from spoon carving, bead embroidery, birchbark weaving and iron work at the Folk Artisan Marketplace, which will be held on Friday and Saturday. The artisans also display their work, which is for sale.
There are lots of music opportunities, too, with a songwriting class and fingerstyle guitar workshop as well as jam sessions. Unplugged XV also offers a fantastic variety of workshops. Everything from breadbaking to jewelry making, basketry to leaf printing in a steam box will be offered.  There's also an online auction. Check it out here.
For all the details and register for classes, visit www.northhouse.org.
There's a lot more happening this weekend, too.
Erin Theresa Watson will give a Full Moon Reading at Drury Lane Books from 7-8 p.m. on Friday.
Watson, who is a published poet, will read selections from some of the most critically acclaimed female poets of the last five years, including Nayyirah Waheed, Ada Limón, Jorie Graham and others. Come enjoy the full moon and treat your ears to something new, Her short collection of poems, "The Smallest Heart Wins the Day," is available at the bookstore.
On Saturday, author Rose Arrowsmith DeCoux will be featured at the Writer's Salon at Drury Lane Books at 5 p.m.
Arrowsmith-Decoux is a local author, entrepreneur, artist and co-owner of the Art House Bed and Breakfast in Grand Marais. She will be performing stories from her book, "The Marvelous Imagination of Katie Addams" outside the bookstore at the campfire as well as giving a preview of her next book, which is due out in 2017. Children are especially invited.
Make-A-Bowl for Empty Bowls starts this weekend, with one-hour sessions available on Saturday and Sunday in the ceramic studio at the Grand Marais Art Colony. Everyone is invited to sign-up and make a bowl or two for this fundraiser to help feed the hungry in Cook County. The Empty Bowls Dinner will be Nov. 10 this year.
Instruction is provided at the Make-A-Bowl sessions, and everyone learns how to throw a bowl on the wheel as well as hand-build one. The one-hour sessions are from 9 a.m. to 2:30 p.m. on Saturday and from 11 a.m. to 3 p.m. on Sunday. A $5 donation is requested. To sign up, contact the Grand Marais Art Colony at 387-2737 or email programs@grandmaraisartcolony.org.
Also this weekend, Lutsen will hold its Fall Der All, with special events at participating businesses.
Last Chance Gallery in Lutsen, for example, will be participating with  a household yard sale in the sculpture garden and in-store specials on selected paintings, prints, glass, cards, books and clothing. There will be a Bronze Pour open to the public at 4 p.m. as well.
The Cross River Heritage Center in Schroeder has a new exhibit that runs through Oct. 22.  Artists include Charlotte Durie, Sandi Pillsbury-Gredzens, Rose Vastila, Tim Ostroot, Kathleen Gray-Anderson, Trish Hunter and Mary Jane Huggins.
One of the artists, Charlotte Durie, will give a print demonstration at the Heritage Center at 11 a.m. Sept. 24.
And the Outdoor Painters of Minnesota have an exhibit of their paint-out in the Great Hall at Tettegouche State Park.
Art continues to flourish in Thunder Bay, too.
The Thunder Bay Potters' Guild 40th Anniversary Juried Exhibition is under way  at the Thunder Bay Art Gallery with 38 works by 17 potters on display. The show includes a wide variety of works, from functional ware to sculptures.
The opening reception is at 7:30 p.m. (EDT) Thursday. All invited.
Also at the gallery, a small sample of the works that will be featured in the  Annual Art Auction Sept. 30 are now on display.
 Upcoming
 The Crossing Borders Studio Tour & Sale starts next weekend, Sept.23, and runs through Oct.2. Studios from Two Harbors to Grand Portage will be featured.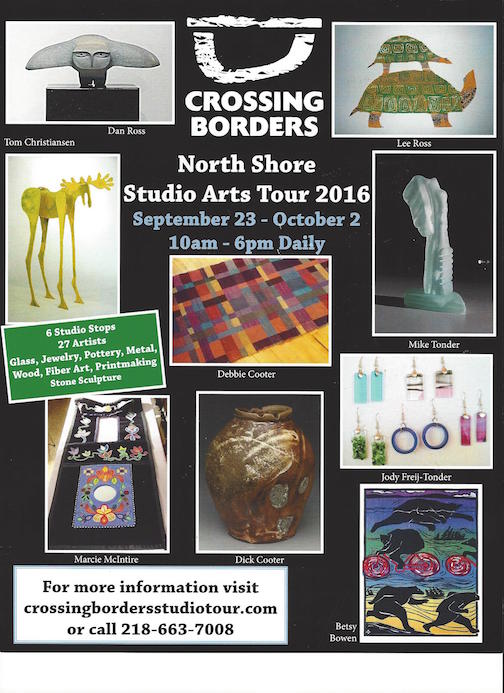 Beside showing their own work, resident artists frequently invite others to participate. In Cook County, Last Chance Gallery will feature work by bronze sculptor Tom Christiansen, as well as  work by fiber artist Sue Stavig and bead painter  Jo Wood. The Betsy Bowen Studio will feature work by Betsy Bowen as well as work by potters JD Jorgensen, Megan Mitchell and Fritz Lehmberg, tile artist Melissa Wickwire and wood turner and artist Jim Sannerud.
Hovland artists Lee and Dan Ross as well as Ojibwe bead artist Marcie McIntire (Grand Portage) will also participate in the tour. The studios are open from 10 a.m. to 6 p.m. daily. This is the 20th anniversary of the studio tour and its last year. So make plans to see it! And stay tuned for details next week. Check out the Crossing Borders website for more info and maps here.
Printmaker Jerry Raich, who lives in Little Marais, will hold an open house during the Crossing Borders Tour featuring his work as well as printmaking demonstrations. His studio is located just off Hwy. 61 at Milepost 65, on the lake side. The fire number is 6452. All welcome.
In other art news:
The all-music weekend continues at WTIP, with the Bughouse and Jim & Michele Miller performing on The Roadhouse. The Roadhouse airs from 5-7 p.m.
Stephan Hoglund is exhibiting his jewelry at Betsy Bowen's Studio.
Betsy Bowen is creating a new line of work for the Crossing Borders Studio Tour–woodblock fragments from her book, "One North Star." The woodblocks have been cut and painted by Bowen and will be a variety of sizes.
And, finally,  here's one for beer lovers: a stainless steel Lake Superior key chain and a beer bottle opener.
Here's the music line-up for this week.
Thursday, Sept. 15:
Gordon Thorne, Gunflint Tavern, 7 p.m.
Friday, Sept. 16:
Timmy Haus, Voyageur Brewing Co., 4 p.m.
Unplugged XV, North House Folk School, 7 p.m. with Tom Paxton, Lisa Brokop, Pat Alger, and Gretchen Peters.
Tree Party, Gunflint Tavern, 8:30 p.m.
Country Bug, Grandma Ray's, 8:30 p.m.
Rod & Al, Bluefin Grille, 9 p.m.
Saturday, Sept. 17:
Frozen Britches with Michelle Miller, Cascade Lodge Pub, 6 p.m.
Pete K, Sydney's Frozen Custard, 6 p.m.
UnPlugged XV, North House Folk School, 7 p.m. with Don Henry, Amy Speace, Kim Richey, and Jon Vezner
Gordon Thorne, Lutsen Resort Lobby, 7 p.m.
Michael Monroe, Log Cabin Concert, rural Grand Marais. 7 p.m., reservations at www.michaelmonroemusic.com
Tree Party, Gunflint Tavern, 8:30 p.m.
Timmy Haus, Papa Charlie's, 9:30 p.m.
Sunday, Sept. 18:
Timmy Haus, Gunflint Tavern, 7:30 p.m.
Monday, Sept. 19:
Open Mic Night, Grandma Ray's. 6 p.m.
Teague Alexy, Papa Charlie's, Monday's Songwriter Series, 8:30 p.m.
Boyd Bump Blomberg, Bluefin Bay, 9 p.m.
Wednesday, Sept. 21:
Timmy Haus, Moguls, 5 p.m.
Gordon Thorne & Bob Bingham, Bluefin Grille, 9 p.m.
We found a potpourri of photos this week. Here's a selection.
Fall has arrived, for sure. Here's a photo to prove it.
And here's another.
Have a great weekend, everyone!