Look forward to a busy weekend in Cook County.
It kicks off on Friday with lots of activities in shops and galleries, including a visit by both Santa Claus and Mrs. Claus. Santa visits Stone Harbor Wildnerness Supply with his sled dogs from 2-4 p.m. Friday and 2-5 p.m. Saturday.
And Mrs. Claus holds court at Sivertson Gallery on Friday and Saturday from noon to 3 p.m.
On Friday night, the city celebrates the start of the holiday season with the Oh Ole Night Parade, tree lighting and fireworks. The parade (which goes around the block twice) highlights the Scandinavian heritage of the community and everyone is invited to join in. It starts at 5:30 p.m. on Friday on Wisconsin St. The parade ends at Harbor Park where a tree lighting ceremony, carol singing and fireworks are planned.
Then at 8:30 p.m., the New Standards brings their holiday tour to Papa Charlie's. This is the 10th anniversary of the event. The New Standards are a Minneapolis-based jazz trio, and they bring lots of friends and fellow musicians with them.
This is always a great show — for its music, quirky comedy and joyful exuberance. To see a clip from a previous show, click here. For tickets, click here.
On Saturday, the Hovland Town Hall opens its doors for the Hovland Arts Festival Holiday Sale. The event, which is from 10 a.m. to 4 p.m., features a wide variety of arts and crafts by local artists. Artwork includes woodturned bowls, wood carving, paintings, photography, beadwork, pottery, jewelry, fiber art, handcrafted candles and more.
Refreshments, including baked treats, will be available. All invited.
Also this weekend, Last Chance Studio and Gallery in Lutsen will host the 11th annual Holiday Market Nov. 25-27. All weekend they will  be collecting money and food donations for the local food shelf. The holiday party also includes ornament making as a fund-raising activity for the Cook County Community Fund.
On Saturday, there will be plein air painting demo by Kristin Blomberg starting at 3 p.m., a bronze sculpture pour at 4 p.m. by Tom Christiansen and caroling and the annual tree lighting ceremony. at 5 p.m.
Holiday art and refreshments will be available all weekend. The gallery will be open from 10 a.m. to 5 p.m. on Friday and Sunday, and from 10 a.m. to 7 p.m. on Saturday. All invited.
In Grand Marais, the annual Community Center Holiday Bazaar will be held at the Community Center from 10 a.m. to 3 p.m. Saturday.The Girl Scouts will be there with their beautiful poinsettias and a number of local artisans and crafters will be there, too, including Hana Senty (Hands of Harvest). Senty features handmade soaps, homemade jams and pickles as well as baked goods. Look for her fruit cake this year. And Alyce's will be cooking up a delicious lunch.
On Saturday night, the Grand Marais Playhouse presents Todd Oliver & Friends, a nationally recognized comedian/ventriloquist/musician featuring "Irving," America's favorite real talking dog, as well as other characters.
Todd Oliver and Irving were awarded and received "Best Comedy Variety Performance" and "Best Dinner Show" at the Branson All American Entertainment Awards. He has also appeared on national television shows, including the Today Show. Tickets are $18 for adults, $8 for students under 18. Tickets can be purchased at the door.
In Duluth, the new exhibit at the Tweed Museum of Art, "Un-Typing Casta," an exploration of the Latinx stereotypes by Maria Cristina Tavera, has piqued interest.
Tavera was at the opening reception and was interviewed about her work on  Ennyman's Territory, a weekly blog by Ed Newman. Check it out here.
Upcoming:
 Holiday Art Underground at Betsy Bowen Gallery and Artist Studios, featuring new work by more than 40 local and regional artists, opens next weekend. The Sneak Peak opening reception is from 4-7 p.m. on Friday, Dec. 2. Extended hours on Saturday are from 9 a.m. to 5 p.m. The exhibit continues through Dec. 24.
The Northwoods Fiber Guild Holiday Sale will be held at the Grand Marais Art Colony on Saturday, Dec. 3, from 9 a.m. to 2 p.m. The sale features a wide variety of fiber work by guild members as well as homemade holiday treats. All invited.
The Borealis Chorale and Orchestra Community Christmas Concert will be held at Bethlehem Lutheran Church on Sunday, Dec. 4, and Monday, Dec. 5 at 7 p.m. This year's program includes selections from Benjamin Britton's Ceremony of Carols and Handel's Messiah, as well as orchestral pieces featuring harp and oboe. Guest artist Janell LeMire, harpist for Duluth Superior Orchestra, Lake Superior Orchestra, and UMD Festival Orchestra, will be a featured performer. There is no admission fee. However, freewill donations are accepted. The concert is presented in partnership with the North Shore Music Association.
In Other Art News:
Neil Sherman will have work in an exhibit at the Grand Hill Gallery in St. Paul (333 Grand Ave.) The exhibit opens Dec. 1.
Sherman writes: I think everyone should do their laundry at a laundromat at least once a month. Think of it as an interesting vacation: you'll see different people (and their clothes), be mesmerized by following your red shirt centripetally dancing in the giant barrel drier and take in your surroundings at a place you wouldn't normal think of taking in. I can tell you more about this painting and the laundromats in Grand Marais on Dec. 1 at the the opening."
Travis Novitsky has published a book. Entitled "The Night Sky: Adventures and Stories from a Decade of Adventures after Dark," the book features a great selection of his night photographs as well as commentary.
 To preview the book and order, click here.
Bronze sculptor, John Books, a Thunder Bay transplant who now lives in Grand Marais, is exhibiting his work at the Thunder Bay Art Gallery through Jan. 8.
Several Grand Marais residents have gone up to see the show and report that it is quite fabulous. (Need we remind you that passports or passport cards are required?)
Meanwhile, here's the music for the week in Cook County:
Friday, Nov. 25:
Pushing Chain, Voyageur Brewing Co., 4 p.m.
The New Standards Holiday Show, Papa Charlie's, 8:30 p.m.
Oversize Load, Grandma Ray's, 9 p.m.
Saturday, Nov. 26:
Matt Trost and Laurel Clark, Voyageur Brewing Co., 4 p.m.
Dat Dere Jazz, Grandma Ray's, 6 p.m.
Eric Frost, Lutsen Resort Lobby, 7 p.m.
Michael Monroe, Log Cabin Concert, 7 p.m.
Mysterious Ways, Gun Flint Taern, 8:30 p.m.
Sunday, Nov. 27:
Brothers in Arms, Gun Flint Tavern, 7 p.m.
Monday, Nov. 28:
Open Mic Night, Grandma Ray's, 6 p.m.
Tuesday, Nov. 29:
Briand Morrison, Poplar River Pub, 6 p.m.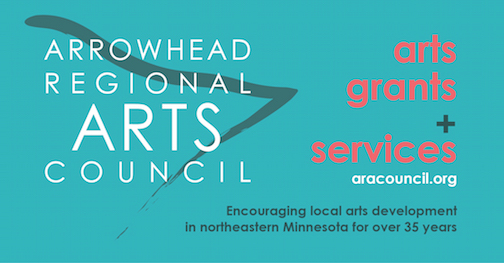 We found lots of cool wave shots this week, as well as wonderful wildlife photos. Let's start with:
Wild turkeys!
And this lovely shot of swans.
And an owl…
And a Great Blue Heron… Lou Pignolet, who lives in Hovland (and will be at the Hovland Arts Festival this weekend with his wood-turned bowls), said he found this heron hunkered down in the snow after the storm. At some point, it walked out from under its cover and flew south … hopefully to warmer climes.
And, how about this amazing shot by David Johnson?
For a change of mood, here's a lovely shot of first snows in Grand Marais.
And here's another wonderful "first snows"  by Paul Sundberg.
Early ice forms on the breakwall…
It all started here — with a big nor'easter.
And last, but not least, a wave statement.
Enjoy your weekend, everyone!
P.S. Putting this blog together every week is my contribution to the arts scene on the North Shore.  If you enjoy it, please consider making a donation to support it. Thank you!