It's Summer Solstice time on the North Shore!
This means it's the Wooden Boat Show & Summer Solstice Festival weekend at North House Folk School, and there are art openings and demonstrations, music, theatre, parties and more up and down the shore.
The weekend starts off with a special music program at the Grand Marais Public Library featuring Hans Meyer, an award-winning musician who plays infectious, catchy, acoustic-based original music with a slice of bluegrass, a tinge of reggae and a little bit of swing. He is "on-stage" at the library at 1 p.m. Thursday. Free. All invited.
And for the painter who wants to learn more, Joi Electa will teach an oil painting class at Joy & Co., formerly The Garage and Threads, at 3 p.m. Thursday. A fee will apply.
On Thursday night, the Grand Marais Playhouse will preview the upcoming theatre season with scenes and songs from upcoming plays and performances. The Summer Season Showcase Fundraiser begins at 6 p.m. in the lobby of the Arrowhead Center for the Arts. Enjoy a variety of curry dishes from 6-7 p.m. for a suggested donation of $10, and then watch the performances.
The showcase opens with a scene from "Eleemosynary" by Lee Blessing which opens June 25. 
Members of the summer repertory will take the stage with songs from "I Love You, You're Perfect, Now Change" and "Moon Over Buffalo." Then 
cellist Yvonne Caruthers will play a segment from  her one-woman show "In Search of the Perfect G String," which will be performed Aug. 15. A video of the group Monroe Crossing, who will be here on Sept. 3, will be shown, and  a scene from the Labor Day weekend performance, "Ole and Lena at the State Fair," will be presented as well.
The highly anticipated Wooden Boat Show & Summer Solstice Festival at North House Folk School begins Friday and runs through Sunday.
This outstanding event opens at noon Friday and features the wooden boats and watercraft display, mini-courses, presentations, craft demonstrations, live on-campus broadcasts of The Roadhouse and Small Change,  a community contra dance with Over the Waterfall, (Friday night), the Lake Superior Chowder Chowdown (Saturday at noon), the Boats-to Tools live Auction (Saturday at 1 p.m.), the Summer Solstice Pageant (8 p.m. Saturday) and the Steam Bent Brunch (11 a.m. Sunday), to mention a few.  For the complete schedule, click here.
One of the highlights of the Wooden Boat Show weekend is the Summer Solstice Pageant put on by the Good Harbor Hill Players at 8 p.m. Saturday night.
The giant puppets, scenery and costumes have been crafted  by the Players and community members over the the last month, but everyone is being a little secretive about the story they'll tell this year. We do know the title: "Keep Your Dreams Afloat," and the poster gives us a hint–  breaking waves and bears in a floating boat. But that's all we know.
We're sure to see giant puppets, elaborately costumed stilt-walkers and dancers of every age prancing around to music by GAMAPELAG as the story (quirky, hilarious, totally fun) unfolds.
The Summer Solsltice Pageant is one of the highlights of the summer, performed in the Outdoor Commons at North House. Bring a chair and join in the fun. Come early, if you want to find the perfect spot.
And Sivertson Gallery will hold its Art of the North Solstice Celebration from 5-7 p.m. on Saturday. The party celebrates the 35th anniversary of Sivertson Gallery with a reception and refreshments. Everyone is invited. (Hint: The reception concludes with plenty of time to get to North House to see the Solstice Pageant.)
Here's how the invitation to the Solstice Party at Sivertson Gallery reads:
"Join us for a very special Sivertson Gallery Solstice Party this Saturday, June 20th from 5 – 7:00 pm. We will be celebrating 35 years of Northern Art (that's YOU!) in this wonderful artistic community!]
"We have music! Bill Hansen and Eric Frost will be playing the whole evening.
"We have FISH! The Toftey Dou of Dockside Fish Market have been smoking pounds and pounds of fish for the event.
"We have beer! We will have growlers from our new brewery in town, Voyageur Brewing.
"We have laughter! All of your favorite people will be here
"Now all we need is YOU!"
If you're traveling to Thunder Bay on Friday, check out the 27th Annual Members Show and the mural installation by the art collective, Die Active,  at the Definitely Superior Art Gallery, 250 Park Ave. The opening reception is from 7-10 p.m.  with music by Miss Temperance of The Sugar Shakedown, refreshments and catering by The Sovereign Room, Sushi Bowl and Sweet Escape Cake Cafe & Bakery.

There's lots to do and see in Cook County on Saturday.
The Cook County Farm & Craft Market will be held in the Senior Center parking lot from 9 a.m. to 1 p.m. featuring early season vegetables, plants and flowers, baked goods and more as well as a great variety of arts and crafts.
At 1 p.m., there will be a glass demo with Mary Bebie at the Grand Marais Art Colony. Everyone invited. Free. No registration is required.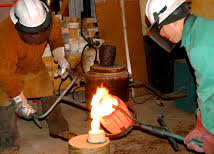 At 4 p.m., Tom Christiansen will do a bronze pour at Last Chance Studio & Gallery in Lutsen. The public is invited.
Upcoming:
In other art news, Kah Nee Tah Gallery is featuring a variety of wood artisans to celebrate the Wooden Boat Show weekend including work by Dave Woerheide of Lutsen (wood and agate tables, boxes and candle holders),  John Lawler of Duluth (turned wood bowls) and  Wayne Johnson of Maple Grove (turned wood bowls, pens, candle holders and boxes).
This is the final weekend to see the spectacular Frozen Photographers exhibit at the Johnson Heritage Post, entitled "Fire & Ice: No Ordinary Landscape." More than 80 images are featured in the juried show; local photographers in the show include Bryan Hansel, Sandra Updyke, Don Davison and Thomas Spence.
The Blue Moose is featuring a wide variety of garden decor and ornaments as well as rattle cups and bowls by Talking Clay.
The Thunder Bay Art Gallery's exhibit, "Woven from Wood: From the Collection," is now up as is Sonny Assu's exhibit, "Continuum."
Great Gifts of Lutsen has artwork by Story People, including wall pieces, books and painted boxes.
There's lots of music this weekend, too. Here's the schedule:
Thursday, June 18:
Joe Paulik, Music by the Campfire, Lutsen Resort, 6 p.m.
Gordon Thorne, Gun Flint Tavern, 6:30 p.m.
Friday, June 19:
Don Juan Trio, Sydney's Frozen Custard deck, 6 p.m.
Willie Waldman, WTIP's The Roadhouse, 6:20 p.m.
Willie Waldman, Voyageur Brewing Co, 8 p.m.
Rich Mattson & the Northstars, Gun Flint Tavern, 8:30 p.m.
Michael Monroe, Bluefin Grille, 9 p.m.
Saturday, June 20:
Jim & Michele Miller, Poplar River Pub, 6 p.m
Joe Paulik, Music by the Campfire, Bluefin Grille, 7 p.m.
Bug Lite, Gun Flint Tavern, 7:30 p.m.
Eric Frost & Friends, Voyageur Brewing Co., 8 p.m.
Rich Mattson and the Northstars, Gun Flint Tavern, 8:30 p.m.
Timmy Haus, Papa Charlie's, 9 p.m.
Sunday, June 21:
String Town Ambassadors, Gun Flint Tavern, 6:30 p.m.
Monday, June 22:
Eric Frost & Bill Hanson, Bluefin Grille, 9 p.m.
Tuesday, June 23:
Briand Morrison, The Pie Place, 6 p.m.
Wednesday, June 24:
Gordon Thorne & Bob Bingham, Bluefin Grille, 9 p.m.
We found some great bird photographs this week. Take a look.
David Johnson caught this cutie riding the waves.
Here's a gorgeous shot by Don Davison.
David Johnson caught this bald eagle on its final approach to capture a duck for lunch. The duck dived just in time.
Kate Watson took some wonderful photos this week, too. Here's one of Harley Tofte going out to tend his nets accompanied by a cloud of seagulls.
And here's a photo of our favorite lake.
Summer flowers = peonies. Kathy Gray-Anderson took this lovely shot.
Here's a wonderful photo by Paul Sundberg.
And last, but not least, northern lights at dawn by Nace Hagemann.
Enjoy the Solstice, everyone!