There's lots to do this weekend as the holiday season slips into full gear.

First up is Svea, the a cappella group that sings beautiful Swedish folk songs. They will launch this weekend with a Holiday Concert at the Grand Marais Art Colony at 7 p.m. Thursday, Dec. 7.
The concert will include a variety of songs as well as poems and stories — and tasty treats.  All invited.
To hear an example of Svea's harmonies in song, click here.
On Friday, Homeward Bound Theatre's "Legends of the Wilderness" will be performed at the Grand Marais Public Library at 1 p.m. with French Canadian voyageur, Jacques La Christian, who will reenact what it was like living in the 18oos in the wilderness.
David Popilek, as Jacques has been entertaining and educating with compelling stories of our past for the last 30 years. The program is free and open to all
Also on Friday, Gordon Thorne and Chris Gillis will be on WTIP's The Roadhouse, where they will talk about their music and play a few songs. The program airs from 5-7 p.m.
Saturday is very busy, starting out with an opportunity to learn how to make wooden buttons and brooches with North House resident and woodturner Angela Robins. She will give her presentation at the Johnson Heritage Post from 11 a.m. to 1 p.m. Participants will learn to use small diameter birch branches to carve and cut circular buttons and embellishments. There is a $5 material fee. No pre-registration is required. Kids ages 12+ welcome with an adult.
Joy and Company is also holding a maker event on Saturday at noon. Cost is $1-$10, depending on materials used. Call 387-1004 to make a reservation or to arrange an additional time that works for you. Walk-ins are also welcome as space allows.
At 1 p.m. on Saturday, Bethlehem Lutheran Church will celebrate Julefest with a bake sale, Scandinavian treats and the procession of St. Lucia at 2 p.m. Open to all.
Kah-Nee-Tah Gallery & Cottages will celebrate its 3rd anniversary with a special holiday party from 4-8 p.m on Saturday.
Refreshments will be served and Fred Anderson of Lusten will play. All invited.
The Grand Marais Art Colony is celebrating a birthday, too – its 70th! It is the oldest Art Colony in the state and continues to thrive.
The Birthday Bash celebration starts at 7 p.m. with music by Cook County's Most Wanted and refreshments by Lutsen Resort and The Wunderbar. There's also a cash wine & beer bar. Everyone is invited to "wear your festive attire, put on your dance shoes, catch up with old friends, and meet new ones." The Gallery Store will be open 7-9 p.m., too.

 On Sunday, Voyageur Brewing Company continues its Holiday Movies series. Screening starts at 12:30 p.m. Free.
The annual Christmas Concert with the Borealis Chorale and Orchestra caps off the week with concerts at 7 p.m. on Sunday, Dec. 10  and Monday, Dec. 11 at Bethlehem Lutheran Church. More than 75 talented and dedicated musicians and singers continue this treasured community tradition, led by conductor Bill Beckstrand.
The year's concert includes seasonal works by celebrated composers, and spans the centuries and the globe, with pieces from England, France, Germany, Sweden, Russia, and the American South. Stirring hymns and rousing carols that awaken and uplift winter-weary souls, works by Praetorius, Rachmaninov, Handel, Rutter, and many more combine in this rich holiday mix. Joining the BCO this year are six Cook County students whose solos add an multigenerational component to the great musical talent of the group.
Admission is free of charge, but donations accepted to cover the costs of each year's programming.
 Exhibits:
The exhibit, "Begin Continue" can be seen at the Johnson Heritage Post through Dec. 14. The exhibit features a great variety of work by instructors at North House Folk School as well as storyboards detailing its 20-year history.
For this exhibit, the Heritage Post is open Fridays and Saturdays from 10 a.m. to 4 p.m. and Sundays, noon to 4 p.m. Free.
Plein air painter Greg Lecker continues his solo show of paintings in the Great Hall at Tettegouche State Park through the end of the month.
The Tweed Museum of Art has mounted a new exhibit entitled: "Picks Out of Context: Tweed Museum Staff Favorites."
Also at the Tweed, "A Thousand Words," the outstanding collection of photographs of people, continues through Dec. 31.
In Thunder Bay, The Manifestation: A Juried Show" continues through Jan. 13. at the Definitely Superior Art Gallery. This is a multi-media show that has received accolades from the community.
The gallery is also exhibiting the premiere of a short art film, "Facade" by Piotr Skowronski.
At the Thunder Bay Art Gallery, Converging Lines: Recent Art from the Northwest, continues through Feb. 25.
The exhibit features work by Kristy Cameron, Elliot Doxtater-Wynn, Shaun Hedican and Cree Stevens.
The Baggage Building Arts Centre at Prince Arthur's Landing in Thunder Bay will hold the  4th annual Christmas Bizzare Bazaar this weekend.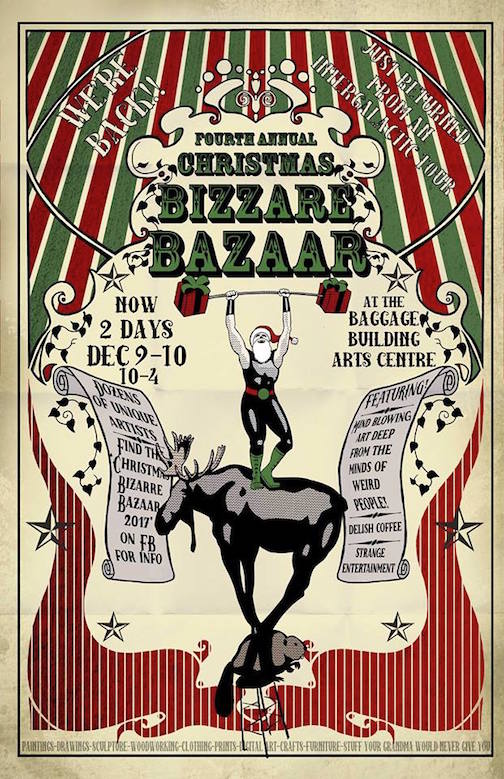 It's a crazy event with even crazier stuff. As they put it:  "Every year (we) have the weirdest, most unique, most original artists & craftspeople bring their strange and beautiful creations" to the Bizzare Bazaar. It's all one-of-a-kind that you'll find nowhere else, all made by local artists. The Bizzare Bazaar is from 10 a.m. to 4 p.m. (EST) Saturday and Sunday.
Challenges:
 The Grand Marais Art Colony is supporting the 100-Day Project again this year, an effort to motivate participants to commit to 100 days of creativity and invest in that most essential artistic habit: practice. Artists from every media are invited to participate. For many, it has been a life-changing experience for their work and art.
Those who are interested can sign up to participate in the virtual resource and community powered by Grand Marais' sister arts community in Marquette, Mich. Participation is free. To find out more and sign up for the newsletter, click here.
 Opportunities:
A call for artists to exhibit their work at the Cook County Courthouse has been announced. Artists are invited to submit proposals for an exhibition in the public spaces of the main floor of the Courthouse. Exhibits may be solo or group, but each proposed exhibition must have a strong, unifying, and creative premise. The goal is to mount four 12-week exhibits each year.
For consideration, a portfolio should include:
An artist's statement detailing the proposed exhibition (1 page)
Current resume(s) for artist(s) (1 page)
A list of artists included in the exhibition
5-10 Digital images of the proposed pieces
Portfolios can be submitted electronically.  For specific questions please contact:
Jeff Cadwell, Cook County administrator at jeff.cadwell@co.cook.mn.us
Interested in developing a seasonal banner design for the streets of Grand Marais? The local group, Art 'Round Town, would like to hear from you. Contact Ann Mershon at amershon@boreal.org for more info.
Window Shopping:
Here's the music for the week:
Thursday, Dec. 7:
Pete K, Poplar River Pub, 6 p.m.
Gordon Thorne, Date Night at the North Shore Winery, 6 p.m.
Plucked Up String Band, The Wunderbar, 7 p.m.
Svea Holiday Concert, Grand Marais Art Colony, 7 p.m.
Gun Flint Tavern, TBA
Friday, Dec. 8:
Pete K, Voyageur Brewing Co., 4 p.m.
Portage, Grandma Ray's, 6 p.m.
Thorne, Gillis, Stamps & Roth, Wunderbar, 8 p.m.
Gun Flint Tavern, TBA
Saturday, Dec. 9:
Just Us, Voyageur Brewing, 4 p.m.
Gene LaFond and Amy Grillo, Voyageur Brewing, 7 p.m.
Mysterious Ways, Grandma Ray's, 9 p.m.
Heatbox, Papa Charlie's, 9 p.m.
Gun Flint Tavern, TBA
Sunday, Dec. 10:
Borealis Chorale Christmas Concert, Bethlehem Lutheran Church, 7 p.m.
Gun Flint Tavern, TBA
Monday, Dec. 11:
Borealis Chorals Christmas Concert, Bethlehem Lutheran Church, 7 p.m.
Lucky for all of us, we found some great photos this week. Here's a selection:
First up, some great bird shots:
Lots of photographers were out shooting during the Super Moon. Here are a few we found:
We found some other beautiful and interesting shots, too.
Still chugging away:
Beauteous snow.
An incredible sunset.
And this one, by Matthew Pastick. (The caption tells the story.)
And finally, this great shot by Thomas Spence.
Have a great weekend, everyone!