Winter snows and winter temps descended on the North Shore this week, bringing lots of fluffy reminders of the season into our yards and over our roads. Happy Holidays!
The season will be celebrated on Thursday, Dec. 14, for sure, when the Wunderbar Eatery and Campground opens its doors to It's a Wunderbar Life Holiday market. More than 15 artists, shops and even Elfin's Bakery will set up tables throughout the Wunderbar from 5-8 p.m., offering holiday cheer and handmade items of all varieties.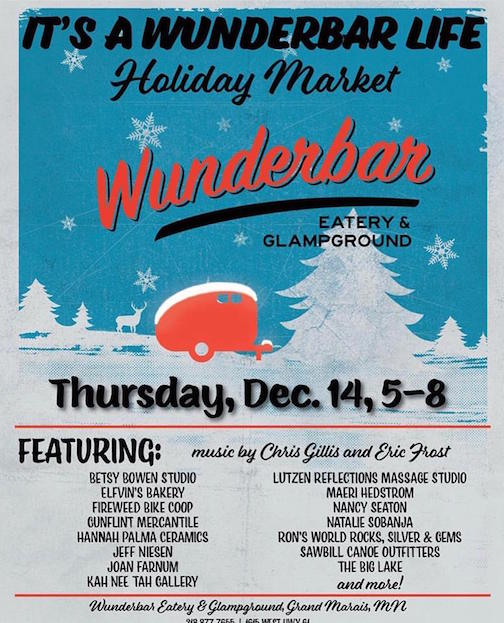 Look for lots of artwork, including woodcut prints, ceramics, paintings, fused glass, jewelry and more. Local businesses will make an appearance, too, including the Fireweed Bike Coop, Lutzen Reflections Massage Studio and Sawbill Canoe Outfitters. And there will be chocolate from the Gunflint Mercantile and a variety of artwork from Kah Nee Tah Gallery and The Big Lake. Musicians Chris Gillis and Eric Frost will play. It should be a lot of fun.  All invited.
On Friday, Voyageur Brewing Co. will hold its Holiday Extravaganza weekend with lots of music and events. To check out the schedule, click here.
And Sister Tree, a duo who plays Celtic/Americana folk music will talk about their music and play a few songs on WTIP's The Roadhouse on Friday night. The program airs from 5-7 p.m.
And not to forget, the skating rink at the Community Center opens on Friday.
Saturday is busy, too. The Grand Marais Public Library will hold a Birthday Story Time for Grandpa Lyle at noon. "Grandpa" Lyle Gerard has been reading to children all over Cook County (and the world) for years, and his dedication to sharing his wealth of knowledge and passion for literature with countless readers will be celebrated in an unusual way– everyone is invited to read something to Grandpa Lyle. Participants can bring a book, or browse the children's collection for a favorite children's book to read to him. Everyone invited.
And at 1 p.m., the Grand Marais Art Colony will host a Community Ink Day in the Print Studio at the Art Colony.
Printmaker Jerry Riach will help participants create their own artwork for holiday cards or gifts. All ages welcome. This is a drop-in activity, and the public is invited to come anytime between 1-3:30 p.m. A $5 donation for material cost is requested.
The Grand Marais Playhouse's Third annual Curry Cook-off and Broadway Showcase is Saturday. A fundraiser for the Playhouse, the evening includes a delicious array of curries as well as vibrant entertainment on the Broadway theme.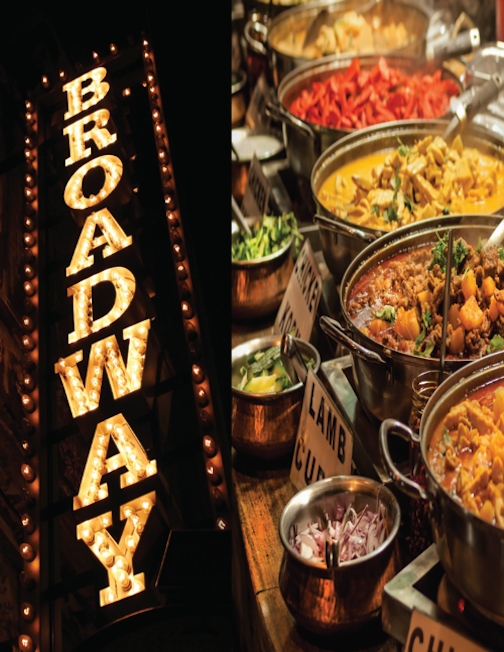 Performers this year include: Shelby Anderson, Tess Bailey, Ellie and Yvonne Block, Kay Costello, Jenny Delfs, Don Grant, Stacey Hawkins, Ella and Liv Hedstrom, Hilja Iverson, Braidy Powers, Amelia, Greta, Karina and Mike Roth, Aurora Schelmeske, Janet Simonen, Thomas Stamps and Cathi Williams. Also in the line-up is a "Pajama Game" cast reunion for a special number, and the entire group will perform an ensemble number, too.
The event starts with a Playhouse membership meeting at 6 p.m. The Curry  Cook-off begins at 6:30 p.m.. Cost is $10. Samples of all the curries will be available, and participants are encouraged to vote on their favorite. The Broadway Showcase performances begin at 7:30 p.m.. Tickets are $10.
On Sunday, check out a Holiday movie at Voyageur Brewing. Popular old-time holiday movies are screened at 12:30 p.m. Free.
On Monday, the Mostly Fiber Festival and Open House opens at the Johnson Heritage Post at 10 a.m. and continues daily through Saturday, Dec. 23.
The festival features work by members of the Northwoods Fiber Guild and other local artists for pre-Christmas shopping. There will be fiber demonstrations during the day as well as a great selection of hand-crafted items for sale. The festival runs from 10 a.m. to 4 p.m. Monday through Thursday and Saturday, and 10 a.m. to 6 p.m. on Friday. Everyone invited.
Wednesday, Dec. 20, will be busy too, when Ben Owen, program officer at the Minnesota State Arts Board, gives two presentations at the Grand Marais Art Colony.
Owen will talk about the Minnesota Percent for Art in Public Places program, providing an overview of the state's program and the public art commissioning process. At noon on Wednesday, he will present  "Community Conversations: Minnesota Percent for the Art Information Session" from noon to 1 p.m. He will share examples of public art projects in the state's collection and discuss how artists make the transition from studio work to public art. Artists, community members, city planners and design professionals might be especially interested in the presentation. Free. Bring a brown bag lunch.  You can register here.
Owen will then lead a workshop entitled "Professional Practice: Minnesota for Art RFPs Workshop" from 2-5 p.m. To register, follow the link above. Space is limited. All invited. Free.
Also on Wednesday, potter Kari Carter and Native American graphic artist Steven Standing Cloud will have a Pop-up sale at Voyageur Brewing Co. from 4:30-6:30 p.m. This is the last in the series that started earlier this month.
There are a variety of exhibits to see this week, too.
North House Folk School's "2oth Anniversary Exhibit: Begin Continue" is in its final week at the Johnson Heritage Post. The exhibit features the work of North House instructors as well as a photographic history of North House. North House invited instructors to reflect on their work in the context of traditional craft and to think about their own personal and creative evolution in that craft.
Work in a wide variety of mediums is represented in this show, which closes Dec. 16. The Heritage Post is open from 10 a.m. to 4 p.m. this Friday and Saturday.
Betsy Bowen Studio and Gallery continues the Holiday Art Underground Show featuring artwork by more than 30 local and regional artists.
The gallery is open from 11 a.m. to 5 p.m. Thursday through Saturday. It will be open every day the week before Christmas.
And stop by the Coho Cafe in Tofte to see the photographs of Thomas J. Spence, who is exhibiting there through the end of December.
His work includes landscapes, wildlife and more in all seasons.
Plein air painter Greg Lecker continues his exhibit at Tettegouche State Park.
The exhibit in Tettegouche's Great Hall continues through the end of the month.
The Tweed Museum of Art in Duluth has a number of exhibits on display, including "Modern(ism)",  an exhibition of drawings and prints of small, intimate works by some of the most formidable Modern artists of the 20th century.
And this is the last week to see photographs from the Tweed's exhibit "A Thousand Words."
The exhibit focuses on photographs of people by a great selection of renowned photographers. The Tweed will be closed from Dec. 23 through Jan. 2.
The Duluth Art Institute will host an artist talk about their new exhibit celebrating the 100th anniversary of Finland. (country) "Finish 100 Together–Yhdessa" was organized by the Finland 100 Northland Committee to oversee the 100th anniversary activities in the Twin Ports. The exhibit, featuring work by more than 40 Finnish-American artists from the Arrowhead, is the culmination of the year-long celebration.
The artist event at the Art Institute is from 4-6 p.m. Dec. 14.
 Upcoming
 A Hovland Family Christmas Concert, hosted by the Mountain Thyme Music Studio, will be held at the Hovland Town Hall starting at 7 p.m. Dec. 21. The event features local musicians Andy & Amy & Sparrow Schmidt, Jack & Hannah Nickolay, Jim McGowan, Pat Flack, Jim & Michele Miller & Luke & James, Brenda Benson, Justin & Kelli Hedrick … and a few more. Participants are invited to bring a plate of Christmas treats to share. Open to all.
Local Photographer News
 Photographer Travis Novitsky has a number of prints at the Holiday Art Underground show at Betsy Bowen Gallery and Studio.
 Bryan Hansel is offering three new calendars for 2018: Northern Nightscapes, Northern Landscapes and Found Bike Project.
Nace Hagemann has crafted a number of different 2018 calendars, too.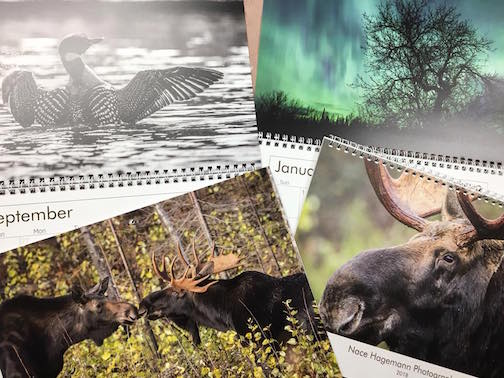 Click here for more info about Hagemann's calendars.
And Grand Marais photographer David Johnson has a number of different calendars, including one on moose, another on northern lights, as well as landscapes and wildlife.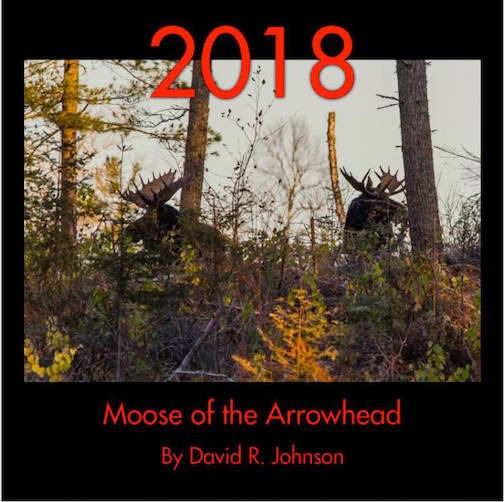 Johnson's calendars can be found at Joy & Co. and on his Etsy site here.
Window Shopping
Here's the music for the upcoming week:
Thursday, Dec. 14:
Briand Morrison, Poplar River Pub, 6 p.m.
Al Oikari, Joe Paulik & Pat Flack, Gun Flint Tavern, 6:30 p.m.
Gordon Thorne & Friends, North Shore Winery, 7 p.m.
Eric Frost, Wunderbar, 8 p.m.
Friday, Dec. 15:
Gene Lafond and Amy Grillo, Voyageur Brewing Co., 4 p.m.
North Shore Community Swing Band, Grandma Ray's, 6 p.m.
Cook County's Most Wanted, Wunderbar, 8 p.m.
Saturday, Dec. 16:
SVEA, Swedish Folk A Capella Concert,  Voyageur Brewing Co., 3 p.m.
Jim McGowan, Voyageur Brewing Co., 4 p.m.
Gordon Thorne, Lutsen Resort, 7 p.m.
Bughouse, Wunderbar, 8 p.m.
Juke Box Night at Grandma Ray's, 8 p.m.
Momentary Lapse of Floyd: Pink Floyd Tribute,  Papa Charlie's, 9 p.m.
Sunday, Dec. 17:
TBA, Gun Flint Tavern, 8 p.m.
Tuesday, Dec. 19
Joshua Schmidt, Poplar River Pub, 6 p.m.
Wednesday, Dec. 20:
Jim & Michele Miller, Bluefin Grille, 8 p.m.
Here's a selection from the photos we found this week:
First, wildlife:
We had offshore winds this week, which always encourages ore boats to steam close to shore. Here are a few photos.
We found a gorgeous stormy lake shot.
And a peaceful lake shot …
And a from-almost-under-the-water-bridge shot ….
We also found a rainbow house shot…
And a rainbow-in-the-woods shot …
Here's a smokey Lake Superior shot …
And beautiful ice.
Enjoy your weekend, everyone!