Summer is here! And with it comes one of our favorite art festivals, summer theatre, Fourth of July celebrations and lots of  live music at local venues all over the county.
First up is "Eleemosynary," a poignant and powerful play that brought the audience to their feet on opening night at the Arrowhead Center for the Arts.  A production of the Grand Marais Playhouse and directed by Jackson Nickolay, the cast of Eleemosynary includes Hannah Nickolay, Melanie Stoddard and Louise Reavis. Performances are at 7 p.m. Thursday-Saturday, July 2-4 and 2 p.m. Sunday July 5. Tickets are $15 adults and $10 students and are available at the door.
This is also the weekend for the Hovland Summer Arts Festival, one of the high points of the season. The art festival  is celebrating its 10th anniversary this year.
Artists and artisans gather at the Hovland Town Hall for two days, July 3-4, from 10 a.m. to 4 p.m., and exhibit everything from fiber arts, lathe-turned bowls, jewelry, artwork, photography, fused glass, and basketry, to Ojibwe bead work, handmade soaps, sculpture & stone carving, wood art and furniture.
Refreshments are served on both days, and local musicians will play. It's always a fun time.
Here's the music schedule for the Hovland Summer Arts Festival.
Friday:
Bump Blomberg, 10 -11 a.m., Maria Nickolay, 11:30 a.m.-12:30 p.m, Rod Dockan, Carah Thomas & Pat Flack, 12:45 – to 1:45 p.m., Briand Morrison, 2-3 p.m., Roxann Berglund, 3-4 p.m.
Saturday
John, Kristin & Martine Redshaw, 10 a.m. to 11 a.m., Joe Paulik, 11:30 a.m. to 12:30 p.m., Jim & Michele Miller & Pat Flack, 1-2 p.m.,Unbroken Ground, 2:30 – 4 p.m.
July 3 is also the First Friday of the month, a celebration in Grand Marais at art galleries and retailers giving a nod to the fact that Grand Marais was chosen as the Coolest Small Town in America and encouraging the community to come downtown and have a little fun from 4-8 p.m.
This month's First Friday features music, a presentation, an art opening,  a hula hoop dancing demo and prizes and refreshments at every stop.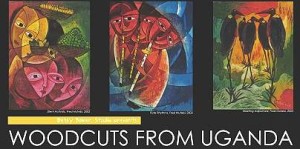 The Ugandan Woodcut Print Show opens at Betsy Bowen's Gallery with an opening reception from 5-8 p.m. on Friday featuring woodcuts by noted artists Fred Mutebi and Hassan Mukiibi, as well as original woodcuts by Ugandan students. Betsy will talk about it on The Roadhouse on WTIP, Friday at around 5:20 p.m.
Betsy Bowen will talk about the two trips she took to Uganda working with students producing art. Refreshments will be served. All invited.
Sivertson Gallery will celebrate First Fridays in July with a painting demonstration by Jeff Niesen  from 4-8 p.m. Gallery manager Abby Tofte said it was going to be a "Dexter"-style demo, because Niesen will set up plastic all around his easel. "I guess he's pretty wild with his paint," Tofte said, laughing.
The gallery will be giving away prints of Howard Sivertson's "The America at the Hovland Dock" with each purchase made that evening.
And, cellist Yvonne Caruthers will play from 4-6 p.m. at the gallery.
Caruthers, who moved here this winter, has  really been creating a buzz with her music. She's played at openings and events, including the Full Moon Music gathering at Drury Lane Books on Wednesday night, which drew more than 100 listeners.
Last month, she climbed into a kayak and was towed around the East Bay playing Bach by a staff member in a kayak from Stone Harbor Wilderness Supply.
And this Sunday (and maybe every Sunday this summer) she will be performing Bach at breakfast at Sydney's.
Also this Friday, master hula hoop dancer Christine Burns will  give demonstrations on the technique at Joy & Co.  from 4-8 p.m. She will offer three workshops on Saturday — at 11 a.m.,  1 p.m. and 3 p.m.
Kah-Nee-Tah Gallery in Lutsen also participates in First Fridays, and this month the gallery is featuring new pottery by Maggie Anderson as well as photographs by Jim Gindorff of St. Paul and leatherwork by Ted Gilmer of Michigan.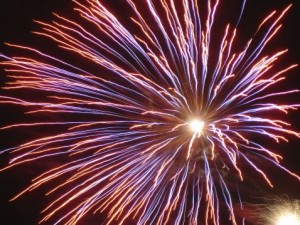 Saturday is the Fourth of July, and there are celebrations in Grand Marais and Tofte, as well as fireworks on Saturday night in both communities and in Grand Portage.
In Tofte, the 36th annual Tofte Trek, a 10k run/walk, including kids' and youth races, begins at 9 a.m., with registration at the Birch Grove Community Center starting at 8 a.m. The event, which is a lot of fun, is a fundraiser for the Sugarbush Trail Association.
The Tofte Fourth of July celebrations are held in the town of Tofte with food and vendors, a beer garden and live music. The parade, the best in the county, starts at 2 p.m. Fireworks at night.
In Grand Marais, the First Congregational Church holds its annual Ice Cream Social from 6-8 p.m. The SplinterTones play in Harbor Park from 7-10 p.m. There's a parade at 8 p.m. and fireworks start about 9:45 p.m.
There are lots of other activities as well, including craft demonstrations and youth workshops at North House Folk School all day.  Peter Juhl will be demonstrating balanced rock sculptures at Sugar Loaf Cove at 10 a.m.
The Cook County Farm & Craft Market is open from 9 a.m. to 1 p.m. in the parking lot of the Senior Center. It could be open on Sunday morning, too. Check it out. There are homegrown vegetables in season, plants, flowers, bakery goods and lots of work by Cook County artisans.
There are some great exhibits to see on the North Shore this weekend, too.
Through Our Hands IV, a spectacular exhibit of work by members of the Northwoods Fiber Guild, continues at the Johnson Heritage Post, which will be open every day for the exhibition, from 10 a.m. to 4 p.m. Mondays through Saturdays, 1-4 p.m. Sundays.
On Saturday, Mary MacDonald often comes in to demonstrate weaving, and members of the Guild who are docents for the show have been encouraged to bring their work with them, so there's a good chance visitors can see fiber artists at work when they stop by.
The exhibit continues through July 19.
In Thunder Bay, the 27th Anniversary Members' Exhibition continues at the Definitely Superior Art Gallery. There is also a black-light installation by the Die Active Art Collective.
And in Duluth, the opening reception for Micaella Penning's exhibit at the Zeitgeist "The Line of the Landscape – Lake Superior and Away," will be at 5 p.m. on Tuesday, July 7. The painter, photographer, writer and cartographer lives in Duluth.
Upcoming:
Plein Air Duluth: Paint du Nord, July 10-17, exhibition July 17 at the Duluth Art Institute
Grand Marais Arts Festival, downtown Grand Marais, July 11-12
Chalk.a.Lot, Thomas Owens Park and in the streets in Two Harbors, July 18-19
"Kalileh" featuring the Lake Superior Chamber Orchestra, Magic Smelt Puppet Troupe and the Lake Superior Youth Chorus, Marshall Performing Arts Center, UMD, July 23 @ 7:30 p.m.
In other art news,  Tom Christiansen has installed "The Plaid Moose" at the base of the driveway into Last Chance Gallery in Lutsen. The moose sculpture is almost finished and is one of the Great Places projects funded by the Cook County Chamber of Commerce, the Sawtooth Mountain Clinic and Moving Matters.
Joy & Co., has new jewelry by Maggie Friedrichs. Also, high school students from Finland and Silver Bay often give demos on wire wrapping on Saturdays.
Featured artists at the Grand Marais Art Colony's Gallery Store this month are potters Bob Briscoe and Jason Trebs.
Heidi Sobanja is exhibiting her paintings at the Crooked Spoon.
Betsy Bowen has almost finished her Great Places project this summer — a series of delightful and playful paintings of foxes on the exterior wall panels at Arrowhead Pharmacy. You have to look carefully to see them … the foxes, true to their nature, are almost hidden by the shrubs and plantings in front of the business.
Birchbark Books and Gifts just received copies of Frank Moe's book, "Sled Dogs to St. Paul."
Tickets are now on sale for the  North House Folk School's Unplugged concerts Sept. 17-19, including two nights with NPR's Mountain Stage featuring Martha Scanlan, Charlie Parr, Ron Sexsmith, Serena Ryder, Mandolin Orange, and more to be announced, and the Unplugged Fall Fundraiser with Jon Vezner & Friends. For more info, visit www.northhouse.org.
Want to see "Moon Over Buffalo" and "I Love You. You're Perfect. Now Change" for free? The Grand Marais Playhouse Summer Theatre Festival needs ushers. Besides volunteering for a great organization, you get to see the play for free! For more info, email Sandy at larsen@boreal.org.
The Cross River Heritage Center's exhibit of paintings by Bruce Palmer and Ojibwe beadwork by Marci McIntire as well as photographs by Kathleen Gray-Anderson, David Degree and Tim Ostroot continues through July 15.
And finally, have you submitted your name suggestion for the sculpture Tom Christiansen did for the lawn in front of the Grand Marais Public Library? The deadline to submit names for the sculpture is July 3. Lots of people have submitted suggestions, and the official name could be announced as early as next week. Let your voice be heard and name that sculpture!
Here's the music schedule:
Thursday, July 2:
Joe Paulik, Music by the Campfire, Lutsen Resort, 6 p.m.
Friday, July 3:
Hovland Arts Festival, 10 a.m. to 4 p.m.
Gordon Thorne, WTIP's The Roadhouse, 5:50 p.m.
Don Juan Trio, Sydney's Deck, 6 p.m.
Michael Monroe, WTIP's The Roadhouse, 6:20 p.m.
Joe Paulik, Music by the Campfire, Bluefin Grille, 7 p.m.
Gordon Thorne, Cascade Lodge Pub, 7:30 p.m.
Cook County's Most Wanted, American Legion, 8 p.m.
Dance Attic, Voyageur Brewing Co., 8 p.m.
Scott Fraser, Bluefin Grille, 9 p.m.
Saturday, July 4:
Joe Paulik, Music on the Deck, Papa Charlie's, 6 p.m.
Tim Fast, Lutsen Resort, 7 p.m.
The SplinterTones, Harbor Park, 7 p.m.
Michael Monroe's Log Cabin Concert, rural Grand Marais, 7 p.m. Call 387-2919 for reservations.
Earth, Wind & Todd, American Legion, 8 p.m.
Pushing Chain, Voyageur Brewing Co.. 8 p.m.
The Thunderheads, Gun Flint Tavern, 9 p.m.
Dance Party with DJ Beavstar, Papa Charlie's, 9:30 p.m.
Sunday, July 5:
Yvonne Caruthers, Bach for Breakfast, Sydney's, 7:30 a.m.
Pushing Chain, Caribou Highlands Lodge, 5 p.m.
Steve Blexrud, Gun Flint Tavern, 6:30 p.m.
Monday, July 6:
Joe Paulik, Bluefin Grille, 9 p.m.
Tuesday, July 7:
Briand Morrison, The Pie Place, 6 p.m.
Jim & Michelle Miller, Gun Flint Tavern, 6:30 p.m.
Here are some of the fantastic photos we found this week. Let's start with wildlife shots.
Here's a wonderful photo by Travis Novitsky.
Nace Hagemann commented that fog can be nice when he posted this to his Facebook page.
Here's a shot taken during those spectacular northern lights last week.
Here's a different kind of raining.
Here's a contrast.
And this one, by Paul Sundberg.
And this one, by Ann Kerber.
Here's a pretty spectacular sunrise.
And finally, here's a wonderful shot of the Venus and Jupiter conjunction at dusk.
Happy Fourth, everyone! Be safe!