It's the Grand Marais Arts Festival Weekend and is there ever a lot to do and see.
The Arts Festival should be great this year, with 70 regional and local artists exhibiting in booths in downtown Grand Marais from 9 a.m. to 5 p.m. Saturday, July 11, and from 10 a.m. to 4 p.m. Sunday, July 12.
The artists start setting up on Friday afternoon and then are honored at a Meet and Greet Soiree at
Sivertson Gallery from 7-9 p.m. that night. Everyone is welcome to come and enjoy refreshments and meet the art festival artists.
Artists representing every medium come from throughout the region to participate in this high-energy art weekend, including North and South Dakota, Minnesota and Wisconsin, to name a few.
There's a strong representation from local artists this year, too. They include: Ceramics: Maggie Anderson, Joan Farnam, Melissa Wickwire; Drawing: David Steckelberg; Fiber: Julie Arthur,
Emily Derke, Elise Kyllo, Mary MacDonald; Glass: Nancy Seaton; Stone: Gail Anderson; Painting: Jeffrey Niesen, Tim Pearson; Photography: Nace Hagemann; Printmaking: Betsy Bowen, Jerry Riach; Sculpture: Tom Christiansen; Wood: Cooper Ternes, Tim Dennison.
There is a live radio broadcast on WTIP Community Radio from festival-central on Saturday morning and storytelling with Rose Arrowsmith DeCoux. Throughout the two-day festival, there are lots of art activities for every age group as well as demos by artists, too. And there's music in the park, (see music schedule, below) and, of course, lots of art.
One of the highlights of the art festival, and a fundraiser for the Art Colony, is the Clothesline Art Sale. At the sale, 5- x 7-inch artworks, donated by artists, are pinned on clotheslines in a booth and can be purchased for $35 each. The pieces aren't signed on the front… one purchases what one likes and then turns it over to find out who did it. It's really a fun and popular event and a great way to support the Art Colony.
There will be performance art, too. PlaceBase Productions will present "The Arts in Play in Grand Marais: An Interactive Performance on the Waterfront" at 1 p.m. Saturday. A call has gone out to artists, musicians, singers, dancers, actors, puppeteers and/or Grand Marais enthusiasts to participate. It will be a one-of-a-kind production that will include tales of lighthouse keepers, loggers, fishermen, artists and more. Rehearsal  is at 5:30 p.m. Friday. For more info and to sign up: email Ashley@placebaseproductions.com or call 952-486-0533. Deadline to sign-up is Thursday, July 9.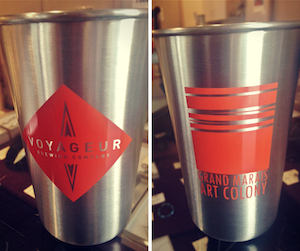 And finally, cheers to 25 years of the Grand Marais Arts Festival!
These stainless steel pint glasses with logos of the Art Colony and Voyageur Brewing Co. are a limited edition and are available for purchase at the Art Colony, Voyageur Brewing Company, and at the Arts Festival.
The pint glasses are $20 each -and include a FREE first beer redeemable anytime at Voyageur Brewing Co. and $1 off all subsequent beers the weekend of the Arts Festival.
There are many other activities going on this weekend in Grand Marais, too. Members of the Northwoods Fiber Guild will be demonstrating on the lawn of the Johnson Heritage Post on Saturday, and there will be a Pie Social inside the Heritage Post from 11 a.m. to 3 p.m.
There's more to see in Grand Marais, too.
The Ugandan Woodcut Print Show opened at the Betsy Bowen Studio Gallery last week and features  multicolor woodcuts by noted artists Fred Mutebi and Hassan Mukiibi, as well as original woodcuts by Ugandan students.
The exhibit continues through July 19. The gallery is open daily from 11 a.m. to 5 p.m.
The Northwoods Fiber Guild's exhibit, "Through Our Hands IV," continues at the Johnson Heritage Post Gallery. The exhibit, which has received rave reviews, features everything from quilting, weaving, felting, basketry, and beadwork, to handmade paper, clothing, knitting, jewelry and more, all crafted by members of the guild. The show continues through July 19.
The Cook County Farm & Craft Market will be open on Saturday and Sunday from 9 a.m. to 1 p.m. in the Senior Center parking lot.
Drury Lane Books will hold a Writer's Salon at 5 p.m. on Saturday featuring Mary Relindes Ellis, who will read from her book "The Bohemian Flats." The St. Paul author also wrote "The Turtle Warrior."
The Sky Blue Jazz Ensemble will be in performance with gypsy jazz guitar virtuoso Sam Miltich at the Arrowhead Center for the Arts  Saturday night at 7:30 p.m. The concert/dance is sponsored by the North Shore Music Association. The entire repertoire for the evening has been selected by Miltich, and was chosen for its listening and dancing appeal. All invited. Tickets are available at the door.
Also this weekend, Caribou Highlands is putting on the Hopped Up Caribou Beer Festival, featuring live music by Big Dave and the Ripples,  beer from 18 different breweries and more. For more information and tickets, click here.
Upcoming:
• Summer Theater Festival, Arrowhead Center for the Arts, Grand Marais. "Moon Over Buffalo," July 16; "I Love You. You're Perfect. Now Change," July 17.  In repertory Thursdays-Sundays.  For complete schedule, click here.
• The Chalk.A.Lot Sidewalk Chalk Festival will be held in Two Harbors Saturday, July 18, from 8 a.m. to 5 p.m., and Sunday, July 19, from 8 a.m. to 2 p.m. at Thomas Owens Park and in the street. Check their Facebook page for more info.

In other art news, the Grand Marais Public Library has announced the name for the new sculpture crafted by Tom Christiansen for the front lawn of the library. Citizens submitted suggestions, and "The Puzzle Tree" received the most votes.
Also in library news, copies of Marlais Brand's book, "The Hungry Coast," with illustrations by Noah Prinsen, have arrived at the library. Marlais will talk about the book on WTIP's The Roadhouse July 17.
Frank Moe will be at the Lake Superior Trading Post to sign his book, "Sled Dogs to St. Paul" from 1-3 p.m. on Saturday.
Joy & Co. will hold Make-and-Take activities for kids from 10 a.m. to 2 p.m. on Saturday. An artist will be demonstrating how to make wire-wrapped jewelry during the day, and there will be a Vintage Clothing Pop-Up shop outside in the courtyard. The shop also has new jewelry by Christine Burnes and dreadlock beads by Jill Terrill.
Liz Sivertson has brought in new paintings to Sivertson Gallery.
The Blue Moose has just received wire-work jewelry by Robin Goodfellow Designs. The shop also has a good selection of Nancy Haarmeyer's fabric necklaces and handmade birchbark rings.
Stefanie Mitchell is exhibiting new artwork at Threads.
Eight Broadway Art Gallery & Studio is open, exhibiting a variety of artwork from local and regional artists.
Birchbark Books & Gifts has a great selection of hiking books, including "A Guide to the Superior Hiking Trail" by the Superior Hiking Trail Association, and "Hiking the North Shore" by Andrew Slade. The shop also carries Superior Hiking Trail maps.
The Thunder Bay Art Gallery will hold an opening reception and artist/curator talk at 7:30 p.m. (EDT) on Thursday. Artists Christian Chapman and Bev Koski and Curator Lisa Meyers will talk about the exhibit, "Recast." Other exhibitions in the gallery include Sonny Assu: Continuum, Jan Brown: Still Echoes Resound and Woven from Wood: Baskets from the Collection.
There's lots of music on the calendar this week, including live performances on WTIP Community Radio during its membership drive. The band, the Wrong Omar, which performs at the Gunflint Tavern this weekend, will talk about their music and play a few tunes on The Roadhouse at 6:20 p.m. on Friday.
Here's the rest of the music schedule:
Thursday, July 9:
Eric Frost, WTIP, noon
Timmy Haus, WTIP, 4 p.m.
Joe Paulik, Lusten Resort, 6 p.m.
Timmy Haus, Gun Flint Tavern, 6:3o p.m.
John Silliman, WTIP, 8 p.m.
Friday, July 10:
Plucked Up String Band, WTIP, noon
The Wrong Omar, WTIP, 6:20 p.m.
Portage Band, American Legion, 6 p.m.
Joe Paulik, Music by the Campfire, Eagle Ridge Resort, 7 p.m.
Pete Kavanaugh, Cascade Lodge Pub, 7:30 p.m.
Eric Frost & Friends, Voyageur Brewing Co., 8 p.m.
Michael Monroe, Bluefin Grille, 9 p.m.
Saturday, July 11:
Eric Frost & Bill Hansen, Harbor Park, 11 a.m.
Michael Monroe, Harbor Park, 2 p.m.
Briand Morrison, Harbor Park, 3 p.m.
Pete Kavanaugh, WTIP, 3 p.m.
Big Dave & the Ripples, Hopped Up Beer Festival, Caribou Highlands Lodge, 3 p.m.
Cook County's Most Wanted, Birch Terrace Lakeview Patio, 3 p.m.
Joe Paulik, Voyageur Brewing Co., 3 p.m.
John Gruber & Max Bichel, WTIP, 4 p.m.
Yvonne Mills, WTIP, 5 p.m.
Michele Miller & Friends, WTIP, 6 p.m.
J Squared and the Makers, Papa Charlie's, 6 p.m.
Briand Morrison, Lutsen Resort, 7 p.m.
Joe Paulik, Music by the Campfire, Bluefin Bay Resort, 7 p.m.
Michael Monroe, Log Cabin Concert, rural Grand Marais, reservations 387-2919.
Sam Miltich with the Sky Blue Jazz Ensemble, Arrowhead Center for the Arts, 7:30 p.m.
Maria Nickolay, Cascade Lodge Pub, 7:30 p.m.
Jim & Michele Miller, Voyageur Brewing Co., 8 p.m.
The Wrong Omar, Gun Flint Tavern, 9 p.m.
Dance Party with DJ Beavstar, Papa Charlie's, 9:30 p.m.
Sunday, July 12:
Grand Marais Music Collaborative Showcase, Harbor Park, 10:30 a.m.
Michael Monroe, Harbor Park, 1 p.m.
Maria Nicolay & Michele Miller, WTIP, 2 p.m.
Kickbock Chicken Head, Carbou Highlands Lodge, 5 p.m.
Portage, WTIP, 6 p.m.
Monday, July 13:
Eric Frost, Bluefin Grille, 9 p.m.
Tuesday, July 14:
Now, to the photos.
Here are two photos … of two deer. The first one is by Amy Peterson.
The second one was taken by Tara Block.
And here are a pair of shots of bird babies and their parents. The first one is by Paul Sundberg, who captured an amazing series of photos of a piliated woodpecker family. Here's one of them.
Dennis Chick caught this loon parent feeding one of its chicks.
And here's a shot of a single "baby."
And now, for some landscapes. Here's a beautiful shot of lupines by Jamie Rabold.
Bruce Johnson captured this beauty.
Travis Novitsky took this wonderful shot of a foggy night.
Bryan Hansel took this incredible image of plein air painter Neil Sherman at work.
Last weekend was the 4th of July and Don Davison took this iconic shot of the Grand Marais harbor on the holiday.
And last, but not least, here's a great shot of the fireworks over the harbor by David Johnson.
Enjoy art this weekend, everyone!