Greetings to all on a lovely spring week in April. This weekend there are art openings everywhere, including in the Minneapolis/St. Paul area. In Cook County, look for a booksigning, interesting interviews and talks, and, of course, art.
First up this Thursday, is an interview on WTIP Community Radio with Lin Salisbury, who will talk with Minnesota author Karen Babine on Salisbury's monthly program, Superior Reads.
Babine's first book, "Water and What We Know: Following the Roots of a Northern Life" (University of Minnesota Press, 2015) won the 2016 Minnesota Book Award for creative nonfiction and was a Finalist for the Midwest Book Award and Finalist for the Northeastern Minnesota Book Award. She has also written "All the Wild Hungers." Tune in to 90.7 FM on Thursday night for an in-depth interview of this award-winning author.
Then, at 8 p.m, Thursday, Cook County guitar-maker, Drew Heinonen, will be featured on WDSE's Making It Up North, the program that explores artists and entrepreneurs who work in the Arrowhead region. A special "Watch Party" will be held at Voyageur Brewing Co. on Thursday night when the program airs. All invited.
To get a preview of the program, click here.
On Friday, there will be three art openings featuring artists from Cook County, 250 miles apart.
First up, is the opening reception for the Grand Marais Art Colony's Member Show, featuring works by member artists. The reception is from 5-7 p.m. on Friday. The exhibit continues through May 5.
The Founders Hall at the Art Colony is filled with an exciting variety of artwork, from sculptures to ceramics, fiber art to paintings. Here are a few examples:
Refreshments will be served.
At the reception, participants are invited to join a special appreciation activity with Josie Lewis, a Grand Marais native and artist. Josie will lead participants through a process of 'painting' their own cards by dipping them into floating ink. The activity is free to members, $10 to non-members.
The Art Colony's Annual Meeting will precede the opening of the exhibit, with a look back at last year's activities and what can be expected in the future. The meeting starts at 4 p.m. Sheila Smith, executive director of Minnesota Citizens for the Arts, will talk about the Legacy Amendment and how it has impacted the arts in Minnesota and Cook County in the last 10 years.
And, 250 miles away, in St. Paul,  the Minnesota State Arts Board will also be celebrating the Legacy Amendment, which is in its 10th year of supporting the arts and artists throughout Minnesota with grants, programs and art projects, thanks to support from the voters of Minnesota.
To mark this anniversary, the Minnesota State Arts Board organized an exhibit, "A Creative Investment: A Visual Arts Showcase," featuring artwork from organizations and artists around the state. Three Cook County artists who work at the Grand Marais Art Colony have works in the Minneapolis show: Natalie Sobanja, Nancy Seaton and Mary Bebie.
The opening of the exhibit is being held in conjunction with the St. Paul Art Crawl this weekend, but will continue through the end of the summer. The Minnesota State Arts Board is located at 400 Sibley St., Suite 200 in St. Paul.
And, just to stay in the Twin Cities for a minute, Hovland ceramic sculptors and printmakers, Dan and Lee Ross, will open an exhibit of new work at the Groveland Art Gallery, 25 Groveland Terrace in Minneapolis from 2-5 p.m. on Saturday. The exhibit is entitled "The Hill That Walked Away." 
In a press release, the gallery said the concept for the show began with Dan and Lee discussing animals as landscapes.
"What makes an animal different from a landscape?" they were asked. "Animals move," they said. Hence the title for their current show and the poem:
            The Hill That Walked Away
The hill that walked away
The mountain that stayed still
The storm that passed
The relationship that endured.
The opening reception for the show of the Ross' new work at the Groveland runs concurrently with "Chain of Lakes" by Justin Terlecki. Both shows continue through June 1.
Back in Cook County, Saturday will be a busy day with lots of different events.
The North Shore Winery will hold a Paint & Sip at the winery from noon to 3 p.m. The event includes instruction and all the materials to make a painting, as well as a glass of wine or cider to sip during its creation. The cost is $45. For more information and to register, Cost: $45. For more information and to register, call (218) 481-9280 or email info@northshorewinery.us.
Saturday is Independent Bookstore Day and Drury Lane Books is offering a surprise book with every purchase. Then, at 5 p.m., Grand Marais printmaker and illustrator Betsy Bowen and author Phyllis Root will be at the bookstore to talk about their last book, "The Lost Forest" and sign copies.
Also on Saturday, Voyageur Brewing will celebrate National Tell a Story Day from 4-6 p.m. The public is invited to come in and share a story and/or tell a story to an appreciative audience. Local authors Mary Ellen Ashcroft, Amy Schmidt and Amanda Hand will be featured. All invited.
Also at Voyageur's, Sheila Smith, executive director of Minnesota Citizens for the Arts and Barbara LaMotte, associate director of Philanthropy for The Nature Conservancy, will speak about how the Clean Water, Land & Legacy Amendment of 2008 has impacted arts and culture and the outdoors in Minnesota generally and on the North Shore specifically. The event starts at 6:30 p.m. and everyone is invited.
On Monday, Fond du Lac artist Karen Savage will be one of the featured speakers at the Tweed Museum of Art during its "Intersections" Native Artists Panel. Savage is one of the artists whose work is included in the "Intersections" exhibit at the Tweed.
 Exhibits:
The North Shore Artists League continues its exhibit of work by member artists at the Johnson Heritage Post Gallery. The exhibit includes a variety of mediums including paintings, photographs, ceramics, woodworking and fiber art as well as glass.
The exhibit continues through May 5. The Heritage Post is open from 10 a.m. to 4 p.m. Thursday through Saturday and 1-4 p.m. Sunday.
The Prøve Gallery in Duluth has a new exhibit entitled "Honestly Tho." It continues through May 12. The gallery is located at 21 N. Lake Ave.
Upcoming:
The Cedar Coffee Company in Two Harbors will hold an opening reception for an exhibit of new paintings by Lauri E Olson-Hohman from 5-7 p.m. on Friday, May 3. The series is called "From Rags to Riches."
FYI
The North Shore Arts League will hold its May meeting at the Johnson Heritage Post on Tuesday, May 7, from 11 a.m. to 1 p.m. All artists are invited.
And here's welcome news for the fall:
WTIP Community Radio has announced the lineup for the 12th annual Radio Waves Music Festival. The festival will be held at Sweetheart Bluff in the Rec Park Sept. 6-8.  Twenty-five acts will take the stage at this year's festival, including six new to the festival, including the Joshua J Schmidt Band and acoustic-Ska duo Woodblind. The weekend will also feature performances by local, regional and national favorites, including: The Carpenter Ants from Charleston, West Virginia (gospel-soul), Pushing Chain (roots-Americana), Yellow Bellied Sapsuckers (hillbilly country), Cherry Dirt (Americana with a twist), Lake Effect (folk), and the students and teachers of the Grand Marais Music Collaborative (variety). To see the complete schedule, click here.
Mike Tonder and Katie Marshall win the 2019 Arrowhead Arts Awards.

A creator of glass sculptures that invoke the beauty of nature, and the director of the MacRostie Art Center are the winners of the 2019 Arrowhead Arts Awards from the Arrowhead Regional Arts Council. Sculptor Michael Tonder will receive the 2019 George Morrison Artist Award, and MacRostie Art Center executive director, Katie Marshall, will receive the 2019 Maddie Simons Arts Advocate Award.
They will be celebrated and receive their awards at a ceremony on Friday, May 10, at 5:30 p.m. at the MacRostie Art Center at 405 1st Ave NW, in Grand Rapids. The public is invited.
The awards are presented by the Arrowhead Regional Arts Council, whose mission is to facilitate and encourage local arts development.
The George Morrison Artist Award is named after internationally acclaimed visual artist George Morrison (1919-2000), who was an important member of the second generation of American abstract expressionist artists. The award is given to the artist who has made significant contributions to art in Minnesota.
The Maddie Simons Arts Advocate Award is named for Madeline Simons, the first volunteer chair of the Arrowhead Regional Arts Council Board. A long-time resident of Grand Marais, she owned a dance studio, helped start the Grand Marais Playhouse, the Lutsen Art Fair (now the Grand Marais Arts Festival) and Minnesota Citizens for the Arts. The award is given to the individual who has made significant contributions to support art and artists in his/her community.
For more information about ARAC's programs and grants for artists and arts organizations, click on the image below.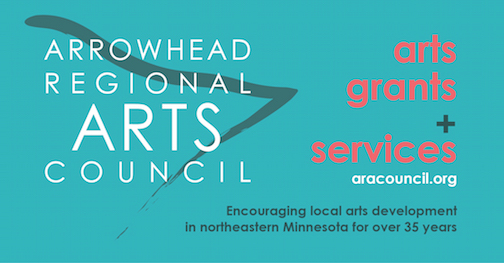 Music:
Here's the music schedule for this week:
Thursday, April 25:
Live Music at Mogul's Grille, 4 p.m.
Gordon Thorne, North Shore Winery, 6 p.m.
Jon Kallberg, Poplar River Pub, 6 p.m.
Joe Paulik, Gun Flint Tavern, 7 p.m.
Friday, April 26:
Nate Weiler, Voyageur Brewing, 4 p.m.
North Shore Community Swing Band, Wunderbar, 7 p.m.
Gene Lafond and Amy Grillo, Lutsen Resort, 7 p.m.
Saturday, April 27:
Briand Morrison, Lutsen Resort, 7 p.m.
Brothers in Arms, Wunderbar, 7 p.m.
Songs of Life & Nature: A Bluegrass Concert with Dick Kimmel, Gun Flint Loge, 7:30 p.m.
Mysterious Ways, Grandma Ray's, 8 p.m.
Colleen Myre and Tony Peterson, Gun Flint Tavern, 8 p.m.
DJ Beavstar, Papa Charlie's, 9:30 p.m.
Sunday, April 28:
Briand Morrison, Mogul's Grille, 10 a.m.
Open Stage with Joe Paulik & Pat Flack, Wunderbar, 6 p.m.
Colleen Myre and Ton Peterson, Gun Flint Tavern, 7 p.m.
Wednesday, May 1:
Jam Session, Gun Flint Tavern, 7 p.m.
Here's a selection of photos we found this week. First, wildlife:
And here's a luscious fantasy… a photoshopped image of the earth nestled in clouds. purportedly photographed by the Hubble telescope. Not true. Beautiful, though.
Here's something real… colorful sunrises and sunsets.
And a moon rise.
And water:
Some beauties from Duluth:
And finally, this one.
Have a great weekend, everyone!