True, true. We got lots of snow April 29. Up to 15 inches at Sawbill Outfitters and other spots over the hill.  It's mostly melted near Lake Superior, but there's still a fair amount in other places. Discouraging, but not overwhelming. There are lots of vibrant greens where the snow has melted, and it's supposed to get warmer this weekend, so spring has to be on the way.
Meanwhile, there are some interesting things going on along the North Shore this weekend, starting with new exhibits opening at Tettegouche State Park and the Cedar Coffee House in Two Harbors. Both exhibits run through May. The openings for each are at 7 p.m. Friday.
First up is an exhibit in the Great Hall at Tettegouche featuring intriguing paintings by Cheryle Gannaway.
Gannaway is a Minnesota artist who has exhibited all over the world. Here's an interview about her life and work. Tettegouche will hold an opening reception for the artist at 7 p.m. Friday, May 3.  All invited. The exhibit continues through May.
And, at the Cedar Coffee House in Two Harbors, Silver Bay artist Lauri E. Olson-Hohman will open a show featuring a new body of work entitled "Rags to Riches."
The show is full of action and emotion, and features rag dolls, bikes, coffee cups and more. The exhibit at the Coffee House  continues through May.
On Saturday, a Cork & Canvas Painting Party will be held at Gunflint Lodge from  9:30 a.m. to 7:30 p.m. On the Rocks Art Studio and Gallery will lead participants on a painting event, supplying all the materials and instruction needed to create their own unique work.
Snacks and wine will be provided. For more information and to register, call 218-388-2294 or email info@gunflint.com.
The Grand Marais Art Colony will offer the public a chance to learn Suminagashi, the ancient Japanese technique to create marbling designs on paper with water and ink.
The workshop, which will be held from 1-3 p.m. in the Print Studio, will be taught by Penny Ortmann and Nancy Haarmeyer. Cost is $20. To register, contact the Art Colony 387-2737 or email info@grandmaraisartcolony.org.
Also on Saturday, the North Shore Winery will hold a Pop-up event with Lori Franklin's Sparkly Heart Studio. The pop-up will be from 1-5 p.m. For more info on Sparkly Heart, click here. The public is invited to drop by Saturday afternoon and enjoy her work.
And, at 4 p.m. Saturday, a presentation on Fur Trade Artifacts will be held at the Johnson Heritage Post. The artifacts come from the Taraldson Collection.
Lee Johnson, an archaeologist with the National Forest Service, will give a presentation about the large collection of historic and pre-historic artifacts found along the Voyageurs Highway. All invited. Free.
And on Tuesday, join Duluth poet Bart Sutter and his brother, musician Ross Sutter, for a presentation entitled "Sons and Daughters of the Northern Lights" at the Grand Marais Public Library.
The program features music and stories, poetry and song that explores the experience of Scandinavian immigrants, their ancestors, and their descendants.  For more than 30 years, The Sutter Brothers have performed shows that integrate Bart's original writing with Ross' versions of traditional Scandinavian and American songs and tunes.
Ross Sutter plays guitar, button accordion, mountain dulcimer, and Irish drum but is best known for his rich baritone voice. and has performed for A Prairie Home Companion and the Winnipeg Folk Festival, among hundreds of other venues.
Bart Sutter, who has written nine books, is the only author to win the Minnesota Book Award in three different categories—poetry, fiction, and creative nonfiction. He has also written for public radio and has had four plays produced. He won the George Morrison Artist Award for his contribution to the arts in northeastern Minnesota, and was named the first Poet Laureate of Duluth in 2008.
And in Duluth, Ken Bloom, the artistic director of the Tweed Museum of Art, will give a presentation on The Concept of Time/Space in Photography, in conjunction with an on-going exhibit there.
The presentation will be from 6:30-8 p.m. on Tuesday.
 Exhibits:
 This is the last weekend to see the North Shore Artists League exhibit at the Johnson Heritage Post.
The exhibit features work by artists in all media, who have recently formed the Artists League. It's a great show and highly recommended. The Heritage Post is open from 10 a.m. to 4 p.m. Thursday through Saturday and 1-4 p.m. Sunday.
The Grand Marais Art Colony's Member Show opened in the Founders Hall last week to accolades. This is a highly eclectic exhibit featuring a wide variety of work by member artists.
The Art Colony is open from 9 a.m. to 5 p.m. daily.
And, for another art treat, check out the exhibit of Betsy Bowen's work in the lobby area at the Cook County Courthouse. A number of framed prints from her popular book, "Tracks," are on display, as is a panorama painting entitled "Homage to a Small Town." See detail, below.
 Upcoming:
The YMCA Dancers will present its annual recital at the Arrowhead Center for the Arts May 9-11. The title of this year's recital is "Luminous," and will feature inspiring choreography, beautiful costumes and entertaining music in what has always been a great show. All ages perform and all ages are encouraged to attend. The dances will include jazz, hip hop, ballet and tap. Tickets are available at www.tix.com. Tickets are $12 adults, $5 students.
The 21st Arrowhead Artist Awards will be held at the MacRostie Arts Center in Grand Rapids at 5:30 p.m., Friday, May 10. Sponsored by the Arrowhead Regional Arts Council, the event will honor glass sculptor Mike Tonder, who will receive the George Morrison Artist Award, and Katie Marshall, director of the MacRostie Art Center, with the Maddie Simons Advocate Award.
All are invited to the award ceremony. A reception will follow.
To learn more about the Arrowhead Regional Arts Council and what it does to promote and support the arts in the Arrowhead Region, click on the image below.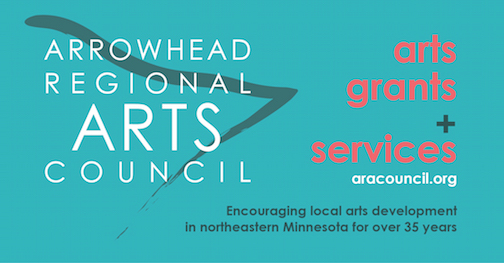 Also next weekend, jazz musician Sam Miltich will give presentations entitled "The Improvised Life: Exploring Intersections of Mental Health & Creativity through Jazz." On Saturday, May 11, he lead a music/process workshop at the Grand Marais Public Library at 2;30 p.m. He will discuss and demonstrate guitar techniques, and talk about his daily practice and how music has played a large role in his mental health recovery. That night, he will be in concert at Bethlehem Lutheran Church at 7 p.m. Tickets for the concert are $15. The presentation at the library is free.
Miltich will also give a talk at the North Shore Health's Multipurpose room on Sunday, May 12 at 2 p.m. The public is invited.
Opportunities:
Potter needed as Empty Bowl Assistant: The Art Colony will be accepting applications for an Empty Bowls Assistant to support a series of Make-a-Bowl sessions this season. This position is geared toward potters who want to build upon their teaching experience and who have an interest in community initiatives. Learn more and apply here.
Radio Interview: Local illustrator Betsy Bowen partnered with author Phyllis Root on a new children's book that tells the story of a lucky error that preserved 144 acres of old-growth red and white pine in Minnesota.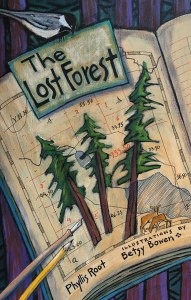 Betsy spoke with Roadhouse host Dave Tersteg about "The Lost Forest"and how she came to be the illustrator for it. To listen, click here.
Music:
Here's the music schedule for this week:
Thursday, May 2:
Gordon Thorne, North Shore Winery, 6 p.m.
Live Music at Moguls Grille, 6 p.m.
Jim Miller, Lutsen Resort, 6 p.m.
Plucked Up String Band, Wunderbar, 7 p.m.
Friday, May 3:
Joe Paulik, Voyageur Brewing Co., 4 p.m.
Common Ground, Wunderbar, 7 p.m.
Southpaws, Grandma Ray's, 8 p.m.
Saturday, May 4:
Eric Frost, Lutsen Resort, 7 p.m.
Brothers in Arms, Gun Flint Tavern, 8 p.m.
Wunderdogs, Grandma Ray's, 8 p.m.
DJ Beavstar, Papa Charlie's, 9:30 p.m.
Sunday, May 5:
Briand Morrison, Mogul's Grille, 10 a.m.
Open Stage with Joe Paulik & Pat Flack, Wunderbar, 6 p.m.
Tuesday May 7:
Gordon Thorne, Bluefin Grille, 6 p.m.
Photographs:
And yes, we have lots of snow photos, but let's start with wildlife:
And we found some other interesting shots:
Lots of snow equals lots of fodder for our waterfalls.
And we found some great sunrises this week:
And now, for the snow shots:
Have a great weekend, everyone!