We're only a weekend away from Memorial Day and things are beginning to hop in Cook County.
First up are readings and book signings by Joan Crosby, who has just published a new book about her 13 months on Tucker Lake.
Crosby will be at the Wunderbar from 4-6 p.m. on Thursday, May 16 and a Drury Lane Books on Saturday, May 18 at 7 p.m. Crosby's book is a memoir of the 13 months she and her husband, Dick, spent in a remote cabin on the Gunflint Trail 50 years ago. At Drury Lane Books, she will discuss her writing process as well as sign copies of her book. All invited.
Also this weekend, leatherworker Beth Dow, who is the current instructor-in-residence at North House Folk School,  will be conducting live craft demonstrations around town this weekend. She will be at the Cook County Senior Center from 10 a.m. to 2 p.m. on Thursday and at the Grand Marais Public Library from 10:30-2 p.m on Saturday.The public is invited to come and learn more about the craft as well as watch her work.
On Friday, nationally recognized potter Ellen Shankin will give an Artist Talk at Cook County Higher Education at 7 p.m.
Shankin, who has exhibited all over the United States as well as internationally, will talk about her work and what inspires her about clay. She has been a studio potter since 1977 and is a past recipient of the National Endowment of the Arts Visual Arts Fellowship Grant. Her pottery explores line, balance, and tension. At the event, she will also have examples of her work on exhibit. The Artist Talk is hosted by the Grand Marais Art Colony. All invited. Free.
For the artist gardeners in the community, the greatly anticipated GES Annual Plant Sale and Pancake Breakfast will be held this Saturday, May 18, from 8 a.m. to 1 p.m. at Great Expectations School. The school is located on the corner of East 5th Street and the New Gunflint Trail. Everything from annuals, vegetables, herbs and perennials will be available. All welcome.
And next Wednesday, May 22, will be the launch of the West End Market at Mountain Inn on the Lutsen Mountains Road. The market will feature artwork, crafts, snacks and locally grown produce and will be held in the parking lot at the Mountain Inn every Wednesday from 4-6:30 p.m. through September.
Exhibits:
There's a lot of art to see on the North Shore, this weekend and next. Here's a selection:
First up is Greg Lecker's Plein Air Exhibit at the Johnson Heritage Post.
Besides a wide variety of paintings focused on Lake Superior and the North Shore, Lecker also has fine art reproduction cards of his work.
There's another exhibit at the Heritage Post as well. Kathy Weinberg is the Artist of the Month and she is showing a collection of flower paintings.
At Yellow Bird Fine Art, Linda Ricklefs Baudry has brought in new work.
The gallery will feature a variety of new work over the Memorial Day weekend. Stay tuned.
Liz Sivertson has brought in new work to Sivertson Gallery, too, including this painting, entitled "She Wolf."
And the Betsy Bowen Gallery is featuring the work of Charlotte Durie.
In Duluth, the Duluth Art Institute has just opened a new exhibit entitled "Strata," a study of textures and designs by regional artists.
The Tweed Museum of Art is continuing a number of exhibits, including "Intersections," pieces from the museum's collection of Native American artists.
In Thunder Bay, The Thunder Bay Art Gallery is playing host to "Fragile," an exhibition on loan from Bravo Art in Ottawa.
 The exhibit features the work of six contemporary Francophone artists who explore the concept and experience of their Francophone heritage in relation to family identity.
And, at the Baggage Building Arts Centre at Prince Arthur's Landing in Thunder Bay, a new spring exhibition has opened.
 Upcoming:
Next weekend, look for the Spring Gallery Tour, a jazz concert, all kinds of art demonstrations in various venues around the county, from pottery to plein air painting, hands-on opportunities, new work in all the galleries, a grand opening and more.
Here's the link to all the events. And stay tuned for more details next week.
There are several things going on at the Grand Marais Art Colony, too, including a Paint-A-Tile workshop on Friday, May 24 and Make-A-Bowl for Empty Bowl sessions on Saturday, May 25.
To register for either of these opportunities, call 387-2737.
The Arrowhead Regional Arts Council offers a variety of different grants and learning opportunities for artists. To learn more, click on the icon below.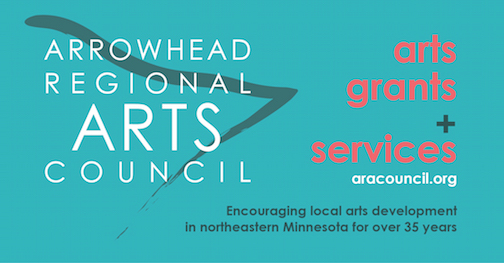 Music:
Here's the music schedule for this week:
Thursday, May 16:
Live music at Mogul's, 4 p.m.
Jon Kallberg, Poplar River Pub, 6 p.m.
Roxanne Berglund, North Shore Winery, 6 p.m.
Gordon Thorne, Gun Flint Tavren, 6 p.m.
Friday, May 17:
Jim McGowan, Voyageur Brewing Co, 8 p.m.
HeatBox, Gun Flint Tavern, 8:30 p.m.
Saturday, May 18:
Charlie Roth, Wunderbar, 7 p.m.
Gordon Thorne, Lutsen Resort, 7 p.m.
SmokeHouse, Grand Portage Lodge, 7 p.m.
Cook County's Most Wanted, Grandma Ray's, 8 p.m.
Pushing Chain, Gun Flint Tavern, 8:30 p.m.
Sunday, May 19:
Briand Morrison, Mogul's Grille, 10 a.m.
Open Stage with Joe Paulik & Pat Flack, Grandma Ray's, 6 p.m.
Tuesday, May 21:
Eric Frost, Poplar River Pub, 6 p.m.
Wednesday, May 22:
Jam Session, Gun Flint Tavern, 7 p.m.
 Photographs:
Here are some of the photos we found this week:
Several photographers posted "Mama" shots over the Mother's Day weekend. Here are a few.
And here are a few others we found:
We found other wildlife photos, too.
We found some lovely landscapes, too.
Have a great weekend, everyone!