The weather isn't exactly calling out Spring this week, but that doesn't mean the season on the North Shore is slow to start. On the contrary — there are lots of intriguing things happening this weekend.
We kick off the week with the opening of "Luminous," a dance extravaganza by the YMCA Dance Group.
This annual event is always exciting, featuring inspiring dances and costumes as well as creative lighting and music, not to mention enthusiastic performances by all.
More than 100 local dancers ranging in age from 3 to 70 will perform dance routines in ballet, jazz, tap and hip hop this weekend at the Arrowhead Center for the Arts. Dancers have been learning choreography under the instruction of Breanna Roy, Christine Curtis, and Lesli Higgins over the past several months and will be putting on a show for the community.
The show features ballet, jazz, tap, and hip hop pieces. It also includes solos from the instructors as well as outgoing seniors, Andrea Larsen, Claire LaVigne, and Robin Henrikson. The theme for this year is "Luminous" and the songs and costumes have a "light" theme. This popular community event has sold out the past several years, so get your tickets early. Tickets are  $12 adults, $6.50 youth and can be purchased at www.tix.com or at the door.
On Friday, the Johnson Heritage Post opens a new exhibit featuring the plein air paintings of Greg Lecker. Lecker's work centers on the theme of water, the Northwoods and Lake Superior.
The opening reception for Lecker's exhibit will be held from 5-7 p.m. on Friday, May 10. All invited. Refreshments will be served. The exhibit continues through June 2. Note: Lecker will give painting demonstrations over Memorial Day Weekend at the Heritage Post. Stay tuned.
The Heritage Post is open from 10 a.m. to 4 p.m. Thursday through Saturday and from 1-4 p.m. Sunday.
Also on Friday, the Arrowhead Regional Arts Council will host the 21st annual Arrowhead Arts Awards at the MacRostie Art Center in Grand Rapids starting at 5:30 p.m.
Glass sculptor Michael Tonder will receive the 2019 George Morrison Artist Award and Katie Marshall, director of the MacRostie Art Center, will receive the Maddie Simons Arts Advocate Award at the event. All invited. Refreshments will be served.
To find out more about the Arrowhead Regional Arts Council, click on the image below: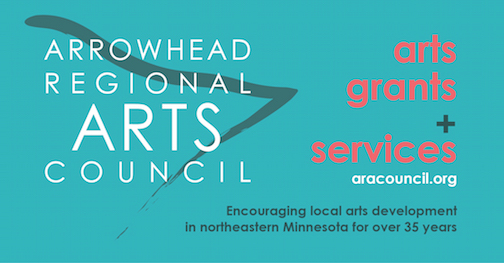 This weekend, jazz guitarist Sam Miltich will give a number of presentations and a concert in Grand Marais, thanks to the partnership of the North Shore Music Association and North Shore Health. The series is entitled "The Improvised Life: Exploring Intersections of Mental Health & Creativity through Jazz" and will feature presentations and a concert.
Miltich will begin his series with a Music Process Workshop at the Grand Marais Public Library at 2:30 p.m. on Saturday, May 11. He will discuss and demonstrate guitar techniques, talk about his daily practice and how music has played a large role in his mental health recovery. The session is open to the public and free of charge.
On Saturday night, Miltich and his quartet will perform an evening concert at Bethlehem Lutheran Church at 7 p.m. Tickets are $15 general admission. All invited.
And on Sunday, Miltich will give a talk at the North Shore Health Multipurpose Room at 2 p.m. He will highlight his experience with schizophrenia, as well as the experiences of other accomplished musicians who achieved great personal and professional success while living with mental illness (such as famed jazz pianist Thelonious Monk). Open to the public and free of charge.
Here's a video of Miltich talking about his music:
Sunday is Mother's Day, and many restaurants are offering special menus for the day. If you'd like to bike to your much, the Fireweed Bike Co-op is holding a Ride for Brunch at Naniboujou along the beautiful shores of Lake Superior. All invited. To register, call 387-2186 by May 10.
Also on Sunday, Beth Dow, a leatherworker who is the instructor in residence at North House Folk School this month, will be holding a number of open houses, classes and demonstrations during her residency.
She starts her residency by hosting her first open studio from 10 a.m. to 4 p.m. on Sunday at North House. For more information on other opportunities, click here.
And if you're going to be in Duluth, don't miss the 8th annual "Run Smelt Run Puppet Parade and Smelt Party" that starts near the Lift Bridge at 3:30 p.m.
This is a totally crazy time with people dressed in silver, mini puppet shows and music and lots of laughter. The Brass Messengers from Minneapolis lead the parade from the Lift Bridge on the Lake Walk to the Zeitgeist Cafe, where there's a smelt fry and party. The parade starts at 3:30 p.m. Here's a video of last year's event:
Run Smelt Run from Patrick Knight on Vimeo.
And, for those beer lovers out there, Voyageur Brewing will hold a workshop, Craft Beer 101, on Monday from 6-8 p.m. Learn the basics of beer, including how it's made, the different styles, ingredients and more. Cost of class is $10 and is limited to 25 people. Participants will sample beer, receive a free pint glass and more. Advance registration required. To register, call 218-387-3163 or email casey@voyageurbrewing.com
And on Wednesday, Betsy Bowen's Gallery opens for the season featuring paintings by Charlotte Durie from Wales.
The work includes mixed-media landscapes inspired by Charlotte's annual visits to her family cabin near Lutsen. All invited. The gallery is open daily from 11-5 p.m. throughout the season.
Exhibits:
The Great Hall at Tettegouche State Park is featuring work by Cheryle Gannaway.
The exhibit continues through the end of May.
And last, but not least, this is the weekend for the 27th annual St. Croix Pottery Tour, May 10-12.
The Tour is nationally recognized as a gathering of exceptional potters offering an exciting array of handmade ceramics. The work ranges from everyday functional to decorative. This year is shaping up to be truly spectacular and will feature 63 potters from 17 States and England exhibiting in seven different studios. Choose a few studios you want to visit or go to all seven for the full experience. Refreshments are served at each studio, and, note, potters are often excellent cooks.  For more info, maps, etc., click here.
Upcoming: 
The Art Along the Lake: Spring Gallery Tour is from May 23-27 this year, featuring a lots of things to do and see over the entire weekend.
Participating galleries are featuring new work by their artists and there will be lots of demonstrations as well as opportunities to participate in hands-on activities, too. Check out the events listing here.
Opportunities:
Give your art a bike ride this year and participate in 2019 Project Bike with Dana Sikkila.
For the past four years creative leader Dana Sikkila has set out on a one of a kind art/bike tour, advocating for the important point that every artist has skills and creative ideas to help grow and sustain our communities, So far, she has biked 2,500 summer miles connecting with Minnesota artists living in communities ranging from the rural to large cities, learning what motivates her fellow Minnesotans to create art. She transports the art in a cart behind her bike and then holds an exhibit in Mankato. A film crew also participates in the tour, and the video will be part of the exhibit. She is starting this year's tour in Grand Marais, and is interested in finding artists who would like to participate. To find out more and apply, click here.
Artist News:
Kathy Fox Weinberg from Lutsen is the North Shore Artists League featured Artist of the Month for May at the Johnson Heritage Post.
To launch Spring, she has curated a floral exhibit of her oil paintings, "If Flowers Could Talk."  Her work will be featured at the Johnson Heritage Post through the month of May.
Music:
Here's the music for the week:
Thursday, May 9:
Mogul's Grille, Live Music, 4 p.m.
Gordon Thorne, North Shore Winery, 6 p.m.
Joe Paulik, Poplar River Pub, 6 p.m.
Luminous: YMCA Dance Performance, 6 p.m. ACA
Plucked Up String Band, Gun Flint Tavern, 7 p.m.
Friday, May 10:
Matthew Griswald, Voyageur Brewing Col, 4 p.m.
Portage, Grandma Ray's, 6 p.m.
Luminous: YMCA Dance Performance, Arrowhead Center for the Arts, 7 p.m.
Briand Morrison, Lutsen Resort, 7 p.m.
North Shore Community Swing Band, Wunderbar, 7 p.m.
One Way Traffic, Gun Flint Tavern, 8 p.m.
Saturday, May 11:
Luminous: YMCA Dance Performance, Arrowhead Center for the Arts, 7 p.m.
Tim Fast, Lutsen Resort, 7 p.m.
One Way Traffic, Gun Flint Tavern, 8 p.m.
Chris Koza Band, Wunderbar, 8 p.m.
Brothers in Arms, Grandma Ray's, 9 p.m.
Sunday May 12:
Briand Morrison, Mogul's Grille, 10 a.m.
Open Stage with Joe Paulik and Pat Flack, Wunderbar, 6 p.m.
Ian Alexy, Gun Flint Tavern, 7 p.m.
Tuesday, May 14:
JohnRuss, Lutsen Resort, 6 p.m.
Photographs:
Here are a few of the photos we found this week. Let's start with wildlife:
And last, this one by Layne Kennedy:
Have a great weekend, everyone.
If you'd like to help support NorthShore ArtScene, click on the icon below for more info.