Busy, busy, busy – with the weather finally warming up and Memorial Day behind us, that's what it feels like on the North Shore these days.
Here in Grand Marais, we kick off the weekend with the Northern Landscapes Festival at North House Folk School, May 31-June 2.  The festival features more than a dozen field-focused courses that form the backbone of the event, with evening presentations to round it out.  Offerings include everything from lichens in the Northwoods to a boreal birding workshop, wildlife tracking with remote camera photography and birding by ear, to name a few. To find out more and register, call 387-9762 or visit www.northhouse.org.
And new this year, the Minnesota Raptor Center will be on campus to give classes during the festival, a presentation at 7 p.m. on Saturday and then a live raptor event for families on Sunday, June 2 at 10 a.m.
On Friday at 7 p.m. at North House, wildlife photographer Ryan Pannesi will share stories of close encounters and offer a glimpse into the secretive lives of our wild furred and winged counterparts.
Also on Friday night, Joy & Co. will host "Try" Days, which offers the public a chance to try making art from their wide array of art supplies. The event is free and is held from 4-7 p.m.
And the band, The Ginstrings, will be in the WTIP studios on Friday night during the airing of The Roadhouse, to talk about their music and play a few songs. They're always a fun group. The show airs from 5-7 p.m.
This is the last Friday of the month, and the Downtown Duluth Arts Collective has gone all out to organize the monthly Duluth Arts Walk. The event includes gallery openings, open studios, live music and more in a walkable event from 5-8 p.m.
To get a taste of all the activities, click here.
Also, the Duluth Superior Film Festival will be held this weekend, with screenings at the newly restored Norshore Theatre, Zeitgeist and other venues. There are a wide variety of films offer this year. Check out the trailer below.
 For the complete schedule of this 5-day film festival, click here.
Saturday starts out with the Cook County Market, which is held in the Senior Center Parking lot from 9 a.m. to 1 p.m.
The market features arts and crafts from a variety of local vendors, including clothing, glass, pottery, woodwork and more as well as roasted nuts, and, if we are lucky, rhubarb treats.
Also on Saturday, plein air painter Greg Lecker, who is exhibiting his work at the Johnson Heritage Post through Sunday, will be giving plein air painting demonstrations at the gallery from 10 a.m. to 4 p.m. on Saturday and 1-4 p.m. Sunday.
On Saturday night, Michaela Brevig of The Raptor Center, will give a presentation on Raptors of the Midwest at North House Folk School at 7 p.m. She will share images, range maps, and audio recordings to introduce many types of these amazing birds seen throughout the region, with a special emphasis on the species that can be seen on the North Shore. All invited.
On Sunday, the raptor programs at North House Folk School continue with a special Family Program from 10 a.m. to noon. The program will include an eagle, hawk, falcon, and owl. Open to all.
If you're in the Twin Cities this weekend, consider attending the St. Anthony Park Arts Festival in St, Paul on Saturday. This is the 50th anniversary of the arts festival, and brings together outstanding artists from throughout the region for the one-day festival.
Last year, Dan and Lee Ross of Hovland won Best of Show. They will be at the festival again this year.
The Park is located at 2245 Como Ave. in St. Paul. The arts festival runs from 10 a.m. to 5 p.m.
Correction
: Painter
Kat Corrigan
will give an
Artist Talk
at
Cook County Higher Education
at 7 p.m. on Wednesday, July 3, not Monday, June 3, as previously stated.  The talk, which is sponsored by the
Grand Marais Art Colony
, is entitled: "
Painters Who Use Color and Light
."
Corrigan paints in a way that she describes as "pulling the light out from the darkness." In this talk she will introduce you to some of her favorite and influential artists who do the same. The Artist Talk is co-hosted with Cook County Higher Education.. Stay tuned for details next month.
On Wednesday, June 5, the West End Market will be held from 4-6 p.m. in the parking lot of the Mountain Inn on Ski Hill Road in Lutsen. All welcome.
Exhibits:
This the last weekend to see Greg Lecker's Plein Air exhibit at the Johnson Heritage Post. It closes on Sunday.
Lecker has a variety of work in this show, including small and larger works. The Heritage Post is open from 10 a.m. to 4 p.m. Thursday to Saturday and from 1-4 p.m. Sunday.
In Two Harbors, the Two Harbors Art Center, 516 South Ave. in historic downtown, is open for the season. It is home to the Voyageur Artists and the Two Harbors Wood Carvers.
The Arts Center is open Fridays and Saturdays: 10 a.m. to 4 p.m., Sundays: 12 noon to 3 pm. All welcome.
In Duluth, an exhibit exploring popular culture has opened at the Duluth Art Institute. Entitled "Popular Opinions: A Cultural Discussion" the exhibit features a variety of works addressing this theme.
 The exhibit has already been installed, and an opening reception will be held from 5-8 p.m. on Tuesday, June 4.
At the Tweed Museum of Art on the campus of the University of Minnesota Duluth, a group of three-dimensional works from the Tweed's collection is on exhibit.
 In Thunder Bay, the Thunder Bay Art Gallery is opening an exhibit of work by local high school students entitled "Fresh Perspectives.
And the Baggage Building Arts Centre in Thunder Bay is exhibiting new work by member artists.
Upcoming:
 The 1st Avenue Block Party of the season will be held on 1st Avenue from 9 a.m. to 4 p.m. on Saturday, June 8. Stay tuned.
Author Lorna Landvik will read from her new novel, "Chronicles of a Radical Hag (With Recipes)" at Drury Lane Books at 7 p.m. Saturday, June 8.
The dynamic band, The Barley Jacks will be performing at the Schroeder Town Hall at 7:30 p.m. on Saturday, June 8. The concert is sponsored by the North Shore Music Association.
And, heads-up, the Wooden Boat Show and Summer Solstice Festival will be held at North House Folk School June 21-23. There are lots of fun things going on over the weekend. To find out more, see www.northhouse.org. Volunteers are always welcome. Call 387-9762 for more info.
Kudos:
 Timothy Cochrane won the Nonfiction Award at the Northeast Minnesota Book Awards recently for his book,  "Gichi Bitobig, Grand Marais: Early Accounts of the Anishinaabeg and the North Shore Fur Trade."
The book was published by the University of Minnesota Press.
Nancy Seaton painted several paddles for the new Watercraft Exhibit Building at Chik-Wauk Museum and Nature Center.
Photographer Travis Novitsky was recently featured in a story in the Star Tribune.
 To read the story and see the photos, click here.
The Arrowhead Regional Arts Council announced winners of grants in several categories recently. Here's a listing of artists who won in Cook County.
Career Development Grant:
Bryan Hansel, Grand Marais, Cook, $3,000:
Funding will support a solo photography exhibit at Cedar Coffee Company and Spokengear in Two Harbors, Minnesota. The exhibit will hang from September 1, 2019, to October 31, 2019.
Arts Learning Grant:
Greg Mueller, Lutsen, Cook, $2,440
Grant funding will support the North Shore Community Pour, an interactive, learning experience in cast metal sculpture for 2019 Grand Marais Arts Festival attendees. Participants will create sand molds and watch as they are filled with molten aluminum which, when cooled will create a piece that they can take home,
Artist Access Grant:
Joe Paulik, Grand Marais, Cook, $1,000
Funding will support the recording of twelve songs with producer Al Oikari.
Roxann Berglund, Grand Portage, Cook, $1,000
Funding will be used to create a three-song demo of original compositions that will be used to gain feedback from other musicians and to promote the artist.
For more information about the Arrowhead Regional Arts Council, its programs and grants, click on the image below.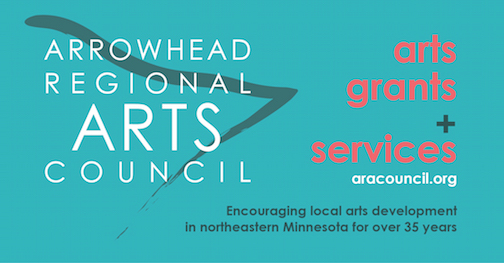 Music:
Here's the music schedule for the week:
Thursday, May 30:
Gordon Thorne, North Shore Winery, 6 p.m.
Pete K, Poplar River Pub, 6 p.m.
Eli Bentley, Gun Flint Tavern, 7:30 p.m.
Friday, May 31:
Gene Lafond and Amy Grillo, Voyageur Brewing Co., 4 p.m.
North Shore Community Swing Band, Grandma Ray's, 7 p.m.
Ginstrings, Gun Flint Tavern, 8 p.m.
Saturday, June 1:
Common Ground, Lutsen Resort, 7 p.m.
Pushing Chain, Gun Flint Tavern, 8 p.m.
Cook County's Most Wanted, Grandma Ray's, 8 p.m.
DJ Beavstar, Papa Charlie's, 9:30 p.m.
Sunday, June 2:
Briand Morrison, Mogul's Grille, 10 a.m.
Open Stage with Joe Paulik and Pat Flack, Wunderbar, 6 p.m.
Wednesday, June 5:
Jam Session, Gun Flint Tavern, 7 p.m.
Briand Morrison, Bluefin Grille, 9 p.m.
Photographs:
We found lots of photographs this week. Let's start with some great bird photos taken by John Heino.
We found some other great bird photos, too.
Here's a fascinating one.
And here's another predator/prey shot.
And then this awesome photograph.
Spring is a renewal of bird life on the North Shore. It's also a renewal of plant life. Here are a few great photos of this.
Waterfalls continue.
And then, the iconic North Shore photographs.
Here are some under and over views of the Lift Bridge in Duluth.
Milky Way and Lake Superior.
And finally, this …
Enjoy your weekend, everyone!