This weekend is totally stuffed with things to do and see. which is so great. Here's what to look forward to:
On Thursday, there's lots of live music featured in venues across the county, including Gordon Thorne, Sonofmel, Joe Paulik and the Plucked Up String Band. (See the music schedule, below.)
Friday starts out with an art opportunity at the Grand Marais Art Colony with a Paint-A-Tile session in the Ceramics Studio. Participants will learn about colorful Majolica glazes and have a chance to use them to paint their own designs on two tiles. The tiles will be fired on Friday night and be ready for pickup on Sunday morning.
To register for the workshop, call 387-2737. Children must be accompanied by an adult.
Joy & Co. is holding "Try Days" from 4-7 p.m. on Fridays during the summer. The event invites participants to come in and use examples from their great collection of art supplies to make art. All invited. Free.
A little later on Friday night, the Duluth band, Paper Parlor, will be on WTIP's The Roadhouse on Friday to talk about their music and play a few songs. The band is expected on the show around 5:45 p.m. They will play at Wunderbar at 8 p.m.
Also on Friday night, Donna Bruni will give an Artist Talk entitled "Artist Process and Finding Your Way" from 7-8:30 p.m. at Cook County Higher Education.
The event is sponsored by the Grand Marais Art Colony and co-hosted with Cook County Higher Education. Bruni will discuss structure, fluidity, and stages of creating art — preparation, incubation, illumination, and implementation—in this conversation about the artist's process. The public is invited. Goodwill donations are welcome.
There are two great art openings on Friday night, too, and both exhibits will continue through the month of June.
The Johnson Heritage Post will hold the  opening reception for "Calling," a show featuring the paintings of Minnesota artist Alexa Carson. Carson's paintings invoke the call of the wilderness– the call of the chickadee, the loon, the wolf. We are being called back to our natural spaces to reconnect with wildlife, and to reclaim our role as nature's stewards.
The exhibit continues through June 30.
Carson's exhibit kicks of the Heritage Post's summer schedule. The Heritage Post will be open Wednesdays through Saturdays from 10 a.m. to 4 p.m., as well as Mondays from 10 a.m. to 4 p.m. It will also be open from 1-4 p.m. on Sundays. The Heritage Post will be closed on Tuesdays.
Tettegouche State Park is mounting a new exhibit for June as well, featuring the work of watercolorist Susan Wright.
The exhibit is in the Great Hall at Tettegouche State Park. The opening reception is from 7-8:30 p.m. on Friday, June 7.
On Saturday, consider putting on your time-travel suit so you can see and do everything.
The Cook County Market opens the day at 9 a.m. in the Senior Center parking lot in Grand Marais. The market features local arts and crafts, including fiber art, woodwork, sculpture, glass and pottery, to name a few. There's also a massage station, fresh eggs and treats, as well as face painting for kids.
The Market runs from 9 a.m. to 1 p.m.
Also on Saturday, merchants on First Street in Grand Marais will host the first Grand Marais Block Party of the season from 9 a.m. to 5 p.m.
The block party features live music (see the schedule below), food and fun, as well as a chance to explore all the great businesses on that street.
And there's more! Take a Kid Fishing, sponsored by the DNR, the Cook County Soil & Water Conservation District and the Forest Service, will offer a day of fishing for kids from 9 a.m. to noon at Mink Lake Beach. Lunch and water will be provided. Children from 5-12, accompanied by an adult. are welcome. For more info and directions, click here.
Further up the Trail, the Boundary Waters Expo will be held at Bearskin Lodge all day on Saturday and Sunday, June 8-9.
This is a family friendly hands-on event that features speakers, exhibitors and activities for everyone. There will be a number of speakers, including photographer Nace Hagemann, as well as exhibitors, demonstrations and more.
Saturday events continue!
Author Lara Palmquist will offer a free writer's workshop at the Grand Marais Art Colony from 1-4 p.m. on Saturday. The workshop is titled: "Writing As Excavation." This is an immersive workshop and includes writing exercises and more. Participants can register here. Or call 218-387-2737.
Also on Saturday, author  J.J. Ollman will be signing copies of his book, "The Devil's Kettle" at the Lake Superior Trading Post from 1-3 p.m.
There's another book event on Saturday, too. Lorna Landvik will be at Drury Lane Books from 7-8:30 p.m. to talk about her latest book, writing and more. Landvik is a great public speaker and is really fun to listen to. Her latest book is entitled: "Chronicles of a Radical Hag (with Recipes.)"
All invited. Free.
And, Cascade Lodge on Hwy. 61, will hold a Paint & Sip session from 3-5:30 p.m. on Saturday. Participants will learn how to paint a beautiful landscape during the session. The event is put on by the Cheerful Hearts Paint Studio. For more info and to register, click here.
There are also three music events on Saturday, plus lots of live music in local venues.
The North Shore Music Association will present "The Barley Jacks" in concert at the Schoroeder Town Hall at 7:30 p.m.
This high-energy band is definitely worth seeing. Tickets available at the door.
Also, if you're a Mozart fan, consider attending "The Wolfgang: Music of the '80s (Mozart in the 1780s, that is), at Bethlehem Lutheran Church at 7 p.m. on Saturday. The WolfGang, a Twin Cities quintet of 18th century instrumental virtuosi, will perform Mozart's "Great" Symphony #40 in G Minor and several other "80s" musical wonders from Mozart's last decade.
And finally, the North Shore Community Swing Band will play at The Wunderbar on Saturday night starting at 7 p.m.
And, to make your choices for Saturday even more difficult, consider this. Anishinaabe and Dakota writers will be signing and selling copies of their latest books from 4-6 p.m. at the Dr. Robert Powless Center in Duluth, 202 W. 2nd St, The event will be from 4-6 p.m. and features authors Thomas Peacock, Linda Legarde Grove, Sharon Shucik, Teresa Peterson and illustrator Jordan Rodger.
On Sunday, there will be a Shrimp Boil and Bake Sale Fundraiser for the Gunflint Trail Historical Society and Chik-Wauk Museum and Nature Center at the Seagull Lake Community Center from 4-6 p.m. All welcome.
On Monday, the Grand Marais Public Library will launch Crafternoons, a special activity Mondays through Thursdays from 2-4 p.m. through Aug. 8. There will be different craft activities taught during these sessions.
The Grand Marais Art Colony's "Findings Jewelry Symposium" starts on Tuesday June 11 and runs through Saturday, June 15. The event features workshops, artist talks, demonstrations and more. Of particular interest — the Group Trunk Show, which features work by the symposium's participants. The trunk show is from 5-7 p.m. on Saturday, June 15. The public is invited. Stay tuned.
And on Wednesday, Joan Crosby will be at the Grand Marais Public Library from 2-3 p.m. where she will discuss her new book, "Tucker Lake Chronicles."
At 4:30 p.m. on Wednesday, Tedd McDonah will hold a jewelry making demonstration at the Grand Marais Art Colony entitled "Patterning Mokume-gane."
Attendees will see first-hand see his common practices/techniques and the tools he typically uses to achieve twisted patterns with diffusion-bonded mokume billets.Participants are encouraged to register in advance, however, drop-ins are welcome. Note that space is limited. Call 387-2737 for more info.
And lastly, the West End Market, which is held in the parking lot of the Mountain Inn on Ski Hill Road will be held from 4-6:30 p.m. The market features locally made crafts, vegetables in season and more.
 Exhibits:
 The Grand Portage Lodge and Casino has installed the sculptural work of artist Donovan Dahman.
Dahmen was inspired at a young age by his great uncle and famous artist, George Morrison, whom he used to work for doing odd jobs in Morrison's studio, and making wooden frames for his uncle's artwork.
Opportunities:
Carol Harris has crafted a beautiful quilt as a fundraiser for Care Partners. The quilt can be seen at Drury Lane Books.
Raffle tickets for the quilt can be purchased at Care Partners, Java Moose and Drury Lane Books. The raffle drawing will be Aug. 25.
The Grand Marais Art Colony is holding a Fire Sale, featuring lots of beautiful art books, pottery, miscellaneous studio supplies and more. Visit the Art Colony to see what they're offering.
The Arrowhead Regional Arts Council is offering scholarships for individuals from ARAC's seven-county region to attend the 2019 Rural Arts and Culture Summit in Grand Rapids on Oct. 3-5. Organized by Springboard for the Arts and co-sponsored by ARAC, the Summit is a practitioner-driven gathering that celebrates and expands the field of rural arts-based community development by providing a space for learning, relationship building and celebration about the role of art and creativity in building strong, healthy and resilient rural communities. For more information, visit www.ruralartsandculturesummit.com.
For more information about ARAC and the programs and grants it offers, click on the image below.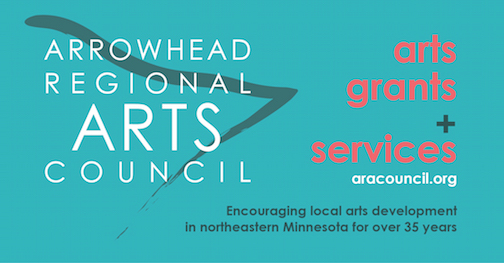 Music:
Here's the music schedule for this week:
Thursday, June 6:
Live Music at Moguls Grille, 4 p.m.
Gordon Thorne, North Shore Winery, 6 p.m.
Sonofmel, Cascade Lodge Pub, 6 p.m.
Joe Paulik, Lutsen Resort, 6:30 p.m.
Plucked Up String Band, Wunderbar, 7 p.m.
Friday, June 7:
Portage, Grandma Ray's, 6 p.m.
Paper Parlor, Wunderbar, 8 p.m.
Saturday, June 8:
Grand Marais Block Party, 3 bands, Downtown Grand Maris, all day DJ Beavstar, 9 a.m. to noon, Rod & Caribou, 12:30-2 p.m., Portage Band, 2:30-4 p.m.
The Morning Kings, Voyageur Brewing Co, noon
Mary Bue, Wunderbar, 3 p.m.
One Less Guest, Voyageur, 4 p.m.
Gene Lafond and Amy Grillo, Lutsen, 7 p.m.
North Shore Community Swing Band, Wunderbar, 7 p.m.
The Barley Jacks, Schroeder Town Hall, 7:30 p.m.
Brothers in Arms, Grandma Ray's, 8:30 p.m.
DJ Beavstar, Papa Charlie's, 9:30 p.m.
Sunday, June 9:
Briand Morrison, Mogul's Grille, 10 a.m.
Open Stage with Joe Paulik and Pat Flack, Wunderbar, 6 p.m.
Wednesday, June 11:
Patio Series with Timmy Haus, Mogul's Grille, 5 p.m.
Photographs:
 We found lots of interesting photographs this week.
Let's start with the sun, which makes all things possible.
And spring flowers, since 'tis the season.
And some wildlife shots:
A storm:
A photographer with a handful:
Waterfalls:
And this.. not technically a waterfall, but falling water for sure:
A few other water photographs:
And these great Milky Way shots:
Have a great weekend, everyone!