This weekend we can look forward to one of the best celebrations of summer: the Wooden Boat Show and Summer Solstice Festival at North House Folk School.
The event draws in crowds from all over the region and beyond to spend a weekend connecting with wooden boats on Lake Superior.
The festival features everything from a boat parade, craft demonstrations,  a Contra Dance, the Boat and Tool Auction, workshops and presentations, plus the Lake Superior Chowder Experience, to name a few of the experiences and events of this great summer celebration in Grand Marais..
This year's featured speaker is Douglas Brooks, who spent time in Japan learning from traditional boatbuilders. He will teach and demonstrate throughout the weekend as well as give a presentation at 12:30 p.m. on Sunday.
And, not to forget the iconic feature of this festival: the Summer Solstice Pageant presented by the Good Harbor Hill Players. The pageant is always funny, with lots of people on stilts, and puppets and amusing songs and situations, and is not to be missed. The title of this year's production? "Let's Go Camping." (One has to assume that there will be lots of vignettes about bugs, since they've been so pervasive this year.)
The pageant starts at 8 p.m. Saturday in the Commons at North House. Bring a chair and a jacket or blanket, and get ready to enjoy the show. For all the details about the weekend events, click here.
There are lots of other events going on this weekend, too.
On Thursday, the Local Food Market, featuring locally grown vegetables, baked goods, including wood-fired breads, fresh eggs as well as fresh flowers, will be held in the parking lot at the Cook County Community Center from 4:30-6 p.m.
On Friday, watercolor artist Spence Meagher will give a demonstration at the Grand Marais Art Colony at 7 p.m.
Meagher will share how he lets color and value tell the story in his work. His paintings have been featured in publications such as Plein Air Magazine and Plein Air Today. This event is free and open to all. Goodwill donations are welcome.
In Thunder Bay, the Magnus Theatre will be screening the controversial film, "There Are No Fakes," which explores the alleged forgery of thousands of Norveau Morrison's works. The Anishinaabe artist died in 2007, but during his lifetime he became known as the grandfather of Indigenous art in Canada and the "Picasso of the North."
The painter started what has become known as the Woodland School of Painting and was a prolific painter himself. Tickets for the film are $15.
On Saturday, local artists and artisans gather in the parking lot of the Cook County Senior Center for the weekly Cook County Market. The Market features clothing, fiber art, pottery, woodwork, jewelry, glass and more.
The Market is held from 9 a.m. to 1 p.m. weekly through mid-October.
The Wooden Boat Show continues at North House Folk School with the Boat to Tool Auction, Lake Superior Chowder Experience, Boat Parade and the Summer Solstice Pageant.
Also on Saturday, Sivertson Gallery will host a Summer Solstice Party from 5-7 p.m. Photographer Christian Dalbec will speak.
And in Thunder Bay on Saturday, the Thunder Bay Potters Guild will hold a Pottery Fair at Mariners Hall on the waterfront.
The Pottery Fair will be held from 10 a.m. to 4 p.m. (EDT).
On Wednesday next week, the West End Market at Mountain Inn will be held from 4-6:30 p.m. featuring local artisans and vegetables in season.
Also on Wednesday, colored pencil artist Kristy Kutch will demonstrate the versatility of colored pencils at the Grand Marais Art Colony at 4:30 p.m.
The event is open to the public. All invited.
Exhibits:
 Minnesota artist Alexa Carson is exhibiting her work at the Johnson Heritage Post. The exhibit features her extraordinary wildlife paintings and drawings.
The exhibit is entitled "Calling" and features paintings that invoke the call of the wilderness– the call of the chickadee, the loon, the wolf. The Heritage Post is closed on Tuesdays. It is open from 10 a.m. to 4 p.m. Wednesday through Saturday and Monday, and from 1-4 p.m. Sunday.
Also, the Heritage Post has selected George Morrison as the Artist of the Month. A number of his prints are on view at the gallery this month.
In Duluth, the Tweed Museum of Art is exhibiting a fascinating selection of sculptures from its collection.
The exhibit is entitled "Asymmetry: Three-Dimensional Works."
The Duluth Art Institute is featuring an exhibit entitled "Strata."
In Minneapolis, Hazel Belvo and Marcia Cushmore are exhibiting work created during their travels around the country at the Opening Night Framing Services Gallery, 2836 Lyndale Ave. S.
The exhibit continues through June 20. This will be the last exhibit at Opening Night. The shop will close, after 40 years in service.
Artist News:
 Photographer Roxanne Distad is a new artist at JNS Gallery in Lutsen.
Painter Jeanne Hedstrom has work at Yellowbird Fine Art in Grand Marais.
The Arrowhead Regional Arts Council will be at the Grand Marais Art Colony for  an Info Session and Grant Consolation starting at 9 a.m. on Saturday. All artists are invited to attend.  For more info and to schedule an individual grant consultation, contact the Art Colony at 387-2737.
For more info about ARAC and the grants it offers, click on the image below.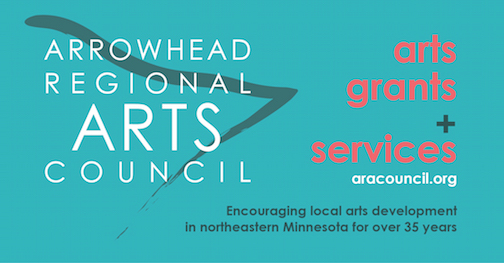 Music:
 Here's the music schedule for the week:
Thursday June 20:
Billy Johnson, North Shore Winery, 6 p.m.
Gordon Thorne, Gun Flint Tavern, 6 p.m.
Joe Paulik, Lutsen Resort, 6:30 p.m.
Friday, June 21:
Pushing Chain, Voyageur Brewing, 4 p.m.
The Portage Band, Grandma Ray's, 6 p.m.
Don Juan Trio, Wunderbar, 7 p.m.
North Shore Community Swing Band, Poplar Haus, 7 p.m.
Mysterious Ways, Grandma Ray's, 8 p.m.
Black River Revue, Gun Flint Tavern, 8 p.m.
Jon Kallberg, Bluefin Grille, 9 p.m.
Saturday June 22:
Pushing Chain, Lutsen Resort, 7 p.m.
Michael Monroe, Log Cabin Concert, 7 p.m.
Jim Miller, Wunderbar, 7 p.m.
The South Paws, Grandma Ray's, 8 p.m.
Jon Miller, Gun Flint Tavern, 8 p.m.
DJ Beavstar, Papa Charlie's, 9:30 p.m.
Sunday, June 23:
Briand Morrison, Mogul's Grille, 10 a.m.
Black River Revue, Bluegrass Sundays at the Lutsen Winery, 3 p.m.
Cook County Most Wanted, Skyport Lodge, 4 p.m.
Open Stage with Joe Paulik and Pat Flack, Wunderbar, 6 p.m.
Wednesday, June 26:
Timmy Haus, Patio Series, Mogul's Grille, 5 p.m.
Jam Session, Gun Flint Tavern, 7 p.m.
Photographs:
 We were lucky again this week to find a great selection of photographs.
Let's start with wildflowers.
And a few wildlife photos.
Here's a crusty moon:
And a few landscapes and seascapes:
And last, but not least, the Hjordis.