Summer seems to have arrived on the North Shore with warm temps and lots of sun – and we can see that the Hjordis is out plying the waters. (Click on the link to reserve your spot.) This weekend there's lots to do and see, too, as well as taking a trip on Lake Superior.
The week's events kick-off with the season's opening of the Local Food Market. It will be from 4:30-6 p.m. on Thursday, June 13 in the parking lot at the Cook County Community Center, and every Thursday afternoon through Oct. 17,
The Local Food Market, a project of the Northwoods Food Project, features locally grown vegetables in season, baked goods and fresh flowers and, often, fresh eggs, as well as other locally produced foods. Everyone is invited.
Also this week, the Grand Marais Art Colony is holding the Findings Jewelry Symposium, featuring nationally known jewelry artists teaching workshops, giving Artist Talks and participating in a Trunk Show on Saturday evening from 5-7 p.m.
As part of the Symposium, jewelry artist Anna Johnson, will give an Artist Talk at Cook Higher Education entitled "Artistic Symbiosis" at 7 p.m. Thursday.
Johnson will talk about jewelry in the world and share about her work and process, as well as talk about professional practice. This event is free and open to all. Goodwill donations are welcome. The event is held by the Art Colony in partnership with Cook County Higher Education.
Colleen Myhre will be a guest on WTIP's the Roadhouse on Friday  She will talk about her music and play a few songs. The Roadhouse airs from 5-7 p.m. The musicians usually come on about 6:15 or so.
On Saturday, the Grand Marais Art Colony will host a jewelry Trunk Show from 5-7 p.m. at the Art Colony.
The Trunk Show will feature handmade work by a number of jewelry artists including Anna Johnson, Danny Saathoff, Becky McDonah, Lissa Flemming, and Susan Crow, among others. For more info about the symposium, click here. The Trunk Show is open to the public.
There are a lot of other activities this weekend as well.
On Friday and Saturday, potter Ann Ward will  have Pots for Sale at 418 4th Ave.E. . located behind the IGA in Grand Marais. She is participating in a 3-family garage sale at that location.
And first thing on Saturday morning, the Cook County Market opens at the Senior Center parking lot in downtown Grand Marais. The Market, which runs from at 9 a.m. to 1 p.m., features a wide variety of work by local artists and artisans. including woodwork, pottery, fiber art, books and more, as well as a massage table, fresh eggs and live music.
And for those who want to experience the Northwoods and help young trees in the Pincushion Recreation Area, there will be a Seedling Support Project on Pincushion from noon to 3 p.m. on Saturday. Participants will learn about the ecology of the region and the importance of on-going efforts to support forest restoration.
Volunteers will support tree seedlings by clearing back competing plants and making sure protective tree cages are intact. Meet at the Pincushion Recreation Area parking lot at noon. Volunteers should bring water and a snack. Wear long pants, a long-sleeve shirt and closed-toes shoes. Gloves and tools will be provided. The project is a partnership between the Northwoods Volunteer Connection, Cook County Soil and Water Conservation District and the US Forest Service.
Also this weekend, the Cook County Historical Society is celebrating the history and heritage of Cook County, from Schroeder to the Gunflint Trail and along the shore to Grand Portage in a series of events. presentations and tours at museums and heritage sites. They are calling the event Passport Weekend. There are lots of things to see. Check out the image below.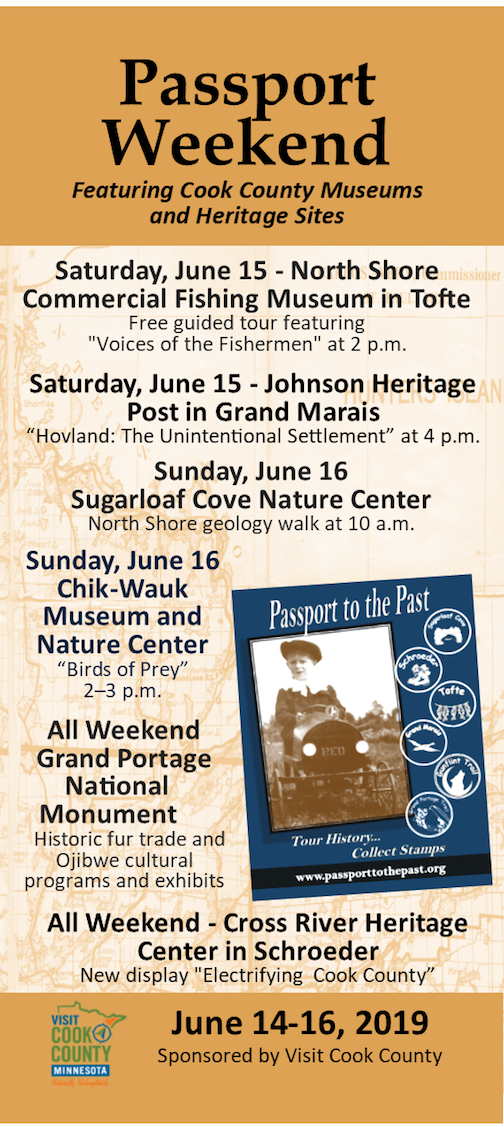 One of the highlights of the event will be a presentation by Don Halverson about the community of Hovland, entitled "Hovland: The Unintentional Settlement."
The presentation will include lots of great old photographs and stories and will be held at 4 p.m. on Saturday at the Johnson Heritage Post. All invited. Free.
Also on Saturday, Minnesota and Anishinaabe writer Linda Legarde Grover, will read from and discuss her latest novel, "In the Night of Memory" at Drury Lane Books at 7 p.m.
The event is free and open to the public.
And, on Wednesday, the West End Market will be held at Mountain Inn on Ski Hill Road in Lutsen from 4-6:30 p.m. The market features arts and crafts as well as vegetables in season.
Exhibits:
 A new exhibit has opened at the Johnson Heritage Post featuring the wildlife paintings of Minnesota artist Alexa Carson.
The exhibit continues through June 30. The Heritage Post is closed on Tuesdays. It is open from 10 a.m. to 4 p.m. Wednesday through Saturday and Monday, and from 1-4 p.m. Sundays. Free.
Plein air artist Neil Sherman has new work at the Sivertson Gallery in Grand Marais.
Betsy Bowen's Studio Gallery has just received new carved wooden boxes by Peter Kess of Ely. They are carefully made of fine woods and carved.
The gallery is open daily from 11 a.m. to 5 p.m.
At Tettegouche State Park, an exhibit of the watercolor paintings by Susan Wright continues through the month of June.
The paintings are on exhibit in the Great Hall at the park.
In Duluth, painter Sue Rauschenfels is exhibiting a series of new work in acrylics at Pizza Luce.
The Tweed Museum of Art is featuring a number of exhibits, including "Intersections," Native American art chosen from its collection.
Artist Allen Killian-Moore is exhibiting his videos and photographs at the Duluth Art Institute.
The exhibit continues through Aug. 11.
In Thunder Bay, the Thunder Bay Art Gallery is featuring the exhibition: "Northwest Coast Masks: Selections from the Permanent Collection."
The exhibition continues through Sept. 12.
Upcoming:
North House Folk School's Wooden Boat Show and Summer Solstice Festival will be June 21-23.
Look for rows of unique watercraft, a boat parade, craft demonstrations, an evening square dance, Boats-to-Tools auction, mini-courses as well as the Summer Solstice Pageant. Stay tuned for details and/or click here for more info.
The Hovland Arts Festival is Friday, July 5 and Saturday, July 6 this year.
The festival is held at the Hovland Town Hall and features lots of arts and crafts, music and food. Stay tuned for details.
The Grand Marais Arts Festival will be July 13 & 14 this year in downtown Grand Marais. The event features an incredible variety of artists and artwork, a fundraiser (An Artful evening) as well as food and music. Click here for more information.
Artist News:
John Bragstad has recently published a book of his poetry.
Blogger Lizanne Lately has written a great little piece about Things to do in Grand Marais on her adventure/lifestyle blog.
You can read her article, here.
The Arrowhead Regional Arts Council will hold an Info Session and Grant Consultation in Grand Marais on Saturday, June 22, from 9 a.m. until noon at the Grand Marais Art Colony.
Grant consultation appointments will be from 10 a.m. until noon. Call the Art Colony for an appointment at 218-387-2737. Or, if you're not able to make it to the information session but would like more information about grants, call at (218) 722-0952 to talk with our grants manager or make an appointment to talk in-person. You can also read about the ARAC grants here.
 Music:
Thursday, June 13:
Gordon Thorne, North Shore Winery, 6 p.m.
Music by the Campfire, Joe Paulik, Lutsen Resort, 6:30 p.m.
Friday, June 14:
Briand Morrison, Voyageur Brewing Co., 4 p.m.
Rox n'Soul, Briand Morrison & Roxann Berglund, Wunderbar, 8 p.m.
Colleen Myhre, Gun Flint Tavern, 8 p.m.
Saturday, June 15:
Common Ground, Cascade Lodge, 6 p.m.
Pete K–Outdoor Set, Wunderbar, 6:15 p.m.
Wunderdogs, Wunderbar, 7 p.m.
Gordon Thorne, Lutsen Resort, 7 p.m.
Colleen Myhre, Gun Flint Tavern, 8 p.m.
Don Juan Trio, Grandma Ray's, 8 p.m.
SFO: A Tribute to Journey, Grand Portage Lodge & Casino, 8 p.m.
DJ Beavstar, Papa Charlie's, 9:30 p.m.
Sunday, June 16:
Briand Morrison, Mogul's Grille, 10 a.m.
Briand Morrison,  Jazz & Blues Afternoon Matinee,  Gunflint Tavern, 2-4 p.m.
Mysterious Ways, Music by the Lake, Skyport Lodge, 4 p.m.
Joe Paulik & Pat Flack, Open Mic, Wunderbar, 6 p.m.
Photographs:
We are lucky to have great photographers out shooting on the North Shore every day. Here is a selection of the photos we found this week.
First of all,  lots of wildlife youngsters:
And here are a few photos of adults being adults in the spring.
And a wolf sighting on the Gunflint Trail.
Waterfalls continue their magic.
This is also the season to take great photos of the Milky Way over Lake Superior, too. Here are two examples we found this week.
And this beauty, an evocative cedar forest:
And a surprising sunrise …
And then, this:
Enjoy your weekend, everyone!