This is the final week of the Art Along  the Lake: Fall Studio Tour in Cook County with studios and galleries open from 10 a.m. to 5 p.m. every day through Sunday, Oct. 6.
This year, there are more than 20 participating studios/galleries with more than 50 artists represented. Look for ceramics, prints, woodturning and woodcraft, paintings in oil, acrylic, watercolor, pastel and beads, glass, woodcuts, fiber art and more.
The 10-day event also offers a wide variety of demonstrations, hands-on activities and presentations every day. For example, this Saturday, there will be demonstrations of silver jewelry scrollwork, printing, throwing on a pottery wheel, weaving, wood turning, laser welding, jewelry making, dry-point printmaking, woodcut printing, watercolor painting, raku firing, a cast bronze pour, And that's only on Saturday! To see the complete schedule of events, maps, participating artists and more,  click here,
The county is hopping with lots of other things to do this week as well.
First up is the Thursday Local Food Market, which is in its final weeks, closing Oct. 17. But, as anyone who gardens in Cook County knows, now is the time to get those tomatoes and most other vegetables.
Look for everything from broccoli to peppers, beans to garlic, as well as artisan sourdough breads, fresh flowers and more. The Market is held from 4:30 p.m. to 6 p.m. on Thursday at the Cook County Community Center parking lot, in the 4-H Log Building if there is inclement weather.
Also on Thursday, Lin Salisbury will be interviewing two Minnesota authors on her monthly program on WTIP Community Radio, "Superior Reads." She will interview William Kent Krueger about his new book "This Tender Land"  in the first half of the show, which begins at 7 p.m. In the second half of the program, Salisbury will interview Geoff Herback who will be part of the Grand Marais Art Colony's North Shore Readers and Writers Festival, happening Nov. 7 – 10.
On Friday, a new exhibit opens at Tettegouche State Park featuring the photography of Benjamin Olson.
The opening reception will be held in the Great Hall at Tettegouche from 7-8:30 p.m. Olson's photographs will be on exhibit through Oct. 30.
Saturday will be busy.
It starts out with the vendors at the Cook County Market, who set up their tents in the parking lot of the Senior Center by 9 a.m.. The Market features a wide variety of arts and crafts, including pottery, woodworking, Lake Superior stones, fused glass, weaving and more. The Market runs from 9 a.m. to 1 p.m. All welcome.
At Sivertson Gallery in Grand Marais, Duluth raku artists Richard Gruchalla and Carrin Rosetti, will set up a raku kiln and a tea-bowl glazing area to welcome the public to their annual fall event: Do You Raku? We Do!  Participants can purchase a tea bowl for $20, glaze it themselves, and then watch it being fired in the raku kiln.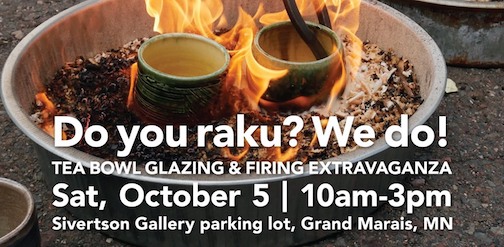 The raku event runs from 10 a.m. to 3 p.m. All pieces will be fired by 5:30 p.m. and can be taken home. No registration is necessary. All welcome.
Also on Saturday, herbalist Gigi Stafne, will be at the Sugarloaf Cove Nature Center from 1-2:30 to give a presentation and plant walk entitled "Boreal Botanicals: Medicinal Trees, Plants and Fungi of the North Shore." Participants will have the opportunity to explore the woods for some of the medicinals, guided by Stafne. The event is free.
The herbalist is the Instructor in Residence at North House Folk School this month and will be active in the community in a variety of events. To see her complete schedule, click here.
On Saturday night, Drury Lane Books will host poet Sharon Chmielarz for a Writer's Salon at 5 p.m. at the bookstore.
Sharon will read from her new poetry collection, "The J Horoscope: Poems," take questions from the audience, and sign books.
Exhibits:
 This is the last weekend to see the Plein Air Grand Marais 2019 exhibit at the Johnson Heritage Post. More than 70 local and regional plein air painters spent a week painting Cook County, and their work is pretty spectacular. More than 300 paintings were hung for the show.
The exhibit continues through Sunday, Oct. 6 and is highly recommended.
In Duluth, the Tweed Museum of Art has opened a new exhibit entitled Art in Conflict, and features Russian artists working during the Soviet-era.
The Tweed will host an opening reception for the exhibit on Oct. 10.
Lizzard's Gallery in Duluth has a new selection of Scott Murphy paintings, including "Tornado," below.
Kudos:
Staci Drouillard's long-awaited book, "Walking the Old Road: A People's History of Chippewa City and the Grand Marais Anishinaabe," will be released Dec. 5.
The book, which was published by the University of Minnesota Press, will be officially launched at Drury Lane Books Dec. 5. Stay tuned.
 Music:
 Here's the music schedule for this week:
Thursday, Oct. 3:
Terry V's Patio Party, Wunderb ar, 5 p.m.
Lazy Lightning 420, Gun Flint Tavern, 7 p.m.
Gordon Thorne & Friends, North Shore Wintery, 7 p.m.
Friday, Oct. 4:
Don Juan Trio, Lutsen Resort, 7 p.m.
Plucked Up String Band, Wunderbar, 7 p.m.
Bug Lite, Gun Flint Tavern, 8:30 p.m.
Saturday, Oct. 5:
Billy Johnson, North Shore Winery, 3 p.m.
Common Ground, Cascade Lodge Pub, 6 p.m.
O'Green, Lutsen Resort, 7 p.m.
Gene Lafond & Amy Grillo, Wunderbar, 7 p.m.
Sheri O'Meara, Lutsen Resort, 7 p.m.
Bug Lite, Gun Flint Tavern, 8:30 p.m.
Dance Party with DJ Beavstar, Papa Charlie's, 9:30 pm
Sunday, Oct. 6:
Briand Morrison, Mogul's Grille, 10 a.m.
Open Stage with Joe Paulik and Pat Flack, Wunderbar, 6 p.m.
Billy Johnson, Gun Flint Tavern, 7 p.m.
Monday, Oct. 7:
Billy Johnson, Voyageur Brewing Co., 5 p.m.
Photographs:
 Here are a few of the photographs we found this week:
We found beautiful photographs of fall.
And then these beauties:
And finally, this homage to the Boundary Waters.
Enjoy your weekend, everyone!