Fall colors are peaking in Cook County this weekend, with an emphasis on gorgeous yellows and oranges. Check out our photo collection this week for all the details.
Meanwhile, fall events continue on the North Shore.
First up, Thursday is the final day of the Local Food Market for the season. The market features locally grown vegetables, wood-fired artisan breads, fresh flowers, snacks and more.
The market is held from 4:30 p.m. to 6 p.m. in the parking lot at the Cook County Community Center. If it's raining, the market will be held in the 4-H Log Building.
There's lots happening on Friday including the opening reception for a new exhibit at the Johnson Heritage Post as well as a concert at the Arrowhead Center for the Arts.
"Wild Wonder," an exhibit by artists Deb Kirkeeide and Kristen Palm opens at the Johnson Heritage Post with a reception from 5-7 p.m.
Both are Minnesota artists. Deb Kirkeeide paints in oil, and is inspired by nature, especially birds. Kristen Palm paints large abstract acrylic landscapes, inspired by the Northwoods. The reception on Friday is open to all. The exhibit continues through Nov. 3. Fall Hours: The Heritage Post is open from 10 a.m. to 4 p.m. Thursday through Saturday and from 1-4 p.m. Sunday
Also on tap for Friday is a performance by renowned musician and humanitarian Samite Mulondo entitled "Lessons of Humanity: What My Grandfather Taught Me"  at the Arrowhead Center for the Arts at 7 p.m. The solo show features his stories, music, and visuals illustrating the resilience of the human spirit and the fundamental truth that "We are all the same."
Taught traditional flute as a child by his grandfather in Uganda, Samite Mulondo went on to study western flute and is now known internationally as an acclaimed flutist and humanitarian.
Below is a video of him performing "Resiliance."
Samite has released 10 internationally distributed CDs and has scored and appeared in films including "Song of the Refugee," a documentary of his life (PBS, 1998), and "Taking Root: The Vision of Wangari Maathai," featuring Samite's original score (PBS, 2009). In 2002, Samite founded Musicians for World Harmony, an organization that enables global musicians to promote peace, understanding, and harmony among people.
Tickets are $15 adults, $5 youth. They can be purchased online at www.aca.tix.com or at the door.
On the Gunflint Trail on Friday night, David Battistel, a Canadian history teacher and instructional leader from Thunder Bay, Ontario, will give a talk entitled "Gunflint & Lake Superior Railroad: Logging the Boundary Waters" at 5:30 p.m. at the Cross River Lodge. Battistel has been researching and writing about the history of the Port Arthur, Duluth and Western Railway for years, as well as the associated ventures of mining for silver and iron ore as well as logging. The Cross River Lodge is 46 miles up the Gunflint Trail off of County Road. 46. All invited.
Also on Friday night, the band, Easy Riders, will be guests on WTIP's The Roadhouse where they will talk about their music and play a few songs. The program airs from 5-7 p.m.
The Cook County Market, which features arts and crafts by local vendors, is cancelled this Saturday, Oct. 12. The last market of the season will be held from 9 a.m. to 1 p.m. on Saturday, Oct. 19 in the Senior Center parking lot.
There's lots of live music on Saturday, though. (See the Music Schedule below.)
On Sunday, the first sessions of Make-A-Bowl for Empty Bowls begin.
Empty Bowls is an international grassroots effort to fight hunger and was created by The Imagine Render Group almost 30 years ago. Guests are invited to a simple meal of soup and bread. The money raised is donated to organizations working to end hunger and food insecurity in their area.
Here in Cook County, the Empty Bowls fundraiser will be held Nov. 14 at St. John's Catholic Church in Grand Marais with seatings for lunch and dinner.
For the event, community participants as well as local potters and school students make a variety of handmade bowls which are available at the fundraiser.  The sessions to make the bowls will be held in the clay studio at the Grand Marais Art Colony on Sunday and Monday, Oct. 13-14 and Oct. 20-21. Instruction is provided!  Call the Art Colony at 387-2737 for more information and to sign up.
Also on Sunday, Drury Lane Books will hold a Full Moon Reading around the campfire overlooking Lake Superior with poet Ruth Pszwaro.
Pszwaro will read her poetry from the chapbook, "Liminal Space," as well as more recent writings. If the weather is poor, the reading will be held inside. Open to all. Free.
On Tuesday, Oct. 15, Naniboujou Lodge will host an Afternoon Tea Fundraiser entitled "God Save the Queens: A Reprise," featuring guest speaker Karen Halbersleben.
Halbersleben will discuss how six women have been crowned Queen Regnant of England since 1066, ruling for a combined 198 years of turmoil and triumph. She will consider how their gender influenced their years on the throne and seek to understand what is unique about a nation that sings with pride "God Save the Queen."
The event, which is a fundraiser for Cook County Higher Education,  also features a silent auction, as well as a traditional British tea. This is a semi-formal event, so participants are encouraged to wear hats. There is also a collection of hats for rent. Tickets are $50 in advance, $60 at the door. To register, click here.
 Exhibits:
Betsy Bowen's exhibit, "Rare Works from the Archives" continues at the Betsy Bowen Gallery & Studios, 301 1st Ave. W.
The gallery is open daily from 11 a.m. to 5 p.m. through Oct. 20.
Tom McCann has installed a series of his landscape paintings in the courtyard of the Cook County Courthouse.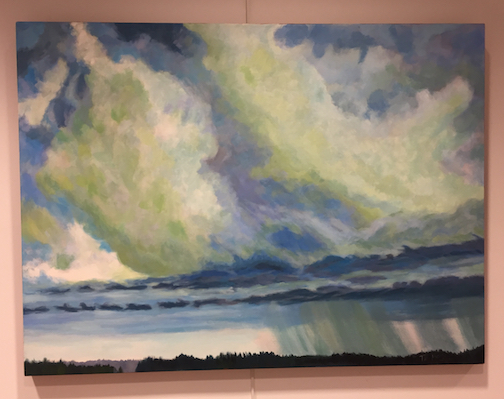 The paintings will be on exhibit for three months. The public is invited to see them.
In Duluth, indigenous artists Pat Kruse and Rabett Before Horses Stickland are exhibiting paintings and birchbark creations at the Dr. Robert Powless Cultural Center, 202 W. 2nd St.
The opening reception will be held Oct. 11 from 5:30-7:30 p.m.. The exhibit continues through the end of October.
The Tweed Museum of Art is exhibiting a series of works collected by the Russian Museum of Art entitled "Art in Conflict," featuring artists working in Russia during the Soviet Era.
In Thunder Bay, the Thunder Bay Art Gallery is currently exhibiting "Their Breath in Beads," a series of bead works by 10 regional artists.
Upcoming:
Moose Madness weekend is next weekend in Grand Marais with activities, fun and games for every age. Activities range from the athletic to the artistic during the entire weekend, including the ever-popular Moose Medallion Hunt.
The Moose News & Tribune, which can be found inserted into the Northern Wilds magazine, as well as at  local venues, includes all the details of events over the weekend.
The First annual Grand Marais Apple Festival will be held from 10 a.m. to 5 p.m. on  Saturday, Oct. 19.
The all-day event includes apple orchard tours, apple picking, cider pressing demonstrations, an apple stand market as well as a variety of presentations at the Cook County Community Center. For more information and schedule of events, click here.
Opportunities:
 Volunteers are needed for the Grand Marais Art Colony's Readers & Writers Festival Nov.7-10. There are a wide variety of positions available. For more information and to sign up, click here, or call the Art Colony at 387-2737.
Music:
 Thursday, Oct. 9:
Terry Valdiva & Friends, Wunderbar, 5 p.m.
Gordon Thorne & Friends, North Shore Winery, 7 p.m.
Plucked Up String Band, Gun Flint Tavern, 7 p.m.
Easy Riders, Grandma Ray's, 7 p.m.
Friday, Oct. 11:
Portage, Grandma Ray's, 6 p.m.
Fred Anderson, Lutsen Resort, 7 p.m.
Samite–Lessons of Humanity: What My Grandfather Taught Me, Samite Mulondo, Arrowhead Center for the Arts, 7 p.m.
Easy Riders, Gun Flint Tavern, 8:30 p.m.
Saturday, Oct. 12:
Gene Lafond & Amy Grillo, Lutsen Resort, 7 p.m.
Michael Monroe, Log Cabin Concert, rural Grand Marais, 7 p.m., www.michaelmonroemusic.com
Easy Riders, Gun Flint Tavern, 8:30 p.m.
Timmy Haus, Papa Charlie's, 9:30 p.m.
Sunday, Oct. 13:
Briand Morrison, Mogul's Grille, 10 a.m.
Open Stage with Joe Paulik, Wunderbar, 6 p.m.
Andrew Huber, Gun Flint Tavern, 7 p.m.
 Photographs:
We found lots of interesting photos this week.  Let's start with wildlife, featuring photographs taken by local and regional photographers outside the county.
And with all the rains, photographers found fantastic waterfalls.
One Northern Lights photograph:
A river stream:
Two Split Rock Lighthouse photographs:
Lake Superior:
And fall colors:
And finally, Grand Marais.
Have a great weekend, everyone!