Greetings from Grand Marais, where the summer season is about to officially end with a great community festival: Moose Madness Weekend.
This community wide event is a family focused celebration of all things moose and encourages families to unplug and just have a good time. Throughout the weekend, there are events for everyone. Activities range from the athletic to the artistic as well as fun competitions, and, of course, the big Hunt for the Moose Medallion.
Shops and venues all over town will offer everything from games, a moose coloring contest, a scavanger hunt as well as a Raccoon Masquerade Ball, sponsored by The Big Lake. There will be a number of other activities too, including a family contra dance at North House Folk School on Friday night, live music by the Bazillions at Moose Central, (Grandma Ray's), a number of art activities at the Grand Marais Art Colony as well as chance to decorate your own caramel apple at Gunflint Mercantile, to name a few.
There's also a haiku and limerick contest, sponsored by Northern Wilds. Here's one of the winners of the haiku contest last year:
Through the snowy lands
And between the knotty trees
Trots the great moose king.
By Maxwell Kaung, age 11.
On Friday and Saturday, there are lots of Moose Madness activities. Here are a few hands-on opportunities: On Friday, Minnesota authors and illustrators Trisha Speed Shaskan and Stephen Shaskan will present a two-hour workshop at the Grand Marais Library entitled "Create Your Own Comic Book Character." The workshop starts at 3:30 p.m. Also, Grand Marais Pottery and the Maker's Market will hold a paint-a-moose event all day on Friday. Participants can paint a clay moose and it will be fired and ready for pick-up on Sunday. These are just a few of the activities offered over the weekend.
To find out all the details, and to take a look at the Moose News & Tribune, click here.
There's lots going on in the county this weekend as well. On Thursday, Oct. 17, Tim Ramey will give a presentation on the history of Naniboujou Lodge at 7 p.m. at Cook County Higher Education.
The historic lodge, with its stunning artwork, was purchased by Tim and his wife Nancy in 1985. They have owned and operated it to the present. Tim will talk about its history and tell stories about his family running the lodge these many years. The event is free, but a $5 donation would be appreciated. Open to all.
On Friday, Bill Hansen, who is currently serving as a volunteer in the Peace Corps in Uganda, will talk about his experiences there on WTIP's The Roadhouse.
The Roadhouse airs from 5-7 p.m. Hansen will be interviewed about 5:45 p.m.
If you're' in Duluth on Friday night, check out all the activities during the Downtown Duluth Arts Walk. The event features open studios, live music, art openings, exhibits and more.
On Saturday, the Cook County Market starts the day at the Cook County Senior Center's parking lot at 9 a.m.
The market opens at 9 a.m. and features a variety of work by local artists and artisans. It is open until 1 p.m. This is the last market of the 2019 season. All welcome.
Also on Saturday, the Sugarloaf Cove Nature Center will hold an Open House from 10 a.m. to 3 p.m. with speakers and family activities, including bird banding demos. All invited. Refreshments will be served.
And the First annual Grand Marais Apple Festival will be held on Saturday from 10 a.m. to 5 p.m. in a variety of places. Participants can enjoy a full day of apple picking, caramel apples, cider pressing demonstrations, bee keeping, tree care, and more.
There will be an apple stand and presentations at the Cook County Community Center and apple cider making at Great Expectations School. Self-guided farm tours will also be held. Visit the Cook County Community Center to learn more.
Also, photographer Travis Novitsky will give a presentation at Chik-Wauk Museum and Nature Center on the Gunflint Trail at 2 p.m. on Saturday. The title of his presentation is "Listening to the Northern Lights." The presentation is free. Chik-Wauk closes for the season on Sunday, Oct. 2o.
On Sunday, the Grand Marais Art Colony will hold two sessions of Make-A-Bowl for Empty Bowls in the ceramic studio at the Art Colony at 1 p.m. and 3 p.m. The final sessions for Make-A-Bowl for Empty Bowls 2019 will be held on Monday at 5 p.m. and 7 p.m.
All invited. Instruction is provided. For more information and to sign up, call the Art Colony at 387-2737.
And to cap off the week, the Annual Fall Gala to celebrate Cook County's momentum in the areas of tourism, community and economic development will be held at Papa Charlie's starting at 5:30 p.m. Tuesday. The awards ceremony starts at 7 p.m. Tickets are $20. For reservations, click here.
Exhibits:
"Wild Wonder," an exhibit at the Johnson Heritage Post featuring the work of Minnesota artists Deb Kirkeeide and Kristen Palm has opened at the gallery.
The exhibit runs through Nov. 3. The gallery is open from 10 a.m. to 4 p.m. Thursday through Saturday and from 1-4 p.m. Sunday.
The North Shore Hospital has just opened a new exhibit in its corridors featuring the paintings of Joel Lewis and Lisa Perrin-Kosmo.
Both artists are exhibiting large format paintings as well as other work. The exhibit continues through December. The public is invited to see the exhibit.
Betsy Bowen's show, "Rare Works from the Archives," continues at her gallery, Betsy Bowen Gallery and Studios, 301 1st Ave. W. in Grand Marais.
The exhibit features framed prints and drawings as well as other works.
The Tweed Museum of Art at the University of Minnesota-Duluth, has just mounted a new exhibit of stunning Gashkibidaaganag or bandolier bags in the Nelson Display Case of Native Art.
The exhibit continues through Spring 2020.
The Duluth Art Institute is exhibiting works at City Hall in Duluth.
The Prøve Collective in Duluth, is featuring an exhibition of new large-scale canvases by painter Bob Pokorney.
In Thunder Bay, the Thunder Bay Art Gallery is featuring a number of exhibits, including a retrospective of Leo Yerxa's work entitled Unfold Time.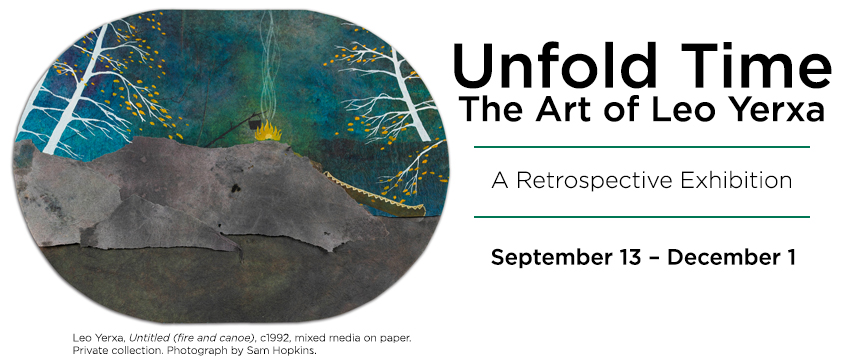 Upcoming:
The Grand Marais Art Colony will host three "Ideation Open House Events" in its new space on Hwy. 61 in the old pharmacy building to encourage the public to view the spaces and floor plan and offer their input and ideas to the Art Colony. The event will be held from noon to 2 p.m.on Thursday, Oct. 26; from 10 a.m. to noon on Saturday, Oct. 26 and from 4-6 p.m. on Tuesday, Oct. 29  The public is invited.
Gunflint Lodge will hold a Murder Mystery Weekend with the Grand Marais Playhouse starting on Friday, Oct. 25. For more info and tickets, see www.gunflint.com.
The North Shore Commercial Fishing Museum in Tofte will host the 10th annual Storytelling Dinner at Surfside Resort on Saturday, Oct. 26. The guest speaker will be Eric Brisson who will give a presentation entitled "Carrying On the Family Fishing Tradition." For more information and tickets, call the museum at 218-663-7050 or click here.
The Northern Lake County Arts Board will sponsor its 5th Piatigorsky Foundation Classic Music Concert on Saturday, Oct. 26, at the William Kelley High School Auditorium in Silver Bay.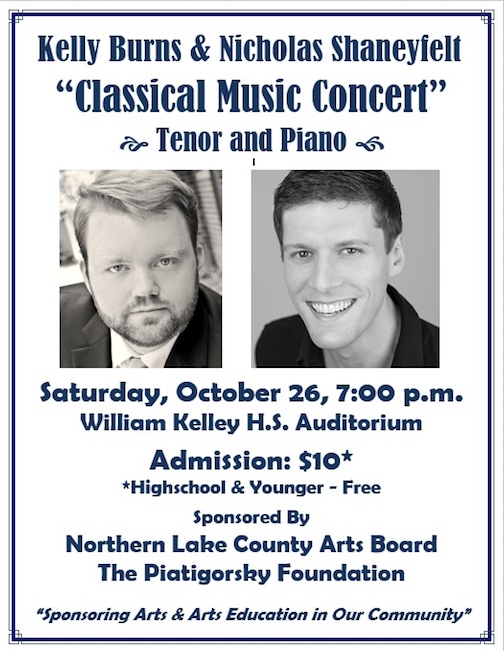 The Bluegrass Masters Weekend, sponsored by the North Shore Music Association, will be at the Lutsen Resort Nov. 1-3. The featured artist is master fiddler Dan Kelly, who will hold workshops during the event. He will be in concert on Saturday, Nov. 2 with Michael & Jennifer McClain & the Banjocats. Stay tuned for details.
Artist News:
Tim Young's book, "My Hands Paint," published last year, is in its second printing.
The book is available at Joy & Co.
Music:
Here's the music schedule for this week:
Thursday, Oct. 17:
Terry V's Patio Party, Wunderbar, 5 p.m.
Gordon Thorne & the Free Range Evangeilical Secularists, Gun Flint Tavern, 7 p.m.
Kilborn Quartet, North Shore Winery, 7 p.m.
Pete K, Bluefin Grille, 8 p.m.
Friday, Oct. 18:
Jon Kallberg, Lutsen Resort, 7 p.m.
Rootz Within, Gun Flint Tavern, 8:30 p.m.
Saturday, Oct. 19:
Gordon Thorne, Lutsen Thorne, 7 p.m.
Plucked Up String Band, Grandma Ray's, 8 p.m.
Rootz Within, Gun Flint Tavern, 8:30 p.m.
Dance Party with DJ Beavstar, Papa Charlie's, 9:30 p.m.
Sunday, Oct. 20:
Briand Morrison, Mogul's Grille & Tap Room, 10 a.m.
Open Stage with Joe Paulik and Pat Flack, Wunderbar, 6 p.m.
Volk, Gun Flint Tavern, 7:30 p.m.
Monday, Oct. 21
Andrew Griswold, Voyageur Brewing, 5 p.m.
Photographs:
We found lots of photographs this week. Here's a selection:
First, wildlife:
It really snowed in parts of Cook County this week. Here are some photos:
And after it snowed, the wind came up.
It got pretty wild for awhile there.
After the storms passed:
We found some great photos from out of state, too.
And, to change the mood completely … We found this photo on the Norwegian Landscapes site.
Have a great weekend, everyone.
Did you enjoy NorthShore ArtScene this week? Consider making a donation today. It's easy. Just click on the button below. And thank you.