sIt's probably a little early to declare, but this weekend sure seems like the "season" in Cook County has already started. There are all kinds of things to do: there's a grazing feast that's also a fundraiser, an art opening, a conference for artists, a dog derby AND a trout derby, a celebrated brass band concert, not to mention lots of live music in venues across the county. Plus, the snow on the trails and hills is great!
Here are the details:
First up is 2020 EATS (Enriching Academics Through Sustenance), the very popular fundraiser for the ISD 166 Education Foundation. The event will be held at the Cook County Middle/High School in Grand Marais from 6-7:30 p.m. on Thursday, March 5.
Participants will sample a delectable array of finger foods prepared by local restaurants and food vendors as well as bid on quality silent auction items. There will also be live music. Tickets are $25 and may be purchased at the Java Moose, the Bluewater Cafe and at the school. There just might be a few left.
This is always a fun, tasty and worthwhile event– highly recommended. The ISD 166 Education Foundation awards grants for projects and activities that enhance the curriculum.  A total of $189,000. in grants has been provided by this foundation to projects at ISD 166.
Also on Thursday, North House Folk School continues its Thursday community programs with Wood Week Open Carving Night.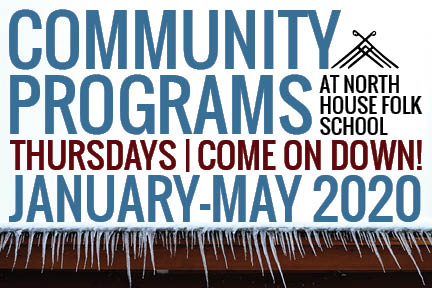 As a special perk of Wood Week, North House will be open for students and community members to carve away the evening. Bring a half-finished spoon and some stories to share. Note: some hand tools will be available for use, but folks are encouraged to bring their own. Location: Red Building, Free.
Friday evening events are launched by WTIP's The Roadhouse, which will feature an interview with Bill Hansen, who is currently serving in the Peace Corps in Uganda.
Hansen will give an update on what he's been doing and learning this winter. Also, the Josh Cleveland and the Cedar Street Band will be in the studio to talk about their music and play a few songs. The Roadhouse airs from 5-7 p.m.
The rest of Friday evening is packed with events.
First, the Johnson Heritage Post opens what should be a spectacular painting exhibit with works by Rita Corrigan.
The landscape artist has just completed a popular exhibit at Tettegouche State Park. This exhibit is called "Love of the Northern Landscape." The gallery at the Heritage Post will be filled with a wide variety of her paintings. The opening reception is from 5-7 p.m. on Friday, March 6, and continues through March 29.
Also on Friday, the Grand Marais Public Library continues its Friday night film series with "Stay Human" with Michael Franti and Spearhead. The film examines the idea of staying human in these times, when we've all embraced cynicism and fear.  Check out the trailer below.
The film will be screened at the library at 6 p.m. Free. Light refreshments will be served.
Also on Friday, the Grand Marais Art Colony launches its weekend arts conference, "For the Love Of It!" with a keynote address by Andrew Simonet at 7 p.m..
Simonet is a writer and choreographer from Philadelphia. In 2016, he founded Artists U, an incubator for helping artists across Philadelphia, Baltimore, and South Carolina make sustainable lives. He also wrote: "Making Your Life as an Artist," an open source guide to living as an artist. The title of his presentation is "The Artist's Long Journey."
Simonet will also moderate the lunchtime roundtable discussion on Saturday at 12:30 p.m. featuring Drew Digby from the Arrowhead Regional Arts Council, and artists Paul LaJeunesse, Greg Mueller and Lynn Speaker. Tickets for the keynote speech on Friday, March 6, and the Saturday round table remain open on-line through Thursday, March 5, and will be available at the door pending space. For more info about the conference, click here.
There's lots to do on Saturday, as well.
First up if the Dog Days of Winter Sled Dog Derbies and Skijoring Races at Trail Center on Saturday. There are three classes of dog sled derbies and 2 classes of skijoring races.
All skill levels and ages welcomed and encouraged to participate in this fun event, which is a fundraiser for Go Dog North Shore and Cook County Dog Mushers Inc. For more information and to register, click here.
Also on Saturday, the Annual Trout Derby will be held on West Bearskin Lake starting at 9 a.m. Proceeds will help support the local snowmobile club, the Cook County Ridge Riders, in maintenance and grooming of much of the over 400 miles of snowmobile trails in Cook County. Cash prizes for contest winners. Registration for the contest is from 9-11 a.m.. Contest closes at 2 p.m. sharp. Cost is $20/person, or $10/club member. For more info, click here.
And, on Saturday night, the Lake Wobegon® Brass Band, a traditional British band ensemble, will be in concert at the Bethlehem Lutheran Church at 7 p.m.
Over the past quarter century, the 30-member brass ensemble has toured the U.S. and England, performing concerts and at educators' conferences. Tickets for LWBB's Grand Marais performance will be for sale at the door. Tickets are $20 adults, $10 youth ages 18 and under. Bethlehem Lutheran Church is located at 417 1st Ave. W. The concert is sponsored by the North Shore Music Association.
On Monday, an educational mini-documentary about the the threat of sulfide-ore copper mining on the edge of the Boundary Waters Canoe Area Wilderness will be screened at the Arrowhead Center for the Arts at 6 p.m.
The short film, entitled "In Deep Water: The Fight to Save the Boundary Waters," was produced by Patagonia. The suggested donation is $10.  All invited.
On Tuesday, Mach 10, Beth Home Kraus, instructor-in-residence at North House Folk School, will teach a community class entitled "Birch Bark Folded Weaving". Participants will make a money sheath to take home using local, sustainably harvested birch bark. Sign up in advance and bring a friend for a fun night out at North House. The class will be held from 6-9 p.m. in the Green Building. Cost is $10. To register, call 387-9762.
And finally, on Wednesday, March 11, author Joan Crosby will give a presentation at the Grand Marais Public Library on "How NOT to Write a Memoir." The presentation will be held at 1 p.m. Crosby wrote "The Tucker Lake Chronicle: Thirteen Months in the North Woods," which was published in 2019.
There is no wrong way to write a memoir, but plenty of hazards can trap a writer in the early stages of manuscript development, Crosby says. She will talk about these issues and more. Participants will complete short writing activities, and receive tips and resources to stay inspired after the session. Open to all, memoir writers or not. Free.
 Exhibits:
 "Love of the Northern Landscape," paintings by Rita Corrigan, opens on Friday at the Johnson Heritage Post and continues through March 29.
The Northwoods Fiber Guild is exhibiting work by its members at the Cook County Courthouse.
 Christian Dalbec is currently showing his photographs of Lake Superior and the North Shore in the Great Hall at Tettegouche State Park.
Emerging photographer Michael Dahman, who is a student at University of Minnesota, Duluth, is currently exhibiting work at the Tweed Museum of Art through March 15. He will be exhibiting at the Duluth Art Institute with other emerging photographers on March 17.
Shawn Chosa is currently exhibiting his work at the Duluth Art Institute.
Pastel artist Michele Wegler will be exhibiting her work at the Duluth Pottery, 1924 W. Superior St. in Lincoln Park in Duluth.
The opening reception for the show is from 1-3 p.m. on Saturday, March 7.
In Thunder Bay, The popular exhibit at the Thunder Bay Art Gallery, The North Now, featuring contemporary works by Ontario artists, recently announced the People's Choice Awards. It was a tie. See below for the winning pieces.
 Upcoming:
 "Cinderella Tales," a play by Rose Arrowsmith DeCoux incorporating stories from around the world that share similar themes, will be performed at the Arrowhead Center for the Arts next weekend, March 13-15. Look for trolls, puppets and lots of fun times in this Community Youth production of the Grand Marais Playhouse.
Tickets are $12 Adults, $5 youth and $3 children under 12 and are available at the door. Stay tuned.
For Artists:
 Tettegouche State Park has put out a call for artists to participate in exhibits in the Great Hall at the Park. Kurt Mead, curator of the show and interpretive naturalist at the park, writes:
"We are seeking 2D art with a "North Woods Aesthetic" for a series of juried, one-month long shows at Tettegouche State Park. The artwork does NOT have to be of images of the park or even of the North Shore of Lake Superior, but it should be artwork that park guests would not be surprised to see at a state park.
Tettegouche State Park, along Lake Superior's North Shore, is Minnesota's only State Park with regular, monthly, art shows. You can hardly swing a stick along the North Shore without whacking an artist, but venues for showing art are limited. These shows have become quite popular and they get good visitation year-round.."
For more information about submission rules and deadlines, email Mead at kurt.mead@state.mn.us
Quetico Provincial Park has also put out a call to artists to submit requests for a summer residency at the park. For the park will host artists working in any media whose work relates to nature. The opportunity is open to Canadian artists as well as those from other countries.
In addition to access to a cabin, wilderness permits and other fees are waived for the artist (and one guest) for up to 12 days. Artists can choose to stay and work at the cabin, or explore the park, or use other accommodations. In exchange for the accommodations, artists are asked to share one piece of art with the park, and present a public workshop, reading, or other program.  Artists can also donate a piece of art to the Quetico Foundation for its fundraising purposes, and receive a $300 honorarium in return.
Last year, Grand Marais painter Tom McCann was an artist-in-residence at the park. He used his time to learn about snapping turtles in the park's library. It influenced his understanding of the creatures, and inspired his work.
For more information about the opportunity and to apply, click here.
And, just for a fun FYI, Duluth painter Adam Swanson taught a class at the Grand Marais Art Colony last weekend. Here is one of the demonstration pieces he did for the class.
  Music:
Here's the music schedule for this week:
Thursday, March 5:
Eric Frost, Poplar River Pub, 6 p.m.
Gordon Thorne, North Shore Winery, 7 p.m.
Friday, March 6:
Josh Cleveland Band, Gun Flint Tavern, 8 p.m.
Joe Paulik, Bluefin Grille, 8 p.m.
Saturday, March 7:
Gordon Thorne, North Shore Winery, 3 p.m.
Bug Dope, Papa Charlie's, 3;15 p.m.
Sky Blue Trio, Cascade Lodge Restaurant, 6 p.m.
Gordon Thorne, Papa Charlie's, 6:45 p.m.
Lake Wobegon Brass Band, Bethlehem Lutheran Church, 7 p.m.
Common Ground, Lutsen Resort, 7 p.m.
Josh Cleveland Band, Gun Flint Tavern, 8 p.m.
Cook County Most Wanted, Grandma Ray's, 8 p.m.
DJ Beavstar, Papa Charlie's, 9:30 p.m.
Sunday, March 8:
Briand Morrison, Mogul's Grille, 10 a.m.
Open Stage, Wunderbar, 6 p.m.
John Gruber, Gun Flint Tavern, 7 p.m.
Monday, March 9:
Vessel, Voyageur Brewing, 5 p.m.
Actual Wolf, Monday Night Songwriter Series, 8 p.m.
Eric Frost, Bluefin Grille, 8 p.m.
Tuesday, March 10:
Rob & Jill,  Poplar River Pub, 6 p.m.
Photographs:
We found lots of photographs this week. Here's a selection:
First: wildlife:
And here are some beauteous landscapes, seascapes and skyscapes.
And finally, this — a catscape.
Have a great weekend, everyone!!