Spring on the North Shore:
Greetings from the North Shore, where spring is slowly making its way through snowdrifts and icefalls, creating fascinating contrasts in the landscape. Here are two photographic examples, taken by Maryl Skinner on the same day.
First, yoga on a frozen lake:
And second, the photograph below was taken in Skinner's garden on the same day. Her garden is on the lake side of the hilly divide between Lake Superior and the Gunflint Trail.
Welcome to spring in the Northwoods!
Cook County Update:
First, though, let's give an update on Cook County. Business hours, cancellations and other pertinent information is available in a number of places, and the lists are updated frequently. Check Exploring the Shore, Visitcookcounty, and WTIP Community Radio for the latest information.
And, just to be obnoxious, this is a reminder to fill out your 2020 census form. If you're a Cook County resident and receive your mail through a PO box, you will not receive a census form through the mail.  The 2020 Census forms are not mailed out to Post Office boxes, so you can either fill it out online (takes five minutes, tops), or wait until it is safe for a census worker to knock on your door and hand you one. To fill out the form, click here. (Note: Currently, Cook County has the worst census response rate in the state.)
And finally, a new $1,200 grant for Cook County artists is now available through the Arrowhead Regional Arts Council. The grant will pay personal or artistic expenses for artists who live in Cook County. The first round opened on Tuesday, April 21, and continues through Monday, April 27. A second round will be held if funding is available.
This fund has been created with a gift from a generous funding partner to provide critical relief for artists within Cook County struggling from the effects of the COVID-19 pandemic.
For the purpose of this program, artist is defined as writers, performers, musicians, visual artists, and crafts people who live in the county, including Grand Portage. Program partners include the Cook County/Grand Marais EDA, the Cook County Creative Economy Collaborative, and the Arrowhead Regional Arts Council.
To apply for the grant, click here. It is simple to fill out.  
ARAC has other grants to help artists and organizations during the Covid-19 crisis. Click here to learn more. Other resources for artists include Springboard for the Arts, Minnesota Disaster Recovery Fund,  Americans for the Arts. And get on Pat Campanero's email list. She is the Small Business Development Center representative for Cook County and is posting all the latest information on loans and grants. You can email her at pcampanaro@gmail.com and get on the list.
In other news, fundraising continues for the three downtown businesses in Grand Marais that were destroyed in a fire last week: The Crooked Spoon, Picnic & Pine and White Pine North. The Grand Marais State Bank is accepting donations by check. The online Gofundme Grand Marais Fire Relief Fund has raised $51,00o so far. Halfway to its goal. You can find it here.
And Odyssey Resorts East Bay Suites is hosting a live, virtual performance and benefit concert for the family owned businesses that were destroyed by the fire. Timmy Haus will perform. The concert is from 7-8:30 p.m. on Thursday, April 23.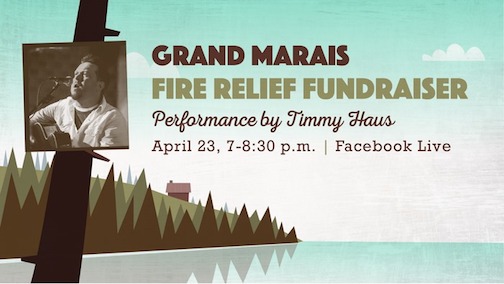 To view the concert and participate in the fundraiser, visit the Odyssey Resorts Facebook page, here.
And, believe it or not, we found two other local, but virtual, musical performances that will be held this week.
Boyd "Bump" Blomberg will be on WTIP's The Roadhouse on Friday night. He will be performing from his home. People can listen on-air or stream the program and/or watch the video on WTIP's Facebook page.
The Roadhouse airs from 5-7 p.m.
And Michael Monroe will host his second virtual Log Cabin Concert on Saturday night from 7-8:30 p.m.
Tickets are by donation. The concert will be streamed through his Facebook page. Check it out here .
There are other fun local opportunities this week, too. North House Folk School continues its Crafting in Place series, offering free tutorials and information sessions in a variety of crafts. First up this week: Mending Sweaters and Socks with Yarn with Tasha Miller Griffith.
The video will go live at 10 a.m. on Thursday, April 23 on the Folk School's Facebook and YouTube pages.
Then, at 7 p.m. on Thursday, Angela Robbins, an instructor at the Folk School, will be live on Instagram with "Wild Stools with Just A Few Tools."  She will demonstrate how to make a simple 3-legged stool with a chunk of wood and branches. If folks don't have access to logs and branches, scrap boards and dowels also work. This makes a great project for youth, and these techniques can be applied to make miniature furniture too.
Art & Artists:
 Our local artists continue to make work during this stay-at-home time. Here is what we gathered this week.
Mary Bebie is one of the glass artists who was scheduled to exhibit at the Johnson Heritage Post May 1. That show has been cancelled (rescheduled for next year), but all the glass artists had been working hard this winter to get ready for it. Here's one of Mary's pieces. She can be reached by emailing marybebie@hotmail.com
 Keith Morris has been doing some drawing this winter. Here are two of his pieces. One is called "Good Hare Day,"' and one is called "Bad Hair Day."
Tim Young was among the artists and community members who turned out for a chalk art social-distancing event in Harbor Park. Here's what he created:
 Paula Sundet Wolf has been painting.
Betsy Bowen is continuing her" Comfort" series. She posts an image a few times a week, at least, on her Facebook page. Here's her illustration in honor of all those making face masks.
Kim Knutson will set up a little stand in the entry way to Oddz & Ends. Under her brand name, TF Goodness, she is donating "organic, locally grown and made balms, butters and solid lotions to anyone who lives in Cook County; especially to those people who have to wash their hands continually…….you all know who you are.  So if you have dry, itchy, cracked skin come get some, your skin will love you for it."
The donations are available Friday, Saturday and Sunday from 10 a.m. to 4 p.m. "If you and your hands need comforting in these interesting times," she writes, "Stop in and pick something up. It's free, but if you really want to, we'll accept donations."
The Crooked Spoon had a lot of local art on the walls, including a great collection of Heidi Sobanja's work, which was all lost. Another painter, Jan Attridge, lost this painting she did of the restaurant's scrumptious French onion soup.
 Virtual
OK.  This is Potpourri V … onward!
Bryan Hansel produced a video for North House Folk School on how to photograph work with natural light at home.
Check Hansel's video out here.
Here's a video from the Vimeo Video School about how to create a video with your phone.
Layne Kennedy was recently featured on Almanac on how to be creative with your time.
Here's an amazing PBS series about the unsung women who changed America. It's titled "Unladylike 2020." The series covers Arctic explorers, sculptors, fashion icons, botanists …
Here's the link to see the episode on Louis Arner Boyd and the rest of the episodes in the series.
Here's another PBS piece.. The Quarantine Art Challenge. People were challenged to re-create their favorite piece of art with what they could find at home. It's pretty funny.
The Daily Art Magazine published "The Long Wait" collection, paintings that best depict waiting. Here's one.
 To see the whole collection of paintings, click here.
Here's a short dance video, entitled "The Six Sides of Merce Cunningham." it documents the dancer's life and his impact on the world.
And here's a wonderful twist on a poetry reading. In this production, we see the poet, and then the poem itself and can read along as he/she reads their work. It's production of the Poetry Foundation.
 Music:
There are lots of music videos out there. So here's just a quick selection.
Lizzo in a Tiny Desk Concert.
 Grand Marais' Marco Good sings "Spanish Pipedream" from the back 40.
Nina Simone singing "Feelin' Good."

And a very sweet, virtual stay-at-home concert:
Hope you enjoyed those. Next …
Photographs:
Let's start with a photo by Duluth abstract photographer Michael Dahmen that first appeared on Stephen Colbert's Twitter feed. Dahmen said he was asked for a photograph of the soap you used to wash your hands. So he produced this. He reports that more than 35,000 saw it.
Next: Wildlife
Landscapes, snowscapes and waterscapes:
Have a good weekend, everyone! Stay Safe!
Artists, please send images of what you've been working on this month to me at Joan.farnam@gmail.com
Also, if you've often considered donating to NorthShore ArtScene, now might be a good time, if you're able to do it. And, thank you!