Greetings from the North Shore where we, again, honor the gift of Lake Superior. At this time of year, its beauty speaks to our hearts and spirits with its ever-changing moods and grand vistas of blue waters. Here, in Grand Marais, even a torn-up road into town hasn't deterred precious walks by the Big Lake or an exploration of the shore and Artist Point. Welcome to summer!
And our online traditions developed over the past year, continue.
First up is the Grand Marais Art Colony which will host two takeover artists on its Instagram page this week– Annie Hejny and Greg Mueller. Hejny will post on the Art Colony's Instagram page on Thursday, and Mueller on Friday.
Annie Hejny's lifelong connection with nature has developed into a visual language through abstract paintings and drawings.
She will be teaching a class at the Art Colony in July entitled "Water and Woods." To learn more, click here. She will be posting about her work on Thursday.
Mueller, who has a studio in Lutsen, where he works on his sculptures using fabricated and decommissioned materials.
Mueller will be teaching a class in August entitled Sculpt-Chair. For more information, click here. Mueller will be posting on the Art Colony's Instagram page on Friday.
North House Folk School will also be hosting two on-line events this week. On Thursday, June 10, it will present a free webinar: Canoe and Kayak Photography Tips with Bryan Hansel at 7 p.m. 
Hansel will discuss how to safely pack and use your cameras and give tips for shooting effective and beautiful photos. The 7 p.m. webinar is free. To register, click here.
On Friday, June 11, North House will host a lunch and learn with horologist and artist Brittany Nicole Cox. (Horology is the study of time.)
From old magic tricks to antique clocks, antiquarian horologist and artist Brittany Nicole Cox will share the history behind her work for clients and institutions, as well as her passion for new-making by surveying a range of objects, materials, tools, and outcomes. A workshop tour will end the talk followed by a Q&A. To register, click here.
 Exhibits:
Corrie Steckelberg's Woodland Caribou installation in Grand Marais, Once and Future, continues to intrigue and evolve in the Grand Marais landscape. Three sculptures have been installed in town: one in Harbor Park, one at the entrance to the campground in the Rec Park and one in a "secret" location in the Rec Park woods.
In an interview with Jaye White, Steckelberg talks about the installation and describes the process of tmaking them. At one time, Woodland Caribou lived on the North Shore, but were pushed out by settlers. To read about her process, see more photos and listen to an interview, click here. The sculptures are just now starting to sprout, with small plants emerging from the soil-filled burlap. The sculptures will be up through at least this year.
 "Off the Grid," an exhibit of abstract painting by Patricia DeVries, continues at the Johnson Heritage Post Gallery.
The exhibit continues through the end of the month. The Heritage Post is closed on Tuesdays. It is open from 10 a.m. to 4 p.m. Wednesday through Saturday and from 1-4 p.m. Sundays.
The Grand Marais Art Colony's Summer Exhibition, But It Was Still There, featuring work by Moira Bateman, Annie Hejny, Moheb Soliman, and Nick Wroblewski, is at the Art Colony's new building, Studio 21, located at 21 W Hwy. 61, in Grand Marais.  Studio 21 will be open on Saturdays from 9 a.m. to 4 p.m.
Also, the Art Colony has partnered with Sugar Loaf Cove Nature Center in an art installation project entitled: The Art of Reciprocity, A Site Specific Art installation at Sugar Loaf Cove.  Minneapolis artist Sean Connaughty worked on the installation Sugarloaf from May 24 – June 7.  The installation will be exhibited through Sept. 30. All invited to visit Sugar Loaf and see his work.
ISD 166 graduating senior Sterling Pollock hosted a one-day exhibit of his paintings on skate boards in the Founders Hall at the Grand Marais Art Colony recently. He titled the show "Stirfryskatedecks" and it featured a wide selection of  paintings on the boards.
He writes: "A lot of people ask me if I would sell any decks. I made these to enjoy creating art with no pressure from others. I took things I found interesting, made a design and painted them using acrylic paint. My Dad /Scott Pollock funded the boards and my art teacher, Mila Horak, gave me the paint."
Here are a few examples:
Each of the boards were titled. In some cases, both sides were painted with images.
The Thunder Bay Art Gallery, which continues to be closed temporarily due to Covid, has opened an online exhibit of artwork of students from within Northwestern Ontario including Thunder Bay, Nipigon, Red Rock, and Dryden.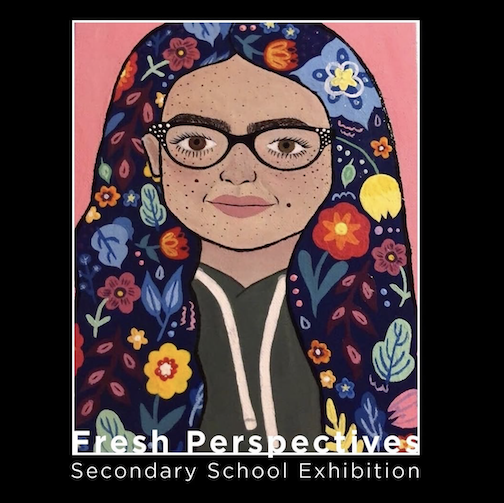 The exhibit, "Fresh Perspectives: Secondary School Exhibition," can be viewed online here.
Upcoming:
Book Club Alert:   The Drury Lane Book Club will discuss "The Dutch House" by Ann Patchett on June 20. On June 21, the Classics Book Club with Mary Ellen Ashcroft will discuss "The Age of Innocence,"  a Pulitzer Prize winner by Edith Wharton.  For more information, click here.
North House Folk School's Wooden Boat Show 2021 is both online and on-campus this year.
The on-campus event is next weekend, June 18-20, and will feature a number of favorite events including the Wooden Boat Display, the Boats-to-Tools Auction, Crafting on the Common and Family Drop=in Crafts. Other features  of the event, including the Solstice Pageant, are on temporary hold, to be determined if it is safe to do so. For more info and for updated information, click here.
Opportunities:
The Minnesota State Arts Board seeks individuals to review grant program applications remotely, serving a 4-week term during July 2021-March 2022. Receive a modest financial stipend for your time providing feedback on assigned applications and help determine which will be recommended to receive funding. When selecting reviewers, the Arts Board will give special consideration to geographic representation from throughout the state, ethnic and racial diversity, and a balance of those with previous experience with people who will bring new perspectives to the grant review process. To learn more about the opportunity, click here.
Artists at Work:
The Art of the Elements gallery has new work by potter Natalie Sobanja and photographer Bryan Hansel.
Watercolor artist Katie Irwin will be one of the artists featured at the Hovland Art Festival, July 3-4 in Hovland.
 Other finds:
And, in Lithuania– a virtual Portal.
Lithuanian artist Benediktas Gylys has created Portal, wondrous circular high-tech installations that allow people from Vilnius, Lithuania to say hello to those in Lublin, Poland, which is over 375 miles away. The "portals" are placed onsite at train stations so as to get a wide swath of people to participate. Gylys stated that this project is meant to bring citizens of the world closer to one another, despite borders and language differences. The project has plans to expand to also include Reykjavík and London. To read about it, click here.
And then this video, which just had to be included this week: The Danish Road Safety Council made it to, obviously, promote the use of helmets. Take a look:
 Online Music:
Live Music:
 Thursday, June 10:
Saturday, June 12:
Briand Morrison, Cascade Lodge and Restaurant, 6 p.m.
Photographs:
Here's a selection of photographs we found this week.
The Wildlife Kingdom:
 The Plant Kingdom:
 Skyscapes, Landscapes & Waterscapes:
And finally, this beauty:
Have a great weekend, everyone!
Here's hoping you enjoyed NorthShore ArtScene this week! Consider making a donation today. It's easy. Just click on the button below. And Thank You!