Greetings from the North Shore, where we're pretty sure that summer has arrived. It's taking a while to make up it's mind, though.  One day it's in the 80s, the next night there are frost warnings in places. But the Big Lake sails through all of this with serenity, blues stretching to the sky.
Last week, the marker for the start of the summer season, North House Folk School's Wooden Boat Show. a Covid-modified event this year, was held, and enthusiasts got out on the water on Saturday to celebrate wooden boats and Lake Superior.
Next up – the Hovland Arts Festival (July 3-4)  July 4th in Tofte and the Grand Marais Arts Festival (July 10-11). There's lots to look forward to this summer. And live music venues are beginning to open up, too. (See schedule below.)
Meanwhile, our online lives continue with the Grand Marais Art Colony's Artist Instagram Takeover on Thursday and Friday. This week, Tia Keobounpheng, a multidisciplinary artist/designer/maker based in North Minneapolis. will be posting on the Art Colony's Instagram page on both days.
Keobounpheng will be teaching a class in the Art Colony's  Mentor Series entitled "The Practice of Living as an Artist," Aug. 2 – 6. Follow along on Thursday and Friday to learn more about Tia and her work here. 
On Friday, the Johnson Heritage Post will open a new exhibit, "Take Me North," a fiber exhibition of work by Anna Repke.
Repke uses her skills and experience as a painter to create works in wool. The exhibit continues through the end of July. She will give a demonstration of her techniques at 10 a.m. on Saturday, June 26. The Heritage Post is open from 10 a.m. to 4 p.m. Wednesday through Saturday and from 1-4 p.m. on Sunday. It is closed on Tuesdays. Open to all. Free.
Also in Art Colony news, the first Artist Talk of the season will be held at Studio 21 from 10 a.m to 11 a.m. on Saturday featuring Tim Tozer.
Tozer teaches art at the University of  Wisconsin-Stout and will discuss his recent work, how he's moved from representational to abstract paintings and the processes he's developed along the way. The Artist Talk is open to the public. All invited. Free.
Also on Saturday, the Cook County Market will be held in the parking lot of The Hub featuring work from a variety of Cook County artists and artisans from 10 a.m. to 2 p.m.. Look for everything from fused glass and pottery to books and beach rocks. There's live music as well. This week, Tom Knutson will play.
 Exhibits:
 But It Was Still There, a multi-disciplinary exhibit of works by Moira Bateman, Annie Hejny, Moheb Soliman, and Nick Wroblewski  continues at Studio 21, the Grand Marais Art Colony's new space in downtown Grand Marais. Studio 21 is open to the public on Saturdays from 9 a.m. to 4 p.m.
The Cross River Heritage Center is open for the season and features two exhibits this year: Royal Canadian Mounted Police paintings from the collection of the Tweed Museum of Art and Ojibwe- Anishinaabe Art & Culture. The Heritage Center also features work by local artists. It is open from 10 a.m. to 4 p.m. Wednesday and Thursday, 10 a.m. to 6 p.m. Friday, 10 a.m. to 4 p.m. Saturdays. It is closed from Sunday through Tuesday.
The Art of Reciprocity: A Site Specific Installation at Sugarloaf Cove Nature Center features the works of Sean Connaughty, who completed a residency there earlier this summer in collaboration with the Grand Marais Art Colony.
WDSE's The Slice interviewed the artist when he was a Sugarloaf Cove. To see the video, click here.
Photographer Travis Novitsky is exhibiting work at Split Rock Lighthouse through the end of June.
 David Gilsvik is exhibiting a collection of his paintings at the Cedar Coffee House, behind SuperOne in Two Harbors.
The Duluth Art Institute has just opened a new exhibit at The Depot. Karlyn Atkinson: Unfolding Odyssey, is an exhibit of her collage paintings.
 Upcoming:
 The Hovland Arts Festival will be held at the Hovland Town Hall July 3-4 featuring a wide variety of work by local artists. The event also features live music, and refreshments will be available.
The Grand Marais Arts Festival is July 10-11 this year and will be held in the parking lots at ISD 166. More than 70 artists will be exhibiting work. Stay tuned.
 The Grand Marais Playhouse will mount the comedy, "The Birthday Club" at the Arrowhead Center for the Arts July 22-25. The cast includes Diane Stoddard, Claire Smith, Alyssa Hedstrom, Amanda Hand and Jaye White. The play is directed by Sue Hennessy. Performances will follow current Covid Protocols. Tickes are $25 adults, $50 for household and can be purchased in advance, For more info and to purchase tickets, click here.
Opportunities:
The Johnson Heritage Post is looking for handmade jewelry, pottery and other artwork to feature at its shop. For more information, contact Katie@cookcountyhistory.org or call 387-2883.
Artists at Work:
A Few Things We Found This Week:
Spirit Flight
Spirit Flight from Mark Ellis on Vimeo.
The Human Library
In Denmark, there are libraries where you can borrow a person instead of a book to listen to their life story for 30 minutes. (See above) The goal is to fight against prejudice. Every person has a title: ′′ unemployed ", ′′ refugee ", ′′ bipolar ", etc. – but when you hear their story, you realize how much you shouldn't ′′ judge a book by its cover ". This innovative and brilliant project is active in more than 50 countries. It's called "The Human Library. "
A Loon Funeral
In Paul Sundberg's latest blog, Loon Funeral, he tells the story of checking on the nest of loons that he had been photographing for years. When he and his wife approached in a canoe, they noticed the loons swimming offshore. When they saw Paul and his wife approach, they swam to their nest, which was quiet. One of the loons picked up a broken egg and carried it out into the water. To read more and see the photos, click here.
Sperm Whales Sleeping
When sperm whales need a nap, they take a deep breath, dive down about 45 feet and arrange themselves into perfectly-level, vertical patterns. They sleep sound and still for up to two hours at a time between breaths, in pods of 5 or 6 whales, presumably for protection.
No one knew whales slept vertically until a 2008 study documented the behavior. And no one captured really good photography of it in the wild until 2017. French photographer Stephane Granzotto was documenting sperm whales in the Mediterranean for his book on the creatures when he came across these sleeping whales.
Live Music
Thursday, June 24:
Billy D & Steve Dahl, Birch Terrace Deck, 5-7 p.m.
Gordon Thorne, Date Night at the Winery, North Shore Winery, 7-9 p.m.
Friday, June 25:
Second Wave, (Pete Kavanaugh, Todd Smith and Tom Knutson), Birch Terrace Deck, 5-8 p.m.
Saturday, June 26:
Tom Knutson, Cook County Market, Hub parking lot, 11 a.m. to 2 p.m.
4 Shore, Birch Terrace Deck, 4-6 p.m.
Billy Johnson, Gunflint Tavern, 8:30 p.m.
Sunday, June 27:
Billy Johnson, Weekend Wine Down, North Shore Winery, 3-5 p.m.
Online Music:
Photographs:
We found lots of photographs this week. Here's a selection.
Wildlife:
Peoplescapes: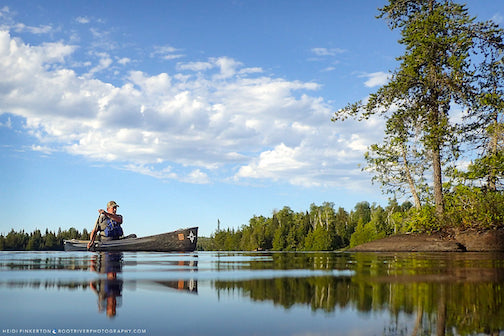 An evening paddle to fill the water jugs by Heidi Pinkerton.
Flowers:
Landscapes, Skyscapes & Waterscapes
Have a great weekend, everyone!