Greetings from the North Shore, where the rains are now cold mists, and the rivers have settled down to their typical spring selves. We're thankful for that, and for the continued beauty of our beautiful waterfalls. 
We're also thankful to everyone who contributes to making the North Shore such a great place to live.  It's been an honor to serve you.  But it's time for me to pass the baton.
I am retiring from producing NorthShore ArtScene soon. It's been an incredible ride and I've enjoyed every minute of it, but it's time to find someone else to take over the reins and move this blog to another level.
Interested? Contact me at joan.farnam@gmail.com   I'd be happy to help with the transition..
Meanwhile, it's Memorial Day weekend, and everyone is greering up for the start of the summer season. Here is what we know so far.
First up, the Grand Marais Art Colony will host encaustic artist Jeff Hirst on its Instagram page on Thursday. Hirst lives and works in Chicago. He has been teaching encaustic and printmaking classes since 1989 and has taught throughout North America and Ireland. In August, he will be teaching an encaustic class entitled" Exploring Color with Encaustic" at the Art Colony. To see his presentations on Instagram,  click here.
n Friday, there art openings at the Johnson Heritage Post and Betsy Bowen's Studio Gallery,
Multi-media artist Kimberly Layer opens an exhibit at the Johnson Heritage Post entitled "The Giving Forst,"  Inspired by the colors and textures of nature and the magic that happens within the northern woods, Kimberly uses found treasures from the woods to create her work.
The opening reception is from 5-7 pm. Layer will give an Artist Talk at 6 pm. Open to all.
Betsy Bwoen's Studio Gallery will hold an opening reception for its spring show on Friday from 4-6 pm. The show will feature
Bowen's winter work… A Year of Trees, acrylic paintings and drawings of ancient pottery from Costa Rica. Work from a number of local and regional artists will also be featured. 
The Cook County Market opens on Saturday for the first time this season featuring a variety of new artisans as well as old favorites. The Market is held in the parking lot of the Senior Center (The Hub) from 1- am to 2 pm. Everyone is invited to see what the artisans have been doing all winter.
Also on Saturday, the  2022 Le Grand du Nord will be held. The cycling event features a 10-Mile, 54-Mile & 26-Mile gravel cycling classic.
And the North 'shore Music Association will present the B,B &J trio in concert at the Arrowhead Center for the Arts. This dyamic trio includes Brittany Haas, Brittany Karlson, and Joe K. Walsh, a modern string band that plays everything from bluegrass to old-time, with many stops along the way.
Tickets are available at the door.
And FYI, the opening day of Chik-Wauk Museum & Nature Center has been postponed due to flooding. Stay tuned.
Upcoming
 There are a number of events planned for the Pride celebrations in Grand Marais June 4, including a parade, a dance, speakers, a march, and more. As part of the celebration, the Grand Marais Public Library and Cook County Higher Education will host a workshop from 3-4:30 pm at CCHE. Matt Lewellyn-Otten of OutFront Minnesota will lead the discussion. It is open to all. See the poster below for information about other activities, and stay tuned.
Workshops are starting to make puppets for the 2022 Solstice Pageant on May 31 at Betsy Bowen's Studio and Gallery.. The pageant will be held at North House Folk  School. This year's Solstice Pageant is called "A Wondrous Wilderness  Circus: The Greatest Show Is Earth." See below for the storyboard.
A call for Artists! Makers, artists, and creators are invited to participate in the first annual Lutsong Music Festival at Caribous Highlands in July.
The Vendor Village will outline the Caribou Highlands great lawn, and be open from 10 am – 6 pm on Saturday, July 16. 
A 10 x 10 booth space is available for $125.00, and each booth will also receive two full weekend passes to the Festival. Vendors must provide their own booth and tables etc. No booths, tables, electricity, etc. will be available. 
For more information about the event and to sign-up, click here.
Artists at Work:
Bryan Hansel's latest newsletter is out.
Artist Sam Zimmerman has released his drawing that will be on the T-shirts for this year's Fisherman's Picnic.
Diane Booth, the former director of the Cook Community Center and the Cook County Extension Agent, has been working in her studio this winter. She has been working in glass as well as painting and drawing.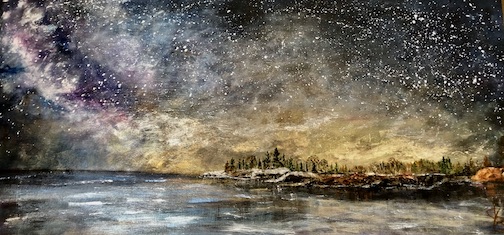 Milky Way Sky over Cove Point Peninsula 2022. Painting by Deborah Birkland
Online findings 
Grounded in clay, the spirit of  Pueblo potter
The Vilcek Foundation has partnered with the School for Advanced Research to develop a new exhibition, Grounded in Clay: The Spirit of Pueblo Pottery. The exhibition features works from the Vilcek Collection and from the Indian Arts Research Center at the School for Advanced Research (SAR). Grounded in Clay: The Spirit of Pueblo Pottery opens July 31, 2022, at the Museum of Indian Arts and Culture situated on the traditional lands of the Tewa people, O'gah'poh geh Owingeh (White Shell Water Place), or Santa Fe, NM. To see a video about the exhibit, click here.
Online Music:
"The Other End of the Mississippi River Blues" from Backroads 2003 Pat Donohue.
It's not a new tune, but the finger-picking and humor of Grammy-nominated guitarist/songwriter and Minnesota native Pat Donohue still makes us smile
Live Music:
 Thursday, May 26:
Joe Paulik, Cascade Restaurant & Pub, 6 -8 pm
Gordon Thorne, "Date Night at the Winery", North Shore Winery, 6 – 8 pm
Saturday, May 28
Adam Moe, Bluefin Grille – Bluefin Bay Resort, 5 – 8 pm
Pat Eliasen, Cascade Restaurant & Pub, 6 – 8 pm
BB&J – Brittany Haas, Brittany Karlson, and Joe K. Walsh, Arrowhead Center for the Arts, 7 pm
Wednesday, June 1
Joe Paulik, Bluefin Grille – Bluefin Bay Resort, 7 – 9 pm
Photographs: 
We found some good photographs this week. Here's a selection
 Wildlife:
Love:
Plants & Trees:
Landscapes, Skyscapes, Waterscape
Have a great weekend, everyone!
N