Greetings from the North Shore where we were blessed with lots of snow and now are blessed with lots of water….. more than enough for our rivers, and way too much for some of our county roads, but that's the reality of Spring 2022.
The Fishing Opener was also a challenge for many since many of the inland lakes were still frozen. But a few days in, the situation changed, and a successful fishing opener was had by many. Here's a great video by Matthew Baxley with Joe Friedrichs and friends in the BWCA for the Fishing Opener 2022. Enjoy.
Back on ice-free land, an interesting week lies ahead.
First up is DIVA: Spring Dance Performances presented by the YMCA  dancers.  The popular event features dancers of every age, from age 3 and older, and will be held at the Arrowhead Center for the Arts May 19-21.
Look for ballet, tap, and jazz dances at this event. And all the songs this year are the work of female artists.
Performances are at 6 p.m. on Thursday, May 19, and 7 pm on Friday and Saturday. Tehy are $12.50 for adults and $7 for youth. Click here to order.
On Friday, May 20, the Cook County Historical Society and the Johnson Heritage Post will hold their monthly Culture Crawl, with both buildings open to the public from 5-7 pm.
First, stop by either the Cook County History Museum at 8 Broadway Ave,  or the Johnson Heritage Post Art Gallery at 115 W Wisconsin St. to begin the evening and pick up an event card. Each site will provide you with a sticker to place on your card, and a completed card can be exchanged for a free glass of beer, wine, or non-alcoholic beverage at The Gunflint Tavern
On Saturday, there will be a Community Garage Sale at the Cook County Community Center, the first time the event has been held in two years. Reserved ables are going fast. Call 387-3015 to reserve yours. The sale is from 10 a,m, to 4 pm. All invited.
Exhibits
This is the last week to see Growing Toward the Light, a community art exhibit sponsored by the Spirit of the Wilderness Church currently on view at the Johnson Heritage Post.
The exhibit features work by more than 30 artists and includes painting, drawings, ceramics, glass, and more. The Heritage Post is open from 10 am to 4 pm. Thursday through Saturday and Monday, and from 1-4 pm Sunday. It is closed Tuesday and Wednesday
The George Morrison "Connections" Exhibit continues at the  Grand Portage National Monument's Heritage Center.
The exhibit features works from the National Parks Service collection, along with works and artifacts from private collections. The exhibit continues through September.
Printmaker Nan Onkka is currently the featured artist at the MacRostie Art Center in Grand Rapids.
.Onkka's new woodcut print "Backcountry Spring" is a part of a series celebrating the four seasons in the backcountry. The exhibit runs through June 25. The gallery is open 10 am-4 pm Mondays-Saturdays
"The World We Know," an exhibit at the Thunder Bay Art Gallery,  showcases new and recent works in its Permanent Collection.
.In The World We Know, 12 artists span generations and media. New paintings, prints, sculptures, ceramics, beadwork, and textiles are featured in this show.
Upcoming:
The Art of the Elements Gallery in rural Grand Marais opens on Thursday, May 26 for the 2022 season. Hours are 10 am to 5 pm Thursday through Saturday.
The gallery is exhibiting work by 11 artists: Steve and Sharon Frykman, Bryan Hansel, Natalie Sobanja, Hazel Belvo, Brittany Foster, Maxene Linehan, Jeanne Hedstrom, Paul Bondhus, Kat Gabrielsen, and Martye Allen.
The Cook County Market opens May 28 in the parking lot of The Hub (The Cook County Senior Center.) featuring a variety of artists and artisans,.
THe market is open from 10 am to 2 pm every Saturday through MEA weekend.
Artists at Work: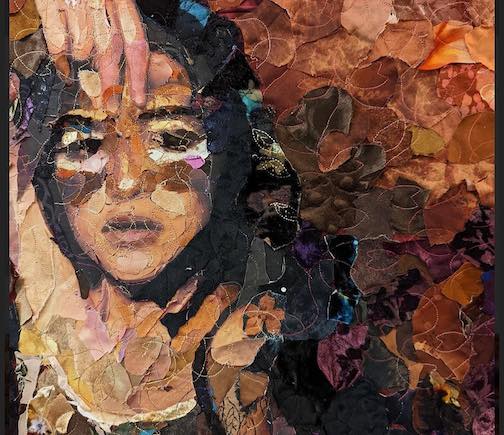 "What did you learn in darkness?", textile art by Blair Treuer.
Online Findings: 
\
Dolphins Swimming in Phosphorescent waters 

Online Music:
Live Music
Thursday, May 19:
Fred Anderson, "Date Night at the Winery

", North Shore Winery

, 6 – 8 pm
Sonofmel (John Adler), Cascade Restaurant and Pub, 6 – 8 pm
Saturday, May 21:
John Gruber, Cascade Restaurant and Pub , 6 – 8 pm
Jim McGowan, Lutsen Resort on Lake Superior, 6:30 – 9 pm
Thursday, May 26:
Joe Paulik, Cascade Restaurant & Pub, 6 -8 pm
Gordon Thorne, "Date Night at the Winery", North Shore Winery, 6 – 8 pm
Photographs:
Luckily, we found a great selection of photographs this week. Here's a selection:
 Wildlife:
Plants, Trees & Flowers
 Water and People
The Full Flower Moon Eclipse 
 One example of a country road this week:
A Sunset:
Landscapes, Snowscapes and Rushing Waterscapes:
Have a good weekend everyone! Stay dry!
 Become an underwriter and support NorthSghore ArtScene today, Just click on the icon below.