Waterfall season has started on the North Shore with lots more to come. The first "show" started this week, with falls up and down the shore opening up and rushing over cliffs to Lake Superior. Every one is worth a visit.
Meanwhile, there's plenty to keep you busy this weekend.
First up is the opening of "James & the Giant Peach," a play based on the popular children's book, at the Arrowhead Center for the Arts Friday, April 17 at 7 p.m. Performances will be at 7 p.m. April 17-18 and April 24-25, with 2 p.m. matinees on Sunday, April 19 and April 26. Tickets are available at the door.
There are lots of other plays being performed this weekend along the shore as well.
The Duluth Playhouse presents "Jesus Christ Superstar" April 16 through May 3 with performances at 7:30 p.m. Wednesdays through Saturdays and matinees on Sunday. There will be Saturday matinees on Saturday, April 25 and May 2. Tickets are $25. Visit www.duluthplayhouse.org for more.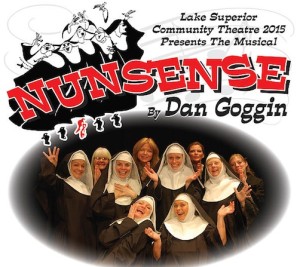 Lake Superior Community Theater presents the musical "Nunsense" at 7 p.m. April 16-18 at the Silver Bay High School and at 2 p.m. April 19.
It will also be performed at the Two Harbors High School  at 7 p.m. April 24-25 and at 2 p.m. April 26. Tickets are $12 adults and $8 students. For tickets and more info, click here.
And at the Manion Theater on the University of Wisconsin-Superior campus, Dave Saffert will be performing in "Tom Foolery," a retrospective on the songs and wacky humor of Tom Lehrer.
It opens this Friday. How many chances do you get to enjoy songs about poisoning pigeons in the park? Not many, for sure, but if you were a fan of Tom Lehrer, this is a show not to be missed.
"Tom Foolery" is a production of Rubber Chicken Theater in conjunction with UWS.  Performances are April 17-18 and 24-25 at 7:30 p.m.  Tickets can be purchased at the box office or call (215) 394-8380. The Manion Theater is located at 1805 Catlin Ave. in the Holden Fine and Applied Arts Center, Superior, Wis.
And finally, for performance artists (and others), Jack Nickolay and Rose Arrowsmith DeCoux will hold a workshop entitled "Memorization Made Easy!" at the Arrowhead Center for the Arts April 22-23 from 7-9 p.m. $45, Contact Playhouse@boreal.org to register.
http://www.arrowheadcenterforthearts.org/playhouse/
Also this weekend, Cook County's Most Wanted will play for a fundraiser for Cook County High School sophomore Molly Thomas as she prepares to travel to Australia in July to compete in the Down Under Tournament.
 She will be representing the Central Conference Track and Field Team in this once-in-a-lifetime opportunity.
The event will be held at the Grand Marais Art Colony from 6-10 p.m. on Saturday and feature music, a sweet treat sale and a silent auction. Tickets are $10 adults, $5 students. All invited.
Also this weekend, the final celebration of snow this winter will be held at Lutsen Mountains when snowmobilers from across the country compete in the first ever snowmobile event on the mountains. The Midwest Extreme Snowmobile Challenge will be held on Moose Mountain on Saturday and Sunday with short course cross-county, hillclimb and hillcross races. Spectator tickets are available for $18/day or $28 for a 2-day pass. (Tickets are limited to 500 this year)  For the complete schedule and tickets, click here.
For art exhibits, the Johnson Heritage Post's opening show of the season, Permanent Collection Exhibition, continues through this weekend. The exhibit will feature new acquisitions and donations to the Heritage Post, including works by Birney Quick, Anna Johnson, Helga Moe and Mary Pratt, as well as others. The exhibit will continue through April 19. The Heritage Post is open from 10 a.m. to 4 p.m. Wednesday through Saturday and 1-4 p.m. Sunday.
In Thunder Bay, the Dennis Franklin Cromarty High School Exhibition continues at the Thunder Bay Art Gallery through  April 26.
Three exhibits continue at the Definitely Superior Art Gallery in Thunder Bay as well, including the video installation by Kelly Richardson. Richardson, who is a world-class video installation artist, recently finished a show at the National Gallery in Ottawa, and has just received a prestigious residency in England. Also on exhibit are selections from the art collection of Dr. Bob Chaudhuri and metal sculpture by Brandon Vickerd. The exhibits continue through April 25.
Also this weekend, Gallery 33 in Thunder Bay will hold its grand reopening from 4-6 p.m. on Saturday with music, refreshments and lots to see. The gallery is located at 4 Balsam St.
And at the Tweed Museum of Art in Duluth (on the campus of the University of Minnesota-Duluth) an exhibit of student work continues through April 30. Also, the gallery is featuring the Senior Exhibition by Yookwon Lim entitled "Inside the Umbrella."
The museum and gift store is open Tuesdays from 9 a.m.-8 p.m., Wednesday–Friday, 9 a.m. to4:30 p.m. and 1-5 p.m. on Saturday and Sunday.
In art news, local artists who will be exhibiting at the Grand Marais Arts Festival  July 11-12 include Melissa Wickwire, Dave Steckelberg, Elise Kyllo, Julie Arthur, Mary MacDonald, Nancy Seaton, Joan Farnam, Gail Anderson, Jeff Niesen, Nace Hagemann, Betsy Bowen, Jerry Riach, Tom Christiansen, Cooper Ternes and Tim Dennison. In all, 80 local and regional artists will participate in the show in downtown Grand Marais.
Kari Vick is exhibiting her work at Sivertson Gallery, including "Newbie," a giclee print.
Drury Lane Books is closed for the month of April.
Grand Marais photographer Bryan Hansel is crafting all the photographs for Sven & Ole's new product, frozen pizzas, which are now offered at local and regional vendors.
Kah Nee Tah Gallery in Lutsen is featuring turned wood pieces by Wayne Johnson of Maple Grove.
Great Gifts of Lutsen has cards by Betsy Bowen, Terry Nelson deNatale, Anna Hess, John Peyton, Kelly Dupre and Jackie Kotlarek.
The Arrowhead Regional Arts Council is accepting applications from individuals wishing to serve on the board.
The current openings are for representatives from Koochiching County, Carlton County and at-large members from any of the seven counties in the Arrowhead Region. The board is especially looking for individuals with a knowledge of dance or classical music.
ARAC offers grant support and technical assistance to individual artists and nonprofit arts organizations who reside in the seven counties which make up the Arrowhead Region: Aitkin, Carlton, Cook, Itasca, Koochiching, Lake, and St. Louis.
The deadline to submit an application is May 13. For more info, click here.
And finally, there's quite a buzz around the region about Grand Marais being chosen as the Coolest Small Town in America. Here's an example: the Duluth Art Institute is organizing a Summer Kick-off and Member Party May 28 and the grand prize is "An Artful Weekend in Grand Marais." The prize includes a two-night stay at the Art House B&B, a two-day course at North House Folk School and dinner at the Crooked Spoon.
Here's the music schedule for this weekend:
Thursday, April 16:
Eric Frost & Bill Hansen, Poplar River Pub, 6 p.m.
Rod & Caribou, American Legion, 7 p.m.
Gordon Thorne, Gun Flint Tavern, 7:30 p.m.
Friday, April 17:
The May North, Gun Flint Tavern, 8 p.m.
Bump & Adam Moe, Voyageur Brewing Co., 8 p.m.
Timmy Haus, Papa Charlie's, 9 p.m.
Saturday, April 18:
Cook County's Most Wanted plays for the fundraiser for Molly Thomas, Grand Marais Art Colony, 6 p.m.
Briand Morrison, Lutsen Resort, 7 p.m.
The May North, Gun Flint Tavern, 8 p.m.
Eric Frost & Friends, Voyageur Brewing Co., 8 p.m.
Hitchville, Papa Charlie's, 9:30 p.m.
Sunday, April 19:
Timmy Haus Caribbean Reggae Party at Moguls Grille, 2 p.m.
Jim & Michele Miller, Gun Flint Tavern, 7 p.m.
Tuesday, April 21:
Timmy Haus, Poplar River Pub, 6 p.m.
Wednesday, April 22:
Open Mic Night, Gun Flint Tavern, 5 p.m.
We found lots of photos of the northern lights and waterfalls this week, as well as some lovely spring shots.
Let's start with beautiful photographs of the auroras. (f you check my NorthShore ArtScene Facebook page in the next few days, you'll see lots more. The lights were popping again on Wednesday night.)
There have been storms and threats of storms.
Bill Hansen caught this shot on the Sawbill Trail the other day.
And David Johnson was in the right place to catch the first thunderstorm of the season in Grand Marais.
And here's a completely different mood. Layne Kennedy caught this incredible shot when he was in Spain.
Here are a few of the waterfall shots we found this week.
With the ice melt,  birds are streaming north and pairing up for the summer. Michael Furtman caught this wonderful shot the other day.
We'll end this week's offering with two powerful images by Kirk Schliefe.
Have a good weekend, everyone!