The last weekend in April is a good time to take a deep breath, get energized and prepare for the summer season that's just around the corner.
The Grand Marais Art Colony tuned into this and will offer two all-day workshops on Saturday which focus on re-energizing the spirit through creativity. The day-long workshops are: "Personalized Journal Making" with Bevie LaBrie and "Creative Play and Emotional Resilience" with Kelly O. Finnerty. To find out more and to register, click here.
A great cup of coffee in the morning is also the perfect energizer, and Grand Marais coffee roaster Joshua Lindstrom will talk about buying coffee in Guatemala at the Grand Marais Public Library at 8:30 a.m. on Saturday. Lindstrom, who owns Fika Coffee, will share pictures of his trip there, tell stories of the farmers he met, and discuss how coffee is processed there. And, of course, Fika coffee will be served! All welcome.
And early this week, on Monday from 10 a.m. to 2 p.m., the newly restored Beaver House will hold an Open House. First established in 1964, the Beaver House underwent a major facelift this winter, thanks to the dedication of many volunteers, including Sarah and Anna Hamilton, who have been working with owner Tyson Cronberg to refurbish the shop. Check out the Beaver House Facebook page to get a preview. To hear a great interview with Tyson Cronberg on WTIP, click here.
For balance, check out Peter Juhl's wonderful photography exhibit in the Cook County Courthouse. Juhl is a master of balancing rocks, and this exhibit features photographs of his stunning work on the shores of Lake Superior and local rivers.
The exhibit is the first in a series of art exhibits planned for the lobby in the Courthouse this year.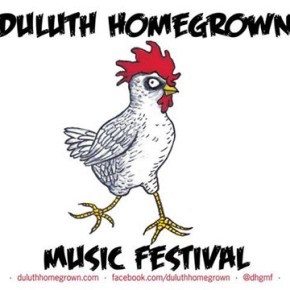 In Duluth, Monday marks the beginning of the 17th annual Duluth Homegrown Music Festival, a live, week-long music frenzy with more than 200 musical acts performing at venues throughout Duluth and Superior, Wis. The festival showcases local musicians working in the Twin Ports. Homegrown doesn't focus on a particular genre of music, either. The offerings include everything from country to rock 'n' roll, bluegrass to funk. The festival also features films/videos, art shows and more.  Click here to see the complete schedule.
Many of the special exhibits organized for the Art for Earth Day Gallery Hop in Duluth last weekend continue, including Siiviis Gallery's "Waters Deep & Bright," a show featuring the gallery's artists working in a 12-inch by 12-inch format.
Also in Duluth, two exhibits, "Hat Trick" and "Team Spirit" continue at the Duluth Art Institute.
In Thunder Bay, the Thunder Bay Art Gallery opened an exhibit entitled "Storytellers: The Art from the Northwest" this month.
The exhibit  examines the visual stories by Indigenous artists from nations and communities such as Haida Gwaii, Coast Salish, Kwakwaka'wakw, and Nuu-chah-nulth. The works are from the gallery's permanent collection. The exhibit continues through May 22.
Artist's Opportunity:
 Art 'Round Town is sponsoring a competition to create banners for the light posts in downtown Grand Marais. The banners will feature designs which reflect the artistic nature of Cook County and promote local activities and/or features of our area. Plans are to print at least two designs on 20 banners each. The group is hoping to raise additional funds to have four seasons of fresh banners downtown.
Artists are invited to submit designs that are seasonal, appropriate to the area, and reproducible as one-or two-color screen prints, 24" by 36." The artists whose work is selected will receive a $500 stipend and retain rights to the designs.
The images submitted for the banners will be featured at a show at Betsy Bowen's Studio June 10-12 so the public can see the submissions and vote on their favorites. The A'RT committee will choose the final designs. The deadline to submit images (at Betsy Bowen's Studio) is June 1. For more information, contact Mary Beams at 218-370-8682 or email PieLight@hotmail.com.
Upcoming
 Elizabeth Erickson, a founding member of the Women's Art Resources of Minnesota and the co-director of the Women's Art Institute, will give an Artist Talk at the Grand Marais Art Colony Friday, May 6 at 4:30 p.m.
Kah Nee Tah Gallery will host "Painting With Mom," an oil painting class taught by Lutsen artist, Kathy Fox-Weinberg, from noon to 2 p.m. Saturday, May 7. $30 per person includes professional instruction, supplies, snacks and refreshments. For reservations, call (218) 387-2585.
The St Croix Valley Pottery Studio Tour is Mother's Day Weekend, May 6-8. To find out more, click here.
There's lots happening in Grand Marais over the Memorial Day Weekend, May 27-29. Art Along the Lake will feature special events at studios, galleries and museums in Cook County when they open their doors to launch the summer season. Stay tuned for details. Click here for a preview of events.
In other art news, Great Gifts of Lutsen is featuring cards by local artists including Terri Nelson DeNatale, Betsy Bowen, Anna Hess and Nancy Seaton as well as photographs by Earl Orf.
Tara Block has new pottery at Joy & Co.
Betsy Bowen visited Spain in March and made pen and ink drawings while she was there.
"Sketches of Spain" is the theme for this year's season opener at her studio on May 27, from 6-8 p.m.
Upstairs, Melissa Wickwire of Wickwire Clay Works has been working on a variety of new tiles that will be exhibited during the Memorial Day opener.
Dan & Lee Ross will open a show at the Groveland Gallery in Minneapolis with a reception from 2-5 p.m. on Saturday, April 30.  Entitled "Ancient Materials–Modern Designs," the show will feature their sculpture and prints.
The exhibit continues through June 4. The gallery is located at 250 Groveland Terrace in Minneapolis.
Sivertson Gallery has just received a series of handmade tiles by Motawi Tiles of  Ann Arbor, Mich.
Here's the music schedule for this weekend:
Thursday, April 28:
Timmy Haus, Poplar River Pub, 6 p.m.
Billy Johnson, Gun Flint Tavern, 6:30 p.m.
Friday, April 29:
Plucked Up String Band, Voyageur Brewing Co., 4:30 p.m.
Pete K Group, Gun Flint Tavern, 8:30 p.m.
Saturday, April 30:
.Plucked Up String Band, Rosie's Deck, Lutsen Mountains, 2 p.m.
Pushing Chain, Lutsen Resort Lobby, 7 p.m.
Pete K Group, Gun Flint Tavern, 8:30 p.m.
Sunday, May 1:
Sunday Afternoon Jazz with Briand Morrison, Gun Flint Tavern, 3 p.m.
Timmy Haus, Gun Flint Tavern, 6:30 p.m.
Tuesday, May 3:
Eric Frost, Poplar River Pub, 6 p.m.
We found some wonderful photographs this week. Here's a selection:
First, moose.
And here's a great Grand Marais Lighthouse shot.
And here are some wonderful bird photos:
And a few beautiful landscapes …
And a tribute to Prince:
The big news was the high winds on Lake Superior which kicked up a big surf. Here are some images.
But like all storms, eventually it was over.
Have a good weekend, everyone!