The Summer Solstice is here, and that means there's lots to do in Grand Marais this weekend. Everything from North House Folk School's Wooden Boat Show, the Solstice Puppet Pageant, art shows, music and more are scheduled.
First up is the 19th annual Wooden Boat Show at North House Folk School  featuring lots of beautiful wooden boats on display, speakers, films, workshops, demonstrations, a community dance,  the Lake Superior Chowder Experience, music, the Boats-to-Tools Auction and much more.
The weekend starts off with the waterfront wooden boat display opening at noon on Friday followed by the speaker series starting at 1 p.m. with Karen Sunderman, producer and writer at WDSE, who will give the inside story about the new documentary, "Steamship America: A North Shore Legend." Other speakers on Friday include Josh Swan, who will talk about boat restoration and Mark Hansen and Phil Winger, who will discuss Greenlandic skin-on-frame kayaks and screen a shot film about racing the kayaks.
At 4 p.m., there will be a ribbon cutting for the new school store, which is now in the renovated yellow building on campus. And then, on Friday night, WTIP's The Roadhouse and Small Change will be broadcast from North House starting at 5 p.m. The Boat Parade is from 6-7 p.m., followed by a family and community contra dance with Pig's Eye Landing as well as a community music circle.
On Saturday, the Boat-To-Tools Silent Auction begins at 9 a.m. Artisan raft demonstrations continue throughout the day, with the Lake Superior Chowder Experience set for noon. Featured speakers on Saturday include Beth Moen, the primary instructor in the woodworking program at theSätergläntan Institute of Handcrafts in central Sweden, where she has taught since 1998. She is regarded as one of the premier woodworkers in the country. There will also be a film screening of "Zeb: The Schooner Life" as well as presentations on Duluth's Viking Ship with Randy Ellestad and crafting leather and canvas bags with Mark Bartell.
On Saturday night, the Good Harbor Hill Players will present the 2016 Summer Solstice Puppet Pageant: "Jeepers! Creepers! Peepers!" at 8 p.m. in the Commons at North House, with music by GAMEPELAG.
Community members, artists and puppeteers have been working all month to prepare this show, crafting puppets, costumes and scenery to tell a story about the Northwoods in song and dance. Not to be missed.
Sunday is the annual member's gathering with the Steam Bent Brunch, followed by a presentation by The Lost Forty, musicians and storytellers Brian Miller and Randy Gosa. There will also be a ribbon cutting for the 501 Building. For all the details of this busy and exciting weekend, see www.northhouse.org.
There's lots of other activities going this weekend, too. On Friday, Al Oikari and Rod Dockan will play for the Lutsen Downtown Block Party, which is from 4-8 p.m.
Dat Dere Jazz will be on WTIP's "The Scenic Route" at 4 p.m. on Friday, as well.
On Thursday night, the Grand Marais Playhouse will hold a special preview of the summer events at 7 p.m. at the Arrowhead Center for the Arts with a suggested donation of $10. Come see scenes from the cheerfully macabre, terribly pleasing "Arsenic and Old Lace," and "The Addams Family" which will run in repertory July 21 – Aug. 14 on the weekends.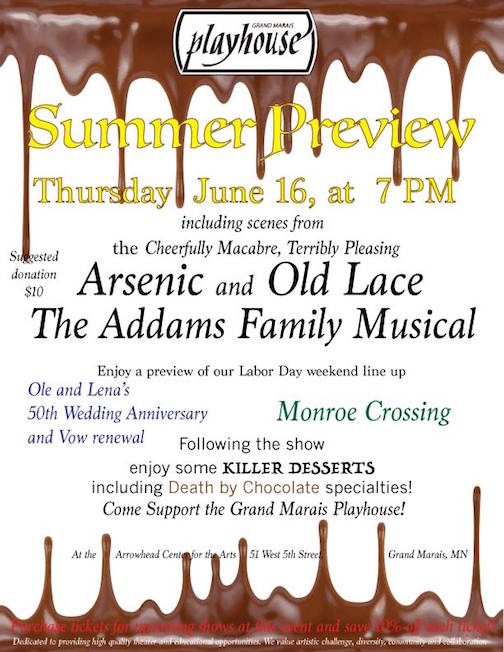 Thursday night show at the ACA will also include a preview of the Playhouse's Labor Day events–Mike and Julie Bateman will return as Ole and Lena in "Ole and Lena's 50th Wedding Anniversary and Renewal of Vows." Plus, there will be a special video performance from Monroe Crossing. 
 A variety of desserts will be available after the show. All invited.
On Saturday, the Cook County Farm & Craft Market sets up in the Senior Center parking lot featuring arts and crafts, vegetables in season, baked goods, artisan breads and more. It is open from 9 a.m. to 1 p.m.
Hovland potter, Bob Tamanaha, will give a pottery demonstration in the ceramics studio at the Grand Marais Art Colony  at 1 p.m. Free and open to the public.
On Saturday night, Sivertson Gallery celebrates the Summer Solstice with a party from 5-7 p.m.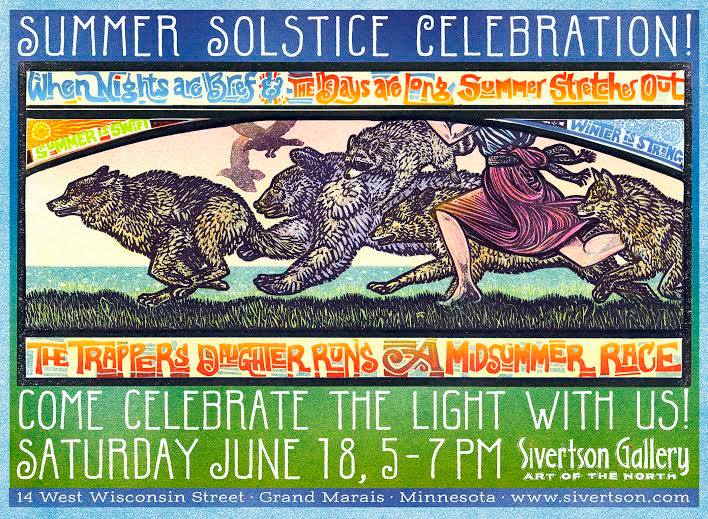 The gallery holds a party every year to honor the summer solstice. This year, the gallery celebrates Women Who Run With Wolves and the new Rick Allen Trapper's Daughter print–When Nights Are Brief and Days Are Long, Summer Stretches Out."
The gallery has been running a Wolf Bracket Competition on Facebook, inviting friends to vote on their favorite wolf art. The final round is underway. Here are the choices.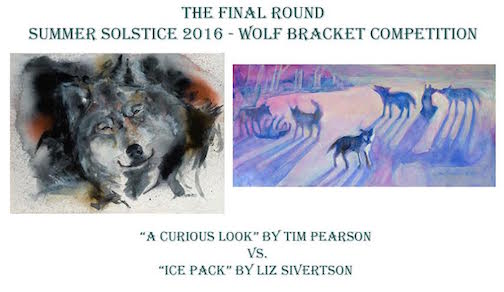 To vote, visit the Sivertson Gallery Facebook page here.
On Sunday, a memorial for Byron Bradley, co-founder of the Grand Marais Art Colony, a KB Art Gallery partner and owner of Minneapolis's all-time best art store, KB Art Materials, will be held from 4-6 p.m. at the Grand Marais Art Colony.
Friends are invited to bring stories and photos to share.
On Wednesday, the Youth Art Space series at the Grand Marais Art Colony continues as the Print Studio opens its doors to youth to explore art in all its forms from 10 a.m. to noon.
This week, on June 22, youth will learn about Greek columns and then design their own in clay. No pre-registration required. Children under six must be accompanied by an adult.
On Wednesday night, the Grand Marais Art Colony will host David Feinberg, a painter and associate professor of drawing and painting at the University of Minnesota, who will give an Artist Talk at the Johnson Heritage Post at 4:30 p.m.  He will address "The Visual Language and the Unexpected." Free. All invited.
In Thunder Bay, the Definitely Superior Art Gallery opens the 28th Anniversary Show & Supporters Appreciation Party with a gala reception from 7-10 p.m. on Saturday.
The opening features art by DefSup and Die Active members, live music by Traces, a band from (Montreal) and Visions of Doyle. Exhibits include the Members Show, a Die Active Art Collection exhibition and video screenings by Creator Project 6. The exhibits continue through July 23.
A new exhibit has opened at the Thunder Bay Art Gallery as well:
Arthur Shilling: The Final Works."
The gallery is also featuring "The Secondary School Art Exhibition" and "Every Picture Tells a Story."
Upcoming
Grand Marais' favorite cellist, Yvonne Caruthers, has just returned from performing in Washington Opera's recent production of the "The Ring Cycle," four operas written by the 19th Century German composer, Richard Wagner.
"It was a little like a Star Trek convention," she writes, "With people dressed as their favorite characters, immersed in their roles over a span of several days, living and breathing the twists and turns of the stories."
Now that she's back in Grand Marais, Caruthers will share her experience with photos, video clips, musical excerpts, and lots and lots of stories. The presentation is on Wednesday, June 29, at 7 p.m. in the parish hall of St John's Catholic Church.
If you enjoyed the "Lord of the Rings" books or movies, which share many of the same plot lines as Wagner's "Ring Cycle," or if you happen to be fascinated by gods, giants, intrigue, magic potions, betrayal, greed….and love….be sure to attend this humorous and musical evening. Free and open to the public.
Duluth contemporary landscape painter, Aaron Kloss, is opening an upscale art gallery in Duluth. Lakeside Gallery, located at 4431 East Superior Street, features a great selection of local and regional paintings, woodcut and lino prints, photography, pottery, jewelry, woodworking and more.
The Grand Opening at the gallery will be Saturday, June 25, with a reception for Shawna Gilmore's "A Curious World" show from 1 – 3 p.m. All invited.
The Baggage Building Art Center will hold the 4th annual Waterfront Art Sale June 25. The exhibit is a showcase for more than 20 Thunder Bay artists and includes ceramics, glasswork, photography, jewellery, printmaking, clothing, woodworking, iron works, sculpture, painting and books.
Painter Tom Soucek will spend the July 4th weekend creating his watercolors at Kah-Nee-Tah Gallery, with demonstrations from 10 a.m. to 4 p.m. July 2-4.
In other art news
Betsy Bowen's 2017 Calendar is out. The calendar "A Collection of Birds" was designed by Staci Drouillard.
Birchbark Books & Gifts has just received new copies of Lisa Crayford's  "Waterfalls of Minnesota."
The Blue Moose has remodeled the entire upper shop where there is a wide selection arts and crafts including pottery, jewelry, stained glass. Wisconsin potter Joan Molloy Slack has new work in the shop.
The Coho Cafe in Tofte is exhibiting paintings by Paula Sundet Wolf. The artist is also exhibiting her work at Cook County Higher Ed and Chik-Wauk Museum and Nature Center.
William Kent Krueger will be featured in a Writer's Salon at Drury Lane Books at 5 p.m. June 25. He will be reading from his latest book, "Manitou Canyon" which will not be released until September. Also, the bookstore is featuring a series of female detective stories written by Mabel Seeley in the 1940s which have been re-released, including "The Crying Sisters."
The bronze pour at Last Chance Gallery this Saturday has been cancelled. Stay tuned for the next one. The gallery has new work by a number of artists including 10 marbled monoprints by Misha Martin.
Martin writes that "marbling paper is an ancient art. Once called cloud art and used primarily by bookbinders for end papers, paint is floated on seaweed-thickened water. A sheet of treated paper is gently laid on top of the paint, lifted off and rinsed to produce a unique monoprint. This process can be repeated to create an over-marble." The work can be seen at the gallery.
The Voyageur Art Club's spring exhibit continues at Tettegouche State Park.
Here's the music line-up for this week:
Thursday, June 16:
Joe Paulik, Music by the Campfire, Lusten Resort, 6 p.m.
Gordon Thorne & Chris Gillis, Gun Flint Tavern, 7 p.m.
Friday, June 17:
Jerry Vandiver, Voyageur Brewing Co., 4 p.m.
Al Oikari & Rod Dockan, Lusten Downton Block Party, 6 p.m.
Shoot from the Hipsters, Sydney's Frozen Custard, 6 p.m.
Gordon Thorne & Chris Gillis, Cascade River Pub, 7 p.m.
Mysterious Ways, Grandma Ray's, 7 p.m.
Evergreen Grass Band, Gun Flint Tavern, 8:30 p.m.
Eric Frost, Bluefin Grille, 9 p.m.
Saturday, June 18:
Gordon Thorne, Superior National Golf Course, 2:30 p.m.
Marc Gartman, Voyageur Brewing Co., 4 p.m.
Michael Monroe, Log Cabin Concert, rural Grand Marais, 7 p.m.
Gordon Thorne & Chris Gillis, Lutsen Resort, 7 p.m.
Jim McGowan, Cascade River Pub, 7:30 p.m.
Earth, Wind & Todd, Grandma Ray's, 8 p.m.
Evergreen Grass Band, Gun Flint Tavern, 8:30 p.m.
Timmy Haus, Papa Charlie's, 9 p.m.
Sunday, June 19:
Jim & Michele Miller,  Gun Flint Tavern, 6:30 p.m.
Timmy Haus, Moguls Grille, 8 p.m.
We found lots of wildlife photos this week! Here's a selection:
And then there's this powerful photo story that Paul Sundberg included on his blog this week. He checks loon nests every year, and he wrote/photographed this story about one of the nests he visited recently.
"When we put the canoe into the lake, there were two loons out on the bay. At first I thought they were a couple of bachelors.
"As we canoed over by a small island the loons followed along side of our canoe. We could see black flies covering their heads. This is a very bad year for black flies. Sometimes loons will abandon their nests when the black flies get bad enough.
"When we got to the island one of the loons swam close to shore. I looked with the binoculars and saw a nest, but only one egg, and it didn't look right. Upon closer inspection we saw that there were two holes in the egg and the nest was messed up like a predator had destroyed the eggs and dug into the nest to eat the liquid that came out of the eggs. We were really bummed to see that the eggs had been destroyed. We heard about a second nest where predators had gotten to the eggs in recent weeks.
"One of the loons started making little whining noises and swam up to the nest. It reached up, picked up the egg with its mouth and carried it out to where we were in the canoe.
" It came so close that I couldn't even focus in on it with my long lens. To our surprise it swished the egg back and forth until it was full of water. It then opened its mouth and let the egg sink to the bottom of the lake."
Sadness. Connection.
And here's another amazing photo. Jamie Rabold caught this sturgeon sleeping in the Duluth Harbor.
And then there's this: I counted 18 goslings. How many do you see?
Wildflowers are blooming, too.
Paul Sundberg found this recently.
And here's a beauteous David Johnson.
And last, but not least, Neil Sherman was out painting the other day. Here's a photo he took of his work in progress
Have a great weekend, everyone! Enjoy the Solstice!