The Summer Solstice marks the beginning of the summer season and,  in Cook County, it heralds a quickening and celebration of the arts. The Johnson Heritage Post opens an exhibit this weekend and, in the coming weeks, look for the Hovland Arts Festival (July 2-3) and the Grand Marais Arts Festival (July 9-10), as well as the Summer Theatre Festival, which starts July 21. And, of course, there is a wide variety of music throughout the month.
There are lots of other art-related events, opportunities and classes this summer, too. Here is what is on the slate for this week.
First up is an opportunity to join the Arrowhead Sketchers, a new group organized by the Grand Marais Art Colony, which meets every Thursday afternoon to sketch and/or draw in a particular location. All are welcome, regardless of skill level, chosen medium, or age, including all plein aire painters.
This week, the sketchers will meet at the public boat landing in the Grand Marais Rec Park at 5:30 p.m. If the weather is bad, they'll meet in the picnic shelter adjacent to the boat landing. Plans are to sketch for an hour and a half, and then gather to share their work and experiences. Just show up with sketchbook in hand and/or call the Art Colony at 387-2737 for more information. Free.
On Friday, the Johnson Heritage Post opens an extraordinary exhibit of paintings by  Karen Savage Blue with a reception from 5-7 p.m.
Savage Blue, who is a member of the Fond du Lac Band and teaches at the Fond du Lac Community College, has had several major exhibits, including one at the Duluth Art Institute last year. The exhibit at the Heritage Post will include paintings from a recent project, where Blue made a painting a day for a year. WDSE's The Playlist interviewed the artist about her project. Check out the fascinating video here. The exhibit continues through July 24. The gallery is open from 10 a.m. to 4 p.m. daily.
On Saturday, start out the day at the Cook County Farm & Craft Market, which runs from 9 a.m. to 1 p.m. in the Senior Center parking lot. The market features a variety of crafters as well as baked goods and vegetables/plant starts in season. To find out more, check out its Facebook page here.
At 1 p.m., glass artist Gretchen Lisdahl will give a glass beads demo in the glass studio at the Grand Marais Art Colony. All are welcome.
Then, at 5 p.m., Minnesota mystery writer William Kent Krueger will be the guest at Drury Lane Books for a Writer's Salon.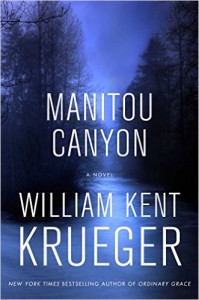 He will read from "Manitou Canyon," the latest in his Cork O'Connor series. This is a rare preview– the book won't be published until Sept. 6 The event will be held outside, weather permitting. All invited. Free.
On Sunday, the Woodland Chamber Music Workshop Chamber Orchestra will hold a Gala Concert at 11 a.m. at Surfside Resort in Tofte.  Chamber music workshops have been held all this week, featuring the Gichigami Trio (Sam Black,piano; Laurie Bastian, violin and Josh Aerie, cello), Betty Braunstein, flute; Kevin Miescke, French horn and Mina Fisher, cello. The concert will include participant ensembles and the WCMW Chamber Orchestra. It will be followed by a reception/light luncheon. The public is invited.
Then at 7 p.m. Wednesday, in the Parish Hall at St. John's Catholic Church, the public will be able to find out all about cellist Yvonne Caruthers adventures when she played with the Washington Opera for its epic production of Richard Wagner's "The Ring Cycle" in Washington, D.C. The four operas in the cycle take 15 hours to perform.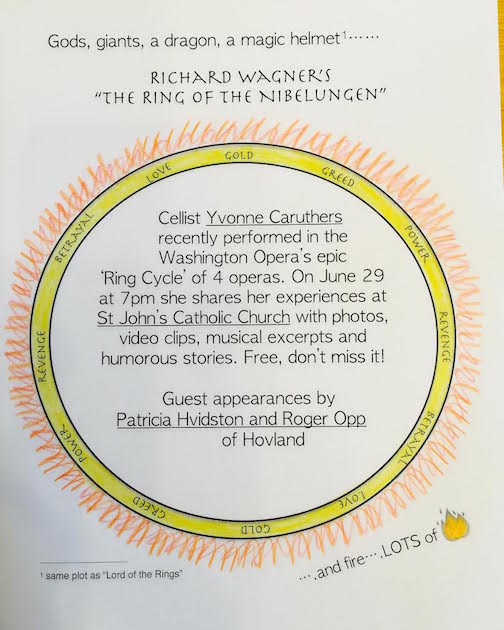 "It was a little like a Star Trek convention," Caruthers writes, "with people dressed as their favorite characters, immersed in their roles over a span of several days, living and breathing the twists and turns of the stories."  Caruthers will be sharing her experience
with photos, video clips, musical excerpts, and lots and lots of stories. If you happen to be fascinated by gods, giants, intrigue, magic potions, betrayal, greed…and love, be sure to attend this humorous and musical evening. Free. One time only.
And, for an up-close and personal experience with opera, consider going to "Les Uncomfortables," in Duluth,  a reprise of the hugely popular opera spoof produced by Lyric Opera of the North and Colder by the Lake. The original production was staged in 2001.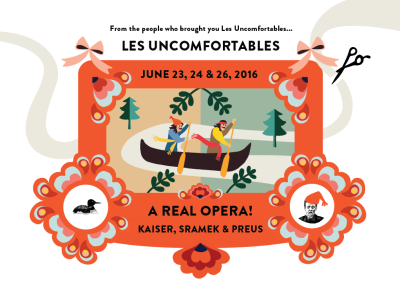 "Les Uncomfortables" is an original comic opera, sung in English. It is based on the true adventures of Daniel Greysolon Sieur duLhut, the explorer for whom the city of Duluth is named. The story includes love and loss, portaging and paddling, and mosquitoes and mistaken identity.
Performances are June 23 and 24 at 7:30 p.m., and June 26 at 2 p.m. at Lincoln Park Middle School, 3215 W. 3rd St. in Duluth. Tickets are $30, $40, and $50 plus a $4 ticketing fee. $10 student tickets are available by calling 218-464-0922. Select your seats at www.loonopera.org.
Also in Duluth, a new gallery is opening with a reception on Saturday. Lakeside Gallery, 4431 East Superior Street, is founded by painter Aaron Kloss, and features a variety of art work from local and regional artists.
A reception for this month's featured artist, Shawna Gilmore, will be held from 1-3 p.m. The gallery is open from 10 a.m. to 5 p.m. Tuesday through Saturday.
In Thunder Bay, the Definitely Superior Art Gallery's new exhibitions continue with the Members Show, a Die Active Art Collection and video screenings by Creator Project 6.
The exhibits continue through July 23.
And the exhibit, "Arthur Shilling: The Final Works" continues at the Thunder Bay Art Gallery.
Many of the works in the exhibit have not been shown publicly before. Works have been borrowed from the Shilling Estate as well as many private and public collections.
Upcoming:
 The Grand Marais Art Colony will hold a Satellite Trunk Show featuring the work of jewelry designers Tedd McDonah & Beth Novak for First Fridays, July 1.  Novak has been a jewelry designer for more than 30 years and is the Art Colony's featured artist for the month of June.
Visit the Art Colony on the First Friday of July to view her work.  Work by Pennsylvania jewelry artist, Tedd McDonah, as well as members of the Minnesota Jewelry Arts Guild, will also be on display

.
Then, from 4:30-6:30 on July 1, the Art Colony will feature the 100-Day Project Digital Exhibition. Work was submitted from artists across the Midwest, including Grand Marais, who participated in the project: making art each day for 100 days.
Marty Harris will hold an opening reception for his solo show at Tettegouche State Park from 7-9 p.m. July 1. Michael Monroe will play. Stay tuned for details.
In other art news:
 Sivertson Gallery visited the studio of potters Paul Zoldahn and Gail Rosenquist recently. Rosenquist is a new artist at the gallery, joining her husband, Zoldahn.
Woodcut printmaker Betsy Bowen will be exhibiting at the Park Point Art Fair in Duluth this weekend.
The art fair is held at the end of Park Point on Saturday and Sunday.
The Blue Moose has a new line of pottery by the Bill Campbell Studio in Cambridge Springs, Penn. Stellar Art Pottery features a broad selection of functional and decorative stoneware vases, bowls, plates and platters, with impressionistic glazes.
Bonnie Gay Hedstrom will present a fiber painting class at Kah-Nee-Tah Gallery on Saturday from 5-7 p.m.
Reservations are required for this class. Call 218-387-2585 for more info and to register.
Joy & Co. has just received new Thompsonite stones. They are loose– not set in jewelry.
Great Gifts of Lutsen is featuring Lake Superior Mood Lamps by Todd and Julie Moser of Lutsen.
The lamps come in three sizes.
Natalie Sobanja has brought in new lidded jars to Betsy Bowen's Studio & Galleries. Jewelry designer Ron Piercy has crafted new Thomsonite rings and earrings, which are on display.
Paula Sundet Wolf is exhibiting her paintings at the Coho Cafe in Tofte.
And last, but not least, there will be a bronze pour at Last Chance Gallery in Lutsen at 4 p.m. on Saturday. Also of note, Kristin Blomberg is exhibiting her work there.
Here's the music schedule for this weekend. P.S. Rich Mattson and  Germaine Gemberling, who play at the Gun Flint Tavern this weekend, will be on WTIP's The Roadhouse to talk about their music and play a few tunes. The Roadhouse airs from 5-7 p.m.
Thursday, June 23:
Joe Paulik, Music by the Campfire, Lutsen Resort, 8:30 p.m.
Friday, June 24:
Timmy Haus, Voyageur Brewing Co., 4 p.m.
Bug Lite!, Birch Terrace, 5 p.m.
Portage Band, Grandma Ray's, 6 p.m.
Rich Mattson and the NorthStars, Gun Flint Tavern, 8:30 p.m.
Jim & Michele Miller, Bluefin Grille, 9 p.m.
Saturday, June 25:
Willie Waldman, Voyageur Brewing Co., 4 p.m.
Billy D, Sydney's Rooftop, 6 p.m.
Jon Kallberg, Lutsen Resort Lobby, 7 p.m.
Rich Mattson and the NorthStars, Gun Flint Tavern, 8:30 p.m.
The 4ontheFloor, Papa Charlie's, 9 p.m.
Sunday, June 26:
Sawbill Trio, Voyageur's Brewing Co., 4 p.m.
Blue's Happy, Mogul's Grille, 5 p.m.
Clouds, eagles and wolves are just a few of the images we found this week.
Here are some images from the storm.
The eaglets we've been featuring from the DNR nest in St. Paul have grown up. Here they're flying high and playing in the sky.
Instead of fast and speedy, how about slow and steady?
Here are some more wildlife shots.
Nace Hagemann caught this lone wolf watching a moose cross the road the other day.
And here's a moose on Isle Royale.
Here's a lovely rose from the Grand Marais' Rose Garden.
Sandra Updyke caught this beauty while camping this weekend.
And here's another beauty by Paul Sundberg.
We began with a Solstice moonrise. Let's end with a Solstice sunrise. Enoy!
Have a great weekend!