Summer on the North Shore explodes with activity in July. Arts events, especially, capture the essence of living on the Big Lake, drawing inspiration from its blue waters.
The weekend starts at the Hovland Town Hall where the American-Argentine duo, Axtell, celebrate the release of their first CD, "No More Monkey Business."
The folk/soul duo play guitar and ukulele, and the concert will feature high-energy, family-friendly songs (both familiar and original) and special guest performers. The concert is at 8 p.m. Tickets are $8 adults. Children are admitted free. Axtell will also perform at noon at the Hovland Arts Festival on Saturday and Sunday. (See below for details of the arts festival.)
July 1 is First Fridays in Grand Marais, and there are a variety of activities/receptions at shops and galleries around town.  Some highlights:
The Grand Marais Art Colony will feature the 100 day Project Digital Exhibition from 4:30-6:30 p.m. on Friday. The video shows work by artists across the Midwest who participated in the project, focusing on creating and artistic play for 100 days. The public is invited to drop in and be inspired.
At Betsy Bowen's Studio and Galleries, woodturner Jim Sannerud and ceramic tilemaker Melissa Wickwire will be giving demonstrations throughout the day.  The galleries are open until 7 p.m.
Sivertson Gallery is featuring a Summer Trollbead Trunk Show Thursday through Sunday.
One of the highlights this Friday is the opening of Marty Harris' solo exhibit at Tettegouche State Park. Entitled "Sidewalk to Superior" the exhibit features work inspired by the northern Minnesota landscape.
Harris writes:
"I'm on a Sidewalk to Superior. After decades of looking out the bay window toward the neighbor's yard I have stepped outdoors, taken a deep breath, and ventured up the sidewalk to where it leads. With head up, eyes open and nostrils wide, I have been drawn upstate by the romance of life and landscape in northern Minnesota along the big lake, with a couple of stops inbetween. Narrative reveals itself with every step and every mark made between this Minneapolis suburb and the Canadian border."
The opening reception at Tettegouche is from 7-9 p.m. on Friday. Michael Monroe will play. All invited.
One of the highlights of the July 4th weekend is the Hovland Summer Arts Festival held at the Hovland Town Hall from 10 a.m. to 4 p.m. Saturday and Sunday. This arts festival has grown every year, and showcases local artists, including several from Thunder Bay. The festival features pottery, photography, lathe-turned wooden bowls, jewelry, beeswax products, painted gourds, fiber art, woodcarving, beadwork, painting, leather work, birchbark art, and more.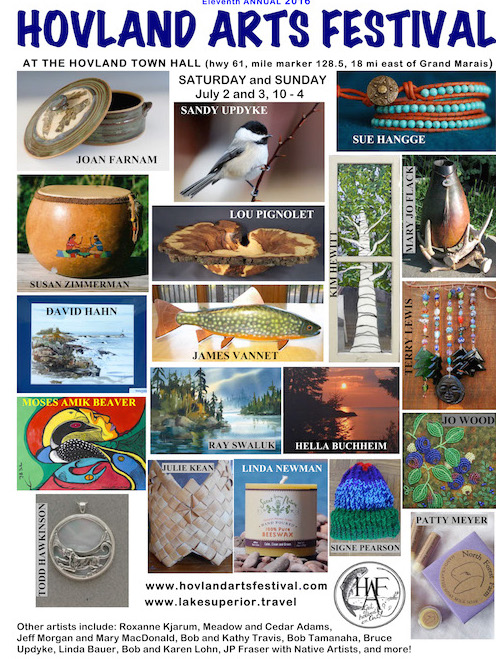 The festival also includes two days of music from local musicians, and food sold and prepared by the adjacent Trinity Lutheran Church. Here's the music line-up:
Saturday: Joe Paulk, 10 a.m., Axtell, noon, Brothers in Arms, 2 p.m.
Sunday: Flutereed Ramblers, 10 a.m., Axtell, noon, Yvonne Mills, 2:30 p.m
The art experience continues this weekend in Grand Marais as well.
The Cook County Farm & Craft Market is held at the Senior Center parking lot from 9 a.m. to 1 p.m. on Saturday, featuring a wide selection of arts and crafts as well as vegetables in season.
Also on Saturday, a number of demonstrations are scheduled.
Cooper Ternes will demo bowlturning at his shop in Joy & Co's building at 10:30 a.m., 12:30 p.m. and 2:30 p.m. Saturday through Monday.
Betsy Bowen will demonstrate woodcut printmaking at her studio from noon to 3 p.m. on Saturday, and Jerry Riach will give an intaglio printmaking demo at the Art Colony at 1 p.m.
At Kah-Nee-Tah Gallery in Lutsen, watercolorist Tom Soucek will be the featured artist all weekend. He will give painting demos at the gallery from 10 a.m. to 4 p.m. Saturday through Monday.
The public is invited to stop in and see how these paintings are created.
And, at Sugarloaf Cove, Peter Juhl will give rock balancing demos at 10 a.m. Sugarloaf Cove is located at 9096 Hwy. 61 in Schroeder.
Last Chance Gallery in Lutsen continues it's Bronze Pour series at 4 p.m. this Saturday as well. The public is invited to watch this exciting event. Free. And for a perk, check out Tom Christiansen's floating turtle, crafted from bronze. They turtles are in the gallery.
On Sunday, the new Chik-Walk Nature Center on the Gunflint Trail will hold a grand opening from 11 a.m. to 4 p.m. Artist Keith Morris, who created a loon sculpture mounted on the ceiling so spectators can view it as if they were under water looking up, will talk about his work during the event.
The 4th of July is Monday, and kicks off with the Tofte Trek in the morning at the Birch Grove Community Center followed by the Tofte 4th of July Celebration in downtown Tofte. Music with Cook County's Most Wanted, a beer garden and an art and craft show are featured. The parade starts at 2 p.m.
In Grand Marais, the First Congregational Church will hold an Ice Cream Social from 6:30 to 8:30. The public is invited.
Then The SplinterTones will play for an outdoor dance in Harbor Park from 8-10 p.m.
Fireworks will held in Tofte, Grand Marais and Grand Portage after dark.
In other art news, the Johnson Heritage Post continues the solo exhibition of paintings by Karen Savage Blue. The exhibit includes a video about her crafted by WDSE's The Playlist.
The Heritage Post is open daily from 10 a.m. to 4 p.m.
In Thunder Bay, the Thunder Bay Art Gallery is exhibiting "The Teaching is in the Making: Re(Store)ied Memories of Anishinabeg," which features the work of local artists Leanna Marshall and Celeste Pedri-Spade. The gallery also is exhibiting "The Art of Adornment: Jewelry from the Permanent Collection," and "Arthur Shilling: The Final Works," organized and circulated by the Art Gallery of Peterborough.
The Tweed Museum of Art in Duluth is exhibiting Jeffrey T. Larson's paintings in a show entitled "Domestic Space."
Larsen will give an artist talk about his work from 2-4 p.m. July 16.
Also just down the road, author Mary Sharratt will be at Drury Lane Books at 5 p.m. July 9 to talk about her latest novel, "The Dark Lady's Mask: A Novel of Shakespeare's Muse."
"The Dark Lady's Mask" is the story of Aemilia Bassano Lanier (1569–1645), the first professional woman poet in Renaissance England, and her collaboration—and star-crossed love affair—with William Shakespeare, as his Dark Lady. Sharratt, who lives in England, will give the presentation in period dress. Free and open to the public.
And, the best of July– the Grand Marais Arts Festival — will be held July 9-10. It will fill downtown Grand Marais with white tents, incredible art and lots of excitement.  More than 70 local and regional artists will be featured this year, and lots of activities, demos and more are planned. Stay tuned for details!
Here's the music schedule for this weekend:
Thursday, June 30:
Joe Paulik, Music by the Campfire, Lutsen Resort, 6 p.m.
Axtell, CD Release Show, Hovland Town Hall, 8 p.m.
Friday, July 1:
Gene Lafond and Amy Grillo,  Voyageur Brewing Co., 4 p.m.
Earth, Wind & Todd, Grandma Ray's, 8 p.m.
Space Monster, Gun Flint Tavern, 8:30 p.m.
Michael Monroe, Bluefin Grille, 9 p.m.
Saturday, July 2:
Cook County's Most Wanted, Birch Terrace Deck, 3 p.m.
Ben Johnson and the Road Beers, Voyageur Brewing Co., 4 p.m.
Shoot from the Hipsters, Sydney's, 6 p.m.
Eric Frost, Lutsen Resort Lobby, 7 p.m.
Michael Monroe, Log Cabin Concert, rural Grand Marais, 7 p.m. Reservations at 612-789-2255.
Jim and Michelle Miller, Cascade Lodge Pub, 7:30 p.m.
Earth Wind & Todd, Grandma Ray's, 8 p.m.
Dusty Heart, Gun Flint Tavern, 8:30 p.m.
Sunday, July 3:
Pete K, Voyageur Brewing Co., 4 p.m.
Joe Paulik, Big Bear Lodge, 6 p.m.
Bughouse, Gun Flint Tavern, 8 p.m.
Monday, July 4:
Cook County's Most Wanted, Tofte 4th of July Celebration, 11 a.m. to 5 p.m.
Jim McGowan, Voyageur Brewing Co. 4 p.m.
The SplinterTones, Harbor Park, 8 p.m.
Bug Dope, Gun Flint Tavern, 7:30 p.m.
Scott Frazer, Bluefin Grille, 9 p.m.
Tuesday, July 5
Joe Paulik, Gun Flint Tavern, 7 p.m.
Wednesday, July 6:
Eric Frost, WTIP, noon
Timmy Haus, Moguls Grille, 5 p.m.
Gordon Thorne & Bob Bingham, Bluefin Grille, 9 p.m.
We found a wide variety of great photos this week.
Let's start with a human. Thomas Spence took this awesome photo of one of the competitors in the Lutsen 99er last week.
And here's a great action shot, too.
Here's a cute "orange" moosling.
David Gilsvik had a chance to see some Peregrine Falcon chicks the other day. He got this great image of the young raptors.
And Carol Bowman took this fantastic photo of a loon the other day.
And for a change–vegetative shots.
Here are some other landscapes:
And here are two different views of the Big Lake.
Have a Happy 4th, everyone!