The fullness of summer has descended on Cook County, with balmy days, good fishing, wild blueberry feasts and lots of things to do and see.
One of the highlights of the season is the Grand Marais Playhouse's Summer Theatre Festival, and this year's offerings are extra special.
In fact, Jay Arrowsmith DeCoux, the mayor of Grand Marais, has  declared July and August "Go to the Theater Months."
In the proclamation, the mayor urges "all citizens to join in recognizing the contributions of the Grand Marais Playhouse to our region by attending both of the summer performances for its 45th season."
The mayor has great advice.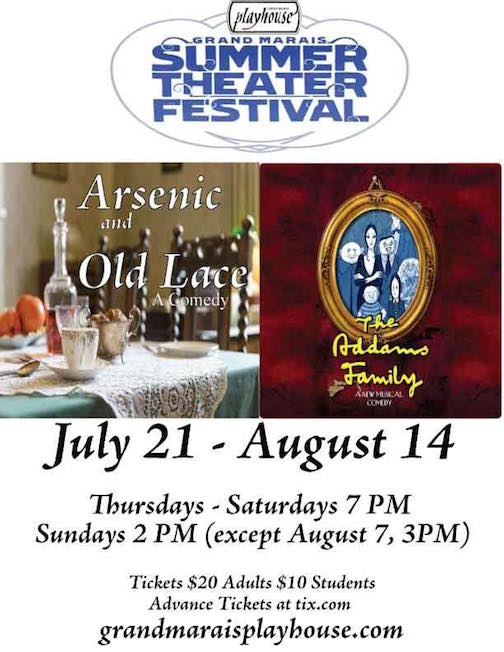 We've seen "The Addams Family: A New Musical Comedy" and, on the basis of that experience, will definitely make a point of going to "Arsenic & Old Lace."  "The Addams Family" is very funny, and musically and visually exciting. The entire cast is fantastic and includes several talented family groups: the Roths (Mike, Karina and Greta), the Henriksons (Robin, Amy & Jan Healy) and the Bragstads (John and Susan), as well as other talented community members. Mark Abrahamson plays an eccentric and hilarious Gomez Addams, and Karen Blackburn plays his "luscious" wife, Morticia. Soprano Erika Ternes plays Lurch, and clumps around the stage without saying much, except, at the very end, when she walks off the stage singing a perfect E Flat. Need more be said?
"The Addams Family" and "Arsenic & Old Lace" are in repertory Thursdays through Sundays at the Arrowhead Center of the Arts through Aug. 14, so there is plenty of time to catch the performances.  This week, "The Addams Family" is performed at 7 p.m. Thursday and Saturday. "Arsenic & Old Lace" at 7 p.m. Friday and 2 p.m. Sunday. For tickets, see www.tix.com.
Also on Thursday, the next gathering of the Arrowhead Sketchers will be at Jeanne Hedstrom's home, 817 W. 1st Street, Grand Marais, at 5:30 p.m. Bring whatever materials you'd like to sketch/paint with and join the fun. Open to everyone.
And on Friday, a creative exhibit developed by Grand Marais potter Bob LaMettry and Johnson Heritage Post director, Don Davison, opens at the Johnson Heritage Post. Entitled "Ceramics of Cook County," the show features work by most, if not all, of the potters who live here — 17 in all. The work ranges from functional earthenware and stoneware to sculpture and decorative pieces.
Ceramic artists in the show include: Maggie Anderson, Nathan Anderson, Tara Block, Elaine Dean, Joan Farnam, John Franz, Jeanne Knight, Bob LaMettry, Dan and Lee Ross, Mike Smieja, Natalie Sobanja, Bob Tamanaha, Kari Tarver, Ann Ward,  Melissa Wickwire and Peggy Little.
The opening reception is from 5-7 p.m. on Friday. Refreshments will be served, and Dat Dere Jazz will play. All invited.
On Saturday, the Cook County Farm & Craft Market, featuring lots of arts & crafts as well as baked goods (wood-fire artisan breads, for example) and produce in season. The Market is held in the Senior Center parking lot from 9 a.m. to 1 p.m.
Also on Saturday, Nancy Haarmeyer and Penny Ortmann will give a demonstration of Suminigashi at 1 p.m. at the Grand Marais Art Colony.
Suminigashi or "floating ink" is the process of marbling plain paper with water and ink to transform it into something vibrant and colorful. The demo is free. All invited.
Then, Last Chance Gallery in Lutsen will hold a "Bronze Pour at Four," a demonstration of bronze pouring at the studio at 4 p.m. The public is invited to see this exciting artistic process.
In Duluth, a solo exhibit by Martin DeWitt at the atrium at the Zeitgeist Cafe closes on Saturday. DeWitt is a painter who was the director at the Tweed Museum of Art for years.
DeWitt will be at the show on Friday evening around 5 p.m. and invites friends to join him.
On Sunday, Native American singer/songwriter Keith Secola will be at the Red Herring Lounge in Duluth at 7 pm. The 4th annual Love Water Not Oil tour is a benefit for Honor the Earth. For more info, click here.
In Wrenshall, just outside the Duluth, the 13th annual Free Range Film Festival will be held on Friday and Saturday featuring a variety of alternative and quirky videos and films. For more info, see www.freerangefilm.com.
Upcoming:
 Fisherman's Picnic in Grand Marais runs from Wednesday through Sunday next week. The weekend features events, lots of live music, contests, tournaments, food, craft fairs and the Friends of the Library's annual Used Book Sale. Stay tuned for details next week. For the complete schedule, click here.
In other art news:
 Sivertson Gallery has a wall full of Liz Sivertson acrylic paintings.
Betsy Bowen has just completed a new print.
Bowen and the gallery will celebrate the 25th anniversary of Bowen's book,  "Antler, Bear, Canoe" Oct. 8. Stay tuned.
Painter Sandi Pillsbury-Gredzens will do an independent residency next week at the Grand Marais Art Colony and will host an open studio on Saturday, Aug. 6.
Pete Juhl is one of the artists exhibiting at the Cross River Heritage Center.
Other artists include Kathy Gray-Anderson (photographs), David Hahn (watercolors) and Paula Sundet Wolf (acrylics and pastels.)
The Blue Moose is featuring a new artist, Mark Schnieder of Minneapolis, who uses Lake Superior rocks embedded in sand to create wall hangings.
Marty Harris' solo exhibit at Tettegouche State Park is up through July 31.
Kah Nee Tah Gallery in Lutsen has watercolors by Peggy Thompson.
Judy Hurd has a variety of jewelry at Last Chance Gallery in Lutsen. She works with Red Creek jasper, agates, jade and silver beads.
Heidi Sobanja has new work at Betsy Bowen's Studio & Galleries.
And last, but not least, Drury Lane Books has arranged a selection of books addressing particular topics on the end caps of shelves, including one entitled: Books That Have Shaped America, inspired by a PBS program. Titles include "Uncle Tom's Cabin," "Little Women," "Silent Spring," and "Catch 22,"  to name a few. The bookstore has also set up a collection of books about diversity.
Here's the music for the weekend:
Thursday, July 28:
Joe Paulik, Music by the Campfire, Lutsen Resort, 6 p.m.
Frozen Britches, Cascade Lodge Pub, 7:30 p.m.
Friday, July 29:
Dat Dere Jazz, Johnson Heritage Post, 5-7 p.m.
Timmy Haus, Voyageur Brewing Co., 4 p.m.
Pete K, Papa Charlie's Deck, 6 p.m.
Shoot from the Hipsters, Sydney's Deck, 6 p.m.
Bug House, Grandma Ray's, 8 p.m.
Crazy Chester, Gun Flint Tavern, 8:30 p.m.
Jim Miller, Bluefin Grille, 9 p.m.
Saturday, July 30:
Eric Frost, Voyageur Brewing Co., 4 p.m.
Joe Paulik, Music by the Campfire, Bluefin Bay, 7 p.m.
Michael Monroe, Log Cabin Concert, 7 p.m. Rural Grand Marais, www.michaelmonroemusic.com
Pushing Chain, Lutsen Lobby, 7 p.m.
The SplinterTones, Grandma Ray's, 7 p.m.
Axtell, Cascade Lodge Pub, 7:30 p.m.
Crazy Chester, Gun Flint TAvern, 8:30 p.m.
Timmy Haus, Papa Charlie's, 9:30 p.m.
Sunday, July 31:
The SplinterTones, Mogul's Grille, 5 p.m.
Black River Revue, Gun Flint Tavern, 7 p.m.
Monday, Aug. 1:
Songwriter Series, Papa Charlie's, 8:30 p.m.
Black River Revue, Gun Flint Tavern, 8:30 p.m.
Tuesday, Aug. 2:
Joe Paulik, Gun Flint Tavern, 7 p.m.
Wednesday, Aug. 3
Timmy Haus, Moguls Grille, 5 p.m.
Gordon Thorne & Bob Bingham, Bluefin Grille, 9 p.m.
And here is a selection of photographs we found this week.
Nace Hagemann posted this photo on his Facebook page this week. He said he was going through his files and realized he had never posted it last winter. He calls it "Bullseye."
David Johnson was out shooting bald eagles and caught this eagle catching its dinner.
Kjersti Vick found these emerging mushrooms the other day.
Vick also took this beauty.
We found some interesting images by Christian Dalbec this week. Here's a selection.
And this one:
And this one:
Here are some quintessential Lake Superior photos.
The inland lakes are beautiful, too.
And this great capture, by Erin Altemus.
Have a great weekend, everyone!