Grand Marais and the North Shore celebrates its history and connection to Lake Superior this weekend with the 86th annual Fisherman's Picnic.
Fisherman's Picnic, put on by the Grand Marais Lions Club, is held in downtown Grand Marais and several other locations in the area.  It starts on Thursday and continues through Sunday with an incredible array of events, contests of every variety, two arts & crafts shows, a giant used-book sale, food, lots of live music in Harbor Park, street dances, a great parade and plenty of time to meet with friends and relatives. There are lots of class reunions this weekend, too, and the floats they make for the Sunday parade are always great.
The Friends of the Library hold a gigantic used-book sale at the Cook County Community Center, too, opening with a Members-Only sale on Thursday and culminating with a bag sale on Saturday. Definitely a must-do for book lovers.
Everybody has their favorite contests, too, and the list is impressive. A loon-calling contest, a fish throwing contest, a rock-throwing contest, log rolling, the Cutest Puppy contest, a tractor pull, a walk-run on Pincushion Mountain, softball and tennis tournaments, a Big Fish contest — the list really does go on and on. Check out the complete schedule here.
And not to forget the famous fishburgers, served up by the volunteers from the Grand Marais Lions and Lionesses. Members sell raffle tickets, too, with a $10,000 Grand Prize.
Everyone is invited to come down and enjoy this heart-of-the-summer celebration in Grand Marais this weekend.  (For the complete music schedule in Harbor Park, see music  below.)
Because the town (and county) is fairly jammed with people from all over the country, other organizations and businesses get involved in activities as well, including the Crazy Daze sales at downtown businesses.
There are demos and activities at arts organizations, too. For example, Cilla Walford will give a watercolor demonstration at the Grand Marais Art Colony at 1 p.m. on Saturday, and there's a Bronze Pour at Last Chance Gallery in Lutsen at 4.
And there's great theater to enjoy. The Grand Marais Playhouse Summer Theater Festival is on-going with two plays in repertory. "Arsenic & Old Lace" will be performed at 7 p.m. Thursday and Saturday at the Arrowhead Center for the Arts. "The Addams Family: A Musical" will be performed at 7 p.m. Friday and 2 p.m. Sunday. The talk on the street is that both plays are outstanding. Tickets can be purchased at the door or at tix.com.
Joy & Co. has a community art project set up in its space as well where people can share a poem or artwork to send out peace to the world.
The Johnson Heritage Post has a great pottery show on this month, too. Entitled "Ceramics in Cook County," the exhibit features ceramic work by 17 local artists including functional and decorative pottery. One of the exhibitors is Maggie Anderson, who specializes in porcelain and raku pieces.
Anderson is teaching a raku class at the Art Colony from 1-7 p.m. on Friday, and the public is invited to come and observe.
The Johnson Heritage Post is open from 10 a.m. to 4 p.m. Mondays and Wednesdays through Saturdays, and from 1-5 p.m. Sundays. It is closed Tuesdays.
Sandi Pillsbury-Gredzens, an accomplished painter, art instructor and former board member (and president) of the Grand Marais Art Colony, is doing an independent residency this week in the Founders Hall at the Art Colony. She will hold an Open Studio at 1 p.m. on Saturday at the Art Colony and will give a brief talk. Sandi said she is working with images from her travels in Europe on very large canvasses.
There's a new exhibit at the Cook County Courthouse as well. Jim Ringquist has installed a panoramic photographic exhibit in the lobby entitled "Lake Superior and Cook County Through Panoramic Eyes."
Also this weekend, The Cross River Heritage Center is holding a Taconite Harbor Reunion on Saturday starting at 1 p.m., with the kick-off event being "Conversations About Living and Growing Up in Taconite Harbor." The Heritage Center is featuring two historic exhibits this year:  "Boom Town to Ghost Town" and "Lost Resorts." All invited.
In Thunder Bay, the Baggage Building Art Center at Prince Arthur's Landing on the shores of Lake Superior, has opened an exhibit entitled "Duluth Youth Art Exhibition." Duluth and Thunder Bay are Sister Cities.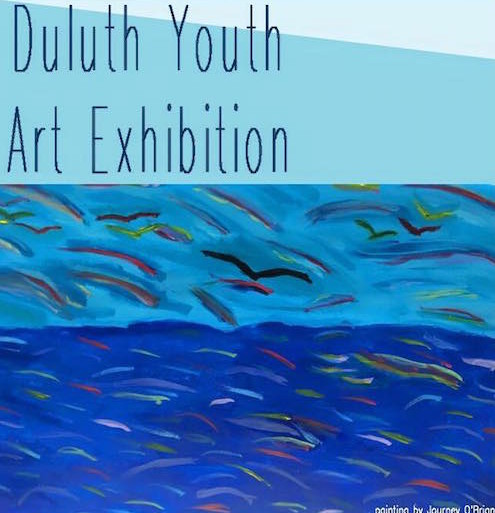 Upcoming:
 The Grand Portage National Monument Rendezvous Days and Celebration Pow-Wow is next weekend in Grand Portage. It's a grand event, with more than 100 re-enactors camping out on the Monument, games, demonstrations and more, as well as a three-day pow-wow at the Grand Portage Band of Lake Superior Chippewa's pow-wow grounds.
The Tall Ship, The Mist of Avalon, will be in Grand Portage for the Rendezvous.
Stay tuned for details next week.
The Wood, Winds & Strings Concert on the Gunflint Trail is at 4 p.m. on Sunday, Aug. 14 at Fire Station #1, about 26 miles up the Trail.  A reception follows in the adjacent A. Paul and Carol Schaap Community Center.  The music this year will be a mix of classical, jazz, and a newly composed piece by Bill Beckstrand, commissioned for this concert.  Bill's piece is in honor of the Schaap's wedding anniversary; it was commissioned by David and Patricia Coleman. Local musicians will perform. For reservations, call the Chik-Wauk Museum and Nature Center (218-388-9915).  Ticket prices are $20/adult, $5/children to 18.  Children under 5 are have free admittance. Get your tickets now. This concert always sells out.
A Lake Superior cruise through fishermen's eyes: Join the North Shore Commercial Fishing Museum on Tuesday, Aug. 16 for a cruise along Lake Superior's shoreline narrated by Walter and Floyd Sve. The Sve family has commercially fished near Split Rock River since 1927.  See the shoreline through a fisherman's eyes, hear about the hazards and storms, find the few remaining fish houses.  Arrive at the Silver Bay marina at 5 p.m. $50 per person, payable by cash or check. Reservations required; tickets are limited. Email your reservation to info@commercialfishingmuseum.org or call 218-663-7050 and leave a message.
Plein Air Grand Marais, a week-long outdoor painting competition and exhibition, will be held Sept. 9-17 this year.
In the competition, 60 artists paint the inspiring landscapes of Cook County and exhibit their work at the Johnson Heritage Post. The opening reception is Sept. 16 at 5 p.m. The exhibit continues through Nov. 13.
In other art news:
 The Arrowhead Sketchers will meet at Hedstrom Lumber Co., this week. They will meet at 5:30 p.m. this Thursday in the parking lot on the west side of the Hedstrom office building. The Hedstrom Mill is located on the Gunflint Trail about 5 to 6 miles out of Grand Marais.
Free. Participants are invited to bring their sketchbooks and pens/paints/pencils and capture one of Cook County's iconic, historical locations.
Neil Sherman has two paintings in "Sea to Sea," a collection of works featuring the mountains, rivers, plains and forests at parks throughout the United States at the Groveland Art Gallery in Minneapolis.
The exhibit opened in June and concludes Aug. 13.
Painter Misha Martin has new work at Last Chance Gallery in Lutsen.
Great Gifts of Lutsen is featuring leather ornaments by Darrell Hanson of Duluth, including a standing leather moose.
This week's music schedule:
Thursday: Aug. 4:
Fisherman's Picnic in Harbor Park
Joe Paulik , 1-2:30 p.m.
Cook County's Most Wanted, 3-6 p.m
Street Dance with Heck Yeah Holler String Band, 7-10 p.m.
Other Music:
Joe Paulik, Music by the Campfire. Lutsen Resort, 6 p.m.
Earth, Wind & Todd, Grandma Ray's, 8:30 p.m.
Friday, Aug. 5
Fisherman's Picnic in Harbor Park
Chris Mammenga, 11 a.m.
Axtell, 1 p.m.
 Spruce Roots, 3 p.m.
Street Dance with Plucked Up String Band, 7 p.m.
Other Music:
Jim McGowan, Cascade River State Park, 4 p.m.
Shoot from the Hipsters, Sydney's Frozen Custard, 6 p.m.
J Squared and the Makers, Music by the Campfire, Eagle Ridge Resort, 6 p.m.
Cook County's Most Wanted, Grandma Ray's, 8:30 p.m.
Flyodian Slip, Gun Flint Taern, 8:30 p.m.
Eric Frost, Bluefin Grille, 9 p.m.
Saturday, August 6:
Fisherman's Picnic in Harbor Park:
Michael Monroe, 1 p.m.
Dat Dere Jazz  3 p.m.
SplinterTones, Street Dance, 7 p.m.
Other Music:
Plucked Up String Band, Voyageur Brewing Co., 4 p.m.
Billy Johnson, Papa Charlie's Deck, 6:30 p.m.
Joe Paulik, Music by the Campfire, Bluefin Gay, 7 p.m.
Mama's Stolen Horses, Lutsen Resort Lobby, 7p.m.
Michael Monroe, Log Cabin Concert, 7 p.m., tickets michaelmonroemusic.com
Flyodian Slip, Gunflint Tavern, 8:30 p.m.
Timmy Haus, Papa Charlie's, 9:30 p.m.
Sunday, Aug. 7
Fisherman's Picnic in Harbor Park
Lake Effect, noon
Shriner's Band, 2 p.m.
Bagpipers, 2:45
Also:
Gordon Thorne & Chris Gillis, Gunflint Tavern, 2 p.m.
Gordon Thorne & Chris Gillis, Mogul's Grille, 5 p.m.
Rod & Al, Gunflint Tavern, 7 p.m.
Monday, Aug. 8:
Ben Kyle, Monday Songwriter Series, Papa Charlie's, 8 p.m.
Eric Frost, Bluefin Grille, 8 p.m.
Tuesday, Aug. 9
Brothers in Arms, Gunflint Tavern, 8 p.m.
Wednesday, Aug. 10:
Timmy Haus, Moguls Grille, 5 p.m.
Gordon Thorne & Bob Bingham, Bluefin Grille, 9 p.m.
Here are some of the wonderful photos we found this week:
And last, but not least, this perfect shot for Fisherman's Picnic weekend! Enjoy!