Ah, it's nice to have winter here again. This week's snowfall coated trees and roads (and ski hills and ski trails) with plenty of snow. And the best news? Below freezing temps means it will stay that way for awhile.
It's perfect timing, too, as everyone begins to celebrate the holiday season. This weekend is Julefest at the Bethlehem Lutheran Church. The Scandinavian Christmas Festival features a chance to sample delicious homemade Scandinavian holiday treats at 1 p.m. and the St. Lucia program at 2 p.m.
According to legend, St. Lucia was a young Christian girl who was martyred in 304 AD. The most common story told about her is that she would secretly bring food to the persecuted Christians in Rome who hid in the catacombs under the city. St. Lucia would wear candles on her head so she had both her hands free to carry food. It is celebrated in Sweden on Dec. 13. The event is open to the public.
Also on Saturday, Kah-Nee-Tah Gallery in Lutsen celebrates its two-year anniversary with refreshments and live music by Gordon Thorne from 3-7 p.m.
The public is invited to attend this festive event to enjoy the tastes of the season and see a wide variety of local and regional art.
And not to forget the Holiday Underground Art Show at the Betsy Bowen Studio and Galleries. The show, which opened last weekend, features work by more than 30 local and regional artists. Paintings, pottery, fiber art, jewelry, tiles, woodcut prints, cards and books are just a few of the featured items in this fun show.
The Holiday Art Underground Show is open through Dec. 24. Gallery hours are 11 a.m. to 5 p.m. Thursday through Saturday. And, if the light is on and you can see an "Open" sign, stop in.
In Duluth, the Minnesota Ballet presents "The Nutcracker" in Symphony Hall in the DECC with performances at 7 p.m. Dec. 9 & 10 and at 3 p.m. Dec. 11.
The performances premiere live music with the Minnesota Ballet Orchestra and the Superior Youth Chorus. For tickets, click here.
Also this weekend in Duluth, artist Brian Barber opens a show at Beaner's Central from 6-8 p.m. Dec. 8.
Also, the Duluth Art Institute's Holiday Pottery Sale will be held in the Lincoln Building, 2229 W. 2nd, on Saturday and Sunday.
There are several interesting art exhibits in Thunder Bay, too.
Definitely Superior Art Gallery, 250 Park Ave., is featuring two exhibits this month: "Ineffable," the 28th annual Juried Exhibition and Creators Project 6, international video screenings.
"Ineffable" features works by more than 45 local and regional artists, selected by a panel of jurors. The gallery is open Tuesdays through Saturdays, noon to 6 p.m.
The Thunder Bay Art Gallery, on the campus of Confederation College, has a number of exhibits this month, including John Books: Oxen of the Sun and Elizabeth Buset: Swine.  In the Community Room, an exhibit entitled "Expression of Spirit" can be seen.
This exhibition celebrates artwork from the Thunder Bay Art Gallery's permanent collection. The works selected illustrate one's ability to communicate and exchange information with our surroundings; with places, the land, animals, with spirit and family or friends. It is curated by Carol Kajorinne. The gallery is open from noon to 8 p.m. Tuesday through Thursday, noon to 5 p.m. Friday through Sunday. It is closed on Mondays. There is a small admission fee.
The Grand Marais Art Colony will host Carrie McHugh, Cook County Historical Society director, for a presentation on its collection of glass negatives created by Maude Small Toftey in the 1900s. The presentation is part of the Art Colony's Community Conversations series, an opportunity for the local arts community and Art Colony members to connect and dialogue about various aspects of the arts in a guided discussion format.
McHugh will present at noon on Wednesday, Dec. 14, and show some of Toftey's images, talk about their story and open a discussion about their artistic value. Everyone is invited. Free. Bring your lunch if you wish.
Upcoming Community Conversation presentors include Melissa Wickwire, a local potter and tile maker who will talk about her work with large-scale ceramic installations at noon on Jan. 18.  Ryuta Nakajima, a contemporary artist and associate professor of art at UMD, will talk about the history and nature of installation and conceptual art at 2 p.m. on Saturday, Jan. 21.  Stay tuned.
And, on Tuesday, Dec. 13, felter Elise Kyllo will host "Felting Holiday Ornaments and FUNdraiser for Lakeview Dairy" from 4-8 p.m. at the First Congregational Church.
Participants in the community felting workshop will make a cow pin or milk bottle ornament. These will be sold to raise funds for the dairy.  They can stay stay longer, too, and make an ornament for themselves and/or bring their old holey wool socks and learn how to repair them. $5-$15 suggested donation.  Snacks are welcomed.  Contact Elise for more info at  612-961-4691.
Upcoming
 There will be a dinner in honor of Scottish poet Robert Burns at the Cascade Lodge Restaurant on Jan. 21. The program will include a tartan weaving demonstration, music, a full course dinner, poetry readings, and a sing-a-long of Burns' more familiar songs. A piper from Thunder Bay will pipe in the haggis before the dinner.
For more information and reservations, call Jeff Morgan at 387-1221 or email
creative@boreal.org by Jan. 11.
In Other Art News:
Aaron Kloss seems to capture the light of the season in this painting. The Duluth artist has brought in a number of new paintings to Sivertson Gallery.
Neil Sherman is exhibiting his work at the Grand Hill Gallery in St. Paul. This painting of the High Falls of the Pigeon River was painted in the spring, but, except for the leaves on the trees, looks an awful lot like the falls last week after a 4-inch rain.
Our local photographers have put together 2017 calendars. Here are links to see two of them.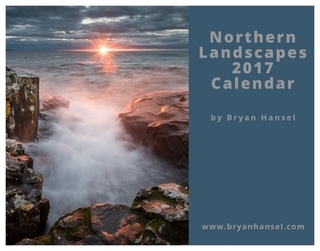 To see Bryan Hansel's calendars, click here.
To see David Johnson's 2017 calendar, click here.
And here's the music for this week:
Thursday, Dec. 8:
Bump Blomberg, Poplar River Pub, 6 p.m.
Gordon Thorne, Bluefin Grille, 8 p.m.
Friday, Dec. 9:
Pushing Chain, Voyageur Brewing Co., 4 p.m.
Portage, Grandma Ray's, 6 p.m.
Joe Paulik, Bluefin Grille, 8 p.m.
Saturday, Dec. 10:
Plucked Up String Band, Voyageur Brewing Co., 4 p.m.
Gene Lafond and Amy Grillo, Lutsen Resort Lobby, 7 p.m.
Blues Happy, Grandma Ray's, 8 p.m.
The Hillcats, Papa Charlie's, 9:30 p.m.
Monday, Dec. 12:
Open Mic Night, Grandma Ray's, 6 p.m.
Joe Paulik, Bluefin Grille, 8 p.m.
Tuesday, Dec. 13:
Joe Paulik, Poplar River Pub, 6 p.m.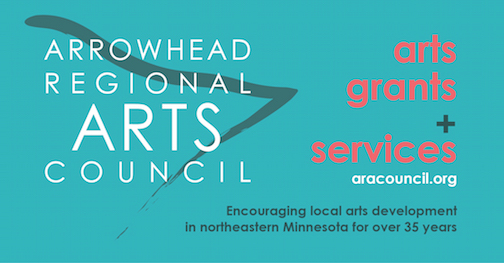 We found some interesting wildlife photos this week. Here's a selection:
Thomas Spence caught these two before the snow storm.
Michael Furtman took this photo of an unusual looking robin.
And check out this hawk.
And here are some wonderful landscapes.
And, here's one of Lake Superior talking again.