Brrr — winter made sure we noticed its arrival this week with blasting winds, high waves and the first Arctic front to tear across the landscape.
However, that also makes for picture-perfect, snow-covered forests and ski trails and sets the scene for Christmas.
But first, a mock trial between the Big Bad Wolf and Curly Pig (read the Big Bad Wolf and the Three Little Pigs) will be staged at the Cook County Courthouse at 9:30 a.m. Friday.
The second and third grade students at Great Expectations School  (the Wolves) are putting on a mock trail with the Honorable Judge Hicken (County Attorney Molly Hicken) presiding. The Big Bad Wolf is suing Curly Pig for trying to cook him when he came down the chimney. "I was only trying to be friendly," BB Wolf says. Curly Pig had put a boiling cauldron on the fire and, reportedly, had a cookbook opened to "Poached Wolf" when BB slid into view. Suzy Schweig, who teaches the Wolves class, assures us that there will be a witness, and her students will be dressed up for the trial. It's also open to the public, and should be fun. Who will win? Come to the courtroom and find out!
On Saturday, The Grand Marais Art Colony will hold a Community Ink Day, an all-ages printmaking event to make a monoprint for personal use or give as a holiday gift. Students will experiment with design and learn more about the art of printmaking. All supplies are provided.
This is a drop-in activity. Printmaker Jerry Riach will be in the print studio from 1-3:30 p.m. to lead the way. No registration is required, although children under 7 must be accompanied by an adult. $5 donation. All invited.
On Saturday night, a great set of actors will provide lots of great entertainment when the Grand Marais Playhouse presents the "Curry Cook-Off and Broadway Musical Showcase" at the Arrowhead Center for the Arts.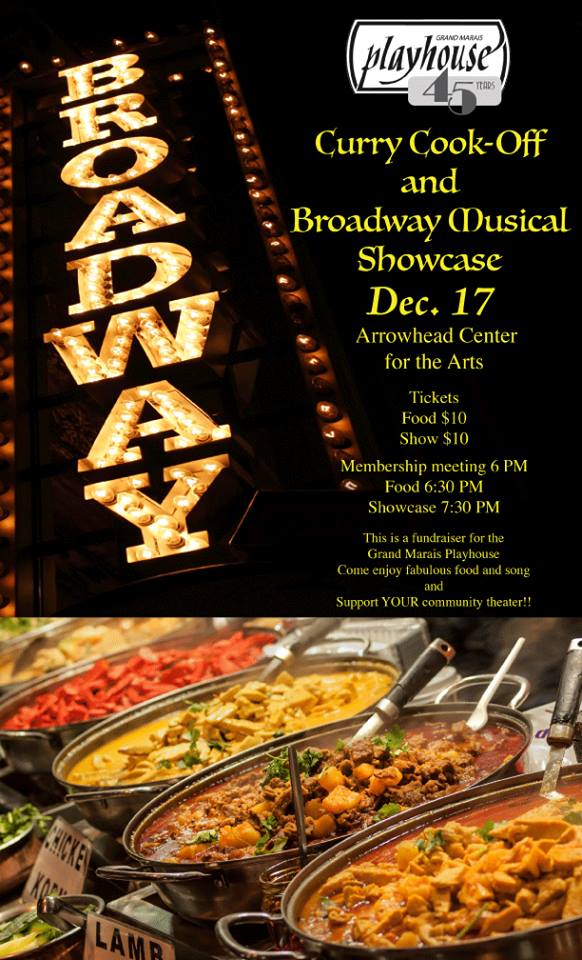 The event is a fundraiser for the Playhouse and was such a success last year that it's happening again this year. There will be a Playhouse membership meeting at 6 p.m. Curries (and chili, for those who don't like curry) will be served at 6:30 p.m. and the Broadway Showcase starts at 7:30 p.m. Participants are encouraged to sample all the curries and then vote on their favorite. The showcase will feature a number of acts based on Broadway hits. Tickets are $10 for the food, $10 for the show.
And next Wednesday, one of the highlights of the season, the Winter Solstice Shadow Puppet Pageant, will be held at North House Folk School starting at 6 p.m. The pageant is the creation of the Good Harbor Hill Players.
The Shadow Puppet Pageant is held outdoors, and the audience clusters around a screen set into a big door. There's live music and craziness and lots of laughter. The Krampus appear at some point with their scary costumes and loud bells and drums, and there's a bonfire where people can throw in their "gloomies" to start fresh for the New Year. Afterwards, everybody warms up indoors at a community potluck. All invited. And make sure to dress for the weather and bring a dish to share, if you wish.
The Holiday Art Underground Show continues at Betsy Bowen's Studio and Galleries, featuring more than 30 local and regional artists. Bowen has her work in the show, too, including her prints, books and cards as well as her 2017 calendar.
The gallery hours are 11 a.m. to 5 p.m. Thursday through Saturday. And, if the light is on and you can see an "Open" sign, stop in.
In Duluth, both the Tweed Museum of Art on the UMD campus and the Duluth Art Institute are exhibiting new work.
Also at the Tweed is a new display in the Nelson case of Native American art from the Tweed's collection, including beadwork and baskets.
The Duluth Art Institute's exhibits, the Arrowhead Regional Biennial and 4North continues through early February.
4North features new work by four Duluth artists: Alison Aune, Kirsten Aune, Ann Klefstad, and Arna Rennan. The artists share a Scandinavian heritage, as well as live and work in northern Minnesota. While the four create in disparate media—painting, sculpture, and textile arts—the Threads connecting their work reveal a deep reverence for the natural world and the translation and transmutation of patterns and symbols. The exhibit continues through Feb. 2.
The Thunder Bay Art Gallery continues its exhibits this month as well with Elizabeth Buset's "Swine," a Norval Morrisseau exhibit and John Books' "Oxen of the Son."
And the Baggage Building Arts Centre at Prince Arthur's Landing in Thunder Bay is exhibiting members' work, including painting, photography, ceramics and fiber art through Jan. 6.
Upcoming
 "At the Table," an installation at the Grand Marais Art Colony by Jim Sannerud, opens Dec. 29 and runs through Jan. 8. It is both an installation and a performance piece that comes to life through a shared dinner. Sannerud's past experience as a bowl turner merges with his current interest in participatory art as he creates a large table, chairs, and serving vessels to facilitate an experience in which participants engage in dialogue about place, memory, and how traditions are translated.
All pieces are inspired by Scandinavian design and Sannerud's visit to his ancestral farm in Norway. For more information, call the Art Colony at 387-2737.
The Grand Marais Public Library will hold a winter event series on Wednesday nights at 6 p.m. starting Jan. 4 and running through March 8. Topics include everything from medicinal plants to music performances. Fred Keller launches the series on Jan. 4 with "Tales from the Northwoods." Free. All invited. The library will also screen a number of films this winter as well at 6 p.m. on Friday evenings, beginning Jan. 6. The films are intended for an adult audience. "My Love Don't Cross the River" is the first film that will be shown. To see the complete schedule of winter events and films, visit www.grandmaraislibrary.org
The North Shore Music Association will present the 4th annual Grand Marais Ole Opry, a classic country and old-time music showcase featuring local and regional musicians. Emceed by WTIP's "Classic Country" host Carl Solander, this year's lineup features two Twin Cities groups, The Saddle Sores and Cherry Dirt, and local luminaries Gordon Thorne and Rose & Jay Arrowsmith DeCoux. Stay tuned.
In Other Art News:
Briand Morrison and other Anishinaabe musicians will perform "The Stand: A Fundraiser for Standing Rock" at The Underground in The Depot, 506 W. Michigan St., in Duluth at 7 p.m. on Friday.
Lyz Jaakola and Leah Lemm will also perform. Admission to the event includes music, hors d'oeuvres and a silent auction. More information and ticket reservations can be found online at www.duluthplayhouse.org , by selecting "Get your tickets."
Melissa Wickwire has just completed a piece for Clayspace Co-op in Asheville, NC for a fundraising exhibition in the face of threats to roll back women's rights. For more information about the exhibit, click here.
Last Chance Gallery is featuring individual moose ornaments this year. They are crafted by Tom Christiansen and then painted by members of the gallery staff.  For more info, click here.
Last Chance is open Saturdays from 10 a.m. to 5 p.m. It is open most days by chance.  Holiday hours are Christmas Eve 10 a.m. to 1 p.m.,  Dec. 26 to  30 10 a.m. to 5 p.m. and Dec. 31 10 a.m. to 2 p.m.
And Great Gifts of Lutsen has received a new shipment of Manitobah Mukluks in all sizes and styles. The company is Aboriginal-owned.
Here's the music schedule for this week:
Thursday, Dec. 15:
Gordon Thorne & Chris Gillis, Gun Flint Tavern, 7 p.m.
Bug Dope, Bluefin Grille, Tofte, 8 p.m.
Friday, Dec. 16:
Matthew Griswold, Voyageur Brewing Co., 4 p.m.
Plucked Up String Band, Gun Flint Tavern, 7:30 p.m.
Gordon Thorne & Chris Gillis, Bluefin Grille, 8 p.m.
Bughouse, Grandma Ray's, 8:30 p.m.
Saturday, Dec. 17:
Gordon Thorne & Chris Gillis, Lutsen Resort Lobby, 7 p.m.
Plucked Up String Band, Gunflint Tavern, 7:30 p.m.
Jim Mc Gowan, Voyageur Brewing Co., 7:30 p.m.
Bughouse, Grandma Ray's, 8:30 p.m.
Momentary Lapse of Floyd, Papa Charlie's, 9:30 p.m.
Sunday, Dec. 18:
TBA, Gun Flint Tavern, 6 p.m.
Monday, Dec. 19:
Open Mic Night, Grandma Ray's, 6 p.m.
Pete Kavanaugh, Bluefin Grille, 8 p.m.
Tuesday, Dec. 20:
Pete Kavanaugh, Poplar River Pub, 8 p.m.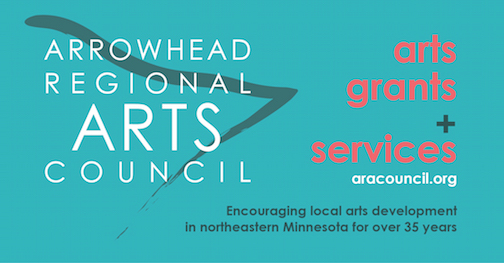 We found some great photos this week, including wildlife shots. Take a look:
Michael Furtman says he has seen this before in winter. There were four females nearby and Furtman said he thought the male just took advantage of the situation.
David Johnson has been watching the otters in the harbor and came up with these great shots.
And this bunch of cuties ….
And finally, this one by Ann Possis.
Winter:
First there's this:
Then there's this …
And this ….
And this …
And this …
And this ….
And this …
And this ….
And finally, this ….
Have a great weekend, everyone! Stay warm!
P.S. Putting this blog together every week is a joy and is my contribution to the arts on the North Shore.  If you enjoy it, please consider making a donation to support it. Thank you!