Lots going on this weekend! The John Beargrease Sled Dog Marathon starts on Sunday from Duluth. There are lots of local mushers competing as well as mushers from across the country and beyond. Trial Center is front and center in Cook County during this race/
Check out routes and details for this race, which is a qualifier for the Iditarod. Click here for more.
Meanwhile, back in Cook County, there's lots of events over the next week, too.
First up is a presentation by Staci Drouillard at North House Folk School at 7 p.m. on Thursday, "Walking the Old Road: Stories of Chippewa City and the Grand Marais Chippewa."
In the late 19th century, as European-Americans settled the Grand Marais area, the Ojibwe who lived here gradually moved east and formed a small town of 100 families known as Chippewa City. Now the Chippewa church and cemetery are only remnants of the once vibrant town.
Fast forward a century and meet Staci Droulliard, current Grand Marais resident and descendant of one of the Chippewa City families. Join Staci for a presentation about her current book project researching the stories of both her family and the lost Chippewa City community. Open to all. Free.
Also on Thursday, the Grand Marais Playhouse presents Disney's Beauty and the Beast at the Arrowhead Center for the Arts. Performances are at 7 p.m. Thursday through Saturday and 2 p.m. Sunday, Jan. 26-29 There will not be a public performance on Thursday, Feb. 1. Final performances are at 7 p.m. Friday & Saturday, 2 p.m. Sunday. Tickets are available at the door.
Then on Friday, look for a pop-up art exhibit at the Johnson Heritage Post. The one-day only reception and exhibit is from 4-7 p.m. on Friday.
More than a dozen artists from throughout the region have been at YMCA Camp Menogyn this week, painting up a storm for the Winter Plein Air event. The artists commit to going outside and painting every day, regardless of the weather.
Here are a few examples of the paintings that will be in the Winter Plein Air Exhibit at the Heritage Post on Friday.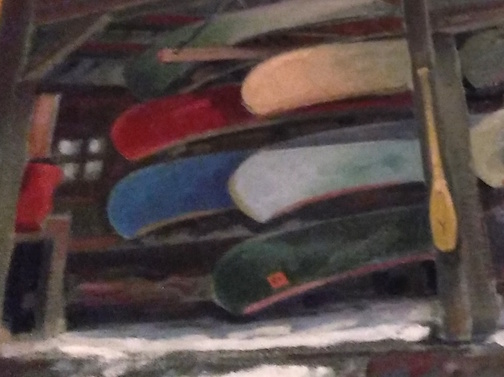 The exhibit will also offer a sneak peak of recent acquisitions at the Heritage Post, including work by George Morrison as well as Birney Quick. All invited to see this fun pop-up exhibit on Friday. Refreshments will be served.
On a completely different note, the
Grand Marais Public Library's Friday Night Reels
continues with
"Creed,"
which be screened at 6 p.m. on Friday. The film stars 
Michael B. Jordan
, 
Sylvester Stallone,
and
Tessa Thompson
. This film gained wide recognition on the festival circuit.
There are some fun exhibits to see on the North Shore this weekend, too.
First up is The Members Show at the Duluth Art Institute which opens with a reception from 5-7 p.m. on Thursday night. The show features work from a wide variety of mediums, including painting, fiber art, ceramics, prints, sculpture and more.
The Members Show is in the Great Hall in the Depot, and continues through Feb. 24.
On Saturday, Kirstin Aune, who is one of the artists featured in the 4North exhibit at the Duluth Art Institute, will give a demonstration of her fabric painting techniques in her studio at the Magic Smelt Parade Shop in downtown Duluth from 10 a.m. to noon.
Aune uses a unique painting technique to create large-scale quilts and wearable elements. See her studio and process in this free artist demo at the Magic Smelt Puppet Show, 134 W. First Street. Free. All invited.
At the Tweed Museum of Art, check out the Pop Evolution exhibit which opened this week.  Curated from the Tweed's permanent collection, this exhibition of prints and paintings will first examine artworks by the progenitors of Pop Art—artists such as Andy Warhol and Ed Ruscha—who became household names during the 1960's by creating artworks in which the technique and subject matter reflected the consumer and media-driven identity of America at the time.
And an exhibit of photographs by David Gredzens continues in the Great Hall of Tettegouche State Park.
In Thunder Bay, the Definitely Superior Art Gallery presents "Derelicte 9: A Fashion Odyssey," at the Black Pirates Pub on Saturday night.  Seven different designers will be featured in this show, including wearable art and haut fashion. Live music and performances are also scheduled.
Check out this video of last year's event:
The fun starts at 8 p.m., EST, at the Black Pirate Pub. Tickets at the door.
 Upcoming:
The weekend of Feb. 10 is the Hygge Festival in Grand Marais and expect lots of events scheduled throughout the weekend, including a Mukluk Dance with the Plucked Up String Band at Voyageurs Brewing on Feb. 11.
On  Feb. 10, Drury Lane Books will host Full Moon Nordic Tales & Song from 530 to 6:30 p.m. out by the bonfire. Local talents Rose Arrowsmith DeCoux, Erika Ternes and Yvonne Mills will be the singers and storytellers. Free. And stay tuned for more cool Hygge Festival events coming up that weekend.
Window Shopping
In Other Art News:
WTIP is now taking applications for the 10th Annual Radio Waves Music Festival. The festival, which is held at Sweetheart's Bluff in the Grand Marais Recreation Area will be Sept. 8-10 this year.
As with last year, most sets will be 50 minutes in length, with a few 35-minute sets to help us balance the schedule out.
Click here for the application.
WTIP would also like an mp3 or link to one of your songs. The applications are open through May 1. Contact WTIP at 218-387-1070.
Here's the music schedule for this weekend:
Thursday, Jan. 26:
Pete K, Mogul's Grille, 4 p.m.
Fred Anderson, Poplar River Pub, 6 p.m.
The Dead Pigeons, Gun Flint Tavern, 7:30 p.m.
Gordon Thorne, Bluefin Grille, 8 p.m.
Friday, Jan. 27:
Matthew Griswold, Voyageur Brewing Co., 4 p.m.
Timmy Haus, Mogul's Grille, 4 p.m.
Portage, Grandma Ray's, 6 p.m.
Pushing Chain, Bluefin Grille, 8 p.m.
Jon Miller & the Home Brews, Gun Flint Tavern, 8:30 p.m.
Timmy Haus, Papa Charlie's, 9:30 p.m
Saturday, Jan. 28:
Briand Morrison, North Shore Winery, 3 p.m.
Pete K, Papa Charlie's, 3:15 p.m.
Jim & Michelle Miller, Voyageur Bewing, 4 p.m.
Dat Dere Jazz, Cascade Lodge Pub, 7 p.m.
Plucked Up String Band, Lutsen Resort, 7 p.m.
Jon Miller & the Home Brews, Gun Flint Tavern, 8:30 p.m.
Brothers in Arms, Grandma Ray's, 9 p.m.
SplinterTones, Papa Charlie's, 9:30 p.m.
Sunday, Jan. 29:
Sam Black, Bluefin Grille, 7 p.m.
Woodblind, Gun Flint Tavern, 7 p.m.
Monday, Jan. 30:
Gabriel Douglas, Monday Night Songwriter's Series, Papa Charlie's, 8 p.m.
Pete K, Bluefin Grille, 8 p.m.
Tuesday, Jan. 31:
Boyd Blomberg, Poplar River Pub,  6 p.m.
Wednesday, Feb. 1:
Teague Alexy of Hobo Nephews, Wednesday Songwriter Series, Papa Charlie's, 8 p.m.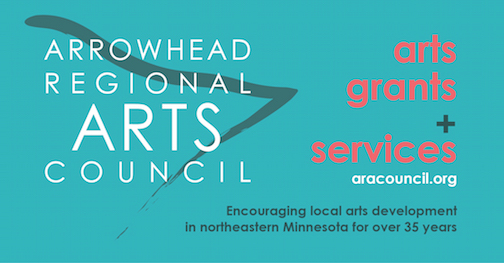 It's been a pretty tough week for photographers…it's been very gloomy with little or no sun. But we did find some cool images. Check these out.
First up, a Canadian Lynx by David Johnson.
And this greedy little otter caught himself a feast!
Here are some unique ice shots.
And this, very subtle one.
And this beauty.
And finally, in celebration of the North Shore and when the clouds do disperse, here's an awesome northern lights photograph by Travis Novitsky at the Spirit Tree in Grand Portage. He took it last spring, but it's beauty is continues to inspire.
Enjoy your weekend, everyone!
P.S. Putting this blog together every week is a joy and is my contribution to the arts on the North Shore. If you like getting this post every week, please consider making a donation to help support it. Thank you!