It's going to be a pretty quiet weekend in Cook County, as everyone recovers from the John Beargrease Sled Dog Marathon and settles in to enjoy the snow and quiet eves of February. There's still lots to see and do, though — here's a recap:
First up is the Ely Winter Festival which kicks off on Feb. 2 and runs through Feb. 12 in Ely. This festival always has an outstanding snow carving symposium, as welll as an art walk and tons of winter activities and competitions, as well as live music and dancing.
Click here for more info and events schedule/
In Cook County, look forward to the Ski Party Festival at Lutsen Mountains, a weekend ski, snowboard and music festival curated by the folks at GNDWIRE Records. The festival runs on Friday and Saturday. Bands on Friday night include Dead Man Winter, Frankie Lee and The Pines.
Apres-Ski on Saturday features DJ Lounge w/ Har Mar Superstar at 3:15 p.m. SIMS of Doomtree, Gramma's Boyfriend and Night Moves perform on Saturday night.
Also on Friday, WTIP's The Roadhouse will talk to the Minnesota band,  IfEyeMay, as well as as go over Lake Superior State University's 2017 List of Banished Words. That interview is always fun. The Roadhouse airs from 5-7 p.m. on Friday.
Friday Night Reels continues at the Grand Marais Public Library with a film screening at 6 p.m. This week: "Indignation,"  a movie based upon a novel by Philip Roth, is on the playbill. Here's  the trailer.
The movie is free, but seating is limited, so come early!
For live theater, this is the last weekend of the Grand Marais Playhouse's production of "Beauty and the Beast" at the Arrowhead Center for the Arts. Performances are at 7 p.m. Friday and Saturday and 2 p.m. Sunday. Tickets available at the door.
On Saturday night, the 6-piece dance band, The SplinterTones,  play at Grandma Ray's from 7-10 p.m. Here's a great opportunity to get out your dancin' shoes.
No cover charge. All invited.
And Sunday night is Classical Music night at Bluefin Grille. The music starts at 6 p.m. Free.
There are a number of intersting art exhibits up and down the North Shore.
In Duluth, the Members Exhibition is continues in the Great Hall at the Depot with the work of more than 175 member artists on view. This year, the People's Choice Award went to Annie Schweiger's oil on canvas, "The Winston," chosen from a broad range of media and genres on display. The people cast their vote at the exhibition's opening reception.
The Members Exhibition continues through Feb. 24.
At the Tweed Museum of Art on the UMD campus, Tuesday, Feb. 7, Dr. Jennifer Webb will give a presentation  on the Italian Renaissance and Baroque paintings on view from the museum's collection.
The presentation is free and open to the public and begins at 6:30 p.m. on Tuesday, Feb. 7.
The Thunder Bay Art Galley is currently exhibiting Stories of Contentment and Other Fables: Recent Drawings by Amanda Burk.
And, in Grand Marais, Betsy Bowen's Studio continues exhibiting local and regional artwork through the winter. Pottery, paintings, prints, fiber art, jewelry and more are on exhibit.
The gallery is open from 11 a.m. to 5 p.m. Thursday through Saturday.
Upcoming
This year, Grand Marais is launching its first annual Hygge Week, Feb. 9-15. Hygge (pronounced hoo-gah)  is the Danish ritual of embracing life's simple pleasures. Feeling relaxed, cozy and surrounded by the warmth of family, friends, community and fire, hygge encourages us to embrace all of winter's pleasures and unique opportunities.
There are lots of great activities planned, including Scandinavian themed menu items, a full moon reading with Scandinavian singing, a mukluk dance, cabin concert, art show openings and more. Stay tuned.
The Grand Marais Writer's Guild will meet at the library at 6 p.m. Feb.16. Open to all writers. Free.
Opportunities:
Interested in having a booth at the Grand Marais Arts Festival this year?
Jury applications are open via Zapplications Jan. 13 – March 12. Each summer the Grand Marais Arts Festival draws over 70 local and regional artists. Artists showcase their unique handcrafted work by the shores of Lake Superior and provide insight into their artistic process through demonstration and dialogue. The Festival will be July 8-9 this year. For more information, click here to learn more.
In other Art Colony news: A call has gone out for applications for a development manager at the Art Colony. The purpose is to establish, cultivate and lead a robust development program that includes donor relations, annual giving, planned giving, grant writing, event sponsorship and fundraising, and building towards a capital campaign. 2017 is the Art Colony's 70th Anniversary, providing a unique opportunity for fundraising activities.
Click here to see a job description. Call 218-387-2737 for more information.
Local artists of every age are invited to participate in the Spirit of the Wilderness' 8th annual themed art show. Each year, artists are challenged to produce work on the intersection between creativity and spirituality.This year, artists are asked to consider the phrase "Kindling Curiosity–Lighting the Creative Spark." Artists may submit a maximum of two pieces of work. They can be dropped off at the Johnson Heritage Post Gallery March 20-21. The exhibit opens at the Heritage Post with a reception from 5-7 p.m. March 24.  The exhibit continues through April 9. Questions? Contact the art committee:  Bonnie Gay Hedstrom, Ellen Stubbs, Mary MacDonald, and Mary Ellen Ashcroft.
Intern postition open for MN Pottery Festival. Organizers of the MN Pottery Festival (Coyote Clay) are looking for an intern for this year's festival.
The position includes social media marketing, e-newsletters, website updates, signage and surveys.
Advance work can all be done remotely, but we would like to have the Intern on site for both days to handle personal interviews and surveys. Ideal for a college student–looks great on a resume!
Window Shopping
In Other Art News:
Songwriter Leah Thomas was recognized for two songs in the 2016 SongDoor International Songwriting Competition.  "Skylarkin'" and "Angel Motel" both  received Honorable Mentions in the Soft Rock category. "Skylarkin" was recorded by The SplinterTones in 2016 and is on their self-titled album.  "Angel Motel" is available on Amazon, iTunes, and Spotify.
All songs entered in the annual SongDoor International Songwriting Competition are screened by industry
professionals with real connections to music publishing, producers, artists and labels, and are judged by
industry pros who have worked with Neil Young, Justin Timberlake, Tony Bennett, Britney Spears, Kenny
Rogers, Lynyrd Skynyrd, The Fray, Train and dozens of other notable artists. Congratulations, Leah!
Sandra Updyke's photograph, Old Hovland Fish House," was selected as the Best of the Year (architecture)  category at Pixoto.com.
Artists continue their winter work. Here's a new painting by Betsy Bowen.
And here's one by Tim Pearson.
And here are self-portraits in glass created by the staff, instructors and artists at the Grand Marais Art Colony the other day. The class was called "Faces." It was the first time working in glass for many of them.
And here's the music for the week:
Thursday, Feb. 2
Jim & Michele Miller, Mogul's Grille, 4 p.m.
Boyd Blomberg, Poplar River Pub, 6 p.m.
Jon Miller and the Home Brews, Gun Flint Tavern, 7:30 p.m.
Gordon Thorne, Bluefin Grille, 8 p.m.
Friday, Feb. 3:
Briand Morrison, Voyageur Brewing Co., 4 p.m.
Billy Johnson, Mogul's Grille, 4 p.m.
Jim & Michele Miller, Bluefin Grile, 6 p.m.
Mark Darling, Red Paddle Bistro, Gunflint Lodge, 7 p.m.
GNDWire Ski Party, Papa Charlie's, 8:30 p.m.
Joe Paulik Group, Gun Flint Tavern, 8:30 p.m.
Saturday, Feb. 4:
Gordon Thorne, North Shore Winery, 3 p.m.
Har Mar Superstar, Papa Charlie's, 4 p.m.
Pete K, Voyageur Brewing Co., 4 p.m.
Gordon Thorne, Cascade Lodge Pub, 4 p.m.
Mark Darling, Red Paddle Bistro, Gunflint Lodge, 7 p.m.
Plucked Up String Band, Lutsen Resort Lobby, 7 p.m.
SplinterTones, Grandma Ray's, 7 p.m.
GNDWire Ski Party, Papa Charlie's, 8:30 p.m.
Joe Paulik Group, Gun Flint Tavern, 8:30 p.m.
Sunday, Feb. 5:
Briand Morrison, Jazz Brunch, Mogul's Grile, 10 a.m. to noon
Classical Music, Bluefin Grille, 6 p.m.
Monday, Feb. 6:
Molly Maher, Monday Night Songwriters, Papa Charlie's, 8 p.m.
Boyd Blomberg, Bluefin Grille, 8 p.m.
Tuesday, Feb. 7:
Briand Morrison, Poplar River Pub, 6 p.m.
Wednesday, Feb. 8:
Ben Kyle, Wednesday Night Songwriter Series, 8 p.m.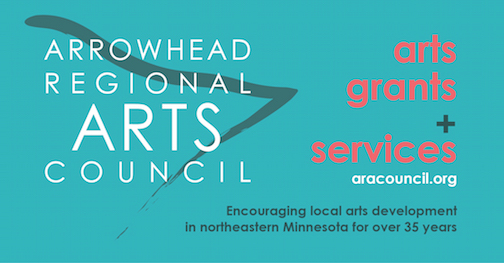 We found some great shots this week. Here's a selection:
Sarah Reller caught this dynamic moment in the John Beargrease Sled Dog Marathon as a musher comes into the Sawbill check point.
Bryan Hansel took this photo last week, but you'd never know it was winter.  The reflected early light made the snow glow.
Here's an evocative image by Tom Kasper.
And finally, this invitation to contemplate the beauties that are Grand Marais.
Enjoy your weekend, everyone!
P.S. Putting this blog together is a joy and is my contribution to the arts on the North Shore. If you like getting this post every week, please consider making a donation to help support it. Thank you!