Warm weather and rains have melted snow which has collected in ponds on top of rivers and lakes  this week. But it's going to get a lot colder over the weekend, and snow is in the forecast, so trails and ski hills will be replenished soon.
Meanwhile, there's a lot happening on the North Shore this weekend.
First up are art openings at each end of Hwy. 61.
The Duluth Art Institute holds an opening reception on Thursday, Feb. 23, from 5-7 p.m. for solo shows by abstract painter Elizabeth Kuth and mixed media artist Carla Hamilton, as well as a group show of photographs by University of Minnesota Duluth students.
It is also your last chance to see the 2017 Annual Member Exhibit in the Great Hall in the Depot. The Member Exhibit closes on Friday, Feb. 24.
At the other end of Hwy. 61, in Thunder Bay, the Thunder Bay Art Gallery will hold an opening reception for (re)Creating the Self: an Arts Program for People with Dementia. The program, with Thunder Bay artist Eleanor Albanese, has been on-going since last year. She works with people with dementia to express their feelings and experiences through art.
The opening reception is from 6:30-8 p.m. (EST) at the gallery. All invited.
On Friday, singer/songwriter Paul Imholte, who plays a wide variety of instruments, will be on WTIP's The Roadhouse to talk about his music and play a few songs.
On Saturday, Imholte will perform children's songs at the Grand Marais Public Library with everything from a fiddle, guitar and hammered dulcimer, to a jaw harp and  banjo. The performance at the library is at 10:30 a.m. All invited.
The Roadhouse continues with music on Friday night with Pushing Chain (Boyd Blomberg and Adam Moe). The musicians come into the studio to talk about their music and play a few songs. This music edition of  The Roadhouse airs from 5-7 p.m.
Also on Friday, the Grand Marais Public Library continues its Friday Night Reels series with a screening of "The Light Between the Oceans," a Dreamworks production, that has had excellent reviews.
Check out the official movie trailer below.
The screening is free and starts at 6 p.m.
Then on Saturday, Definitely Superior Art Gallery, 250 Park Ave in Thunder Bay, will hold a reception and a spoken word performance for "Fuel," a newly released chapters book, featuring 60 works of inspiring poetry and short prose by 50 talented Northwestern Ontario writers. The reception is from 1-4 p.m. (EST).
The event will also feature singer/songwriters and refreshments. All invited. Free.
Also on Saturday in Thunder Bay, the Baggage Building Arts Centre, which is located at Prince Arthur's Landing,  will open the Fiber Arts Exhibition 2017.
The exhibit features a wide variety of fiber arts including knitting, quilting, felting and more. The Baggage Building is open from noon to 4 p.m. (EST) on Saturday and Sunday and from 11 a.m. to 5 p.m. Tuesday through Friday.
There are a few on-going exhibits  on the Shore as well. The Great Hall at Tettegouche State Park is filled with photographs taken by 12 participants in a special landscape workshop hosted on by John Gregor and Christian Dalbec last week.
The photographers were challenged to produce at least two images that were gallery exhibit quality, and they spent two long days traveling up and down the shore capturing images. They then spent two days indoors editing, printing, matting and framing their selected works of art. The photographers are Gary OIejniczak, Nancy Yoder-Bidwell, James Bidwell, Angie Hoffman, Jeff Hackenmueller, Scott Foss, Richard Miller, Teresa Sposito, Lori Moilanen, Mark Ye, Mike Tollinger and Phil Hartley.
The exhibit in the Great Hall continues through March 31. There will a closing reception at 7 p.m. on March 31. Everyone is invited to see this fascinating series of photographs of the North Shore.
The Tweed Museum of Art continues its exhibit of prints and paintings from its Pop Art collection through March 26.
 Upcoming:
 The North Shore Music Association will present Patsy O'Brien and Dick Hensold in a concert celebrating Irish music and St. Patrick's Day at the Arrowhead Center for the Arts March 4.
The Celtic-power duo will perform with guitar, vocal, and small-pipes revelry. Singer/songwriter O'Brien is from County Cork, Ireland and has performed in Europe as well as the United States. Hensold, a master of Scottish reel pipes, whistles and recorder, is the leading Northumbrian smallpiper in North America. It should be a great concert. Tickets are available here.
Window Shopping:
 In Other Art News:
 The Grand Marais Art Colony is having two "bookie" workshops this weekend.
Cilla Walford is teaching "The Write Time," a workshop designed to explore a variety of writing styles and goals with writers. The class will run from 9 a.m. to noon on Saturday. $40. To register, click here.
And there are still open spots in Karen Smaby's Artist Books class at the Art Colony which will be held from 9-4 p.m. on Saturday.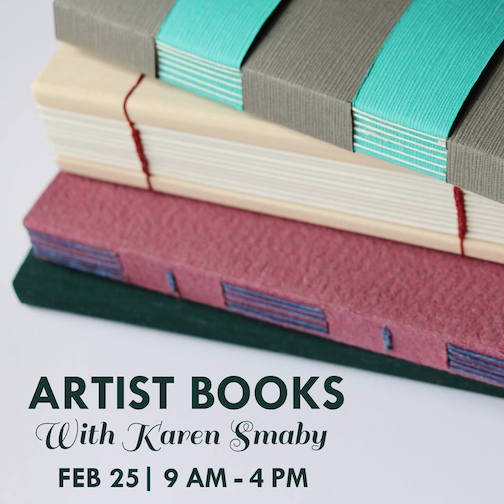 Smaby is an accomplished book artist, and students will learn a variety of binding options and then will fold, hinge, and sew recycled papers, recreating them as pages and covers of a personal journal. $75. For more info, click here.
Gaelynn Lea, the Duluth singer/songwriter who won NPR's Tiny Desk Concert last year, will perform at Papa Charlie's at 8 p.m. on Wednesday, March 1. All invited. Free.
Here is a video of her award-winning performance.
There are also a wide variety of live music opportunities this weekend. Here's the schedule:
Thursday, Feb. 23
Pete K, Mogul's Grille, 4 p.m.
Jon Kallberg, Poplar River Pub, 6 p.m.
Joe Paulik, CD Release Show, Grandma Ray's, 7 p.m.
Gordon Thorne, Bluefin Grille, 8 p.m.
DJ Beavstar, Papa Charlie's, 9:30 p.m.
Friday, Feb. 24:
Timmy Haus, Mogul's Grile, 4 p.m.
Eric Frost, Voyageur Brewing Co., 4 p.m.
Portage, Grandma Ray's, 6 p.m.
Pushing Chain, Bluefin Grille, 8 p.m.
Thunderheads, Gun Flint Tavern, 8:30 p.m.
Bug Dope, Grandma Ray's, 8:30 p.m.
Timmy Haus, Papa Charlie's, 9:30 p.m.
Saturday, Feb. 25:
Briand Morrison, North Shore Winery, 2 p.m.
Eric Frost, Papa Charlie's, 3:15 p.m.
Jim McGowan, Voyageur Brewing Co., 4 .m.
Mark Darling, Gunflint Lodge, 5:30 p.m.
Joe Paulik, Papa Charlie's, 6:45 p.m.
Jim & Michelle Miller, Lutsen Resort Lobby, 7 p.m.
Pete K, Cascade Lodge Pub, 7 p.m.
The SplinterTones, 317 W. 5th St., Celebration for Northeastern Minnesotans for Wilderness, 7 p.m.
Bughouse, Grandma Ray's, 8:30 p.m.
The4ontheFloor with Hannah van Der Hoff, Papa Charlie's, 9:30 p.m.
The Thunderheads, Gun Flint Tavern, 8:30 p.m.
Sunday, Feb. 26
Evergreen Grass Band, Papa Charlie's, 3:30 p.m.
Scott Frazer, Bluefin Grille, 6 p.m.
 Monday, Feb. 26
Open Mic Night, Grandma Ray's, 6 p.m.
Eric Frost, Bluefin Grille, 8 p.m.
Moon and Pollution, Monday Night Songwriter Series, Papa Charlie's, 8 p.m.
Tuesday, Feb. 28:
Pete Kavanaugh, Poplar River Pub, 6 p.m.
Open Mic Night with Bump Blomberg, Papa Charlie's, 6 p.m.
Wednesday, March 1:
Open Mic Night at the Gun Flint Tavern, 6 p.m.
Gaelynn Lea, Singer/Songwriter Series, Papa Charlie's, 8 p.m.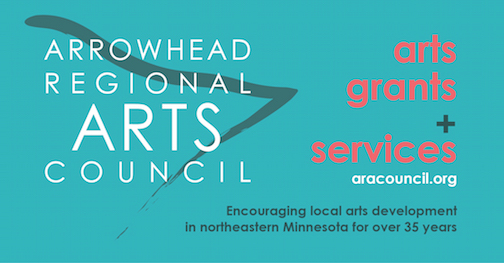 We found some interesting photographs this weekend. Here's a selection:
First up: Wildlife photos.
We found some winter landscapes, too.
And last, but not least, here are two photographs of people doing what they love to do.
Have a great weekend, everyone!
P.S. Researching, collecting and putting this blog together each week takes a fair amount of time, but it's an honor to be able to do it. If you love getting NorthShore ArtScene every week and would like to support this effort, consider making a donation. (See button below) Thank you!