The summer season kicks into high gear in this weekend with the  Hovland Summer Arts Festival at the Hovland Town Hall July 1-2 followed by 4th of July celebrations next week.
This is the 12th year that Hovland artists have gathered together at the Hovland Town Hall for the festival, which now includes artists from surrounding communities. Painters, potters, fiber artists, jewelry makers, photographers, woodworkers, basketmakers and bead artists are featured at this festival as well as a wide variety of arts and crafts. The festival is held in the at the Hovland Town Hall, with booths indoors and outdoors.
There's lots of live music, too, and refreshments are available on-site. The festival runs from 10 a.m. to 3 p.m. on Saturday and Sunday.
Singer/songwriter Joe Paulik kicks off the music at 10 a.m. on Saturday in the new timber-framed pavilion at the Town Hall. Rod & Caribou play at noon and Common Ground plays at 2 p.m. On Sunday, Jim McGowan performs at 10:30 a.m. followed by Boyd Blomberg at 12:30 p.m. Everyone is invited to come out and see what Hovland has to offer this summer.
There's plenty to do in the county this week, too.
On Thursday, the Arrowhead Sketchers will gather at Cascade State Park to sketch its beauty from 5-7 p.m. Sketchers, painters, photographers and observers are invited to join the group to tackle the many opportunities the North Shore offers for their art.
Last week, the Sketchers set up at the Blue Moose Garden Center. Here is a selection of what they produced.
Also on Thursday, Duluth singer/songwriters Rachel Kilgour and Sara Pajunen (Sound an Echo) and the Cook County acapella group, Svea, will perform at a Backyard Concert at the Art House B&B, 8 7th Ave. W. in Grand Marais.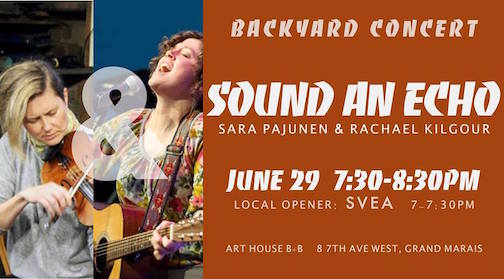 Svea opens the performance at 7 p.m. Tickets are $10. (The concert will be held indoors if it rains.) All invited.
Also on Thursday night, the Duluth Art Institute will hold a gala opening reception for two new exhibits. The reception will be held from 5-7 p.m.
A solo exhibit by Jonathan Thunder, "Peripheral Vignettes," features all new paintings and will be accompanied by a color catalog, an animation screening, and an artist talk and book signing. "Play" showcases the work of three artists—Robert Dewitt Adams, Elizabeth LaPensee, and Christoper Selleck—who all explore games, gaming and game mechanics in their work; and artist Robb Quisling has been commissioned to create a game of croquet in the corridor space. Tie-in programs will happen throughout the run of show, from a game night and an artist talk to a lecture. Both exhibitions share a reception on Thursday, June 29 from 5 – 7 p.m., and jazz guitarist by Briand Morrison will play. It sounds like a fun opening and two exceptional exhibits. All invited. Free.
Saturday kicks off with the Cook County Market featuring a variety of arts and crafts by Cook County artisans as well as locally crafted artisan breads, baked goods and more. The Market runs from 9 a.m. to 1 p.m. in the Senior Center parking lot.
Besides the Hovland Summer Arts Festival, other art-related activities include Saturdays in the Studio at the Grand Marais Art Colony. This week, printmaker Jerry Raich will demonstrate intaglio printmaking from 1-2 p.m. in the Art Colony's print studio. Free. All invited.
And Last Chance Gallery will hold a Bronze Pour at 4 at the gallery. This is a great chance to see how bronze sculptures are made. Free. All invited.
On Sunday, July 2, the Chik-Wauk Nature Center will hold the grand opening for a new exhibit "Remembering the Ham Lake Fire 2007″ from 11 a.m. to 4 p.m.
The exhibit commemorates the 10th anniversary of the Ham Lake Fire, which burned 75,851 acres in Minnesota (36,443) and Ontario (39,408), the second largest fire in Minnesota since 1918 (The 2011 Pagami Fir burnt 93,000 acres).  In all,  133 structures were lost in the first few days of the fire on the Minnesota side. Sixty-one (61) were residences, 17 commercial, and 55 were outbuildings and other structures.  The estimated value of lost buildings by the Cook County Assessor's office was $3.7 million.
The Ham Lake Fire exhibit includes displays, photographs, Good Measure Media's Ham Lake Fire video and interviews from WTIP Radio as well as interactive features. Everyone is invited to see this exhibit, which documents an event that impacted the entire county.
On Monday, July 3, Briand Morrison will present "Musical Impressions: The Art of George Morrison" at the Grand Portage Community Building.  The performance is from 7-8 p.m.

"Musical Impressions: The Art of George Morrison" is a blu-ray disc produced by Briand  consisting of 128 images created by his father, George Morrison, from the 1940s through 2000. The accompanying sound track consists of 12 original jazz compositions composed and performed by Briand.  Some of these images have never been shown to the public. All invited.
On Tuesday, July 4, "fire" will light up the skies from Grand Portage to Tofte as communities celebrate the national holiday with elaborate fireworks.
The 4th of July celebrations begin Tuesday morning with the annual 39th Annual Tofte Trek 10k Wilderness Run, which starts out at the Birch Grove Community Center. Registration is at 8 a.m. The event includes kids' runs, a youth mile run, and then the runners and walkers hit the trail, mud guaranteed.
The Trek is followed by the festival at the Tofte Town Park iwhich includes bingo, an art and craft show, live music, food and a 4th of July parade at 2 p.m. Fireworks at dark.
In Grand Marais, the First Congregational Church holds a Pie Social from 6:30-8:30 p.m. on Tuesday, followed by The SplinterTones, who will play in Harbor Park starting at 8 p.m. Fireworks displays will be held after dark (around 10 p.m.) in Grand Marais and Grand Portage.
There are a number of great exhibits to see this week, too.
First up is the Minneapolis College of Art & Design exhibit at the Johnson Heritage Post. The show features work by graduates of MCAD, and includes a variety of different media, including painting, photography and prints.
The Johnson Heritage Post is open from 10 a.m. to 4 p.m. Tuesday through Saturday as well as Monday, and 1-4 p.m. Sunday. It is closed on Tuesdays.
The Spring Art Underground Show at Betsy Bowen's Galleries and Studio continues this month.
Illustrator Adam Frankiewicz has an exhibit of his insect drawings at Tettegouche State Park through this weekend. Kat Corrigan will open new show at Tettegouche next Thursday, July 6.
The Tweed Museum of Art exhibit, "1000 Words" exhibit continues with exeptional images of people taken by a variety of photographers. Here's one of a city council meeting in Minnesota in 1999.
At the Thunder Bay Art Gallery in Thunder Bay, the exhibit "The Perspective From Here: 150 Artists From the North" continues through Sept. 24.
 Upcoming
 The Grand Marais Arts Festival is next weekend, July 8-9, featuring more than 70 local and regional artists who set up their white tents in downtown Grand Marais to showcase their handcrafted work and provide insight into their artistic process through demonstration and dialogue. Fiber arts, paintings, sculpture, ceramics, woodworking, jewelry and more are featured in this show. There will be demonstrations throughout the weekend, including raku firings by staff from Continental Clay in Minneapolis. It's always a fun and busy weekend in Grand Marais. Stay tuned for details.
Kah-Nee-Tah Gallery in Lutsen will host a Painting Party from 5-7 p.m. on Saturday, July 8. Pam Fioritto will instruct participants on creating an acrylic painting. Cost is $40/person and includes supplies, professional instruction, snacks and refreshments. Call 218-387-3585 to reserve your spot as space is limited.
Grammy Award-winning musician, Don Flemons, will be in concert at the Arrowhead Center for the Arts at 7:30 p.m. on Saturday, July 8. The concert is sponsored by the North Shore Music Association. Tickets at www.tix.com.
In Other Art News:
The Minnesota College of Art & Design has donated an historic three-panel painting by Birney Quick to the Johnson Heritage Post.
Quick, 1912-1981, was a Minneapolis artist who began teaching at the Minneapolis College o Art & Design in 1946. He is the co-founder of the Grand Marais Art Colony.
Window Shopping
Here's the music schedule for this week:
Thursday, June 29:
Joe Paulik, Music by the Campfire, Lutsen Resort, 6:30 p.m.
Sound an Echo with Svea,  Art House B& B, 7 p.m.
Friday, June 30:
Jim Cooper, Voyageur Brewing Co., 4 p.m.
J Squared and the Makers, Eagle Ridge Resort, 7 p.m.
Plucked Up String Band, Grandma Ray's, 8 p.m.
Brothers in Arms, Gun Flint Tavern, 8:30 p.m.
Joe Paulik, Bluefin Grille, 9 p.m.
Saturday, July 1:
Joe Paulik, Hovland Arts Festival, Hovland, 10 p.m.
Rod & Caribou, Hovland Arts Festival, Hovland, noon
Common Ground, Hovland Arts Festival, Hovland, 2 p.m.
Jim McGowan, Voyageur Brewing Co., 7 p.m.
Dat Dere Jazz, Lutsen Resort, 7 p.m.
Brothers in Arms, Gun Flint Tavern, 7 p.m.
Michael Monroe, Log Cabin Concert, 7 p.m.
Circuit Breakers, Grandma Ray's, 9 p.m.
DJ Beavstar, Papa Charlie's, 9:30 p.m.
Sunday, July 2:
Jim McGowan, Hovland Arts Festival, Hovland, 10:30 p.m.
Bump Blomberg, Hovland Arts Festival, Hovland, 12:30 p.m.
American Feedbag, Skyport Lodge,  5 p.m.
Monday, June 3:
Open Mic Night, Grandma Ray's, 6 p.m.
Scott Fraser, Bluefin Grille, 9 p.m.
Tuesday, July 4:
Plucked Up String Band, Gun Flint Tavern, 8 p.m.
SplinterTones, Harbor Park, 8-10 p.m.
Wednesday, July 5:
Date Night with Gordon Thorne, North Shore Winery, 7 p.m.
Gordon Thorne, Bluefin Grille, 9 p.m.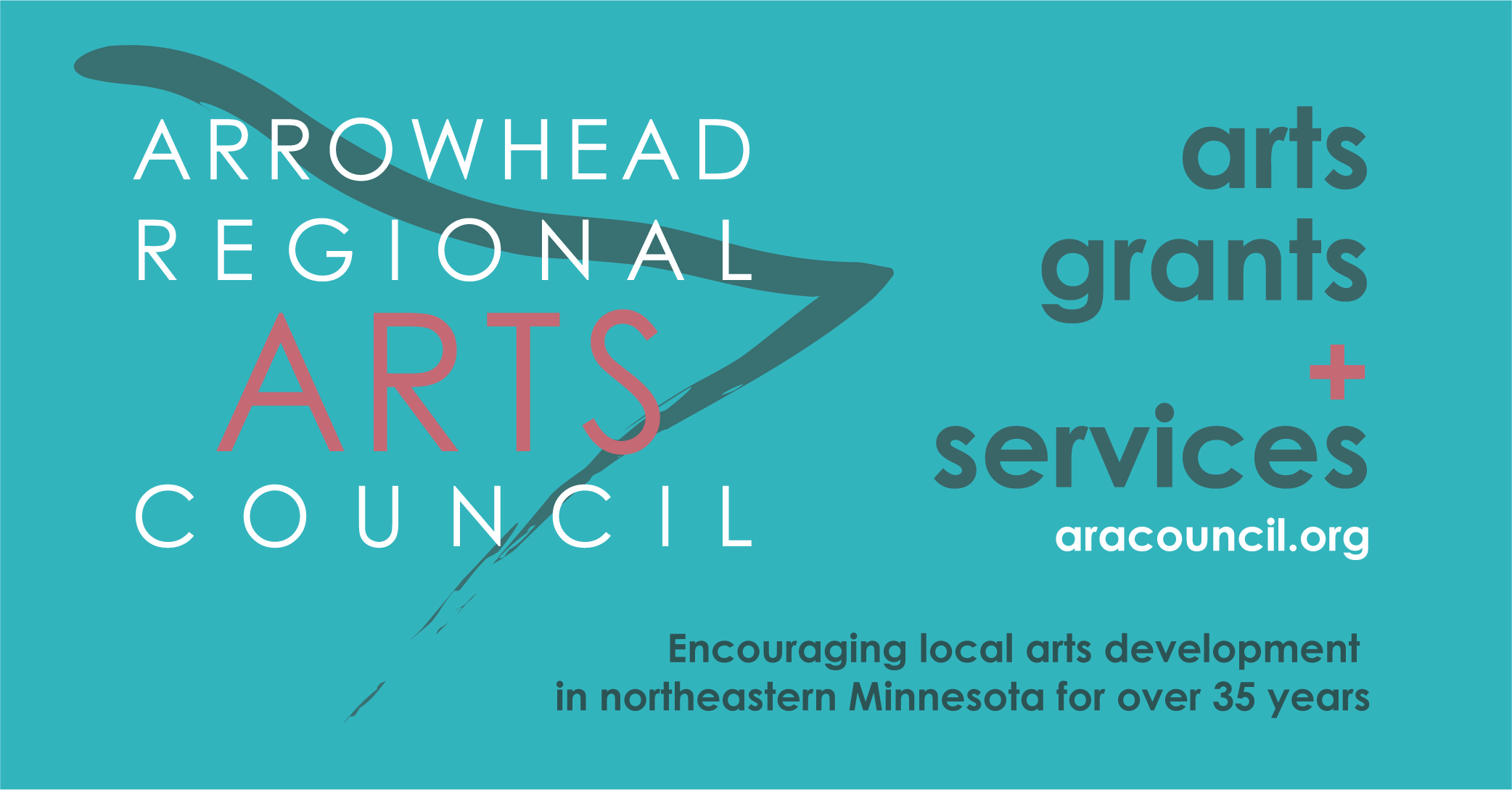 And here is a selection of great photos we found this week:
Have a great weekend, everyone!