Winter is upon us. No photos yet, but look for them in next week's edition as we wait for the first snowflakes to fall, predicted for later today. That's good news for lots of people, although we've heard groans and "I'm not ready for this" from others.
Meanwhile, plans for the coming week reveal some exciting events, including Halloween.
First up is Date Night at the North Shore Winery with Gordon Thorne and Friends.
The Winery will serve wine and cider as well as wood-fired pizza by Double D Catering.
Also, North House Folk School is offering a free class on whittling and how to safely use a sloyd knife how to carve with the grain. The class is from 7-9 p.m. tonight, Oct. 26, and is open to all. Whittlers under the age of 14 must be accompanied by an adult. For more info, call 218-387-9762.
The class is part of Fresh Cut week at North House, and includes lots of opportunities to learn about Scandinavian wood-turning traditions. Stefan Nordgaard of the esteemed craft school Sätergläten in Sweden is featured speaker and instructor.  He will give a wood-turning demonstration at a Lunch and Learn at North House from noon to 2 p.m. on Friday (bring a brown bag lunch or just come an watch) and will lead a short expedition to the woods to learn about safe harvesting practices.
On Friday at 5 p.m., the public is invited to meet at Voyageurs Brewing Co. and bring a handcrafted ale bowl for an Ale Bowl Take-Over at 5 p.m. This will be followed by a screening of short documentaries on traditional Irish crafts at North House at 7:30 p.m.
Also on Friday, Joan Farnam will launch the premiere of a series of short storytelling videos about her travels around the world and back crafted by Patrick Knight of Good Measure Media.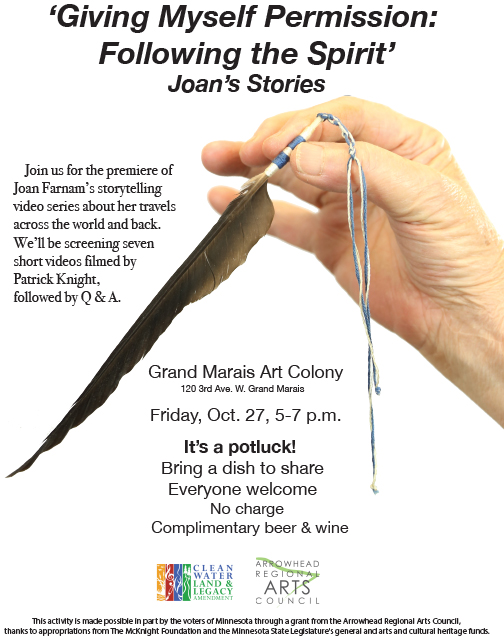 Entitled "Giving Myself Permission: Following the Spirit," the event will be held at the Grand Marais Art Colony from 5-7 p.m. and includes a potluck (bring a dish to share) and complimentary beer and wine. The screening starts at 5:30 p.m. All invited. This project was made possible through a grant from the Arrowhead Regional Arts Council.
On Saturday, look for early celebrations of Halloween.
Wunderbar Eatery and Campground (formerly the Harbor Light) will hold Wunderweenie for the Wee from 11 a.m. to 4:30 p.m. featuring face painting, indoor and outdoor games and a Halloween costume contest.
On Saturday night, Wunderbar will hold a Halloween party for adults featuring a performance by the Duluth Spin Collective at 8 p.m., followed music by the SplinterTones. The costume contest is at 11 p.m.
Also on Saturday, Grandma Ray's will have a Halloween party featuring the band, Earth Wind and Todd, starting at 8:30 p.m.
And the Gun Flint Tavern will hold a Halloween Karaoke Hoedown starting at 8:30 p.m.
Also on Saturday, North House instructor Stefan Nordgaard will present "As the World Turns" at North House at 7:30 p.m. Nordgaard has traveled the world to find out about traditional wood-turning methods and will share images and anecdotes in his presentation.
In Thunder Bay, the Definitely Superior Art Gallery will host Hunger 12, an amazing transformation of the Waterfront District in downtown Thunder Bay  into Halloween central on Saturday night.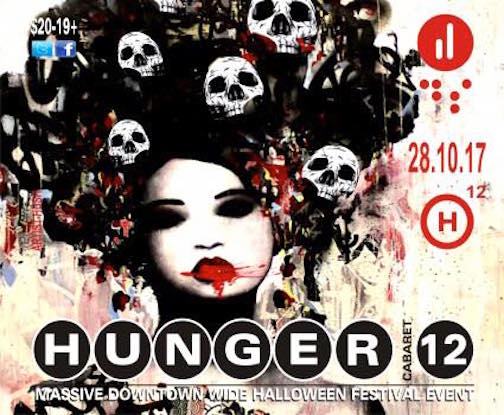 Hundreds of people show up, in costume, to celebrate this event, which features 50 acts, including 40 bands/DJ's of all musical genres and specialty performers at six different venues: Crocks, The Foundry, Black Pirates Pub, The Sovereign Room, Red Lion Smokehouse and El Tres. The event is a fundraiser for DefSup, an artist-run center for contemporary arts. Tickets are $20 at the door at any venue, good for everything.
On Sunday, the Art Colony will host Paint-A-Bowl for Empty Bowls from 11 a.m. to 2 p.m.
Participants can choose from a variety of bowls that have been covered with a white glaze and are ready to paint. There are lots of colors and paint brushes to choose from. The bowls will be fired and donated to the Empty Bowls Fundraiser at St. John's Catholic Church on Nov. 13. There is a $5 donation to help cover materials cost. All welcome.
Next up is Acoustic Grooves, a benefit for Arrowhead Animal Rescue: Lisel's Fund at the Arrowhead Center for the Arts featuring Tyler Howell as MC and music by Michael Monroe, Joe Paulik and Briand Morrison & Sam Miltich.
There will also be a live auction featuring a wide variety of items and a pet contest with prizes. The event starts at 2 p.m. Suggested donation is $10-20 adults, $5 students. Children 6 and under get in for free. All invited.
On Sunday night, Fresh Cut instructor Jarrod Dahl will give a presentation about turning in Sweden at 7:30 p.m. at North House Folk School. All invited. Free.
Voyageur Brewing Co. will hold a Halloween Costume Party on Tuesday, Oct. 31, from 11 a.m. to 10 p.m. The most creative costume in the taproom at 7 p.m. gets a prize.
Next Thursday is the start of the North Shore Readers and Writers Festival (Nov. 2-5) hosted by the Grand Marais Art Colony. This is a fabulous festival, featuring a host of writers, readers and book professionals who will participate in classes, craft seminars, readings, panel discussions as well as special events.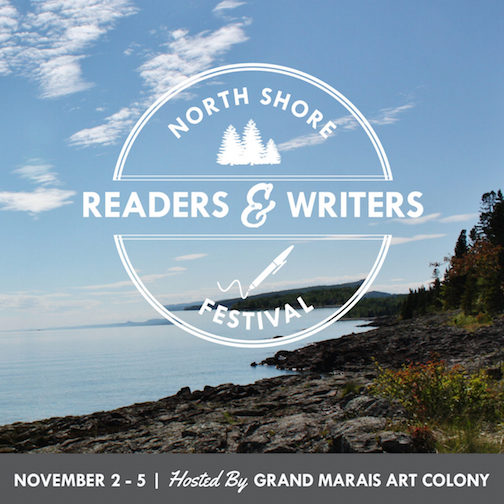 Just to give you an idea of the scope of the festival, here's the list of writers who will participate: Erik Anderson, Mary Casanova, Sharon Chmielarz, Tim Cochrane, Lily Coyle, Staci Drouillard, Katie Dublinski, Chris Fischbach, Peter Geye, Diane Glancy, William Green, Emily Hamilton, Patricia Hampl, Erin Hart, William Kent Krueger, Julie Landsman, Lise Lunge-Larsen, Shoshanna Matney, Ann Regan, Kathryn Savage, Sun Yung Shin, Nina Simonowicz, Moheb Soliman, Faith Sullivan, Bart Sutter, Kari Vick, and Kao Kalia Yang.
And a number of presses and book professionals will be featured in the exhibit hall at the Art Colony including Beaver's Pond Press, Coffee House Press, Drury Lane Bookstore, Grand Marais Public Library, Graywolf Press, Hamline University's Creative Writing Programs, Lake Superior Writers, Minnesota Historical Society Press, Red Bird Chapbooks, University of Minnesota Press, Water~Stone Review and Northern Wilds Media, Inc. / North Shore Press.

There is still room in classes and presentations. To find out more and sign up, click here.
Exhibits:
 This is the last weekend to see the Grand Marais Art Colony's exhibit, Plein Air 2017 at the Johnson Heritage Post.
There are more than 250 paintings in the exhibit, created by participants in the Plein Air Competition in September. The Heritage Post closes on Tuesdays. It is open from 10 a.m to 4 p.m. Wednesday through Saturday and on Monday, and from 1-4 p.m. Sunday.
Sivertson Gallery has been named the U.S. gallery for the 2017 Cape Dorset Print Collection and the work is currently on display at the gallery.
The 2017 print collection includes works from Inuit artists such as Tim Pitsiulak, Saimaiyu Akesuk and Nicotye Samayualie and reveal the history, art and culture of Inuit life, as imagined by the artists and printmakers from Kinngait Studios in Cape Dorset.
In Duluth, the Kathy McTavish exhibit "Chance" at the Tweed Museum of Art opened last week to accolades.
McTavish is a composer and media artist who specializes in creating interactive, multi-channel video and sound environments. In this installation,  McTavish has created a landscape of painted walls and multi-channel sound through six networked computers using code, image, and sound to create a cross-sensory experience . The exhibit continues through October of next year.
The Thunder Bay Art Gallery is featuring four exhibitions this fall: On the Trail: Denise Smith; Kohesion: Quentin Maki; Permanent Collection Spotlight: Angus Trudeau, and The Path of the Paddle.
Note: The Thunder Bay Art Gallery is open for normal business during the strike at Confederation College. Gallery hours are: Tuesday throughThursday, noon – 8 p.m. and  Friday through Sunday, noon to 5 p.m. The gallery is located on the campus of Confederation College, which means that visitors to the gallery will have to cross picket lines. Just explain that your destination is the gallery.
Upcoming:
The 27th annual Bluegrass Masters Weekend  is Nov. 3-5 at Lutsen Resort, offering three days of jamming, a full day of instrumental workshops, and an evening concert with featured musician, Kristin Scott Benson.
For more information, including the banjo workshops Scott Benson will teach on Nov. 4, see northshoremusicassociation.com.
Winterer's Gathering and the Arctic Film Festival will be held at North House Folk School Nov. 17-19.
Winterer's Gathering features winter-centric coursework, a winter tent camp, gear swap, dancing, a film festival and  speakers – a classic event to welcome the season of snow. For more info, see northhouse.org.
Opportunities:
 Amy Demmer, executive director of the Grand Marais Art Colony, will hold a Grant Writing Workshop Nov. 8, Dec. 6, Jan. 10, noon to 1:30 p.m. at the Art Colony. The workshop will cover grant writing for the Arrowhead Regional Arts Council. Participants will define their needs and goals and work independently or in pairs to ready their grant for submission, checking in at key points in the process. The workshop is free for members, $25 for non-members. Pre-registration required. Call 218-387-2737 or see www.grandmaraisartcolony.org for more info and to register.
Artist News:
 Cheryl Larsen of Grand Marais was awarded a Technology/Equipment grant by the Arrowhead Regional Arts Council. The $1,810 grant will support the purchase of tools and supplies for the continued creation Larsen's hand-painted silks.
Thomas Spence's photograph of the northern lights was featured on the home page of spaceweather.com on Oct.14.
Here's the music for the week:
Thursday, Oct. 26:
Gordon Thorne, Date Night at the North Shore Winery, 7 p.m.
Friday, Oct. 27:
Billy Johnson, Voyageur Brewing Co., 4 p.m.
Portage, Grandma Ray's, 6 p.m.
Eric Frost & Friends, Gun Flint Tavern, 8:30 p.m.
Saturday, Oct. 28:
Timmy Haus, Voyageur Brewing Co., 4 p.m.
North Country Fair, Cascade Restaurant and Pub, 7 p.m.
Dat Dere Jazz, Lutsen Resort, 7 p.m.
SplinterTones, Halloween Party, Wunderbar (formerly the Harbor Light), 8 p.m.
Earth, Wind and Todd, Halloween Show, Grandma Ray's, 8:30 p.m.
Halloween Karaoke Hoedown, Gun Flint Tavern, 8:30 p.m
Sunday, Oct. 29:
Acoustic Grooves Concert, Michael Monroe, Joe Paulik and Briand Morrison & Sam Miltich, 2 p.m. A fundraiser for Arrowhead Animal Rescue.
Briand Morrison & Sam Miltich, Gun Flint Tavern, 7 p.m.
We found some great photos this week.
Let's start with waves from another great lake by Dave Sandford: The Buzzfeed headline for the series is "Here is what a Great Lake looks like after all the vacationers are gone."
The photos are of Lake Erie. Check them out here.
Wildlife:
Late Fall:
Sunsets:
Water:
And this funny one.
Enjoy your weekend, everyone!